RedBud Track 'n Trail
Buchanan

,

MI
RedBud
Lucas Oil AMA Pro Motocross Championship
Interviews by Jason Weigandt, Steve Matthes and Aaron Hansel
James Stewart, Yoshimura Suzuki, 2-2 for second overall in 450 Class
We were down on the podium and I'm guessing you had a lot of things to say to the fans. Have you ever been in front of a podium crowd that was that loud?
Yeah, des Nations was pretty gnarly but as far as the U.S., this place killed it. I think 50 percent of them were probably drunk, and the other 50 weren't. So it was cool. They were cheering for everybody. If you start trying to hype them up and throw a RedBud in there, it's a wrap.
Take us through your afternoon. I know this year hasn't quite gone as planned but you have a day like today where you're up front and you're running the pace and find yourself second overall.
Yeah. We struggled a little bit in practice and made some pretty big changes in practice. In the first moto we made another good change and it was better. Just had a little issue. The first couple laps [of] the first moto just struggled trying to get some lines. Ended up trying to keep the pace with Ryan [Dungey]. Dungey had an issue with his bike and then he had another issue and he was out. So ended up second. Second moto got the holeshot. Had a pretty good jump and just kind of snuck around the inside. Put some decent laps in but I could tell those guys behind me had lines that were better. So Ryan got around me. The other Ryan got around me also, and then kind of cooled down for one lap. He was probably checking the lines out. I actually started putting down some good laps so I closed it back in. Feeling actually really good. I thought at that point I was closing back in, I thought I should take another charge for the lead. Then ended up getting jacked with lappers. I lost three or four seconds that lap and then had another pretty decent lap after that, then I caught another lapper and lost another four seconds and finished it out then. It was good. I was happy to be back up there. Definitely found some speed that second moto. I was happy with everything that was going on. I kind of wish I wouldn't have got caught with the lappers, but, this is the first time I've been up here since Hangtown, so this is really good.
You mentioned the lines. This track with so many ruts, and the turns were so deep, how hard was it to figure out what to do and where to go?
Well, it was weird. In practice it was really one-lined. Even the first moto, you had a bunch of lines but they all funneled in together. You have the inside on some of them was a lot better. I thought the second moto they smoothed some of the outsides out so that opened it up a little bit. I think the track, as it got rougher it got more ruts. Like I said, the second moto when I saw their lines, I kind of put my lines together with theirs and I had some really good ones. The second moto was better but it's kind of been like that all year. The second motos have been better every race this year. It seems like these tracks they overwater then, makes it seem like it rained overnight. The first two practices and the first moto really build those lines and then the second moto is always better.
At one point in that second moto you were leading Ryan Villopoto, and at one point you two came together.
Yeah. Like I said, I got the start and thought I had some pretty decent lines. …. After the whoops section hit that tabletop and he was going super far outside. I knew our lines just came together. I saw him go off the track I think, but he was still right there. So it was just one of those racing incidents. For me it was just nice to be on that speed again. Looking forward to an off-weekend and to Washougal.
Seems like we've seen a lot of careers, once they get to RedBud they get that good momentum going and then really springboard the rest of the season. Do you feel that's happening right now?
Yeah. To be honest, the last couple weeks we've actually been riding pretty good. At Budds Creek I should have had a third in that second moto. Even the first one I was riding really good. I just had some strange things happen. I think what happened today I didn't really have anything besides the lappers, didn't really have anything go wrong. It's nice to be able to have that, have some good motos. I feel like we definitely made improvements to the bike, especially that second moto. I think that helped a little bit. I didn't crash. Last weekend I felt like I should have won that first moto and that would kind of jump-started the second moto. So it was just simple as that. Nothing bad happened. That was it. – Jason Weigandt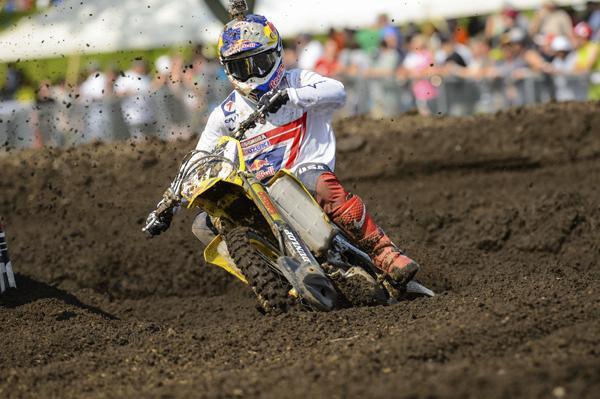 "I was happy with everything that was going on. I kind of wish I wouldn't have got caught with the lappers, but, this is the first time I've been up here since Hangtown, so this is really good." - James Stewart
Simon Cudby photo
Josh Grant, JGR Toyota Yamaha, 3-5 for third overall in 450 Class
I'm glad to be sitting up here today. Had some struggles the beginning of the year but really feel like I've been kind of clicking here lately. Just finally been healthy enough to kind of get myself in the right position to do good. Every week has been getting a lot better.
You started off today, grabbed one of the holeshots again.
Yeah, for me I've never really had to struggle with speed. I know I've got the speed to do it, it's just the consistency of getting a good start and running up front with those guys and just getting used to the pace. I haven't seen it a long time, due to the injuries that I've had. So to have that feeling again was good. I was really going for both holeshots but I came in with James and James came in hot in the first turn and ended up getting the second one. But it was a good weekend for me. I was really excited.
When you were leading like that, and you haven't done that too much the last couple years, was that nervous, was there pressure, did it tighten you up at all, or were you able to just jump right back in like that? Does it take a while to adjust?
For me I think it takes a little bit to adjust. Definitely getting a good start, having clear vision and everything, it was kind of tough. I know that the speed of Ryan and James and all the guys are running are really fast. I did tighten up here in the middle of the race in the first moto and kind of made some mistakes that kind of hurt me, but at the same time I recovered from it really well and made the best of it. – Jason Weigandt
Andrew Short, BTOSports.com KTM, 4–12 for eighth overall in 450 Class
I feel like every week I'm improving, which is exciting for me because there for a while I was really struggling. Rob from RG3 made some big suspension changes this weekend and made me feel a lot more comfortable. I feel like the balance is better on our bike, the pressure balance. Everything is better.
Forest Butler, Jason Thomas, and somebody else today: Shorty loves his bike. Shorty's got a new setup; he loves it. That was the word.
Yeah, honesty I haven't been loving my bike. That's the truth. Just the suspension; the motor's unreal. It's been working good just never could get the balance right. So this is the first time I've felt really comfortable. I've never tried this suspension setup until I got here. I wasn't too pumped that I was going to go race it like that…
That's your OCD kicking in.
Yeah, exactly. But I'm really happy and I'm excited that they're still pushing and trying to get better. Overall a great day for me. I feel like my speed and intensity's getting better. I just need to work on my fitness a little bit because it's mentally tough for me to push it that hard. But I feel like I'm getting back to where I feel like I belong. – Steve Matthes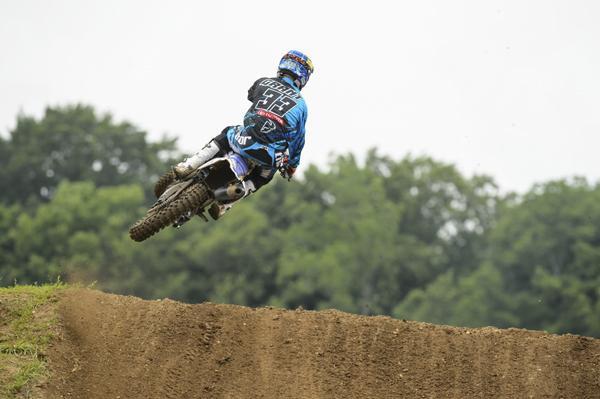 "Yeah, for me I've never really had to struggle with speed. I know I've got the speed to do it, it's just the consistency of getting a good start and running up front with those guys and just getting used to the pace." - Josh Grant
Simon Cudby photo
Jake Weimer, Monster Energy Kawasaki, 7–13 for ninth overall in 450 Class
I got a good start, the best start I've gotten this outdoor season in the first moto. I don't know what my deal is. It's almost like I'm… It sounds stupid but some people understand. It's like I'm trying too hard and I just make stupid mistakes. I got shuffled back quick and then finally kind of stabilized where I was and rode decent. Then second moto, not a terrible start. I think I was around sixth probably. And then Byrne kind of got hung up in an off-camber and I just slammed right into him. Obviously I didn't mean to. But then we were like stuck together. I couldn't get going. So that was a bummer because I felt like I could improve on my first moto, but that's how it goes. That's how it went, anyway. – Steve Matthes
Ryan Sipes, Rockstar Energy Racing, 12-14 for thirteenth overall in 450 Class
Not a great weekend for you at Southwick and again this weekend probably not your greatest race. Talk about it.
Yeah, just been struggling a little bit. I'm not sure what the difference is because I felt good at the beginning of the year. I don't know; just got to get my ducks in a row. I can't pinpoint it but I'll keep working and it'll come around.
I was thinking at Southwick, I don't remember you being a killer sand dude. You're from Kentucky so I wrote that off to he's not that good in the sand, but I think you put strong rides at this track before, if memory serves me right. So it really was nothing track-wise for you.
No, the first moto I felt like I rode really good. I started in seventh, felt great. And Villopoto stopped in a corner to make a new line and I stalled it. So I was way back after that. The second moto started decent. I just didn't ride very good. So kind of struggling a little bit with little crashes and stuff like that. – Steve Matthes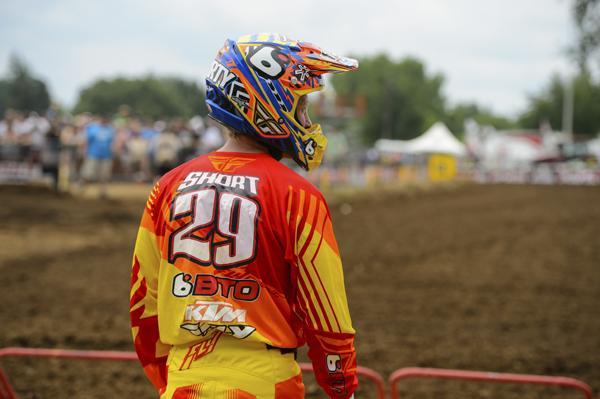 "I feel like every week I'm improving, which is exciting for me because there for a while I was really struggling." - Andrew Short
Simon Cudby photo
Phil Nicoletti, N-Fab TiLUBE Yamaha, 10-38 for sixteenth overall in 450 Class
The first moto was good. I started out thirteenth or fourteenth, picked off a few guys and passed a few guys that went down. I got up to tenth, Dungey had a mishap so I got ninth, then Barcia got me when I crashed. I got going again and crashed again and Tickle was on me, he almost got me. But it was good, and the second moto was going good too. Then I had an unfortunate incident with the bike, the motor blew up. These things happen, but for me it kind of happens on the worst spots on the track. Next I'll enjoy this weekend off and get ready for Washougal.
They changed the approach to LaRocco's Leap a little bit. Did it make it more difficult?
I didn't hit it in either practice, then I launched it the first lap of the first moto. I didn't have a choice but to hit it! It's a fairly easy jump, it's just wide open. There's no technique involved whatsoever. I like this track a lot, it's really technical. – Aaron Hansel