Seven Gear Launches Infinite Hero
At this weekend's Red Bud Motocross National, James Stewart, Oakley, the Yoshimura Suzuki MX team and Seven MX will be showcasing the culmination of a project that they've taken on to bring attention to the Infinite Hero Foundation and the cause that they've championed.
Infinite Hero Foundation (www.infinitehero.org) funds programs that drive innovation and the accessibility of effective treatments for military heroes and their families through a yearly grant cycle.  The Foundation partners with veteran service organizations by offering grants to achieve two critical goals: Drive innovations that accelerate rehabilitation; and increase the availability of critical mental and physical health services for the military and their families.
Infinite Hero is proud to have Oakley, Inc as its founding corporate partner. For decades, Oakley has supported the military by developing new technologies that improve the safety, performance and comfort of those whose lives depend on their gear.
While we'll spend the weekend celebrating our country's independence, James Stewart and the entire team will be dressed down in the colors of the Infinite Hero Foundation.  This to show solidarity with the cause, while sharing its purpose with our MX community.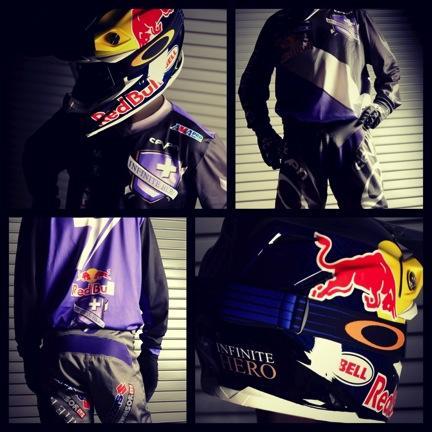 "I look at it like this, sure we race and may go down and take an injury.  And after that we have so many people and avenues for us to get healthy again and compete at our best.  But honestly we're just racing.  We have to make sure there are ways to put those types of efforts to work and help to get our troops back to the best they can be.  They do so much for us, they lay their lives down.  When they get home we can only do our best to help them back up."   - James Stewart
James and the team will be hosting a group of wounded warriors at this weekend's race though a partnership with the Iraq and Afghanistan Veterans of America (IAVA www.IAVA.org) and Infinite Hero.  But to bring further awareness and ultimately raise money for the Infinite Hero Foundation, James worked closely with Infinite Hero, Oakley, the Yoshimura Suzuki team and his MX riding gear company Seven (www.sevenmx.com) to create a special set of gear set in the colors of Infinite Hero.  James will race in the gear this weekend and it will then it will be signed and given to the Infinite Hero Foundation to be a part of a fundraising auction that they will be setting up later in the year.
For more information on Infinite Hero please check out their website: www.infinitiehero.org Or come by and see them at the Yoshimura team hauler this weekend at Red Bud.  Thank you all for the support and have an awesome holiday weekend.