RedBud Track 'n Trail
Buchanan

,

MI
RedBud
Lucas Oil AMA Pro Motocross Championship
Forrest Butler, team manager and co-owner of the BTOSports.com KTM team, has had an eventful year, this his first with factory KTM support. Team rider Matt Goerke was inside the top ten in supercross when he broke his wrist. The team picked up Andrew Short after his team folded and despite not much acclimation time to the bike and team, Short's had some good finishes. And Michael Byrne, now the oldest full-time rider on the series, is still working his way back from a bad leg/knee injury suffered last year at Unadilla. We caught up to Forrest to get his take on the season so far with six rounds remaining in the Lucas Oil Pro Motocross Championship.
RacerX: So Forrest, coming off Short being a lap and a half away from a moto win, how's the outdoor series been for you guys?
Forrest Butler: It's been so-so. We came off a good supercross year, minus Matt getting hurt. At Hangtown Short was sixth in one moto and seventh overall and I think that's what we were looking for. The next weekend in Colorado, Andrew went down with Stewart and that took the wind out of his sails, as he was sore for a couple of weeks. It's six rounds and we're getting back up there each week. At Budds, Andrew ran third for 18 minutes or so and that was solid and a good step. That's what we're trying to do, take steps forward and this past weekend, it was obviously a good step for us and the team.
Motocross is such a roller coaster of emotions, you're up high with Andrew leading the race, you've also had some mechanicals that are the low points. That's racing for every team out there and you really have to be emotionally balanced as a person or you might jump out a window.
It is. You go though 17 rounds in supercross and that's stressful. And outdoors, the amount of time you put on the bikes, the weather and the mud, all the elements. It's prone to make the bike have issues here and there. We've been blessed this year and working with great people at KTM who have helped us. We did have a DNF at High Point and it was the first one of the year, it wasn't anyone's fault, and it was the first one. To go through all the riders, the laps they put on the bikes, all the things that happen and just have one DNF and have us be upset about it, well that tells you how far we've come as a team.
That's how it has to be on this level to compete inside the top ten. We are all working to get better at everything and there's no mistakes allowed when you get to where we're at as a team.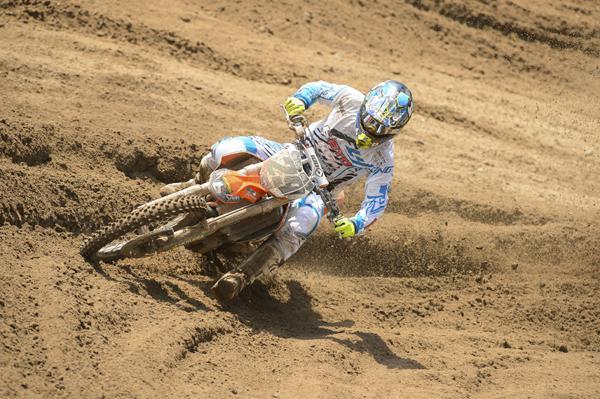 Andrew Short was minutes away from the first moto win for the BTOSports.com KTM team at Southwick last weekend.
Simon Cudby photo
Matt Goerke was the surprise of supercross and he's probably a better outdoor rider than indoor so how much of a blow was it to not have him ready for the start of motocross? And what's his status as of now?
That was a big blow. Two different ones, really, as it was looking good for him to be ninth in the supercross series which would give us two guys inside the top ten. So he got hurt there and the second blow was not being ready for this outdoor season. We were thinking of pushing the envelope and having him here for RedBud but he wouldn't be perfect for both motos on that track with the heat. So there's less to get out of it than to gain, we'll skip Redbud and take the week off and he'll be back at Washougal. If you're not in the top five in the points right now, most people don't care and are looking forward to next year. So we'll wait, get some good finishes and finish the season on a high note.
Michael Byrne is working his way back from a bad injury, and Southwick was his best race of the year. Can you talk about his progress so far?
With Byrne, everyone knows the story at this point and bottom line he's improving every weekend and it's a much tougher field than it has been in the past. But he's working at it. Where he's at right now is knocking on the top 14 and that's something he can keep working on and by the season's end, I hope to see him inside the top ten.
What's been the biggest eye-opener for you this year now that you guys have stepped up to a new level of support you've never had before?
It's been ten years of having a team for us and you learn so much. What I've come to realize and where we're at is that you see a lot of teams come and go. You have to have a solid team and I'm not just talking about the riders. It's everyone, the mechanics, the truck driver and most importantly, your sponsors and partners have to be solid. And with us, we have that. Vince from BTOSports, my brothers and myself have always been there and we brought in Scott Witt to join us.
The business side of the team, we get along great and have the same vision. We all have our positive aspects in dealing with different sides of this industry. If it wasn't for that team and everyone working on the elements that they're best at, we wouldn't be improving as much as we have. And then you bring in KTM, they're great people and you always learn from new people that you deal with. KTM, as large as it is, they're so positive and one of the joys is that everyone there wants to win and there's no messing around, but they still keep it fun. You go to their truck and everyone wants to be there and everyone is positive and moving forward. That's what we're taking in and we're trying to model our team like that. You've got to have that all the way through.
You asked what the eye-opener is? It's that every single person is crucial to the team and having them all pull the same way all the time.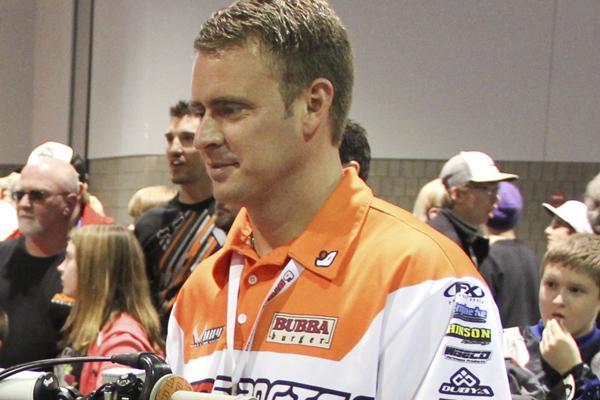 Forrestt (above), along with his brothers, are the owners of the team.
Doc Weedon photo
I always see Rob from RG3 over there helping you guys as well as various other factory KTM guys. It's nice to see them so invested in your program.
I'm glad you mentioned that. On that platform of having a positive team, you have an incredible engine program at KTM. Ian and Dudley run the factory team motor program but we're on the KTM Factory Services program where we have an entire motor team in-house for us. That part is as important as the faces that are at the races. And the suspension end of things, RG3 is what we use for clamps and WP suspension, and Rob form RG3 is our personal guy for suspension. They're the unsung part of the program for us. If it weren't for someone like Rob, we wouldn't get the results we're getting.
The big thing about doing this is it's a lot of work outdoors and when you almost win that moto, it didn't happen overnight. A lot of people have worked a lot of hours to get us to that point.
What about 2014? Can you let us in on what's going on with that?
Well we have to keep the rider stuff secret but we're a two-man team next year, same as the plan going into this year. All the partners and KTM are in discussions now as far as what we want to do and we have to think two to three years ahead now and the plan is different from where it used to be. We will be on KTM's though.
You yourself have to enjoy dealing with professionals like Short and Byrne, it doesn't get much better than those two riders.
They've been great and over our ten years we've had mostly great riders. We don't always look at results when signing guys. Byrne's been a big part of our team for three years and helping us get to where we are now. A big part of things is teaching Matt to be more consistent and utilize what's at his disposal and that's been the fun part of working with Matt. He's just wanting to take in all that knowledge and we've got a nice mix of guys over here and that makes it fun and challenging for us.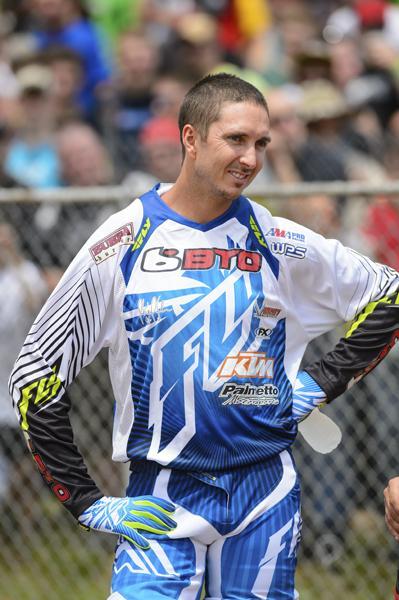 Michael Bryne is still trying to find his form after a leg and knee injury a year ago.
Simon Cudby photo
Monster Cup for you guys?
Definitely going there. Only reason we were out last year was because we were switching brands. Yes we will be there this year.
And if you have an injury, you always have former rider Jason Thomas around to get on and fill-in right?
That's not happening but he will be there running the VIP program. But not on a motorcycle!
Team BTOSports KTM Team Sponsors:
BTOSports.com , KTM.com , Palmettomotorsports.com , Witt's End Racing
BTO Sports, KTM, KTM Factory Services, Palmetto Motorsports, FLY Racing, WPS, Bubba Burger, Witt's End Racing, FMF Racing, RG3, Alpinestars, Factory Effex, Pirelli, Smith, Talon, Dubya, ODI, ASV, Engine Ice, Motorex Oils, DT1, Galfer, Hinson,Wiseco, RK, Excel, LeoVince Carbon Fiber, Mechanix Wear, Matrix, ETS Fuel, Full Spectrum Batteries, Gear Custom Products, Pit Posse, ASMF, FLmx, Dream Traxx, Safety Kleen.