This move has been a long time coming. For the past few years the boys in blue have been dodging a constant barrage of criticism regarding the handling and design of their premier class bike. While the truth is that only very elite riders have complaints about the handling of that machine [and some, like Davi Millsaps, didn't complain at all], sometimes perception becomes reality and Yamaha went back to the drawing board to create another class-leading bike. That bike was revealed this week at Zaca Station Motocross Park just outside Santa Barbara, CA.
The new bike boasts an all-new frame and a completely redesigned engine that only shares a few parts [cylinder, clutch cover and ignition cover] with its predecessor. The bodywork has been reshaped and air filter access has been simplified as well. The bike is slimmer, quieter at the cockpit and the mass of the machine has been centralized as much as possible. Engineers claim the muffler is moved a full seven and half inches further forward thanks to a wrap-around exhaust system that replaces the tornado unit from last year.
Why is this bike such a big deal? Yamaha needs a win here. Riders have avoided blue teams because of the reputation of the former YZF, making it difficult for teams like JGR to secure riders capable of winning. Those concerns should go out the window now. Yamaha was the first to the market with a competitive, modern four-stroke and they have found themselves falling behind a bit over the past couple of years. The YZF motocross line needed a shot in the arm and, if our first impression of the machine is any indication, they are getting a big one.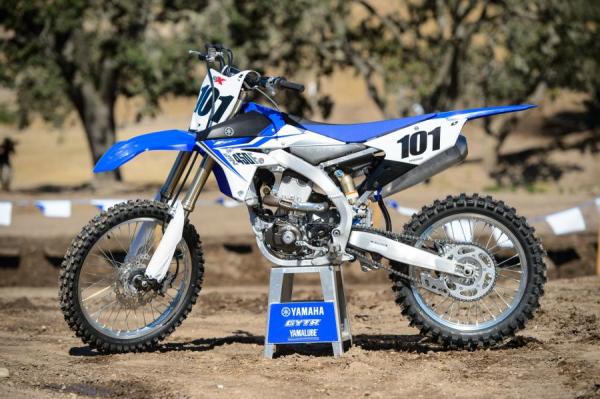 A lot is riding on this ride.
Cudby photo
For a full list of my first impressions, you can check out the Simon Cudby video of the Yamaha introduction at Racer X Films. We'll know more about the bike's performance once we get more time with it on different tracks, but the first impression was good. The motor feels better, with the delivery spread out more than the previous generation, and the famous intake noise from the previous bike has been tamed quite a bit. The narrower tank/shroud combo feels better. But the biggest difference, and this one is key compared to the old bike, is the tracking and stability of the rear end. No doubt, the faces of Yamaha fans will light up when they get a close look at this bike.