Budds Creek Motocross
Mechanicsville

,

MD
Budds Creek
Lucas Oil AMA Pro Motocross Championship
BTO Sports is your number one source for all of your motocross parts, gear, accessories and apparel. BTOSports.com is a motocross company who is truly dedicated to the sport and to the customer. Proud sponsor of your Racer X Podcasts and the BTO Sports race team.
Hey everyone, it was Budds Creek weekend and this year's race was the milestone tenth year since Tim Ferry (on a Steve Matthes-tuned YZ450F) won the first moto. I expected some sort of pomp and circumstance, perhaps a victory lap before the motos and at the very least some sort of plaque but nope, nada. Nothing. Zilch. And that's a real shame folks, it was a pretty big deal and no one who was there that day will ever forget what they witnessed.
So with that in mind and my mood foul, let's talk about Budds Creek, the fifth round of the Lucas Oil Pro Motocross Championship. Budds is always a pretty cool race to go to, you can see a lot of the track from each side of the hill, the dirt is nice and it's one of the better races on the series. Yeah sure the drive from Washington, DC is a bit long but we can't have everything awesome right? I've gone on the record many times as stating that the put-in-for-the-MXDN-start is grossly unfair and something that should be changed but I'm thinking that's not going to happen. It just puts such a premium on a fast lap in qualifying and if you're outside the box, forget about doing anything off the start. A good start should be one where the ideal line is ten in from the inside and anywhere from the box should enable you to pull a start. Give the fast guys a bit of an advantage, just not a massive one.
But the track prep is always fantastic, the track develops nicely and with the always-there humidity, Budds Creek is a tough challenge for man and machine.
I wrote after my Muddy Creek OBS that I thought it could possibly be Justin Barcia who could be the one rider that can stop this Ryan Villopoto express. It's not that I didn't think Ryan Dungey was a great rider but he just rides in control and rarely pushes it. He takes what he can get on a given day and nothing wrong with that, it's gotten him millions of dollars and a bunch of titles. It's just to beat RV, I felt like it was going to take a rider who can push the edge a bit, hang it out and ride with no fear about possibly crashing. And I thought that Barcia could be that guy.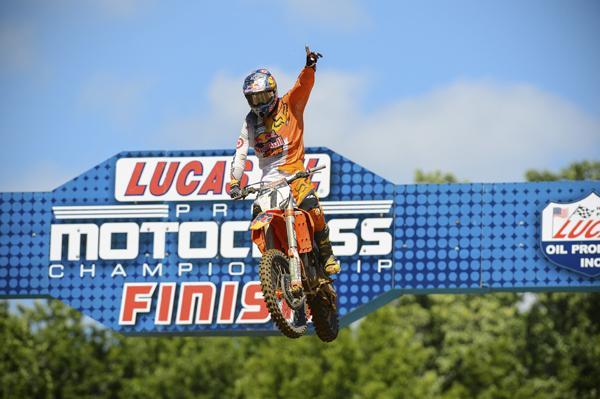 Dungey won his second overall of the season at Budds Creek.
Simon Cudby photo
Well, since then Justin's not come close to RV and as a matter of fact, Dungey's sort of proven me wrong. Yeah, just another thing I've gotten wrong in my time writing down what I see at the races (but you can't take Nicoletti and Osborne away from me…I nailed those!) as it seems that Barcia's slipped back a bit and Dungey has picked it up. At Budds, Dungey caught Villopoto in the first moto in a great ride before losing a bit of time back. Then he crashed and that was it for the charge, he took second. But just he fact he caught RV was something we haven't seen this year. It was a nice ride but we hadn't seen anything yet.
Second moto saw Dungey grab the lead right away and put the hammer down. RV was a bit in the back of the pack and it took Villopoto until lap five to get into second place. So like the first moto, would we see the chaser catch the leader? Nope, Dungey not only maintained the gap between the two riders he actually put roughly 6.8 seconds on Villopoto from lap five until the second last lap (Dungey cruised on the last lap and lost four seconds). It was a thorough beat-down by Dungey this weekend and has to give him some confidence going forward. If you're a Villopoto fan you can't say that Dungey just got the start and RV didn't, because the time RD put on RV even after they were running 1-2 was impressive. It was a great race by Dungey no doubt about it and the only bummer of the deal for him is that he didn't make up any points on Villopoto.
So yeah, errr, like I was saying, Ryan Dungey DEFINITELY has the speed to beat Ryan Villopoto. I've said it all along. Now where's that delete content button for the Muddy Creek Observations column?
Sweet Jesus was Eli Tomac ever going fast in the second moto at Budds. WOW! The Colorado Kid was simply on fire as he ripped through the pack from 13th to 1st in ten laps. It was amazing to watch, one of the best rides I've ever seen (seriously) and if he can bottle that and keep doing it, this title is over. Was he cutting the track? Seriously…can we look into this? I have no clue how Eli was able to go that much faster than the rest of the guys in the class.
There were three laps where Tomac was FOUR SECONDS faster than anyone else. Seriously. He caught Blake Baggett and Darryn Durham so fast and then just, poof, went around both of them. In fact, Durham told me after the race he had no clue where Tomac came from, he thought it was Baggett! It was like he was in that 1980's Ivan Stewart stadium off-road truck video game and someone just had unlimited nitros left. Come to think of it, I did see a puff of white smoke from the back of the GEICO Honda CRF250 at times. It was a phenomenal ride by Tomac after a so-so first moto. That's another thing that makes this ride so amazing, his first moto he again was outside the top ten and worked his way to a fifth. It was a nice ride but it didn't at all set off the alarm that an all-time amazing ride was going to be turned in for the second moto.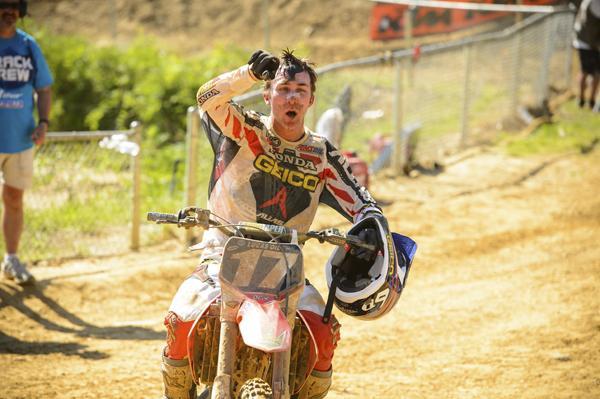 Eli Tomac had an incredible second moto at Budds Creek.
Simon Cudby photo
But having said that, it took that miracle ride by Tomac to even get second overall because, this just in, the Chupacabra is back! Blake Baggett's been so-so since the first race and we all wondered what was going on. Blake himself wasn't making any excuses but it was clear that he wasn't the same guy he was last year. His wrist was still bugging him and prevented him from practicing as hard as he wanted to and it showed. He was fast but he wasn't the same guy as 2012.
Well the week off was a big help for the champion because in the first moto he went from 8th to 2nd and finally 1st with three laps to go in his typical late race charge that we saw last year. His first moto ride was vintage Baggett and impressive. Second moto he caught teammate Darryn Durham and looked to be able to get by the #44 but his pace stalled a bit before Tomac blew by both of them. That was enough to get Baggett back on the horse and by Durham. His 1-2 scores were enough to get the overall and he made 12 points up on points leader Kenny Roczen. Cancel all that talk about what was going on with Blake Baggett. He's back, baby!!
Something that has caused some complaining in the pits from the riders and teams is the lack of intermission at most of the races because of the live TV package. And I have to say, as a former mechanic, it would be tough to make sure you're ready in the approximate one hour that you have. I remember many times as a wrench changing the clutch, oil, swapping out an air filter, washing and drying everything and hearing the staging horn going off as I was just finishing the bike. And that was with an intermission.
The sacrifices for live TV have to be made and it's definitely an interesting thing to watch as we go forward. Cole Seely admitted to me after the race that the short break affected him and he got tired in the second moto. Ken Roczen and Marvin Musquin were noticeably not as strong in the second motos (Musquin admitted on the podium he was tired- yet another reason to like Musquin as he avoided the "I got tight" cliché riders give that really means they got tired) and Tomac thought that the short break was the main reason why he killed it in the second moto.
If there's a major catastrophe with a bike late in the first moto, it will be tough for a team to fix it and make it to the line- especially on the smaller teams that don't have a ton of extra hands. And the riders, well it's time to get in even better shape than you are now, because the temperatures are just going to get hotter and hotter as we move forward. There is some relief on this weekend's legendarily-rough Southwick sand track, as the WMX makes an appearance and that grants an extra hour break between the first and second motos in the 450s and 250s.
It hasn't been a good year for Monster Energy/Pro Circuit Kawasaki and its owner Mitch Payton. Supercross saw the team get two wins and Baggett's win at Budds was its first of the nationals. Payton doesn't take losing easy and each week I go over to talk to him and each week I find him in a little more of a surly mood. He knows the other teams are enjoying this and as is his nature, he's finding humor in it.
But know this, behind the scenes the old Mitch Payton, the one who sent his entire team Nike running shoes with a note saying "Use these" back in the day is back! This past week Payton went to the track every day with the team and they worked on sprints. When the riders didn't do what he wanted or put in the effort he wanted, he sent them back out. Durham in particular was ridden hard and Martin Davalos was perhaps ridden so hard he got sick and couldn't make the motos at Budds! And whatever he said or did out there during the week seemed to work as Baggett won, Durham led the second moto for a long time and Justin Hill…well, two out of three ain't bad!
Perhaps you heard about Payton's newest rider to make his debut this past weekend? You know, kid from Florida, has a long last name, first name is Michael (that part was actually weird). Yeah, Budds Creek marked the debut ride for Adam Cianciarulo, a kid we've been reading about since he was on 50s and is generally considered to be the next big thing in motocross. AC has been sick and hasn't been able to race this year and certainly jumping in at round five of a hotly contested 250MX series wasn't ideal. Neither was losing the muscle and weight he had put on in anticipation of racing professionally. Running #292 and being as ready as he could be, Cianciarulo almost grabbed the holeshot in the first moto before steadily dropping back to around tenth. He ended up falling and finishing 14th. In the second moto he had a horrible start--seriously, it was horrible—and he worked his way up from the back all moto.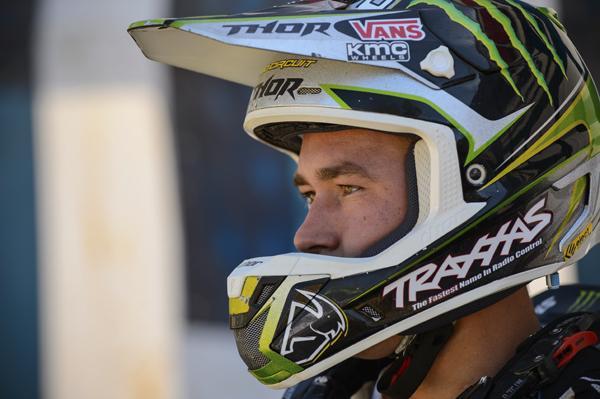 Blake Baggett was back at Budds Creek, taking his first overall on the season.
Simon Cudby photo
It wasn't the debut he or his team dreamed about but really, what can you expect? He's being thrown into the lions den with a bunch of drooling hungry cats. He remarked after the race that he thought Levi Kilbarger really had it out for him (shades of Sean Hamblin taking out Mike Alessi at Millville in 800's debut race) and this stuff is going to happen. It wasn't a disaster either, he was an eighth to tenth place guy in my opinion and that's what he'll be soon. And then he'll get better and better until he's a top five guy or better. The kid had to start sometime and that sometime was under some unfortunate circumstances. Anyone who writes him off or makes a judgment one way or another from Budds is making a mistake.
Let's take a look-see at the results shall we?
250MX Results
1 1 Blake Baggett Grand Terrace, CA Kawasaki KX 250F 1 2- If you race in the 250MX class, be very afraid that Blake Baggett could be back.
2 17 Eli Tomac Cortez, CO Honda CRF250R 5 1- We need some sort of inquisition on this second moto ride. How was it possible to be SO much faster than everyone else?
3 25 Marvin Musquin France KTM 250 SX-F 2 7- Marvin rode great in the first moto, in fact he led 14 out of the 17 laps before the Chupacabra struck. In the second moto, he looked like he just couldn't get it going.
4 94 Ken Roczen Germany KTM 250 SX-F 3 6- Speaking of not getting it going, here's Roczen with his worst finish of the year and we're still wondering if he's got the fitness to hang on to this. And newsflash, it's just going to get hotter. Nine point lead on Tomac heading to the halfway point this weekend.
5 19 Will Hahn Decatur, TX Honda CRF250R 6 5- Hahn's first national of the year and I'm surprised he was this good and also it appears, this fit. Hahn got great starts and held in there strong to get into the top five at his first race. As we've been seeing, that's not easy.  Great ride for Wilbur and all you have to do is read Twitter as all the media congratulates him to know that everyone's pulling for the dude.
6 21 Jason Anderson Edgewood, NM Suzuki RMZ 250 4 11- Great first moto, and in the second he rode ok. Perhaps he was also feeling the heat and short break? I'm telling you people, pay attention to this trend as we go forward. The one good moto/one poopy moto might be what we see quite a bit.
7 44 Darryn Durham Butler, PA Kawasaki KX 250F 13 3- Wow, this ride really surprised me. Durham's been up and down this year (Hangtown first moto was up and then he crashed in the second moto) and his second moto gives us all hope that he can get into the top five consistently. I like Durham as a guy also, he's a funny dude, seems to always be smiling and I see him bro-ing down with fans a lot.
8 38 Kyle Cunningham Aledo, TX Yamaha YZ 250F 7 9- A nice solid steady ride for Cunningham who's 8th in the series points as well. It has to be nice for the vet Cunningham to be the top guy on his team this week as everyone just goes on and on about Cooper Webb and Jeremy Martin.
9 338 Zach Osborne Chesterfield, SC Honda CRF250R 17 4- Osborne, back at the track that one could argue that caused his reputation to be cemented the first time he raced in the USA, took revenge with a terrific second moto ride. When he passes Marvin Musquin and Kenny Roczen, there has to be a bit of satisfaction in doing something that he couldn't do all those years in Europe. Now about those first motos Zachery…
10 317 Justin Hill Yoncalla, OR Kawasaki KX 250F 10 10- I don't think Hill's 10-10 day is going to make Payton happy.
11 77 Jeremy Martin Millville, MN Yamaha YZ 250F 9 12- Didn't notice Jeremy that much out there, a steady day for the rookie. But as I wrote on twitter this week, is Martin a rookie? What are the standards for rookies and when they lose their eligibility? Martin did three races last year, Justin Barcia did six or so 450MX's  a couple of years ago. So what makes a guy a rookie or not? I'm not saying Martin is or isn't a rookie but we do need a ruling here.
12 176 Joseph Savatgy Thomasville, GA KTM 250 SX-F 8 15- Joey ran third in moto 1 and fifth in moto 2 so 8-15 finishes have to be looked at as a disappointment right? He's got to do more with both of those starts than he did.
13 43 Cole Seely Newbury Park, CA Honda CRF250R 11 13- Same with Seely. We've been waiting for him to get into the mix and at Budds he was fast. He just wasn't fit enough as he went backwards in moto 2. He'll get better, he knows what he has to work on but for a veteran like Cole, these finishes aren't good enough.
14 34 Justin Bogle Cushing, OK Honda CRF250R 19 8- Tough day for Bogle, not sure what happened but he had been riding well up until Budds.
15 13 Blake Wharton Pilot Point, TX Suzuki RMZ 250 15 14
16 292 Adam Cianciarulo Port Orange, FL Kawasaki KX 250F 14 17- There's no better rider to talk to in the pits and he's only in the first week of being on the tour. The problem for Adam is he is such a great interview that the media goes to find him and then he obliges them because he gets it. Then if his finishes aren't there people who don't like the amount of press he gets go around yelling that he gets all the press etc etc. But we the media are to blame because we're going up to him to talk, he's not seeking us out to talk. He's too entertaining for his own good.
17 175 Cooper Webb Newport, NC Yamaha YZ 250F 12 26- How much you think it burns Cooper Nation that at the race his amateur rival Cianciarulo debuts at, Webb has his worst race of the year and finishes ONE spot behind AC? Oh the moto gods have a sense of humor don't they? If you were at Budds, you knew that Webb was faster but on paper, AC beats him. That sound you hear is Cooper Nation jumping off bridges everywhere.
18 37 Alex Martin Millville, MN Yamaha YZ 250 16 21- Hey, at least Alex has a 250F practice bike now. It can only get better from here.
19 396 Dillan Epstein Thousand Oaks, CA Kawasaki KX 250F 39 16
20 50 Kyle Peters Greensboro, NC Honda CRF250R 23 18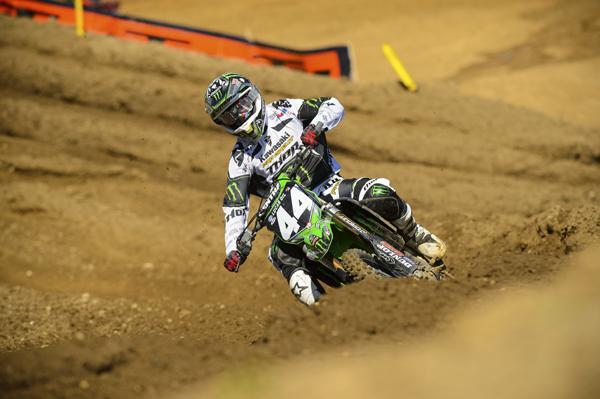 Darryn Durham lead for the first time since High Point 2011 at Budds Creek.
Simon Cudby photo
450MX Results
1 1 Ryan Dungey Waconia, MN KTM 450 SX-F FE 2 1
2 2 Ryan Villopoto Poulsbo, WA Kawasaki KX 450F 1 2- I wouldn't worry too much if I was RV about Budds, he didn't lose any points. Now this weekend, if Dungey catches and passes him or wins outright, we could see a bit of a switch here in the points. It's very important for RV that he re-establishes himself this weekend. I learned all this "Don't give your competition any hope whatsoever" from Ross Pederson.
3 41 Trey Canard Oklahoma City, OK Honda CRF450R 6 4- Early in the season Canard was getting the starts and now he's not. Charges from outside the top ten and some bad luck from other riders gets him a third overall on the day. As he gets better, his teammate Barcia has had a couple of so-so races. There's not difference between these two guys which makes it exciting.
4 32 Malcolm Stewart Haines City, FL Honda CRF450R 9 3- What a day for Mookie! My Mookie fever is at an all-time high right now. Who would have thought that Malcom's first ever professional podium would be in the 450MX class? Perhaps the deepest field in recent years and Malcolm rides strong to a third. Catching big brother James had to have been icing on the cake for Mook.
5 51 Justin Barcia Monroe, NY Honda CRF450R 4 8- Not sure what was up with these finishes. Call it the Curse of the Matthes Column I suppose.
6 10 Justin Brayton Fort Dodge, IA Yamaha YZ 450F 7 7- All thoughts about Brayton perhaps being kidnapped by aliens are to be struck down. He's back! JB10 qualified 7th on the day and went 7-7 which was a massive improvement from what he's been doing. I don't know what happened, what he did different but whatever it was, keep doing it. Buddy Antunez, a former factory Suzuki rider who once had a boat named "Suck my Pump," is back in North Carolina working with his buddy Brayton this week.
7 20 Broc Tickle Holly, MI Suzuki RMZ 450 10 5- Nice ride by Tickle coming from twentieth to a fifth in the second moto. His first moto was very Broc Tickle-ish out there as he sort of just rode around in tenth, solid but quiet. Second moto, he can definitely build on and it's much more in line with what he and the team thought he was going to be.
8 12 Jake Weimer Twin Falls, ID Kawasaki KX 450F 8 10- Weimer was terrible in practice, not sure what happened there as he qualified 19th. But he got a good start in the first moto and rode well to an 8th.
9 49 Phil Nicoletti Cohocton, NY Yamaha YZ 450F 15 6- Filthy Phil strikes! He was in a first turn crash and crossed the first lap finish in 39th place. And he ended up 15th. That's pretty remarkable really. Second moto he showed his rear fender to a lot of highly paid factory riders on their better bikes in getting a sixth. He was nipped at the finish line flag by three-tenths of a second by Broc Tickle and robbed of a top five finish by that little. This caused an RCH team member in the tower with me to be very excited, a little bit like he won the lottery. I'm not sure I'd be that pumped that my rider who's making 200X what Phil makes and is on a factory bike eeked out a 3-tenths of a second victory but hey, whatever makes you happy. I'd be more like "Thank you moto gods that we didn't get beat by this guy."
10 29 Andrew Short Colorado Springs, CO KTM 450 SX-F FE 12 9- Shorty's a bit off this outdoor season. It didn't help that he had brake problems in the first moto (his teammate Michael Byrne pulled out of both motos with brake problems which isn't a break at all) but in the second moto Shorty was top five before dropping back. He's better than that and I know he's a bit frustrated out there.
11 800 Mike Alessi Hilliard, FL Suzuki RMZ 450 3 34- Mike had third overall in the bag. In the bag man! But he crashed pretty hard while running third in the second moto but it was still a good race for Mike out there. He's gotten much better since Hangtown, there's no doubt about that.
12 7 James Stewart Jr. Haines City, FL Suzuki RMZ 450 11 13- Does anyone know what's happening here? Anyone?  Somebody?
13 33 Josh Grant Riverside, CA Yamaha YZ 450F 14 11- Josh rode great in the first moto from laying in the first turn to a fourteenth. It was quite a ride for the 33 out there.
14 22 Chad Reed Australia Honda CRF450R 13 12- I can't believe I'm living in a world where Chad Reed and James Stewart are just guys out there circulating on a track. Please help me, I think the apocalypse is coming very soon.
15 35 Ryan Sipes Vine Grove, KY Suzuki RMZ 450 5 22- Great first moto for Sipes (who was Steve Matthes' pick for Sleeper Rider of the Year- you fantasy moto dorks are welcome) and in the second he felt the affects of the heat and finished 22nd.
16 54 Les Smith York, SC KTM 450 SX-F FE 16 17- The best race for Lesley this year, let's hope he keeps it up.
17 57 Ben LaMay Wasilla, AK Yamaha YZ 450F 29 14- Once again Lamay does the one good moto/one bad moto thing going. His first motos this year? DNF-25-26. His second motos? 15-16-14.
18 42 Vince Friese Cape Girardeon, MO KTM 450 SX-F FE 38 15
19 548 Broc Schmelyun Westminster, MD Kawasaki KX 450F 17 20- Points in five out of the last six motos for the privateer out there with stock graphics on his bike. Take a look around and see how many of the big name guys have not been able to do that.
20 867 Fredrik Noren Sweden Suzuki RMZ 450 22 16- The Swede strikes back after his crappy High Point where he didn't qualify. Nice ride in the second moto. Field is deep, bro.
Some news and notes from Budds:
-The Motoconcepts team is in a bit of an upheaval right now with its termination of Jake Canada. Canada had certainly ridden pretty well at times in the last year or so for the team to end its relationship with Canada seems strange. In talking to Canada, he mentioned that he might hang the boots up and quit (he's injured right now) and that he quit the team. The team says it asked Jake to take a drug test and when he refused, he was fired. It does seem odd to this reporter that Canada, making a good salary, injured right now and with no team to jump to, just up and quit the team. I hope Jake, who's a good dude, figures out what's going on, gets his head on straight and comes back when he's ready to race.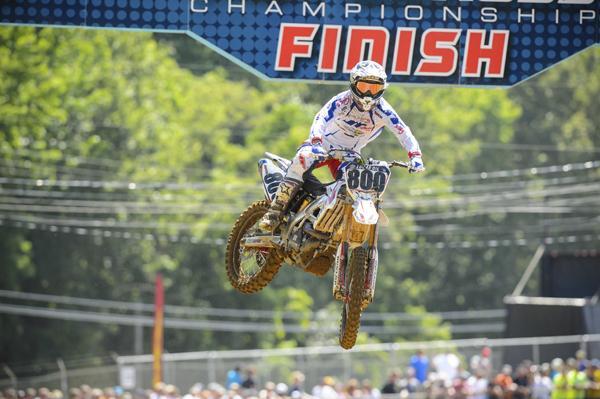 Alessi and MotoConcepts are close to signing a new deal for next season.
Simon Cudby photo
Another thing to mention is that MCR is very close to a contract extension with Mike Alessi to stay on the team for 2014 and they're looking to sign another rider to replace Canada for next year. They also do not think they'll replace Jake for this season.
-There were a lot of two-strokes out there trying to make the motos. I counted four in the 450MX class (maybe I counted same dude twice, I'm not sure) and to the complete shock of no one on a deep, disked up track-no one made the motos. I suppose it's cool to see them out there but again, I'm not sure as a racer why you would ever want to just throw away the entry fee and not give yourself a fighting chance? I don't get it but hey, it's a free country.
Thanks for reading this column, I appreciate it. Email me at matthes@racerxonline.com if you want to chat about this or really anything else.