Kawasaki Releases 2014 Models
2014 KX250F
• Launch Control is a first for the 250 class and increases ability to get good starts, by maximizing available traction
• Showa Separate Function Fork (SFF) provides progressive damping force and features 48mm inner fork tubes for rigidity
• Dual injector Digital Fuel Injection (DFI®) system
• High-rpm engine output extends deep into the overrev
• High-tensile steel front engine mount plates are 29% thinner than last year's steel plates and offer a better mix of chassis rigidity, improved feedback and superior front-end grip
• Transmission gears feature four dogs instead of three, for enhanced shift smoothness
• Shift-fork grooves are more-direct to enhance feel at the shift lever
• Counter-shaft and sprocket retainer design now uses a nut and washer instead of a clip, for a more positive sprocket –to– countershaft interface and simplified sprocket swaps
• Upgraded crankcase oil jet delivers an optimized stream of oil to the underside of the piston, for enhanced cooling
• Revised throttle body tuning improves airflow from a closed-throttle, for a smoother idle and enhanced low-end response
• Revised piston tuning in the left fork leg enhances damping performance through the initial and mid-stroke
• Revised rear shock settings provide a more comfortable "baseline" for a wide range of riders
• Grips feature shorter barrels and are made from a softer material to enhance rider comfort
High-Revving High-Performance Engine
• 249cc, liquid-cooled, four-stroke, four-valve, single-cylinder DOHC engine delivers hard-hitting power across the rpm range
• Nickel plating on the cylinder wall has a high adhesion factor for optimum durability
• Thick-stem connecting rod resists flex and enhances durability
• Upgraded crankcase oil jet delivers an optimized stream of oil to the underside of the piston, for enhanced cooling
• Thick crank web design features a balance factor on par with the factory racers to help minimize engine vibration, provide smooth power delivery and maximize performance in the mid-high rpm range
Factory-Style Launch Control System
• Launch Control is a first for the 250 class and increases ability to get good starts, by maximizing available traction
• Launch Control is activated by pushing a button on the left handlebar while stopped, in neutral, first or second gear
• Retards ignition timing in first and second gears, giving the greatest effect within the first few seconds of releasing the clutch
• Shifting into third gear automatically deactivates Launch Control Mode and returns the ignition to normal mapping
• Particularly effective when chasing the holeshot from concrete starting pads and other slippery surfaces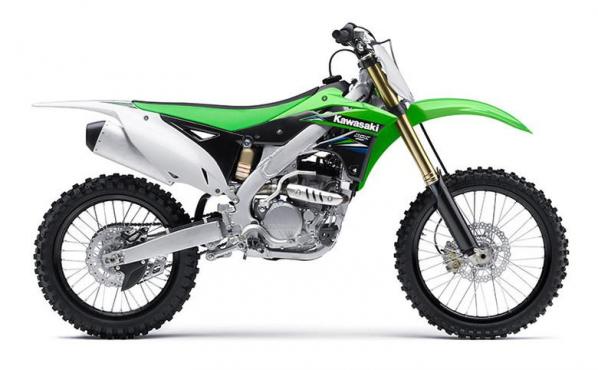 Digital Fuel Injection (DFI) System
• Intake tract designed to provide optimal airflow from the airbox into the combustion chamber
• Seal between air inlet port and throttle position sensor unit on the 43mm throttle body protects TPS sensor from fuel penetration
• Progressive throttle linkage for sharp and precise throttle response across entire rpm range
• Simple and efficient system: No battery, fuses or relays
• Offers easy engine starting
• Helps prevent engine hesitation after landing from jumps and other high-impact situations
Bridged-Box Bottom Piston
• Piston profile helps increase reliability compared to non-box-bottom design
• Light and strong piston shares same design as the factory racers, and a tin plating to optimize its interface with the nickel plating on the cylinder wall
• Special finish improves surface lubrication and wear resistance
• Short piston pin reduces reciprocating weight
Lightweight and Efficient Top End
• Intake valve seat material offers increased durability
• Ultra-light valves have extremely thin valve stems on par with those found in supersport machines; intake valves feature thick heads for increased strength
• Special casting method leaves the intake port surfaces extremely smooth for optimum intake efficiency across the rev range
• Silicon-coated head gasket provides excellent sealing
Stainless Steel Exhaust System
• Head pipe resonator chamber helps boost low-rpm torque
• High-volume muffler assembly features a large cross section to keep noise levels at 94 dB while retaining power production
• Durable stainless steel construction
Efficient Cooling System
• Thick radiators are strong and offer excellent resistance to mud buildup while providing superb cooling performance
• Cylinder head water jacket routes coolant to the front of the cylinder head for even cooling
Transmission and Shifting
• Transmission gears feature four dogs instead of three, for enhanced shift smoothness
• Shift-fork grooves are more-direct to enhance feel at the shift lever
• Clutch cable holder is integrated with the crankcase for accurate feel at the clutch lever
• Scavenge oil filter screen can be accessed without splitting the crankcases, facilitating easier maintenance
Quick-Turning Chassis
• The KX250F's slim and lightweight aluminum perimeter frame helps provide excellent ergonomics and handling
• Center of gravity and key dimensions such as swingarm pivot, output sprocket and rear axle locations designed to increase forward drive with minimal rear-end squat
Separate Function Fork
• 48mm Separate Function Fork (SFF) delivers firm damping response and increased ride comfort
• SFF design separates springing and damping functions for less weight, better performance, less stiction and easier adjustability compared to traditional forks
• Revised piston tuning in the left fork leg enhances damping performance through the initial and mid-stroke
• Super-hard titanium coating on the outer surface of the inner fork tubes reduces stiction and improves suspension action while also helping prevent scratches and tube damage
• Friction-reducing Kashima Coat treatment on the inside of the outer fork tubes contributes to smoother suspension action
• Wrap-around fork tube guards provide excellent protection for the inner tubes
Uni-Trak Rear Suspension
• Rear shock features dual compression adjustability, allowing high-speed and low-speed damping to be tuned separately
• Features Kashima Coat on the inside cylinder wall for reduced friction and smoother suspension action
• Revised rear shock settings provide a more comfortable "baseline" for a wide range of riders
• Swingarm features tapered hydroformed spars and forged chain adjusters
• Uni-Trak® rear suspension linkage system mounts the suspension arm below the swingarm, allowing more rear suspension stroke and precise tuning
• Linkage ratios for the Uni-Trak rear suspension match rear shock damping settings to achieve maximum rear wheel traction
Rider Interface
• Bodywork components offer the rider a slim interface, making it easy for racers to feel comfortable and go fast
• Formed using a double-injection molding process, the shrouds offer a slim design
• Right side panel passageways help cool the silencer
• Flat design of the seat and tank allow freedom of movement
• Frame is wider at the ankles to offer better grip and narrows near the bend below the seat to allow a slim riding position
• Slim seat features polyurethane designed to be durable
• Seat has a slip-resistant top and side surface for good grip when seated and while standing
• 50mm wide (front-to-rear) footpegs offer superb grip and feel at the pegs
• Clutch cable boot features a large quick adjuster, making it easy for riders to adjust play in the clutch cable while on the fly
• Throttle grip has a one-piece collar that provides additional stability during throttle operation
• Grips feature shorter barrels and are made from a softer material to enhance rider comfort
Factory-Style Components
• Pushrod-type front brake master cylinder and brake pad material provide strong brake force and enhanced feel
• Rear brake pad material offers powerful braking performance
• Lightweight black anodized rims are durable and look just like the factory racers
• Titanium-coated inner fork tubes minimize stiction and look great
• Front and rear petal brake discs help reduce unsprung weight, and the wave shape helps clean the brake pads for more efficient stopping performance
• Rear caliper guard protects caliper from damage
• Ribless rear hub and butted spokes reduce unsprung weight
• Renthal aluminum handlebar is standard equipment
• Blue ignition cover plugs and oil filler cap match the blue accents on the factory race bikes
• Factory-style graphics complement the KX250F's highly tuned performance
Additional Features
• Radiator shrouds and side panels provider a slim rider interface and a nimble feel
• Embossed design on clutch cover
• High-density chain pad on top of the swingarm is more resistant to wear
• Large resin skid plate offers great protection with minimum weight
Optional Accessories
• Optional DFI Calibration Kit allows custom tuning
• Optional FI Indicator Light allows the DFI system to communicate diagnostic information
• Optional engine parts include magneto rotors with different inertias and a 12-tooth output sprocket
• Optional chassis parts include handlebar holder for a 1 1/8-inch handlebar, 46
• to 50-tooth aluminum and steel rear sprockets, solid petal brake rotors, different fork and shock springs and manual decompression lever and cable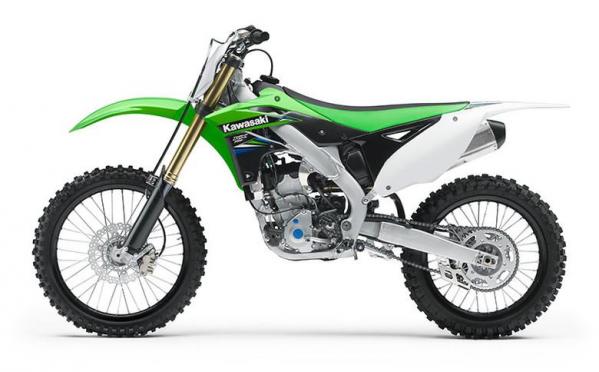 *Note: Specifications and pricing are subject to change.
Specifications
Engine: Liquid-cooled, four-stroke single with DOHC and four-valve cylinder head
Displacement: 249cc
Bore x stroke: 77.0 x 53.6mm
Fuel injection: DFI® with 43mm Keihin throttle body and dual injectors
Compression ratio: 13.8:1
Ignition: Digital CDI
Transmission: Five-speed with wet multi-disc manual clutch
Final drive: Chain
Frame: Aluminum perimeter
Rake / trail: 28.7 degrees / 5.0 in.
Front suspension / wheel travel: 48mm inverted Showa SFF telescopic fork with 40-way spring preload adjustability and 22 position compression and 20 position rebound damping adjustability/ 12.4 in.
Rear suspension / wheel travel: Uni-Trak® linkage system and Showa shock with 9 position low-speed and stepless high-speed compression damping, 22 position rebound damping and fully adjustable spring preload / 12.2 in.
Front tire size: 80/100-21
Rear tire size: 100/90-19
Front brake: Single semi-floating 250mm petal disc with dual piston caliper
Rear brake: Single 240mm petal disc with single-piston caliper
Overall length: 85.4 in.
Overall width: 32.3 in.
Overall height: 50.0 in.
Wheelbase: 58.1 in.
Ground clearance: 13.0 in.
Seat height: 37.2 in.
Curb weight: 233.6 lbs.
Fuel capacity: 1.61 gal.
Color: Lime Green
2014 Kawasaki KX450F
It's no wonder that Kawasaki's KX™450F has amassed an enviable championship record in AMA Supercross and AMA Motocross. Having a great rider definitely helps, and Monster Energy® Kawasaki's Ryan Villopoto's credentials are impeccable, including double-up titles in AMA Supercross and Motocross titles in 2011, followed by another AMA Supercross title in 2012. And in 2013, Villopoto made it three straight Supercross championships in a row, becoming the first rider to win back-to-back-to-back AMA Supercross titles since the great Ricky Carmichael, another rider whose career blossomed aboard Team Green™ machines.
• Launch Control helps to reduce wheelspin on slippery starting gates
• Kayaba Pneumatic Spring Fork (PSF) uses compressed air to reduce weight, compared to traditional metal-coil fork springs, providing effective tuning and bottoming resistance
• Includes a free Kawasaki Genuine PSF Air Fork Pump and removable adjustment valve for quick and easy tuning of fork spring pressure
• Engine is tuned for optimum power delivery all the way from basement revs through the upper rpm range, this results in impressive thrust that continues from corner-exit to the end of the straights
• Piston crown shape allows for superior ultra-low to mid-range engine response
• Intake cam features slightly less lift, to promote better low-rpm throttle response
• Front master cylinder features a knocker-style lever-to-piston interface for improved brake feel and more consistent performance than the old piston-type unit
• Wide, low-density grips make life easy on the rider's hands
• Lightweight 240mm petal-type rear rotor features the same aggressive petal style as the front rotor and is gripped by a single piston hydraulic rear caliper
• Launch Control helps to reduce wheelspin on slippery starting gates
• Pre-programmed ignition maps are interchangeable trackside, no PC required
• Adjustable 4-position handlebar and 2-position footpegs allow riders to fit the KX to match their personal preference
• Black anodized aluminum rims for a factory look
• Narrower grips are softer and more comfortable for 2014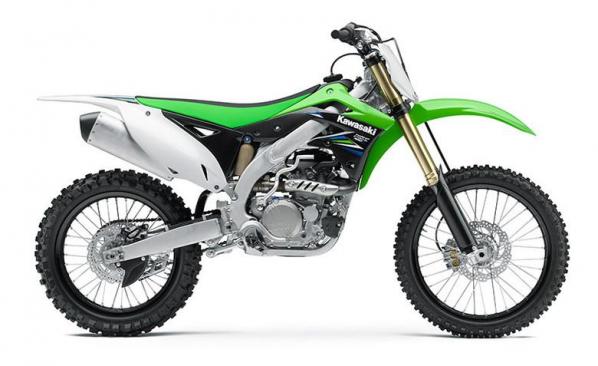 Engine Overview
• 449cc, liquid-cooled, DOHC, four-stroke single with legendary Kawasaki power!
• Works-based bridged-box bottom piston has optimum rigidity for maximum high-rpm power and durability
• A forward lean angle of 3° puts the engine in the ideal position for maximum traction
• Highly balanced crankshaft, on par with Villopoto's factory racer, creates minimal vibration and has a high inertial mass to help maximize rear wheel traction
• Compact cylinder head is only 100mm tall
• Double valve springs help ensure stable valve operation and also allow for a short cylinder head height
• Camshafts, lobes and tappet surfaces feature a soft-nitride treatment for long wear and high-rpm reliability
• Automatic cam chain adjuster is maintenance-free
• Crankshaft and connecting rod feature a special carburizing and quenching treatment to maximize rigidity, boosting long-term reliability without adding weight
Digital Fuel Injection
• Digital Fuel Injection (DFI®) self-adjusts to atmospheric changes for easier starting, sharper throttle response and accessible power for jumping
• It is not necessary to re-tune or change any jets to suit climatic conditions like carbureted models
• Ultra-fine atomizing injector with 12 holes sprays particles with a droplet size of 60µ for smooth power delivery and engine response throughout the throttle range
• 43mm throttle body uses a progressive throttle linkage to deliver airflow in much the same way as an FCR carburetor
• Using two linked shafts, the throttle body opens more quickly after reaching the 3/8 open position
• Fast-idle knob on the throttle body allows riders to increase engine speed when starting a cold engine
• Fuel injector set at 45°, the optimum angle for mid-range power
High-Performance Multi-Map ECU
• Ignition timing boosts response when re-opening the throttle after deceleration (when landing jumps, etc.)
• ECU programming is easily selectable via interchangeable DFI coupler caps that provide three preprogrammed maps for standard, hard (terrain) and soft (terrain), without the need for a separate programmer or laptop
• The engine can be started with only three rotations of the crankshaft using the electricity generated by a single kick of the starter, no battery needed
• The system delivers electricity to the bike's electronics in sequence: first the ECU, then the fuel pump, and finally the injector for quick, easy starting
• The compact, lightweight ECU, located on the front of the steering head behind the number plate, was designed specifically for motocross use. The fuel pump relay is integrated with the ECU to help cope with the shocks and vibrations of tough racing
Launch Control Mode
• Factory-style launch control system is an industry first and increases the ability to get good starts by maximizing available traction
• Push-button activation of the Launch Control Mode retards ignition timing in first and second gears, giving the greatest effect within the first few seconds of releasing the clutch
• Launch Control can be activated in neutral, first or second gear
• Shifting into third gear automatically deactivates Launch Control Mode and returns the ignition to normal mapping
Easy Starting
• Strong output from the large ACG rotor provides enough electrical power for the battery-less FI system to enable true one-kick starting without using a battery
• Equipped with an automatic compression release (ACR) system for quick and easy starting. The dual-weight centrifugal decompression system is fitted to the exhaust cam
• Compression release features 1.0mm of valve lift, to minimize the required kicking power
Bridge Box Bottom Piston
• Piston crown shape tuned for excellent low to mid-range engine response
• Same design as used on our factory racers; offers optimum performance at all rpm
• Lighter and more durable than traditional piston designs
• Short piston skirt features low-friction coating to minimize mechanical losses
• Reinforced external ribs enhance strength and durability
PSF Front Fork
• 48mm Kayaba Pneumatic Spring Fork (PSF) uses compressed air as a spring. The reduced weight and inertia of the air spring improves smoothness and enhances the fork's ability to follow terrain contours
• Air spring significantly reduces friction and cuts weight by 1.7 lbs. per set, while also providing better bottoming resistance, less oil contamination, plus easier and more effective tuning compared to traditional springs
• Large 32mm diameter internal damping cartridges help provide consistent performance and bottoming resistance
• A removable spring pressure adjustment valve and free Kawasaki Genuine PSF Air Fork Pump, are included for quick and easy tuning of fork spring pressure
• Diamond-Like Carbon (DLC) coating on the outer surface of the inner fork tubes offers minimum stiction when the fork is exposed to lateral forces that would usually hamper slide action. The result is improved fork response, especially during cornering
• Friction-reducing Kashima Coat on the inside of the fork's outer tubes contributes to smooth suspension action (especially at the initial part of the stroke)
• Wrap-around fork tube guards offer effective protection for the sliders
• Lower triple clamp features integrated locating pins to help simplify installation and removal of the front number plate
• One-piece front fender attachment screws feature integrated grommets to simplify installation and removal
Rear Shock
• 33-position rebound damping adjuster allows precise fine-tuning of the rebound circuit
• Easy adjuster access allows track-side suspension tuning with a minimum of hassle or lost time
• Rear shock features dual compression adjustability, allowing 22-position high-speed and stepless low-speed damping adjustments to be made independently
• Kayaba rear shock features a large 50mm piston and a Kashima Coat treatment on the cylinder wall for reduced friction and smoother suspension action
Aluminum Swingarm
• Tapered "D" shape swingarm is lighter than a comparable box-section unit and provides superior rigidity for its weight
• Features tapered hydroformed spars and forged chain adjusters
• Uni-Trak® rear suspension linkage is mounted below the swingarm to allow precise tuning and maximum rear suspension stroke
Fuel Tank and Lightweight Aluminum Fuel Pump
• Compact 1.6-gallon fuel tank is formed using a blow molding process
• Fuel pump features a one-piece filter cover and body, eliminating the need for fuel return tube from pressure regulator
• Features a plastic fuel filter cover that wraps around the inlet port and acts as a fuel trap to help ensure a stable fuel supply during vigorous motocross riding
Efficient Cooling
• High-capacity Denso radiators feature tightly packed cores and a fin design that deliver superior cooling efficiency
• Shroud shape features a slim profile and large cooling outlet hole to help keep excess heat to a minimum
• Radiator louvers feature four small blades set at a shallow angle for minimum overlap and maximum air flow
Strong and Durable Clutch
• Clutch assembly provides a direct feel and superb control of engagement
• Excellent oil drainage reduces power loss caused by excess oil around the clutch basket
• Friction plates with substantial friction material contribute to fade resistance and long service life
• Clutch case cover features embossed logo and is painted silver, making scuffs and normal wear less noticeable
Close-Ratio Five-Speed Transmission
• 5-Speed transmission and the engine's broad torque curve gives riders more gear options for maximum drive on a wide range of tracks
• Thick first gear offers excellent durability for launching off the line in high-traction situations
Powerful Disc Brakes
• Front master cylinder features a knocker-style lever-to-piston interface for excellent feel and more consistent performance
• Front brake pads offer a strong braking force and feel
• Lightweight 250mm front rotor is squeezed by a powerful twin-piston caliper and features an aggressive petal design to help clear mud and debris
• Lightweight 240mm petal-type rear rotor features the same aggressive petal style as the front rotor and is gripped by a single piston hydraulic rear caliper
Rider Interface and Styling
• Narrower grips are softer and more comfortable for 2014
• Long grips feature a pattern that makes life easier on the rider's hands
• Slender frame helps the bike feel compact and nimble, but tapers to become wider near the rider's ankles to offer optimum grip and control
• Wide 50mm footpegs can be adjusted to alternate position, 5mm lower than stock
• Dual injected 2-tone, one-piece plastic shrouds and side number plates are great looking, compact and lightweight
• Black triple clamps and black anodized rims – just like Kawasaki's factory teams
• Blue finish on suspension adjusters and engine plugs look like the factory race parts
• Slim seat design uses urethane foam designed to retain its original shape and provide optimum durability
Additional Features
• Skid plate made of resin material offers great protection without excess weight
• Clutch cable boot features a large quick adjuster, making it easy for riders to adjust clutch play on the fly
• Rear caliper guard helps protect the caliper from damage
• Ribless rear hub and butted spokes offer light weight and excellent durability
Optional KX Accessories
• KX DFI Calibration Kit allows racers to reprogram the ECU's data maps for volume of fuel injected and ignition timing to alter engine characteristics to suit rider preference. An ECU setting is available, which can also be used as a data logger, recording up to six hours of data, including engine rpm, degree of throttle opening, engine boost, coolant temp, air temp, ignition timing, fuel adjustments, gear position and system voltage
• Kawasaki recommends a 0-60 PSI air pump with bleeder valve and no-loss Schrader valve connector, Kawasaki part# K5609-060A for adjusting fork air pressure with maximum accuracy and ease of use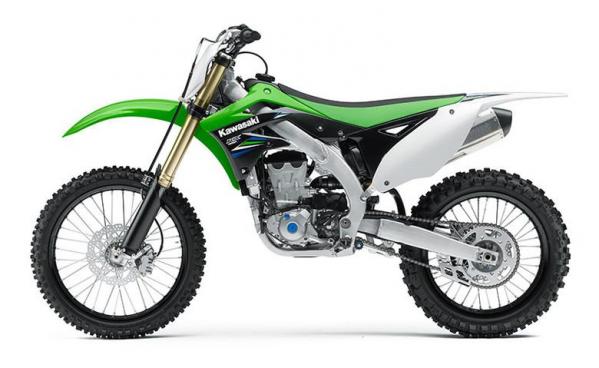 *Note: Specifications and pricing are subject to change.
Specifications
Engine: Liquid-cooled, four-stroke single with DOHC and four-valve cylinder head
Displacement: 449cc
Bore x stroke: 96.0 x 62.1mm
Compression ratio: 12.5:1
Fuel Injection: DFI® with 43mm Keihin throttle body
Ignition: Digital DC-CDI
Transmission: Five-speed
Rake / trail: 26.9 degrees / 4.4 in.
Front suspension / wheel travel: 48mm inverted, Kayaba PSF with DLC coated sliders, 22-position compression and 20-position rebound dampening adjustment / 12.4 in.
Rear suspension / wheel travel: UNI-TRAK® linkage system and Kayaba shock with 50mm piston, 22-position low-speed and stepless high-speed compression dampening, 33-position rebound dampening and fully adjustable spring preload / 12.4 in.
Front tire size: 80/100-21
Rear tire size: 120/80-19
Front brake: Single rigid-mount 250mm petal disc with dual-piston caliper
Rear brake: Single 240mm petal disc with single-piston caliper
Overall length: 85.8 in.
Overall width: 32.3 in.
Overall height: 50.2 in.
Wheelbase: 58.3 in.
Ground clearance: 13.0 in
Seat height: 37.6 in.
Curb weight: 248.0 lbs.
Fuel capacity: 1.64 gal.
Color: Lime Green