With three victories from nine rounds so far this season, factory Kawasaki's Gautier Paulin is fast becoming Tony Cairoli's main threat in the search for a fifth FIM MX1 World Championship. In just his second MX1 campaign, the 23-year-old Frenchman even defeated Cairolli at the champion's home race over the weekend in Italy. Stylish, articulate and thoughtful, Paulin is also quite a supercross racer. He's just signed on for this year's Bercy SX, and is working on possibly racing the Monster Energy Cup, as well. Some might remember a few of his rapid outings in the 2010 West Coast Lites series where he got close to a podium finish. Here he chats about some of his possible future Indoor options for the end of the year.
Racer X: Perhaps more than some Grand Prix riders you seem very at home when it comes to supercross.
Gautier Paulin: I love riding BMX and supercross and just doing sport in general for training. It is all about having fun and supercross is a big part of that. It is difficult to race both supercross and motocross unfortunately, especially as a grand prix rider, but I still ride SX and follow it. I'm really happy to have signed to race Bercy this year because being in Paris will be great and there will also be some good riders taking part. I'll ride safe and at my level.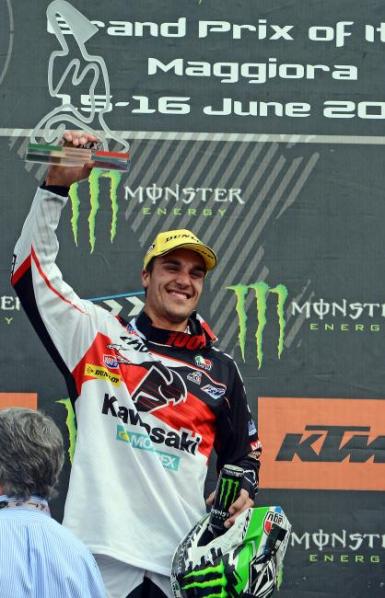 Paulin is confirmed for Bercy and may race the Monster Energy Cup.
Monster Energy photo
Can you bring your SX speed up pretty quickly or does it take a while once the motocross settings have been changed?
I will never say I am the best at it because it simply isn't true, but I love doing it and being at those races. At the level we are at now [in grands prix] it is hard to push too much when riding supercross and risk a crash. But when it comes around to the race events I will be ready. I don't think a professional rider can say anything less. The adrenaline is the same behind any gate.
Do you feel that you learned a lot from those Lites main events [on a Yamaha YZ250F with Star Racing] a few years ago?
Of course. They weren't the best races for me over there but I enjoyed them so much and the thing I remember the most is how much of a good time I had. I didn't really test for it, so that was a bit of a setback, and I was just returning from an operation due to an injury from the Motocross of Nations at Franciacorta. I could have done better, you know. I think I had the level to make the podium…but it was just an amazing story for me at the time. I was only in America to train and wasn't at my best.
You are one of the very top Monster Energy athletes in Europe so how would you feel about trying something like the Monster Cup in Vegas? Are you wary of potential results against the AMA guys?
We're currently speaking about the Monster Cup with my sponsors and team. I know the track is not traditional AMA-spec but going to Vegas would only be about enjoyment. I know I would be up against the top guns and will want to do well. It is not set yet but it would be cool because Monster have been helping me a lot and also guys like Thor and 100% with Ludo and Marc based out in California…and then Kawasaki are the leaders in the U.S. I have a good feeling about going there and we are trying to make it happen. I will go out there ready to perform and I don't think I will be running around in last position because I know how I can ride, and my level is high right now on the bike in the world championship.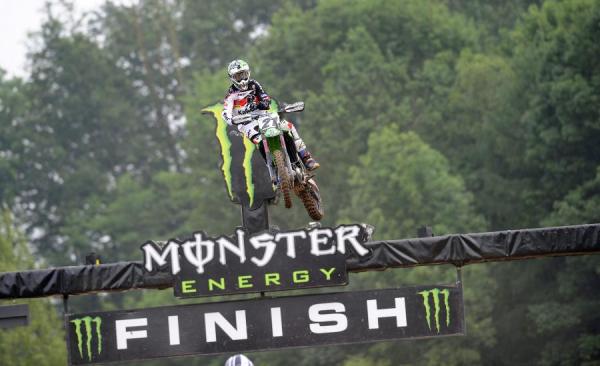 Paulin is currently second in points in the MX1 Class.
Monster Energy photo
You've won three MX1 Grands Prix now this year. Do you feel you are operating at a peak so far in your career?
It might be a bit strange what I am about to say because you are always happy when you win but second and third positions do not bring much joy for me. Sometimes I'm more pleased with a ninth or tenth because bringing the bike home in second or third means I have been struggling. It is all about the performances and right now I feel so good on the Kawasaki 450. It feels like a big and strong bike but I can do what I want with it. I love going out to train; I get behind a gate and I absolutely want to race. The fire is on. I want to keep it that way because I've made a forward step and I'm at a really good point of my career.