Austin Politelli is now five for six in the 2013 Canadian motocross nationals and although most of us "experts" figured he'd be right up there this year, not many of us predicted he would be this dominant so far. Politelli had a good supercross season and when the rides weren't there for motocross in the U.S., he headed back up to Canada (he also raced the series in 2011) to try and win a pro championship. And with two beautiful (almost) mistake free rides, the Monster Kawasaki Leading Edge rider looks to be on his way. Here are some words from him after the race in Calgary, which was round three of the series.
Racer X: Another 1-1, in the MX2 class. Nice ride.
Austin Politelli: Thank you. It was an awesome day. First moto got out quick, but made a dumb mistake and fell over. I was able to work my way back up quickly. Second moto I got the holeshot, first one of the year so I was pumped on that. I sprinted like the first ten minutes or so, then I cruised. Track was gnarly.
First moto you were maybe ten seconds back. Where you nervous?
A little bit, but I could still see them looking over the jumps and stuff. I knew I was catching him every lap, and my mechanic was putting on the pit board that it was like two seconds on every lap. So I knew I could get them, and I made a pass, then Benoit went down, I think, I don't know what happened. Once I was into the lead I was able to ride my own race.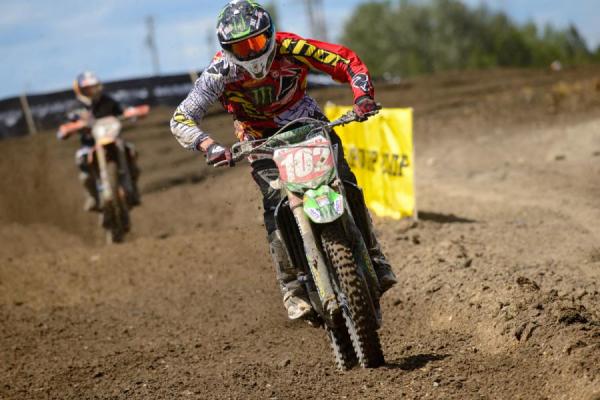 Austin Politelli has won five of six motos in the MX2 Class.
James Lissimore photo
What did you think of the Calgary track?
Yeah it got rough. I came here in 2011 and it got rough, but it was nothing like this. It was rutted and just had a lot of square edged bumps. It was gnarly. I was glad to get out safe.
There's no denying you're riding better than you were the last time you were up here [2011], and your bike setup seems to be good. You have to be happy with the way things are going.
Yeah, Leading Edge, Graham doing my suspension, Frenchie doing my motors. I've gotten a lot of help. I did supercross so I was in pretty good shape from that. I didn't do too much after Vegas supercross, just some motos, so I didn't know what to expect for round one. I raced here in 2011, but yeah, everything has been awesome so far.
Yeah, us guys in the media knew you would be good, but not a front-runner like this.
Yeah I saw one magazine had me ranked third in the pre season, so it's good to prove that wrong. I want to just keep scoring points and get this championship, that's the main goal.
Looking at your lap times, you seem to be in really good shape. Have you changed things up? Every moto I've watched this year, you seem to stretch your lead out later in the motos.
I actually haven't been able to do too much during the week, because at round one I cut my leg. I've been resting, but that's okay, you can't do too much during the season or you'll be tired on the race weekend. So I've been doing a few things, running and some stretching. Mentally, too, I've changed. I used to have little mental stuff in my head halfway through the moto. I would say my head was tired, not my body, but that's not an issue now.
You're a Southern California kid, born and raised there. What have you thought of Canada?
Well, it's way better, I think! California is just drama, California bros, partying. It's way more laid back, and you can actually breathe, no smog. Everything there is just drama. So I actually like it way better here.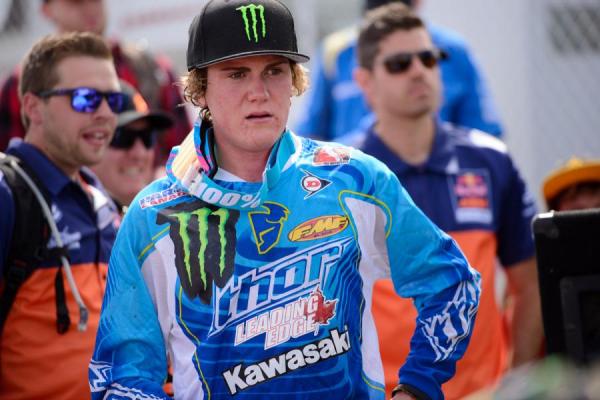 Politelli may race the Lucas Oil Pro Motocross season finale at Lake Elsinore.
James Lissimore photo
But the plan for you, you're American you want to succeed in America. You had a decent supercross season, and that's you're goal for next year, to get on a good team and race supercross and outdoors?
Yeah for sure that's the goal. Get on a team and get a deal lined up to do supercross and outdoors. I've never done outdoors in the U.S., just Elsinore last year. That's what I want to do; I want to prove to everyone that I can do it. I know I can. Just someone give me a chance, I don't need money or anything, I just want the chance to prove I can do it.
You had some pretty good rides in supercross, did that do anything there?
Not as much as I thought. I understand there are teams and they have their riders, and they want to make their riders the best they can. If I were a team manager I would do that, too. But, I don't know, it didn't do too much for me. I kind of screwed up the last two rounds, but I think I proved myself a little bit with San Diego [fourth place], and I got two eighths, and a sixth at Seattle.
Maybe Lake Elsinore?
I'd like to. I think we get done up here the weekend before or two weeks before. Maybe even with Leading Edge if they can get a bike together. I know Metcalfe is going to do a few so it would be awesome for sure.