Leading Edge Monster Kawasaki's Brett Metcalfe put his stamp on the Canadian MX series with a nice 1-1 win under blue skies at the Wild Rose Motocross Park located in Calgary, Alberta. Metty has now won four motos in a row, three being runaways, while his second moto at Calgary was a thing of beauty as he worked his way up from a tangle on lap one to pass and then hold off a very game Bobby Kiniry. Metcalfe couldn't find a USA ride to his liking and like Matt Goerke before him, decided to go to Canada, make some money and get his groove back after a serious injury last summer. He's making the most of it and, by the sounds of it, having fun as well. I caught up to Brett to get his take on the day and on the northern exposure.
Racer X: Good ride, 1-1 today. But you had to fight for it in that second moto. What a race. Bad start, an early mistake, you dropped back even further.
Brett Metcalfe: It wasn't a bad start; I was maybe five or six. But then going around turn three and into turn four, I went to follow Tyler Medaglia and he tipped over. It was really muddy, and his bike was kind of stuck between two ruts. So I just had to stop there and wait. That's when I dropped a long way back, to 15th. It was not what I wanted, but it also was kind of cool to come back like that. I felt really good, felt aggressive. It was good to have that mindset back of attacking and riding hard.
Early on, you were pretty far back, and the track is narrow. I thought you'd have some issues. But I talked to Bobby Kiniry, and he said you had some really good lines.
Yeah, the track was narrow, and it was fast. They let the track…go [laughs]. They let it get super rough. It was good to see, but you had to get creative. I was able to make some passes. On the parade lap I found some lines I would be able to use, and I put them to use. It felt good. It's been awhile since I really attacked like that. Once I got up to the top three, I saw I was catching them pretty quick, but I had already ripped all of my tearoffs. So I knew as soon as I got on their back wheel, I had to take the first opportunity I had. It's interesting you say that Bobby [Kniry] said I had some good lines, because when I was behind him, I was like, 'Man he's taking some bad lines.' He swung out wide and I was like "brapp" inside, thank you.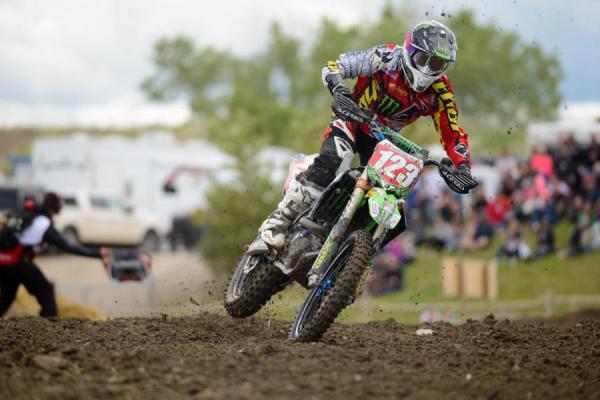 Metcalfe went 1-1 on Sunday at Wild Rose Motocross Park.
James Lissimore photo
He learned your lines, and caught you a bit.
He did. Like I said, the track was rough, so once I got to the lead I didn't push as much. I knew he would get faster as he got onto my lines, and that would bring their speed up. It was cool, I was happy with it.
Concrete starts. Remember those?
I'm actually thinking they should bring them back, because I've been good on those. Last one at Kamloops, it was a dirt start and I was horrible! I've had some pretty good starts. It's interesting smoking the tire. And I'm doing a lot of privateer stuff back home at Glen Helen. Guys are on the line doing burnouts, and I'm thinking about how I need that tire to last all week! But it's been really cool up here so far. I'm enjoying the racing, and I feel like I'm building up and getting stronger each week.
What do you feel you need to work on?
Mindset. That first moto, being aggressive, that was a big key for me, just forget about things and get down to it. And it's a good thing for me to have the mindset of winning races. I've always been a challenger, I've been there as one of the guys. But now I know I can step out there and win motos, so it's a different mindset.
And there's pressure, too. You've won four motos in a row and you have the red plate.
I've always been the underdog. Like I Tweeted the other day, since the red plate has been around, I've never had one. I like it, there is pressure for that, but really I'm focused on getting this championship, doing the things I need to do to get that, and then getting stronger for racing again in the States.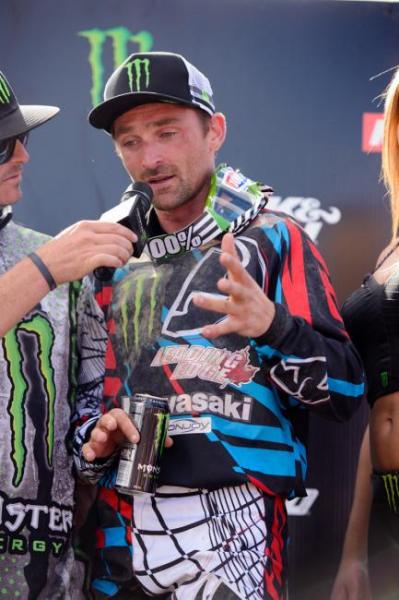 Metcalfe says his goal is to race in the U.S. next season.
James Lissimore photo
The ultimate goal is back to the U.S., supercross and motocross with a factory ride, like you had?
Absolutely. I looked at my options this year and this was the best option that I had.
Okay, so are you 100 percent comfortable with that decision?
100 percent. Yeah. I'm glad I did this. There are a few things. When I was practicing and training, the leg and the wrist felt good. But then I stepped out here, round one and two, and I could see I needed to pick it up. You don't get that opportunity in the U.S. because you're getting hosed down there. So this is the best way to climb back up to where I was, and even better. That's my goal; I want to be even better than I was.
And talking to you agent David Evans, he said there were some rides in the U.S. where people would pay your expenses. You've won a National before, so that's kind of bull crap, but it's the way things work down there, you got hurt and disappeared for awhile. But you're a professional, you're supposed to get paid to do this.
That's bottom line, the truth. I'm a professional, this is what I do to support my family. I wasn't going to sit there and ride for free in the U.S. When I say this was my best choice, all of those things were put in the jar. My health, financially, and what it would take to get back to the top.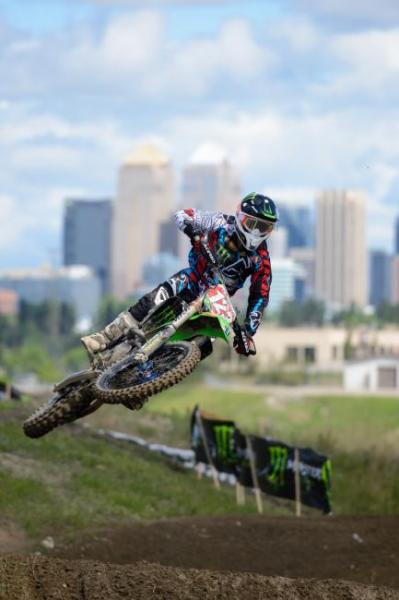 Metcalfe is the current points leader in the MX1 Class.
James Lissimore photo
Are you a little bitter? I think you have cause to be. When you went out of the series, you were a top five guy, and in that quick of a time you disappeared.
I was. I was disappointed. It was one of those things were I had a few things going but they all fell through. But it was all a blessing in disguise. Yeah, I was a little bitter, but I never got down. I tried to stay positive through it all. And the biggest thing, with my baby boy Nash being born, I can't imagine not being there and spending the time with him that I've been able to spend. It's been nice. So I can't complain. I like my life right now. But I'm very, very, very determined to get back to where I was and even better.
Last question. Lets say you win this title and you make a bunch of money. Lets say the rides don't materialize next season in the U.S. Would you come back here?
I would consider it, for sure. I'm aware that sponsorships aren't getting bigger, and bike sales aren't getting any bigger. So we'll have to take it as it comes. I've talked to GP teams, options are everywhere, Australia, even, for me. But this is something I wanted to do and I'm happy that I'm doing it.