Hello, everyone, and welcome to the Rev Up. Every racer remembers the first time they raced against someone who was their match, or better. That odd and cold realization that you are doing the best you can, meanwhile this other racer is somehow going faster. So you keep racing. You practice at home, you train, you put faster parts on your bike and go to motocross schools to get better. A racer almost doesn't notice the years go by as they gain an advantage then somehow feel their nemesis at their fender again. But, sooner or later the rubber band breaks and one will simply steam ahead. Other times, new competitors can emerge seemingly out of nowhere.
Take Jeff Emig and Damon Bradshaw for example. The two minicycle superstars battled for a decade as they climbed the amateur ranks. When it came time to go to the big show, something had clicked with Bradshaw and he just took off. While Emig was sorting himself out in the 125cc Class, Damon was winning 250 main events. Damon was the guy at factory Yamaha, and Emig was merely the understudy. It would appear that Emig's progress in the big bike class would have to measured against Bradshaw until suddenly, in a flash, Bradshaw was burnt out and gone, retiring while still one of the biggest names in the game. Then everyone remembers what happened to motocross racing from 1993-2001. It wasn't the Beast from the East, rather a BMX rider from California that took the second half of Emig's racing days by storm. Jeremy McGrath and Jeff Emig remain one of the sports best rivalries ever—but it was supposed to have been Emig and Bradshaw.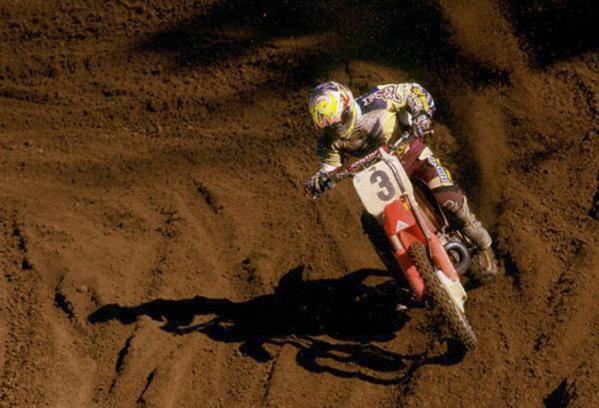 McGrath, not Bradshaw, would become the main rival for Jeff Emig.
Racer X Archives
Now lets look at the careers of Shae Bentley and Ricky Carmichael. Yes, these two were once running parallel to each other. When RC was on 80's there were three riders that had a chance: Charlie Bogard, Broc Sellards, and Bentley. Toward the end of their time on mini's Bentley had beaten Carmichael at a Loretta Lynn's Regional, and backed it up with a title later that summer. The other degrees of separation here with Bogard and Sellards were similar. They were all world-class mini riders, and evenly matched. Bogard never got going in the 125 pros, but Sellards and Bentley won nationals and supercross championships. Accolades and accomplishments, yes, but at one point they weren't that far off RC. Then that click I spoke of happened and all of the sudden the smoke from Ricky's train was far, far ahead in the distance.
In more recent examples, scope the career paths of Trey Canard, Nico Izzi and Austin Stroupe. A tighter fitting blanket could not have been thrown over those three in the amateurs. Today, the trio has shared adversity on many, many levels, yet it is hard to argue that Canard has overcome the most, and yet he has still emerged as a factory Honda 450 division stalwart. It's been a long, long time since Canard has even lined up on the same gate as Stroupe and Izzi, let alone battled them for a win.
Another pair of rivals who are beginning to show some separation are Dean Wilson and Justin Barcia. Two seasons ago they were as evenly matched as can be. Supercross and Motocross National Championships bounced back and forth and they seemed to have a legitimate rivalry going on. There was lots of bar banging between the two, and plenty of talk to go along with it. Two seasons later Barcia is winning 450SX main events and is in the hunt in the 2013 Lucas Oil Pro Motocross Championship. Barcia has the train on the tracks, and the next two seasons could likely see Bam Bam hit the switch we keep talking about. It could easily happen. A couple seasons ago, Ryan Villopoto wasn't quite the machine he is right now. Check out some old YouTube videos with him, then watch last weekend's High Point National. If Barcia can progress on only half as sharp of a curve, he'll be gnarly. Meanwhile his old nemesis, Wilson, has been hit with a tremendous run of bad luck and injuries, leaving a large amount of ground to make up against cold, hard father time.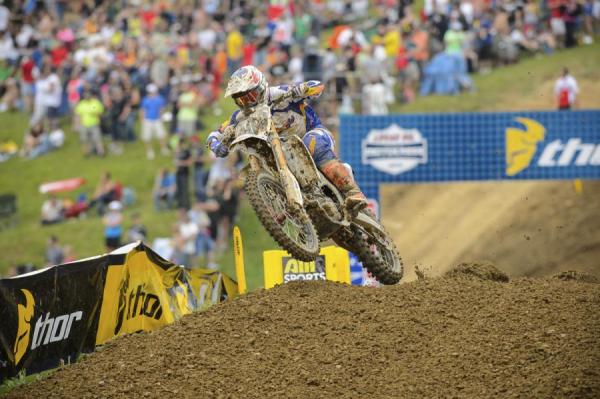 The Alessi vs. Villopoto rivalry never materialized in the pro ranks.
Simon Cudby photo
Ah, but speaking along the lines of nemesis and rivalries (and YouTube videos!) the following example is the ultimate. Plus, with Budds Creek up next this offering personifies the theme of this week's column. Mike Alessi stomped a mud hole in Ryan Villopoto for years and years. Throughout their mini cycle days #800 could basically toy with his rival Villopoto on his way to win after win. When the transition to pro was made, Alessi still had the advantage. In fact at the National season opener in 2006 at Hangtown, Alessi simply pulled away from Ryan with ease. He built up a big early points lead. It was same old, same old. Then, something clicked at Budds Creek. Go to the 34-minute mark of that clip, where one corner served as the spot where the pendulum swung. All of those years of defeat. All of the trophy presentations where Alessi took home the tallest prize. The career of frustration and hate built up to that point where RV said, "No. Not anymore."
Just look at all that has happened since Budds Creek 2006 and what we'll see in two weeks. Look at the rivalries that are losing steam like Cooper Webb/Adam Cianciarulo. It may prove to be the right strategy that Cianciarulo has waited, but Webb already has some serious motos under his belt. Look further ahead at the progress Marvin Musquin, Ken Roczen and Eli Tomac are making. Motocross history has shown one of those three could just turn it on and be the guy in a couple seasons, or sooner. What makes this sudden click happen? How can a decade long rivalry just sputter and one racer fades while the other blasts away? Is it still possible for another McGrath to come along that doesn't race mini cycles on the national level then become an all-time great? You never know where greatness will come from. It's one of the mysteries of motocross that team managers, journalists, and bench racers love to discuss.
Thanks for reading, see you next week.