By Jason Weigandt and Aaron Hansel
We exhausted plenty of rider versus rider history last month with our Monster Energy 30 Greatest Riders in AMA Motocross countdown, and we followed that up by posting the all-time win and podium list for the Nationals.
This week, a different angle: brand versus brand. Here's the all-time National wins by brand as it stands after the first four rounds of the 2013 Lucas Oil Pro Motocross Championship.
450 (formerly 250) Class Wins by Brand
1. Honda 130
2. Kawasaki 98
3. Yamaha 74
4. Suzuki 73
5. KTM 11
6. Husqvarna 8
7. Bultaco 4
8. Can-Am 4
9. CZ 3
250 (formerly 125) Class Wins by Brand
1. Kawasaki 138
2. Honda 102
3. Suzuki 87
4. Yamaha 64
5. KTM 14
6. Can-Am 1
Do a little math with these, and you'll see a battle has broken out.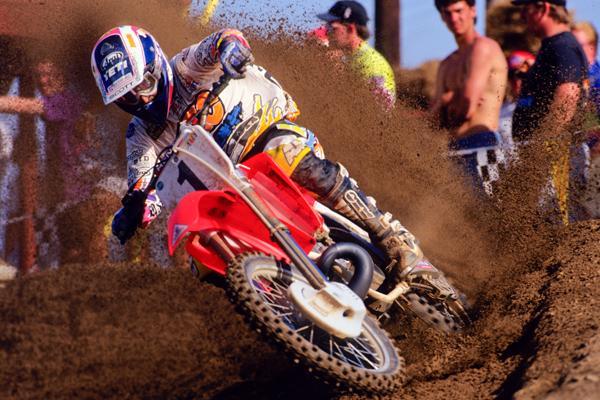 Jeff "Six-Time" Stanton secured a lot of wins for Honda.
Paul Buckley photo
Combined 250 and 450 Class Wins by Brand
1. Kawasaki 236
2. Honda 232
Wow! That's close! This year Kawasaki has generated three wins with Ryan Villopoto and Honda has one with Eli Tomac, so you can see how easily this all-time ranking could change with 16 more National wins up for grabs this summer. Huge credit to Mitch Payton's Pro Circuit squad for getting the 250 Class edge on green. There was a decade-long span where CR125s owned the 125 Nationals, but Kawasaki has swung that advantage all the way around (doesn't hurt that the first and second riders all time on the 125 win list, James Stewart and Ricky Carmichael, did all of their winning on Kawasakis).
Of course, Team Honda's legacy in the 450 Class is legendary, with the likes of Johnson, Stanton, Bayle, McGrath and Carmichael delivering huge wins there. Honda hasn't even won the title there since 2004, yet they're way in front in all-time wins still.
And Red Rider fans have some more bragging rights. Add in the now-defunct 500 National Class and things change in a hurry.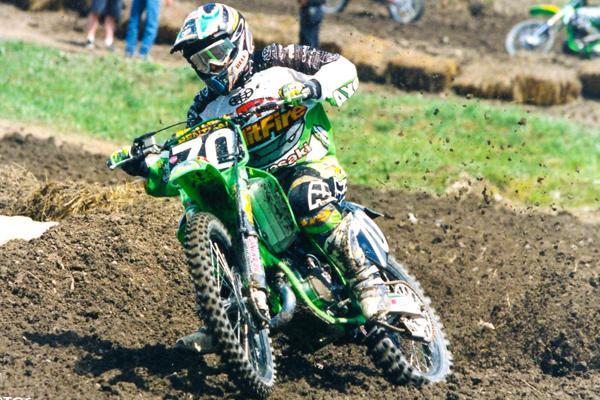 The GOAT won a lot of races while with Kawasaki.
Thom Veety photo
500 Class Wins by Brand
1. Honda 59
2. Yamaha 56
3. Kawasaki 43
4. Suzuki 12
5. CZ 9
6. Husqvarna 6
7. Maico 3
Add up all three classes and Honda now has the all-time National wins edge 291-279. We never thought we'd get to say this again, but score one for the CR500!