High Point Raceway
Mt. Morris

,

PA
High Point
Lucas Oil AMA Pro Motocross Championship
Red Bull KTM's Marvin Musquin is the first two-time overall winner of the 2013 Lucas Oil Pro Motocross Championship in the 250 Class. But his win at Saturday's GEICO High Point National was exceptional, as he withstood heavy pressure from his teammate Ken Roczen to take the second moto win—his first ever moto win in this series. The Frenchman talked about it all in the post race press conference.
Racer X: Two weeks in a row now, Marvin Musquin's stepped on the top step of the podium. Supercross you kind of had a similar run. It seemed like once you get the ball rolling you're able to go on a little bit of a streak.
Marvin Musquin: Yeah. I'd be happy if it's going to be the same as supercross for sure. But definitely this one today is the best one because I ended up second and first and that is my first [moto] win ever in America in outdoors. So this one was really good. I'm so happy and happy for everybody on the team. My mechanic is working so hard. It's great to finally get a moto win and the second overall of the year and the third one of my career in America.
You talked about winning your second overall in a row and you have yourself in a position today. You didn't make up any points on Ken. You guys split and went 1-2, 2-1 so you both walked away with the same points. Obviously moto wins is what it's going to take to win this title.
For sure, I didn't start the championship like I wanted. Ended up fourth two times and now two times 1st. I lost a little bit of points on Roczen and Tomac at the beginning of the championship and now I'm winning overalls. But like you said I have to win some motos to get some points on Roczen and Tomac. This weekend I got a moto win but didn't get any points on Roczen. It's tough to get a moto win and now it's going to be tough to get some points but I will try to keep going like that.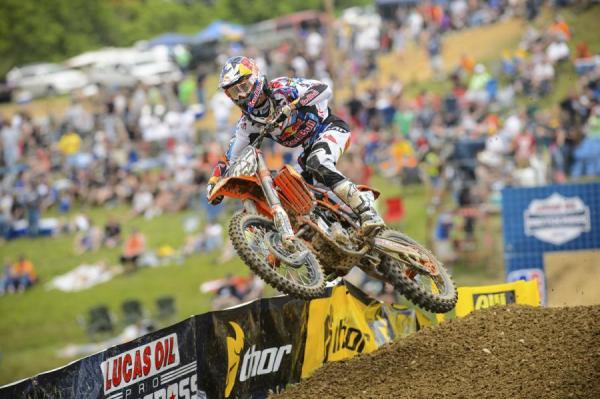 Musquin won his second straight overall at High Point.
Simon Cudby photo
What does it mean to win that moto the way you did? We know how fast Kenny is. You hadn't won a moto here in the US and you held strong under pressure. What's that mean for momentum?
For sure it means a lot. I've been working really hard. It's been tough since last year. Last year I got some good motos but didn't get any moto wins. I got an overall but never won a moto and this year was the same. I finally got a moto win. It's really hard to believe because, like you said, Roczen, Tomac and all those guys are doing really good and are really fast. I got a great start and I was leading the race and I tried my best. I knew Kenny was behind me and I gave everything I had and it worked. I think mentally and physically I was doing good. That's the best feeling ever.
I know you were kind of frustrated after moto 1, because the first couple laps maybe weren't the way you wanted. Was that what we saw in moto 2? I'm going to get the holeshot and get out front? Because you were mad about the way it went in the first one?
Exactly. That's actually the first time I'm doing that, to take the holeshot and give everything I have and lead the whole moto right away and finally get the moto win. It's the first time. Right now it's really hard to do it and I finally did it. So I'm really happy with all the work I'm doing on the week. It's a good feeling.
Second moto, Roczen got close. Did you feel him back there?
At one point I was getting nervous. Everyone knows that everybody is going fast right now and Kenny is doing good. I knew he was behind me. During the moto I thought about him last year, when he got passed in the last lap a couple times. I don't want to do the same thing! So that's why I gave all my best and it worked. So It's a great feeling. I knew he was behind me and at some parts of the track he was a little bit better than me. But I was really enjoying racing. I really loved my bike today, loved the track, and it was a great day.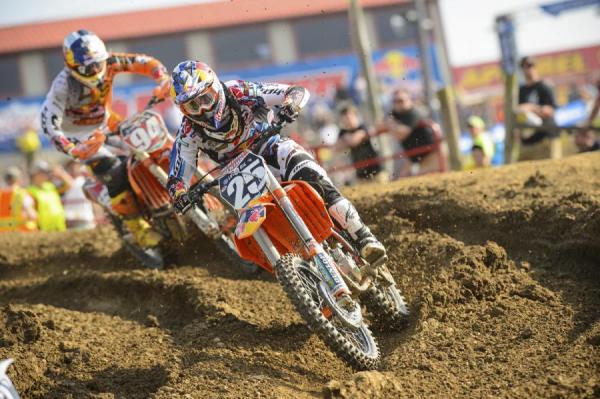 Musquin held off Ken Roczen in the second moto for his first moto win of his career.
Simon Cudby photo
At the end of the 2nd moto were you able to use lapped riders to your advantage? Did you strategize?
Sometimes. I tried my best to pass the lapped riders as quick as I can and Kenny was behind. So sometimes when there is a tricky part of the track and ruts and downhill and I passed a lapped rider I knew he was going to stay in front of Kenny in that downhill. Sometimes it's good for me and sometimes not. We have to deal with the lapped riders. They are not all doing the same thing on the track but some of them are doing good. It's not easy but it's part of the race and it's racing.
We know the last two tracks are probably good for you. You're good technically in the ruts and off cambers and all that. What are you planning on doing this year to perform like this on every track?
Right now, with the confidence that I have right now and the speed that I show and the condition and everything, I think I can do that every weekend. And that's what I want to do, also. Just want to keep going and try my best and we'll see at the end of the championship.