High Point Raceway
Mt. Morris

,

PA
High Point
Lucas Oil AMA Pro Motocross Championship
Welcome to Racerhead, to the GEICO High Point National, and to a rainy day in the motocross world. Of course it's raining—it's High Point. So today's open amateur practice was scratched in order to save the track for tomorrow's fourth round of the 2013 Lucas Oil Pro Motocross Championship. But the weather reports look great for tomorrow, so maybe we won't have mud after all!
This being the home race for Racer X and MX Sports, it's been an incredibly busy week that started moments after the checkered flag last week at Muddy Creek. I was literally in the car heading home before dark and was out here at the racetrack by Sunday at noon. The place was looking great before the rains fell, and Marc Peters was able to groom a beautiful racing circuit before it got ugly. Now our fingers are crossed for better weather.
Of course we will have our work cut out for us if we want to do a job like Sam Gammon and his crew did at the Built Ford Tough Muddy Creek National. The first outdoor national in the southeast in fifteen years was a resounding success, with a massive crowd and some great motos. The race was a long time coming for a lot of people, and it marked the end of a search for a new race down south that went on for maybe three years. Muddy Creek is now locked in, but that's not to say that there won't someday be another Southeast race, farther down on the map and near the huge rider bases of Georgia and Florida. Stay tuned.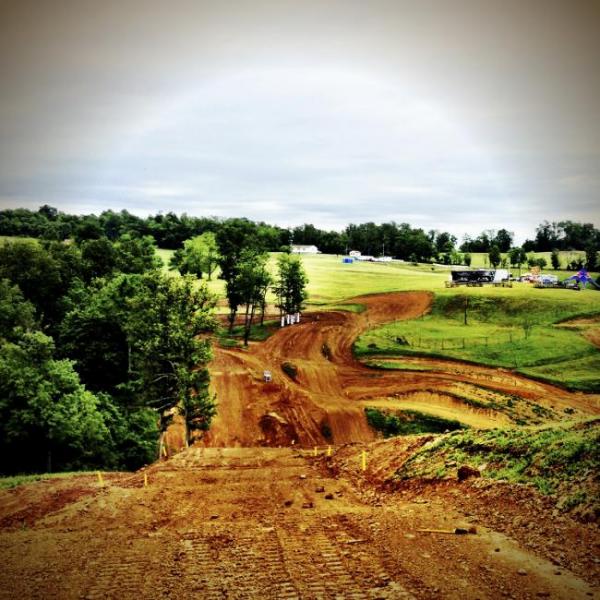 Round four of Lucas Oil Pro Motocross comes to High Point tomorrow.
DC photo
There's also news in New England, and so far it's not good. As announced last Friday, Southwick National promoters Ralph and Diane Pitello could not reach an agreement to continue to lease the property from American Legion 338, the landowners of the track. So they are retiring, which means there is no promoter for the event after the race there on June 29. There has been widespread disappointment with the situation, plus a "Save Southwick" movement that's popped up on Facebook and elsewhere. I will know more about what's going on up there as we get closer to the race, but right now it's fairly cut and dry: The rent that the Legion is asking for is beyond the reach of the motocross promoters, so with no movement there, the race is truly in jeopardy.
In motocross news we were hoping that High Point would see a continued battle between Ryan Villopoto and Ryan Dungey in the 450 Class (with a deep field chasing them) and maybe even a fourth winner in four races in the 250 Class, as Ken Roczen, Eli Tomac, and Marvin Musquin have now all won (and guys like Blake Baggett, Zach Osborne, and Cooper Webb are going fast enough to possibly win). But what we won't see is the debut of Adam Cianciarulo, the Monster Energy/Pro Circuit Kawasaki prodigy who has been suffering from salmonella poisoning since just before Hangtown. We thought High Point would be the place, but now it looks like it will be Budds Creek before we get a peek at this kid on a full-sized motorcycle. I still don't know what to expect, as the young men at the front of the 250 Class are absolutely flying right now, and AC292, who hasn't raced since the Monster Energy Cup last October, will likely have some rust, even as young as he is. Either way, it's going to add even more interest in what's happening in this series already.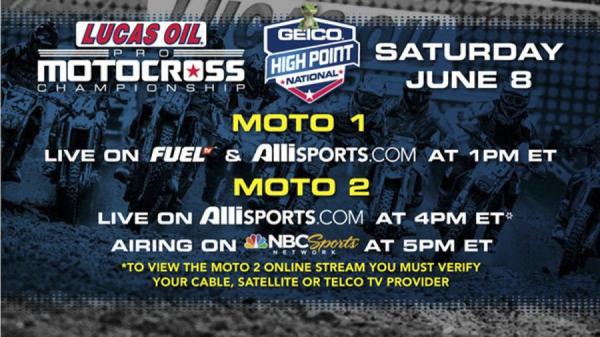 Click HERE for more details.
HOMECOMING (Chase Stallo)
After a year away, Pennsylvania's golden boy is coming home. The last time we saw Monster Energy/Pro Circuit Kawasaki's Darryn Durham at his home track was back in 2011. He had a vibrant crowd at High Point on its feet as he lead nearly all of the first moto while piloting an Eleven10 Mods Honda. A shoulder injury sidelined the Butler native for the 2012 Lucas Oil Pro Motocross Championship and the 2013 Monster Energy Supercross season, but he's happy to finally be back.
"It feels really good [to be back]," Durham said yesterday at the High Point press day. "I'm pumped to be back and spin some laps at High Point; it's been a while."
Last week, Zach Osborne—who returned to his home track of Muddy Creek—said the easiest part of the week was the racing. Trying to juggle family, friends, and multiple ticket requests can bring its own set of distractions.
"Yeah a little bit," Durham answered when asked if he was feeling some hometown pressure. "It does get stressful, but I try not to focus on that stuff. I try not to focus on the extra stuff; I try and keep it fun and positive."
Injuries have cost Durham the better part of the past year, but he did card a sixth in the first moto of the season. The injury bug stung Durham again, as he suffered a puncture wound in his leg that required stitches and had some fluid build up in his lower back following a big crash in the second moto. The crash has relegated him to just three days on the bike since the opener and left him on the sidelines for Thunder Valley.
"Going from sitting to standing isn't ideal at the moment," Durham said. "I'm still a little sore, but I'm getting better by the week. I haven't been able to train like I want to. I didn't lose my speed, I'm just sore, so my goal is to get back in the top five."
As for the shoulder injury that cost Durham all of last season: "It's pretty good. It survived the crash at Hangtown so I was pretty stoked about that."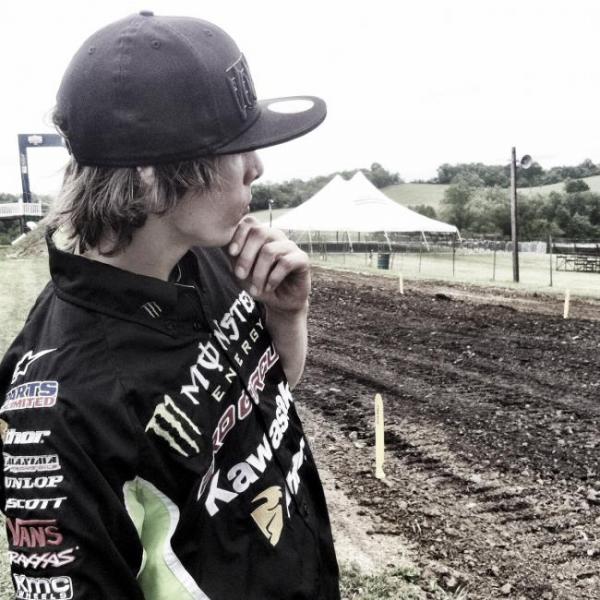 Durham checking out the track at High Point press day.
Chase Stallo photo
PRO PERSPECTIVE – MUD (Jason Thomas and Ping)
JT: My original entry for this was simply "I hate mud." After contemplating it, however, that doesn't really seem fair. Mud is a part of this sport, and shying away from it isn't productive. While I may not enjoy racing in the mud, it is definitely a skill that can be learned and used to an advantage. As Ping knows, Ricky Carmichael used to be a terrible mud rider. High Point '97, Foxhills MXoN '98, etc., all showed his struggles in the mud. It was the only weakness in his outdoor racecraft. Typical RC, he wasn't going to let that stand in his way. He practiced in the mud again and again until he became one of the best mud riders of all. In fact, he lapped the entire field—myself included—at the infamous mud race at Spring Creek in 2006. To me, this proves that mud is simply a skill and a mindset.
If you walk around the pits on a rainy national morning, most riders and mechanics are downtrodden and dreading the day ahead. This may seem trivial, but it is a precursor for how the day is going to go. For those who have prepared, it is a huge opportunity to regain lost points, equalize an opponent's momentum, and more. Positivity goes a long way in the mud. The riders that seem to do well in the mud actually seem to be having fun out there. I usually didn't follow my own advice in the mud, but I definitely think trying to make the most of the situation is key. It's too late for the guys this weekend to magically become faster in the mud, but I feel that approaching it the right way mentally can be a huge help.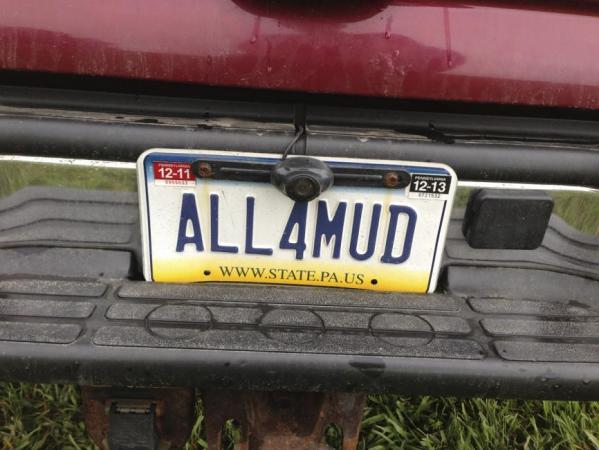 Ping: I hate mud more than JT does. In fact, I hate mud more than diarrhea, syphilis, and air travel combined. Unfortunately, High Point was almost always a mudder for me and I regularly stunk the joint up when I raced there. One of the worst mud races of my life was High Point in 1997 (yes, that is when Bradshaw won on his Manchester Honda … pause for cheers and high-fives). Carmichael and I were Pro Circuit teammates, and after a stunning start to the season he finally faltered—big time. How do I know? Because he and I were mixing it up heavy for around 28th and 29th position. We took turns crashing and pretty much just sucking in general. When we finally finished I muttered, "Meh, whaddyagonnado?" Ricky came in crying his eyes out like he just had to have his favorite dog put down. I'm sure that was a long week down at Camp Carmichael. I probably went surfing or something.
Anyway, mud is something you have to mentally prepare for at Mt. Morris. Oh, the weather might say slight chance of rain, but in that little quadrant of Pennsylvania that just means there's only a small chance that your home will be swept away in torrential rains. You have to understand their terminology.
Team managers always told me, "Just go out and have fun. Don't stress out about the mud." That was the most ridiculous bunch of crap I've ever heard. Sloshing around in the middle of the pack (or worse) is never fun.
You riders want some REAL advice for the weekend? Pack a lot of extra underwear, buy some eyedrops to get the dirt out of your eyes, and be a better mud rider than I was. That shouldn't be hard. If all that fails, check the surf report for next Monday.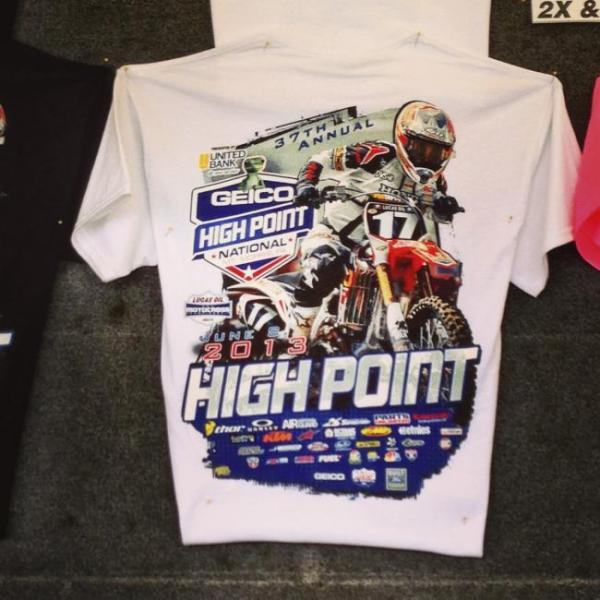 Stop by MotoTees and pick one of these up tomorrow.
DC photo
LATE CALL (Chase Stallo)
At nearly 185 pounds, Malcolm Stewart always seemed too big for the 250 Class.
"I think the 450 fits me better, especially with the power to weight ratio," Stewart told me. "Me battling guys that weigh 130 pounds, and I'm 185, it's a big difference."
Following the collapse of the J-Star/JDR KTM team and a late injury to Christian Craig in supercross, Stewart seemed like an ideal fit to fill in on the Lucas Oil/Troy Lee Designs Honda team. But the transition was much quicker than originally anticipated.
"I went to Hangtown with three days on the bike," Stewart said. "I hadn't even done a thirty-minute moto. I have just been building my way up since.
"I wasn't planning on racing outdoors at all," he continued. "I was actually planning on having a big vacation."
When Malcolm lined up for the opening round at Hangtown it marked the first time in his career he would race professionally against his older brother, James.
"It means more to me than racing," Malcolm said. "It's always been a dream for us to race against each other. I was actually more nervous racing him than I was about racing everyone else. It's a big dream come true and I'm really happy we both get to race the same class."
In his short time in the 450 Class, Malcolm has had his ups and downs but has shown flashes of what he might be able to accomplish with more time on the bike. The week off following High Point should provide Stewart that extra time and a chance to enjoy his other passion: "Oh yeah, definitely getting some fishing time in."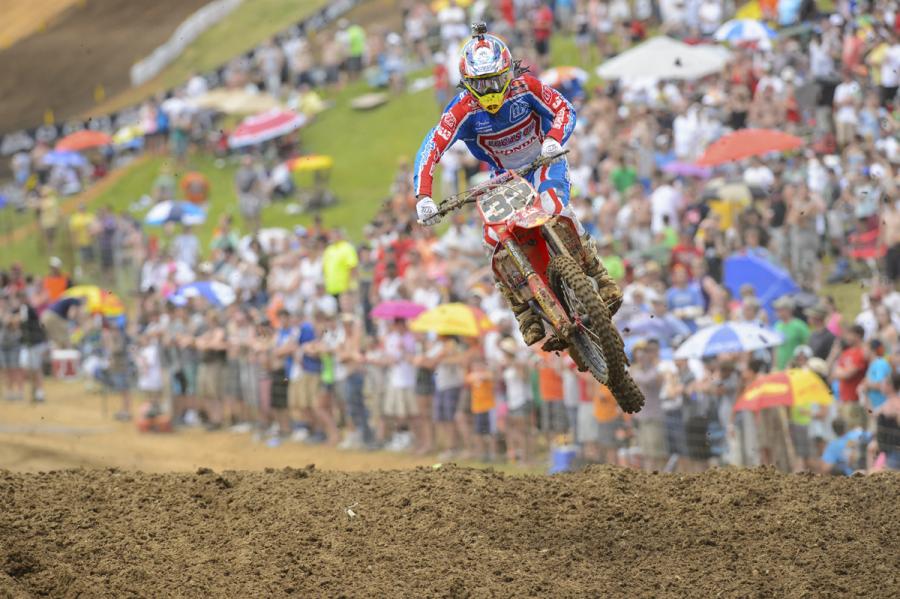 Malcolm is still adjusting to the 450 Class.
Simon Cudby photo
A Year to Remember Forget (Aaron Hansel)
For Dean Wilson, that is. Despite his Jeff Ward Racing team folding before the start of supercross, Wilson's year was shaping up to be a good one. He'd slid back into a spot with Monster Energy/Pro Circuit Kawasaki and was slated to compete in the Eastern Regional 250SX series, where he was considered a title favorite, and was planning on finally making the belated jump to the 450 Class in the Lucas Oil Pro Motocross Championship. Well, that all happened, but certainly not in the way that Wilson or team boss Mitch Payton would have liked.
After opening the East Region with a convincing win in Dallas, Wilson watched his shot at a 250SX Championship evaporate when he crashed out of the series in Indianapolis, breaking a rib and collapsing a lung in the process. It certainly wasn't how he wanted to close out his 250SX career, but at least he still had the Lucas Oil Pro Motocross Championship to look forward to, right?
Not so much. His summer got off to a so-so start, going 17-14 for fourteenth overall (after running as high as sixth in the first moto) at Hangtown and 11-9 for tenth at Thunder Valley.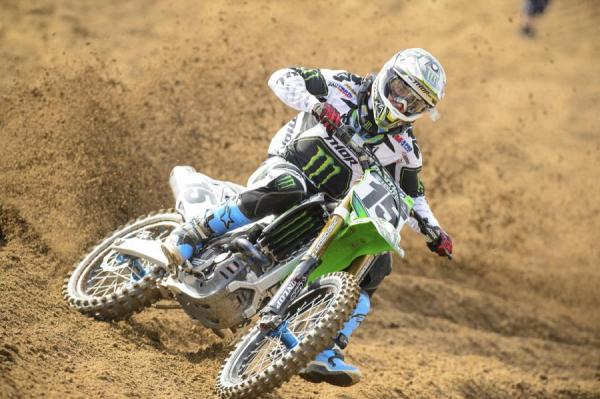 Dean WIlson is out for the season with a shoulder injury.
Simon Cudby photo
"He's catching on but he hasn't got it yet. It'll take him a little bit of time, but I think he can do it," Payton said to our own Steve Matthes after Thunder Valley.
Then it all came to a literal crashing halt when, according to a tweet from Wilson that was later deleted, his bike blew up as he was launching off a jump, leaving him with a torn labrum, the same injury that prevented him from defending his 2011 Lucas Oil 250 Championship last year. So, to reiterate, Wilson barely got the chance to run the #1 plate he earned last summer, then he crashed out of 250 SX in his next appearance, and now he'll miss his rookie 450 MX season with a hurt shoulder. Those are three hefty blows, and they all took place one right after another. It's a situation that's reminiscent of Trey Canard's injury-plagued career, or if this black cloud continues to follow Wilson, even Ben Townley's hard years.
Here's hoping Wilson's woes are finally behind him and that he can make a quick recovery and come back strong in 2014.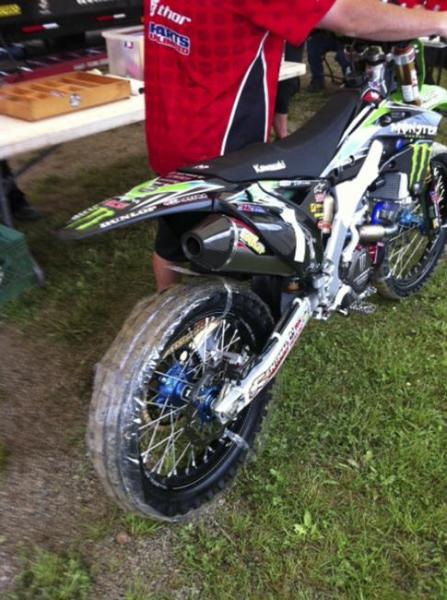 PC wrapped their tires in plastic this morning for tech.
Jeff Canfield photo

HOME AWAY FROM HOME (Chase Stallo)
While Alex Martin calls Millville home—his parents own the storied Spring Creek track—he has spent a significant amount of time in Pennsylvania over the years. The Minnesotan has been with the Uniontown, Pennsylvania-based Eleven10 Mods team for nearly three years and is very familiar with the soil.
"Yeah, I think it gives me an advantage," Martin said. "I've always loved this track since I first came here. I don't know if it's the ruts or the dirt or what, but it's a lot like Minnesota. I think the positive attitude I carry with me every year I come in here really benefits me."
Martin has built his program around fitness, which has suffered after nearly four months off the bike during the early part of the year due to a broken wrist suffered in December.
"Physically, I feel like I'm in very good shape," Martin said. "But when you get to the race track it's a different story, really. The intensity is a lot higher than what you can duplicate in practice. So I think that racing fitness takes time to get back.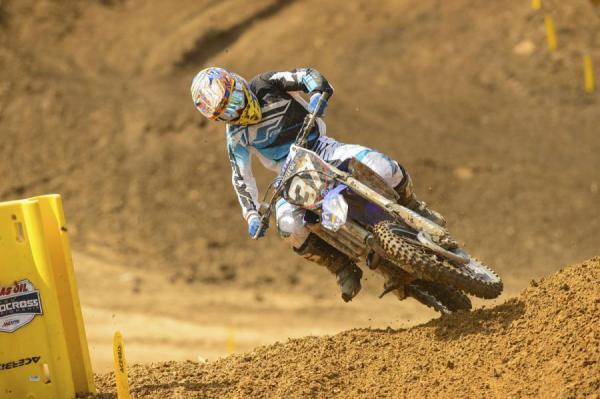 Alex Martin is still trying to find comfort on the Yamaha.
Simon Cudby photo
"Before I got hurt I had gone three straight years without an injury. Now having an injury and missing supercross it definitely takes a toll on you and you lose your rhythm."
After spending the early part of his career aboard a Honda, the layoff, coupled with the fact that he has been without a 250 practice bike—he has been training on the 450—Martin is still finding the adjustment difficult.
"I was out for a long time with the wrist injury," Martin said. "I hurt in December and missed three or four months and missed all of supercross, so at this point I'm just looking to improve at this point. I'm not satisfied at all with fifteenth place finishes."
Like the Stewarts, the Martins are now racing together too. The sibling rivalry with his younger brother, MyPlash/Star Racing Yamaha rookie Jeremy, is also something that pushes the older Martin.
"I definitely don't like that he is beating me," he said. "I can't lie about that. Little brother beating the older brother is not the way it is supposed to work in this world."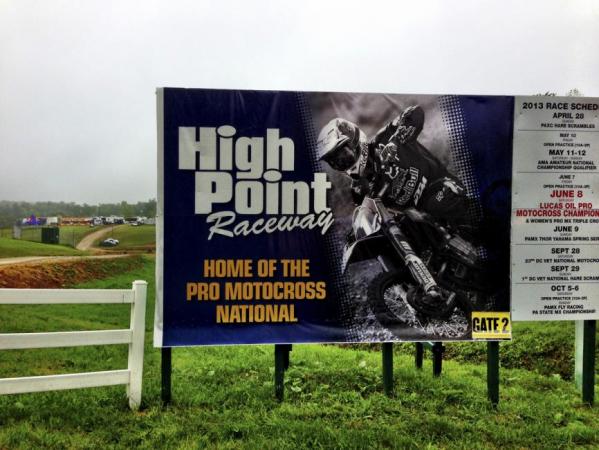 Ryan Dungey graces the front entrance at High Point.
DC photo
DUNCAN DOWN (Aaron Hansel)
After decimating the WMX field in her pro debut aboard a YZ125 two-stroke at the season-opening Red Bull Hangtown Motocross Classic, 17-year-old New Zealander Courtney Duncan will miss round two of the WMX Triple Crown this weekend at the GEICO High Point National with a broken wrist. She had it plated, but she's still not in racing condition, and her status for round three of the Triple Crown at Southwick is unknown. It's a bummer of a situation, no matter how you look at it. Duncan, whose parents stayed home to work in New Zealand to fund her stateside racing venture, doesn't get to back up her convincing win at Hangtown and the fans won't get the chance to see and hear a 125 wound high and tight in competition.

If you're Rock River Yamaha team manager Christina Denney, you're probably ready to pull your hair out at this point. Team rider Ben LaMay missed the first two rounds, Chris Johnson has yet to race this season due to a bruised pelvis and now Duncan's out of action. To add insult to injury, a fire recently ripped through Denney's business, Roost MX, and destroyed their inventory and a bunch of equipment.

Get well soon Courtney, and here's hoping Roost MX was well-insured!
IN THE MAG - ACTION FIGURE
Cole Seely can do anything that involves wheels, bearings, gravity, and physics. He's an all-around talented dude, be it on the track where he makes his living on the Troy Lee Designs/Lucas Oil Honda or in the parks and pits where he likes to pass his free time. Seely possesses a gift that can't be taught: flow. It shows when he's on his dirt bike, his BMX or mountain bikes, his skateboards, and even his drift cars. Cole Seely has something special.
And here's the video from the shoot he did with Cameron Baird.
HEY, WATCH IT!
High Point Press Day
High Point Animated Track Map
Weege Meets The Fans at Muddy Creek
RANDOM NOTES (Staff)
Check out this cool article on Pulpmx where riders talk about their best and worst race bikes.
Sad news from some good friends: Dave Rodgers and his wife, Julie, met at a motocross track many years ago and worked together side by side in the MX industry for forty years. Sadly, Julie passed away this week after a long battle with breast cancer. Here is the statement from the Rodgers family:
Dear Friends,
Julie Grigg Rodgers, an Amazing Wife, Mother and Grand Mother left this world peacefully at 9:52 p.m., May 31, in the arms of her Eternal Husband Dave Rodgers at their home in Big Bear Lake, CA. All six of her children were at her side. She fought a heroic battle against breast cancer for six and a half years. While we are deeply saddened at her loss, we rejoice in knowing that our family will be together again in Eternity. She Loved Life, her Husband, her Family, the Gospel Of Jesus Christ and all of you.
A funeral service will be held to honor Julie Grigg Rodgers, Saturday, June 8, 2013 at The Church of Jesus Christ of Latter Day Saints, at 400 East North Shore Drive, Big Bear City, CA 92314. 9:30am - 10:30am Open Viewing. 11:00am - Funeral Service. 1:00 pm - Reception.
The grave site service will be 10 am Monday, June 10th. Procession will start Monday at 8:30 am from the Mormon church building then going down Hwy 38 to Hillside Memorial Park Cemetery - 1540 Alessandro Rd, Redlands, CA 92373. All are invited!
A Julie Rodgers Memorial Fund has been established in lieu of flowers and gifts here.
Godspeed, Julie.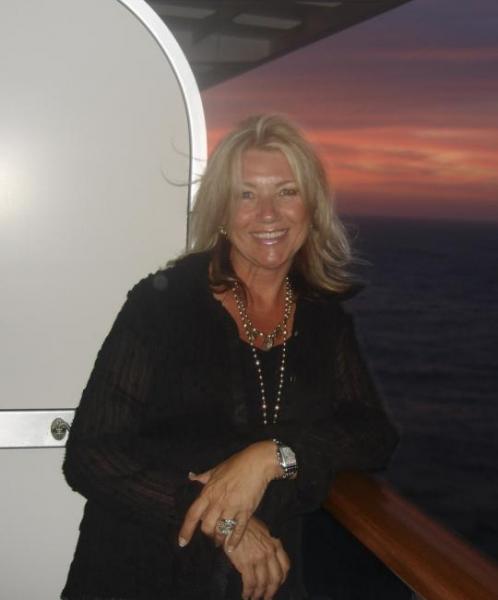 Thank you for reading Racerhead. See you at the races.