Muddy Creek Raceway
Blountville

,

TN
Tennessee National (Muddy Creek)
Lucas Oil AMA Pro Motocross Championship
Welcome to Racerhead, coming to you today from the home of the newest stop on the Lucas Oil Pro Motocross Championship tour, Muddy Creek Raceway in Tennessee. Tomorrow will mark the first national on Sam Gammon's reconfigured motocross mecca, and if you saw any of the photos or videos from yesterday's press ride, you saw not only how different it is from before, but also how much riders like Justin Barcia, Mike Alessi, and Zach Osborne all liked the track. With the help of Mark "Bomber" Barnett, tomorrow's Built Ford Tough Tennessee National should be a fun and exciting race to watch, whether you're here in Tennessee or watching at home on NBC Sports (first motos) or Fuel TV (second motos). It all begins at 1 p.m. ET, please check it out.
Throughout the last year I have had a great seat at all of the national rounds, and I have taken advantage of that access by trying to share photos via the @racerxonline Instagram and Twitter feeds. Sometimes we end up with so many photos, we figured the best thing to do was to save some and roll them out during the week, spreading them out. So when I posted a photo of Chad Reed doing the big step-up triple before the finish line at Thunder Valley and added the caption "Time for @crtwotwo to step it up... C'mon, Reedy!" my intention was to share what I thought was a pretty good iPhone photo with our readers, with an encouraging message to Chad after a lackluster start to the outdoors.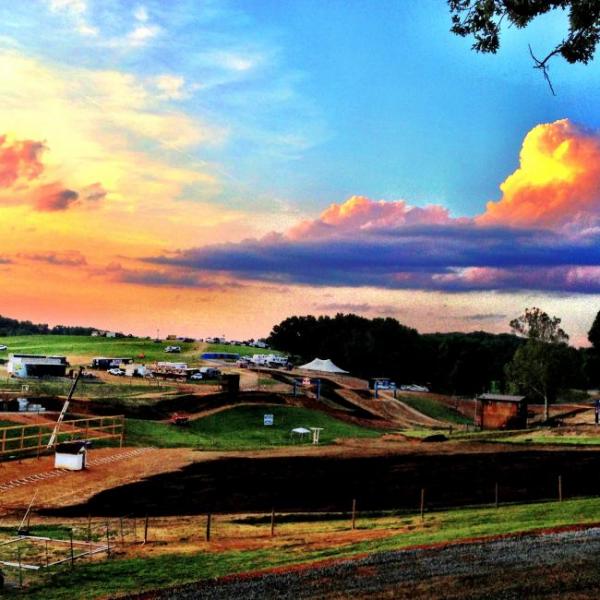 Muddy Creek marks a new chaper in Lucas Oil Motocross.
DC photo
What I didn't realize was how problematic the illness Reed has been suffering has been to his results. I didn't talk to Chad at Thunder Valley, nor did I pay particular attention to how he was doing in the motos, as there was a lot going on out there in the 450 motos. Reed and his team manager took the comment much differently than it was meant, and I now understand why given the matter of his health. I apologized to Chad because it was not my intention to kick a man when he's down, ever. Riding hurt or sick is a tough thing to do, and I appreciate the team owner/athlete trying to keep his bike out there and his sponsors happy, and I also look forward to him getting healthy and getting back up front where he belongs.
What was going on at Thunder Valley was the ongoing need to work to keep the racers inside the boundaries of the track, which is marked by the yellow Acerbis markers and the corner barriers. There have been several instances where top riders have gone outside or over the yellow markers, and the race officials have been first warning the riders, then fining them, with all of the fine money going to support the Asterisk Mobile Medical Unit. If it happens yet again, then officials have the decision to penalize positions. If any infraction—be it the first, second, or third or more—is deemed to be an intentional cut with obvious gains, as compared to just running off the track and back on, then the official can go as far as a disqualification.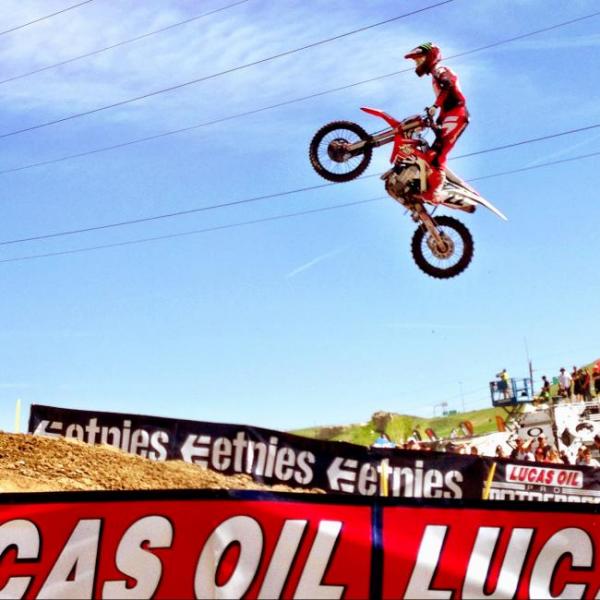 After two races there a total of four fines have been handed out, totaling $700. But this being the internet and all, someone posted that MX Sports had handed out $25,000 in fines—a mere $24,300 more than the actual amount:
HANGTOWN: Mike Alessi ($250), Ken Roczen ($100), Blake Baggett ($100), and 30 warnings (no fine) for running outside the markers.
THUNDER VALLEY: James Stewart ($250), and 4 warnings (no fine) for running outside the markers.)
The markers were discussed at both the Hangtown and Thunder Valley riders' meetings and will be discussed again—in even more detail—in tomorrow's meeting. (And again, all fine money went to Asterisk, just as it does in Monster Energy Supercross.)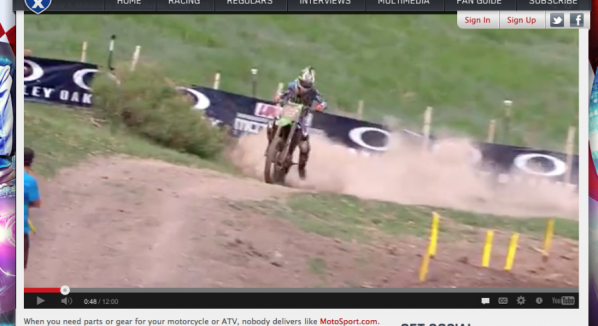 Ryan Villopoto's off-track excursion at Thunder Valley raised some eyebrows, but it was not technically a violation.
But it's no surprise that anyone who watched Thunder Valley would likely wonder what would happen in the aftermath of a few obvious off-track excursions, like the one with Stewart, where he got on top of the inside markers while passing Barcia down the long hill in the middle of the track, or what happened with eventual winner Ryan Villopoto after he got off to the outside of the track and then stayed on the gas up the medical-access road alongside the track before getting back on the track. Stewart was fined, but Villopoto was not because what he did was not technically wrong—a rider in his situation is supposed to reenter the track at the next safe place, not turn around and go back.
What we need, however, is more clarity on how fast that rider should be going as he looks for the place to reenter, as not only are there race officials, paramedics, and caution flaggers alongside the track, but also media, television wires, water lines, metal lines, and more. Series officials will be discussing this more tomorrow in the riders' meeting, trying to instill in all of the riders how important it is to stay within the markers, as well as how important it is to safely reenter, and without gaining an advantage.
Okay, it's a busy weekend here with lots to do, so here's the rest of Racerhead: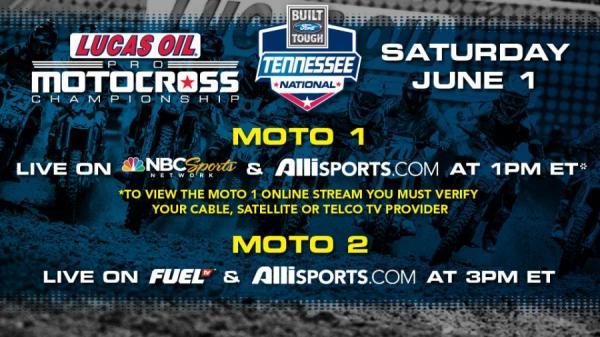 Click HERE for complete details.
THE NUMBER - 3, GOING ON 4 (Aaron Hansel)
The Lucas Oil Pro Motocross Championship is descending upon Bristol, Tennessee, for the first time this weekend, and with the Red Bull Amateur National Championship, the largest amateur national in the world, taking place at Loretta Lynn's Ranch in Hurricane Mills, Tennessee, outsiders to the sport might think that the state would be something of a hotbed for pro motocross racing. The reality, however, couldn't be further from the truth, as Tennessee has only hosted pro Nationals in three separate years.
The first venue was DeSoto Cycle Ranch in Memphis. Rounds were held there in 1972 and '73. The first year, Sonny DeFeo won the 250 class aboard a CZ and Barry Higgins, also CZ-mounted, topped the 500 class. In '73 it was Kawasaki rider Jim Weinert winning the 250 class and Suzuki pilot Mike Runyard winning out in the 500s. The second venue was Hillside Park in Nashville. The series only went there in '77, and only the 250s raced. Jimmy Ellis won that day aboard a Can-Am.
THE LAST SOUTHWICK (DC)
Unfortunately, as Muddy Creek joins the schedule, another round will be leaving the schedule after 2013. Southwick Moto-X 338 President Diane Peebles-Pittelo is stepping down from her role and retiring from the sport, as she was unable to come to terms with the landowner to continue hosting the Southwick National. The event is a New England staple of summer, and easily one of the toughest tracks in the country. But its suburban setting has led to many challenges over the years, as well as changes within the American Legion 338, which is how the track got it's name when it was founded back in 1970.
"Unfortunately, we were unable to reach terms with the landowner to maintain the event at the facility," said Peebles-Pittello in the press release that went out today. Diane's late husband Ray Reebles was a founding member of the racetrack, along with the late Bernie Yellin. Over the years she worked diligently on keeping the event there, often at odds with local officials and the Legion, as the land has become valuable in development terms due to what can best be described as suburban sprawl. Diane and her second husband, Ralph Pittello, were tireless promoters of the national and motocross in general, and the fact that there's no longer a role for them there after all of these years has been difficult for them. I hope they understand and know how much their work at the race, as well as the work all of the other people involved with the track that supported motocross for so long, meant to riders and race fans over the years.
Yes, a new search is on for a new facility to host this race, and Southwick Moto-X 338 will be a tough act to follow.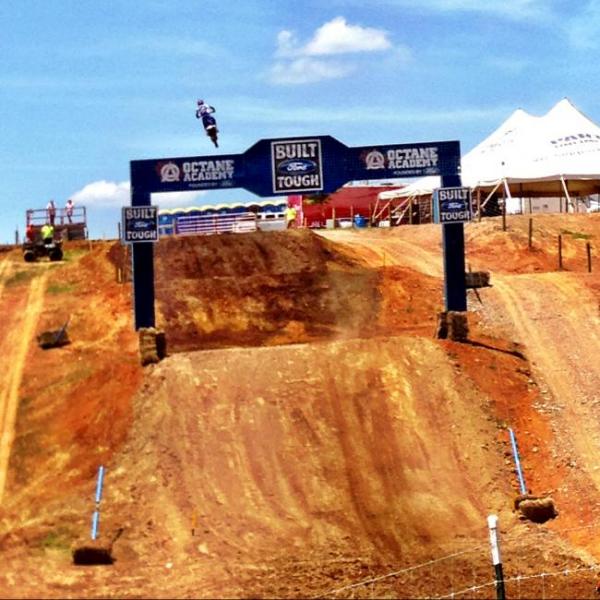 Josh Grant skys the Bomber at press day.
DC photo
ANOTHER NUMBER - 8 (Aaron Hansel)
Although the Lucas Oil Pro Motocross Championship is a domestic series, it's no stranger to foreigners looking to put their skills to the ultimate test in what is considered the most prestigious motocross series on earth. Many of them have been successful, too, and when Ken Roczen went 1-1 at the Red Bull Hangtown Motocross Classic, Germany became the eighth foreign nation to produce a winner in the series. Let's take an all-inclusive look at the list of international riders who have put their countries on the American motocross map by taking overall motocross victories.
France
Jean-Michel Bayle
Stephane Roncada
Mickael Pichon
Sebastien Tortelli
David Vuillemin
Christophe Pourcel
Marvin Musquin
Australia
Chad Reed
Craig Anderson
Brett Metcalfe
South Africa
Greg Albertyn
Grant Langston
Tyla Rattray
United Kingdom
James Dobb (England)
Dean Wilson (Scotland)
Sweden
Gunnar Lindstrom
Holland
Pierre Karsmakers
New Zealand
Ben Townley
Germany
Ken Roczen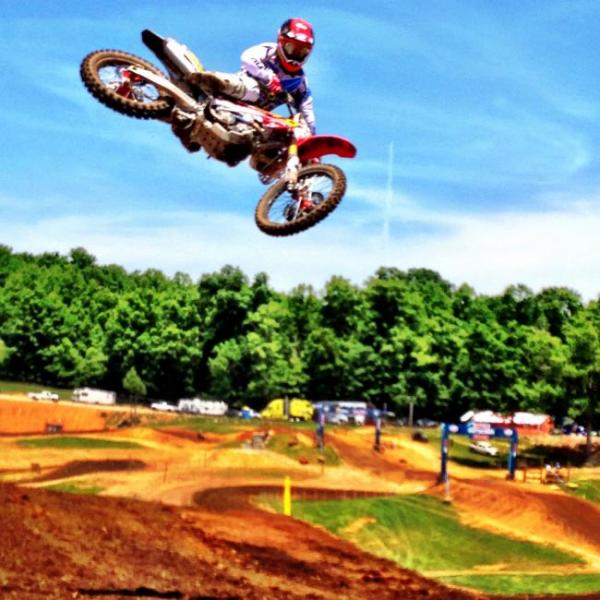 Zach Osborne returns to his hometrack.
DC photo
THE HITS KEEP COMING FOR PRO CIRCUIT (Jason Weigandt)
You can't say Monster Energy/Pro Circuit Kawasaki isn't trying! They have more riders (7) and more trucks (2) than ever before. And yet luck keeps going south—and that means riders won't make this weekend's national in the Southeast. Why? Well, Dean Wilson crashed this week and is out for at least this weekend. He tweeted that he reinjured his shoulder. Right now he's week-to-week, but the news could soon be worse if Dean ends up needing surgery or extensive rest. While Dean's results at the first two rounds were not spectacular, the team was actually happy with them considering how big his injuries were from supercross. Now he's back on the mend.
Dean-O's run of injuries dates back over a year now, from his collision last April with Eli Tomac at the Seattle Supercross. He had work on both shoulders, which knocked him out of the Nationals last year. To give you an idea where this has all left him, consider his old rival Justin Barcia. Barcia might be frustrated when he gets holeshots but eventually ends up finishing behind the Ryans, but he's stayed on track the whole year, gaining speed, experience, and fitness.
Meanwhile, the pressure is rising on Adam Cianciarulo since his true freshman counterpart Cooper Webb has been drawing raves thus far. We expect AC back for probably High Point, and the bar for what's possible has been set very high. I talked to Cianciarulo's trainer Aldon Baker last week, and he said the kid has lost about eight pounds or so with this food poisoning. And Baker noted the obvious, which is that AC couldn't really afford to lose any more weight! The plan, according to Kawasaki, is that he won't race until he's back to 100 percent. Perhaps they'll measure his progress one pound at a time.
Finally, Darryn Durham was a breath of fresh air for the team during the first moto at Hangtown, where he finished a solid sixth. Just a week earlier, the team wasn't even sure if DD's shoulder was strong enough to allow him to race! Then came a midair crash over a big jump with Blake Wharton, which sliced open his inner thigh and left him heavily bruised. Durham tried to go at Thunder Valley in practice but couldn't. He told me afterward that he'd be ready for this weekend, but right now things look to be leaning more toward a game-time decision.
MUSINGS FROM MATTHES (Steve Matthes)
First of all, it's been a very busy week for me as I popped for the five bucks and got access to all the old Cycle News from the '80s and '90s. It's been amazing to go through them and surf the old races and names. And of course see young journalists like Davey Coombs (reporting from the 1990 Japan SX!) and Donn Maeda (the 1993 World Vet Championships!) in the bylines is pretty funny also. Thank you to the CN guys for this gift that will never stop giving. You charged me five bucks but I feel like I ripped you off.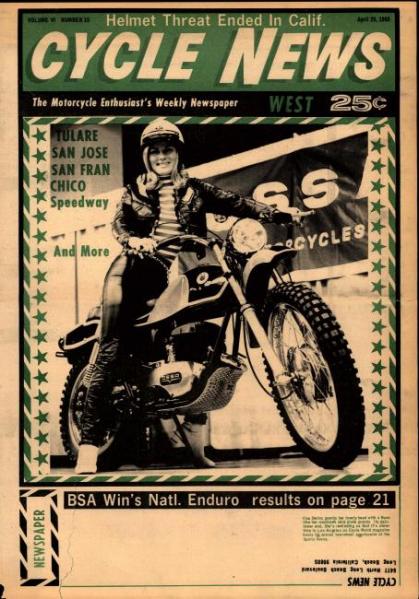 After his podium last weekend there are some industry people that are saying GEICO Honda's Zach Osborne could actually win Muddy Creek this weekend. It's probably been years since Zach has raced there but I guess he really does know the track well and has spent a lot of time on it. I'm not sure he can beat his teammate Eli Tomac, but I think he's in line to make the podium and then once again he can text me after and remind me about all these ex-GP racers inside the top five. Keep on eye on the #338 out there in 250 Class. This could be an upset in the making.
And still on the Euro theme, I expect better things from Rockstar Suzuki's Clement DeSalle and Kevin Strijbos this week at Muddy Creek. Not that either rider didn't do well at Lakewood, but it had to be tough for them to A) deal with the elevation, B) learn the track as fast as the AMA riders (although Desalle had raced there three years ago), and C) shake off the flight from Brazil and get used to their bikes. With another week in California, more testing time, and a track that should suit them better, I'd look for better things from the Belgian invaders.
And finally, a moment of silence for Mike Brown. No, he hasn't passed away, but I can't believe that Brown, whose home is maybe five minutes from Muddy Creek—a track that he's probably spun a million laps on—won't be at this weekend's race, as he's got testing for Baja commitments for KTM. We're all thinking of you, Brownie. This was your dream, and I'm sure it's bittersweet for you (and us as well!).
PEICK HEADS DOWN UNDER (Jason Thomas)
Weston Peick is taking his ball and going... to Australia? After two solid performances to start the Lucas Oil Pro Motocross Championship and currently sitting eighth in points, lack of support has forced Weston to pull out of the series and look for other ways to make money. One-off races are a great way to pad the wallet for journeyman racers like Peick while auditioning for a paying spot in a foreign series. Conondale, Queensland will host Peick and round six of the Monster Energy MX Nationals on Sunday, June 2. If his recent results are any indication, Weston should be in the podium conversation Down Under. 
PRO PERSPECTIVE – GOING NEW (Ping and Jason Thomas)
Ping: Going to a new track for the first time is a lot like dating a new girl. You get nervous butterflies in your stomach before you see her. You dress up really nice and maybe even wash your truck before you pick her up. You take her out to dinner and order a salad because she's a vegetarian and you don't want to seem like a knuckle-dragging caveman. But the black beans give you gas, and trying to hold it in is making your stomach hurt, so you excuse yourself and step outside. She thinks you're going outside to talk to another girl, so she throws a drink in your face and storms off and it's over before it begins. Ah, young love.
Sorry, I got a little lost there, and that was a terrible analogy.
The thing I like most about a new venue is that the playing field is absolutely level. Sure, Zach Osbourne and a few others have spent a good deal of time at Muddy Creek, but from what I've seen, Mark Barnett has completely rebuilt the place. I'm sure it will be a much different animal than it has ever been before. Going into a race where you are familiar with the track is significant. You know where lines form and you learn little tricks to get through sections quicker. You learn from passing riders and being passed where the good spots are. At a new facility, every rider is learning those things in real time as the race goes on. Riders who can spot lines and figure out a track quickly will do well and those that take some time to get comfortable will have zero chance of leaving Tennessee with one of those cool guns they put on the trophies there. I think the front-runners from the opening rounds will still be up front this weekend, but it wouldn't surprise me to see rookie riders step up this weekend and show the leaders a wheel.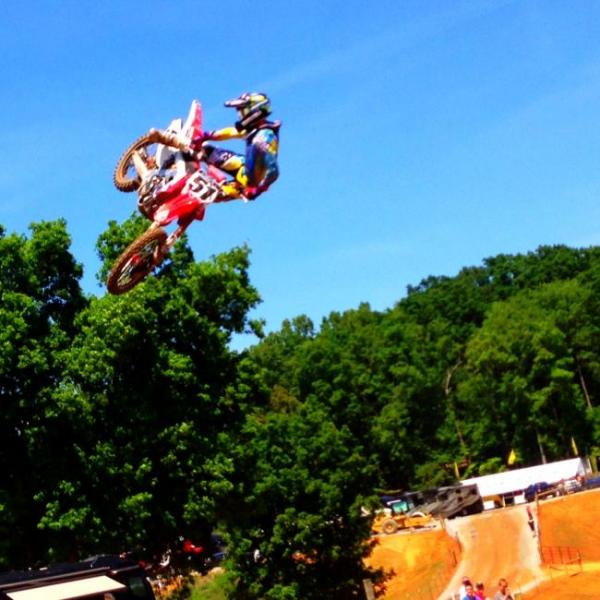 Barcia throwing it down at press day.
DC photo

JT: New tracks were always exciting for me. Towards the end of my career, I had ridden some of the tracks for fifteen years straight, and while this adds nostalgia and a level of comfort, it was always fun to visit a new city and venue.
One of the main issues is learning the new track quickly. Most weekends, the track walk is fairly redundant as the courses don't change a lot from year to year. I would end up cutting across sections and not even looking at some portions. After years of racing, I felt like I knew some tracks like my own backyard. All of that changes with a new race like Muddy Creek. Track walk will be very important for the riders to learn all of the nuances of the layout. Trying to visualize how the lines will shape up, where there might be smoother lines later in the day, jump combinations, and sizing up the optimal starting gates are all things that are normally taken for granted but will be all new ideas for this Saturday. Most of the American contingent, especially the East coast guys, have ridden at Muddy Creek a time or two in their amateur careers. It's a staple of the Southeast motocross scene. I have long felt it was deserving of a national and am very anxious to get back to the rolling hills of eastern Tennessee.
For those riders who have yet to visit the Tennessee valley, a great track awaits. Learning it quickly will be crucial for the likes of Roczen, Musquin, et al, but after learning twelve tracks last year, it shouldn't be a huge problem. Mark Barnett will have that place ready to showcase round three of the Lucas Oil Pro Motocross Championship and bring pride back to the South.
HIGHLIGHTS OF THE WEEK (Jason Weigandt)
Racer X Podcast: Thunder Valley: If you've never listened to our weekly race review podcasts with Matthes and the Jasons (Thomas and Weigandt) you're missing out on the best bench racing session in the sport. Period. Take a listen to this week's show and then subscribe on iTunes so you can get it every week.
Bench Racing Ammo: Getting Acquainted: It's odd, but this weekend's third round of Lucas Oil Pro Motocross will actually serve as the opening round of the season for many riders. Be it injuries or a lack of finances, several privateers begin their chase now. Chase Stallo gives them some love in this edition of Bench Racing Ammo.
HEY, WATCH THIS!
Ken Roczen Throws Out First Pitch
Comparing Bikes and Girls with Dungey, James Stewart and Roczen
Racer X Films:
Thunder Valley Remastered
Racer X Motocross Show: Thunder Valley
RANDOM NOTES (Staff)
Be sure to stop by the Racer X booth at Muddy Creek this weekend to pick up your 2013 event sticker and check out our special subscription offer! For only $20 you can get 13 issues of Racer X plus a limited-edition Kevin Windham drawstring bag.
If you were lucky enough to order one of the Racer X all-day pit passes before they sold out online, you will come to the booth to pick up your wristband and a free copy of Racer X.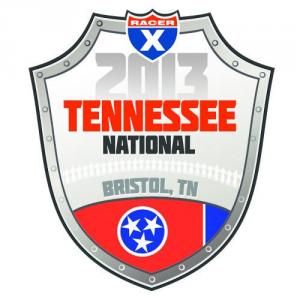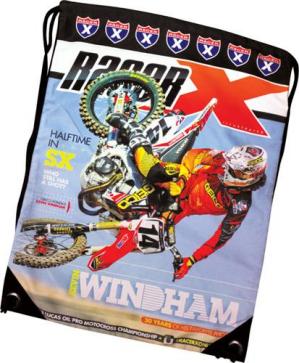 Ken Roczen spent Wednesday night at a San Diego Padres game throwing out the first pitch! Pretty cool promotion to put Monster Energy Supercross in front of a big crowd of baseball fans. What was it like?
"When Ken arrived, the Padres had a jersey and game ball waiting for him," says Brian Rog, Monster Energy Supercross' PR manager. "He was a bit nervous as he didn't want to misfire in front of the thousands in attendance, and we thought to ourselves, He flies over 30 feet in the air, nearly 70 feet in distance when hitting a triple, and this makes him nervous…. Incredible."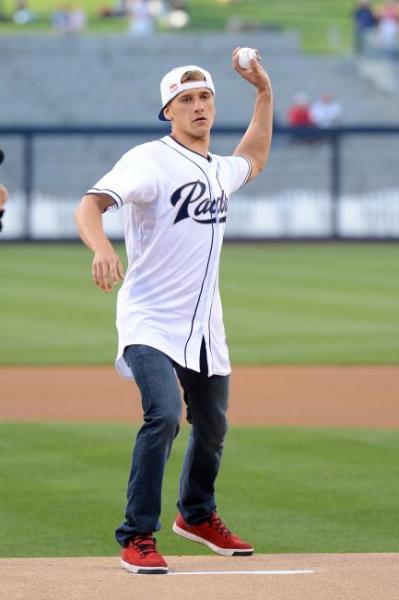 Scott Wachter/San Diego Padres photo
Before Ken headed to the mound, he threw a few practice pitches to get the arm warmed up. By the looks of it, he had been practicing. He looks like a natural at throwing a baseball, though it's probably not a big sport in Germany. When he took to the mound, the crowd was extremely responsive. Everybody was on their feet cheering for him. The support was overwhelming, and always is when supercross is in town. As  the announcer introduced Ken and listed his achievements from this past Monster Energy Supercross season, the crowd went crazy. Then came the big moment. Ken did a great job with the opening pitch. It was slightly out of the strike zone, but he still got it over the plate—no bounces. If racing doesn't work out, there's a spot in the Padres bullpen waiting for him.
Check out the latest issue of The Racing Paper HERE.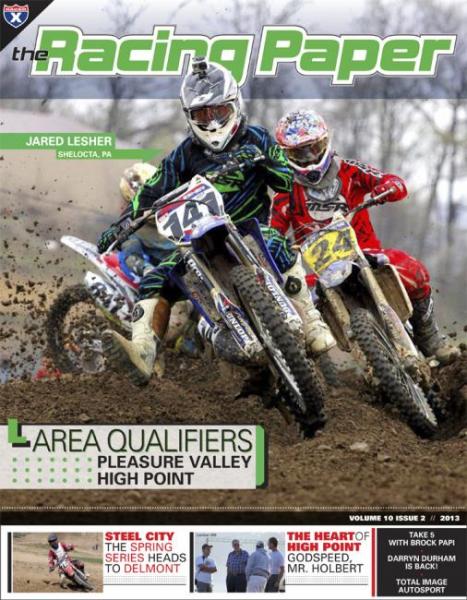 Thanks for reading Racerhead. See you at the races.