Pros Race for FREE with McGrath
This Saturday Night at Lake Elsinore Motor Sports Park is Round # 1 of the EMCE Sports Saturday Night Knockout Series. Why is this race so different from other local events? First off Jeremy McGrath is the event promoter and says, "Pros are not going to pay to race with me. I feel if a rider has made it to the pro level it's time to get paid. I am offering up $1000 each night with a series championship bonus after 6 rounds of racing. EMCE Sports did this last summer and all the local guys really appreciated it. It feels good to help the up and coming riders!"

The Pros are not the only ones who are cleaning up at this series. Every rider who gets a Holeshot in moto 1 will receive Spy Goggles or DEFT Family Gloves or maybe even a set of DC Shoes. Every week is a new prize. In addition the the Holeshot awards and huge trophies riders will be getting points at each round for a series Championship. The top three riders in each class at the end of the series will be awarded a custom trophy from Smithline Industries. The top three will also receive prizes from sponsors like Lucas Oil products, BTO Sports, Rockwell watches, ODI Grips, Dunlop Tires, Replay XD, Kicker Audio, FMF, Ironclad, Traxxas, Ironclad, Attitude trailers, Quest Nutrition and EMCE Sports.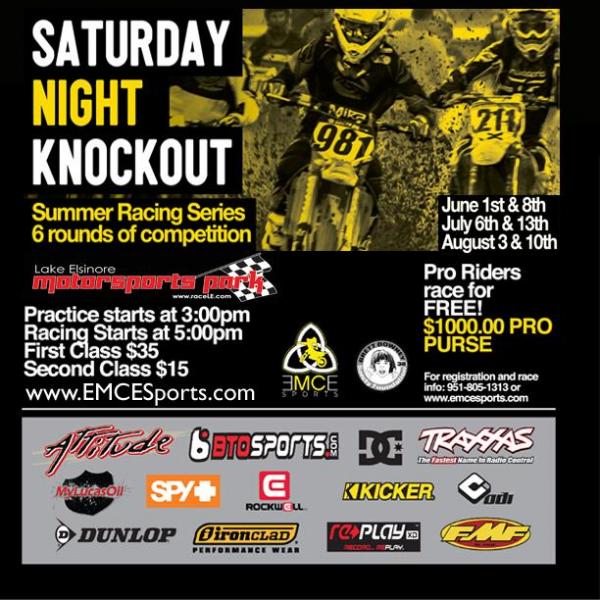 Racing will take place under the lights at Lake Elsinore on the Middle Race Track starting this Saturday Night June 1st. The track is modified for all levels and all classes. Registration opens at 1:00 pm Practice Starts at 3:00 pm and Racing Starts at 5:00 pm. Entry fee for non pro riders is $35. for your first class and $15. for your second class. Spectators are $10 and overnight camping is FREE.  For more info go to www.EMCESports.com or call 951-805-1313