Muddy Creek Raceway
Blountville

,

TN
Tennessee National (Muddy Creek)
Lucas Oil AMA Pro Motocross Championship
Although we are two rounds, eight motos, 240 minutes plus 16 laps deep in the 2013 Lucas Oil Pro Motocross Championship, the first annual Built Ford Tough Tennessee National at Muddy Creek Raceway will mark the debut for a number of under the radar young guns.
"Of course everyone has two races under their belt and have been racing themselves into shape, but I'm pumped to get out there because it [Muddy Creek] was kind of my home track as an amateur," said AG Motorsports' Kyle Peters whose returning this weekend from a strained shoulder, hip and rib suffered during the supercross season.
A highly rated prospect from North Carolina, Peters signed with Star/Valli Yamaha in 2012. An injury filled rookie season followed with the team choosing to not re-sign Peters for 2013. The 2011 250 A National Champion at Loretta Lynn's, Peters was picked up by AG Motorsports and exceled in the 250SX East Region—including a career first podium in Indianapolis—before injuries silenced his campaign.
An important key to returning riders, such as Peters, is quickly getting accustomed to the pace of the top guys who've had four motos to work out any bugs.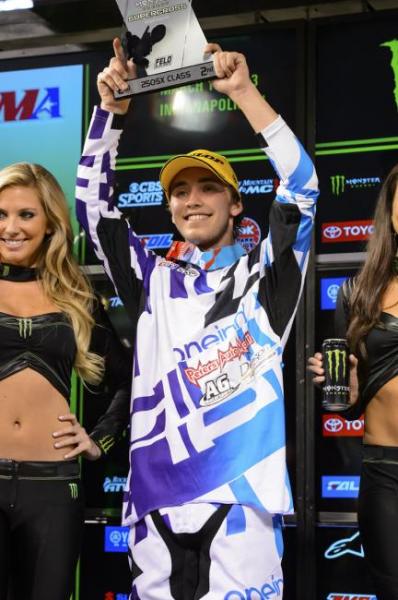 Peters hopes to carry his momentum from supecross to the Nationals.
Simon Cudby photo
"It's definitely important to be up there off the start to see where those guys are and see where you need to be—even if you do end up going backward," says Peters.
While there are numerous disadvantages starting two rounds behind your competition there is one small equalizer Peters and company will have—this will be the first ever National at the newly rebuilt Muddy Creek Raceway, which means everyone will have to adjust.
"I think being on a new track, it puts everyone on the same level," said privateer Cole Thompson who will make his 2013 debut this weekend after not having the enough financial backing to race the west rounds. "Being that everyone is already four motos in will make it tougher, but like anything you have to be open minded and race the guy in front of you and what happens, happens."
Thompson was a break out star in the 450 Class a summer ago, less than a year removed from racing the B Class in the amateur ranks—he skipped the A class completely. After some brilliant rides early last summer, Thompson caught the attention of the Star/Valli team and was signed to race the 250 Class at the last few Nationals. A shoulder injury ensued in his first race with the team at Washougal, stalling a promising rookie season. After flirting with the idea of riding the 250, Thompson will be back on the 450 this weekend.
"We originally wanted to do 250s but not having the motors, and my practice bike just recently blew up, we decided to get a 450 ready," said Thompson who competed in the 250SX East Region. "I got on the 450 last week and did a local race in Michigan to get some of the bugs worked out. But after recently switching from the 250 to the 450 it's just a matter of going out and getting the time in."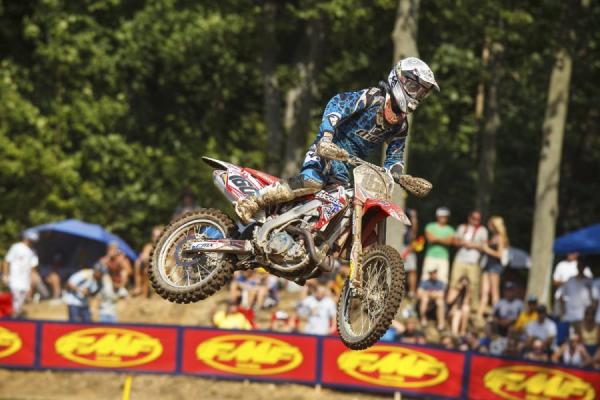 Thompson was impressive on the 450 during his rookie season a year ago.
Simon Cudby photo
Also making his 450 Class debut at Muddy Creek is former Team Green rider Jacob Hayes. The North Carolina native is accustomed to late starts to the season as he began his rookie voyage in the 250 Class a season ago with AG Motorsports/Cernics KTM at Budds Creek. Hayes will be back on a Kawasaki, a brand that he rode throughout his amateur career.
"Definitely missing the first two rounds and missing supercross will be a big disadvantage," said Hayes who missed all the 250SX East Region after re-breaking his collarbone in St. Louis.
But Hayes, like Peters, honed his skills at the famed raceway—which could provide an advantage. "It's exciting to have that [Muddy Creek] as my first race," said Hayes. "I've been racing there since I was on 50s. It's great to be able to have all my family and friend there for my first 450 race."
While Peters, Thompson and Hayes have only limited experience in Lucas Oil Pro Motocross—each are entering their sophomore campaigns—they have a year on rookie privateer Mitchell Oldenburg. The surprise rookie of the 250SX East Region, who trailed off down the stretch after suffering a cracked shoulder, returns Saturday. But the big stage doesn't seem to have an affect on the young gun.
"I would like to be top 15 every moto," said Oldenburg. "I don't see why I can't get inside the top 15, but at the same time that's [only] what I think. I'm sure those guys have something to say about that.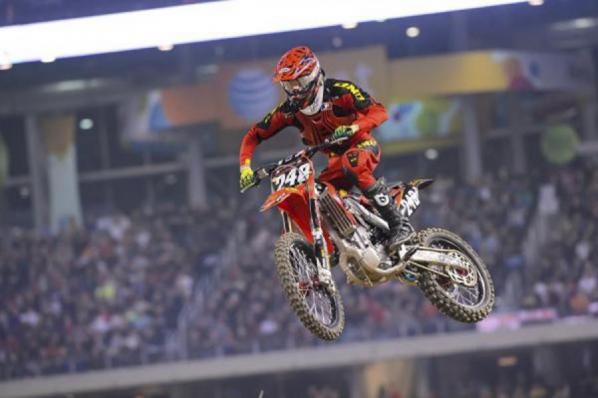 Supercross surprise Mitchell Oldenburg makes his Lucas Oil Pro Motocross debut Saturday at Muddy Creek.
Simon Cudby photo
"I don't think it's that big of a deal," said Oldenburg of the two race disadvantage. "The way I look at it, I'm fresh and ready while these other guys have already done four motos the last two weekends and may be feeling fatigued."
Oldenburg is a Minnesota native who resides in Texas. He will stay on the east coast in North Carolina to help off-set the travel cost before returning home after RedBud—as he joins Thompson and Hayes in only racing the east rounds.
So while we wait on the highly anticipated debut of Adam Cianciarulo, who is expected to miss his third consecutive race with salmonella poisoning, we have a new crop of rising youngsters making their 2013 Lucas Oil Pro Motocross debut this weekend.