U.S. Heads to England for Vintage Meet
Four Americans to represent the USA in England's biggest Vintage Meet. Help them get there.
For anyone unfamiliar with the sport; Vintage MX is a sport unlike many forms of racing. It's still cheap enough to be accessible to a rider with a modest budget. The riders all help each other - even sworn foes on-track can very often rely on help from the very riders trying to take them down if there is a mechanical problem or if a man needs a plug, or fuel. Then when the gate falls it is back to battle.
The Pacific Northwest has always been a hotbed of vintage motocross, and like anyone, we're proud of it. But we want to see what the rest of the world is doing. And for years we've heard about this race in England. We know the big vintage MX Stars are coming, and one can expect many to jostle for a chance to be seen with the big names, and much drinking of Guinness.
But this team is not going to fool around & party. It is focused on only one thing. If the best of the best, worldwide are going to meet and see who's who, then in good conscience someone ought to issue a weather advisory. There's a storm coming. And it is made of stars & stripes.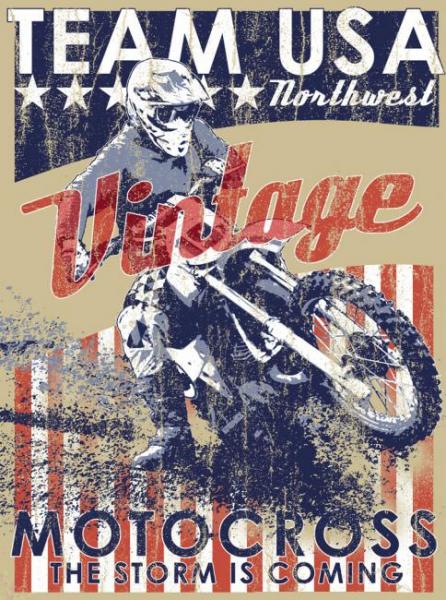 Remember these names: JIM ANDERSON, GRAYSON HART, LEON CAPPS & DAVE EPPIG- all veterans & champions.
The event is September 14-15 2013.
HELP SUPPORT THE TEAM by contacting Mr Dave Eppig email - epnwllc@gmail.com
Like our Facebook Page
https://www.facebook.com/TeamUsaNw
The Team address is PO Box 91 Snohomish WA 98291 - or phone Dave at : 425-750-1129
WEBSITE : http://www.teamusanw.com/
I have designed a new Team USA shirt, (see image) from which ALL PROCEEDS (i.e. 100%) help the team get to Farleigh Castle to represent the Pacific Northwest.