By Jordan Roberts and Jason Weigandt
After Ryan Villopoto and Ken Roczen turned in dominant performances to open up the Lucas Oil Pro Motocross Championship last week at Hangtown, a pack of contenders just hoped to see some signs of progress at round two, the Rockwell Watches Thunder Valley National in Lakewood, Colorado. Anything that could be taken as a sign of improvement—even a second-place finish with a smaller gap than before—could help riders rebuild confidence after taking a whipping at the opener.
At times, those signs seemed to be there. It started at the very start of the first 450 Class moto, when Honda Muscle Milk's Justin Barcia grabbed the Motocyclesuperstore.com Holeshot and led early, while Villopoto made a few key mistakes. Barcia looked stronger than he did at Hangtown, as did Red Bull KTM's Ryan Dungey. But in the end, no one could fully solve the Villopoto puzzle, and the Monster Energy Kawasaki man flew to 1-1 scores for the second weekend in a row, with Dungey and Barcia on the overall podium.
Roczen looked set to complete the same deal in the 250s, as he quickly took the early lead in the first 250 moto. Halfway through, it looked like Roczen's race, but GEICO Honda's Eli Tomac, a Colorado native, was having none of it, and he slowly closed down on the Red Bull KTM rider until he had caught him on the last lap. The battle was on, but then Tomac lost the back end in a corner and nearly crashed, and Roczen escaped with a narrow win.
Then the dam finally burst, and someone not named Ryan Villopoto or Ken Roczen won a moto in the Lucas Oil Pro Motocross Championship, as Tomac simply blitzed everyone in the second moto, with his 2-1 scores powering him to the overall win. Folks, this series might just be getting warmed up. Here are moto by moto reports:
450 Moto 1
Buckle your seatbelts, because we could be in for a long season if nobody can stop the likes of Ryan Villopoto. The Monster Energy Kawasaki rider started the first 450 moto in third, but overtook the lead in seemingly effortless style midway through the race.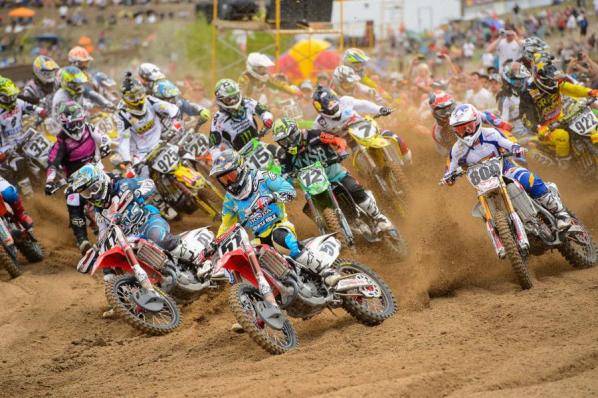 Justin Barcia nailed the MotorcycleSuperstore.com Holeshot in the first moto.
Cudby photo
Honda Muscle Milk's Justin Barcia was able to hold onto the lead for nearly half the race after nailing the motorcyclesuperstore.com holeshot over Ryan Dungey and Villopoto through the first sandy turn. A slew of other riders weren't so fortunate. Chad Reed, Justin Brayton, Broc Tickle and a handful of other riders piled up in the first turn while the rest of the field plowed through. James Stewart—who came into the second round third in points—was floating around the top ten off of the start, but Jake Weimer crashed in front of him early, and Stewart was right behind and got collected. Weimer and Stewart would have to dig deep from the back of the pack to even salvage top-20 points.
Up front, Barcia, Dungey and Villopoto quickly stretched their lead away from the rest of the pack. As they pulled from the pack, battles started brewing for fourth and sixth place. Trey Canard felt pressure from European import Clement Desalle for fourth, while Mike Alessi worked at fending off Tyla Rattray for sixth. The riders were closely matched, though, as none of them advanced or dropped back for a majority of the race.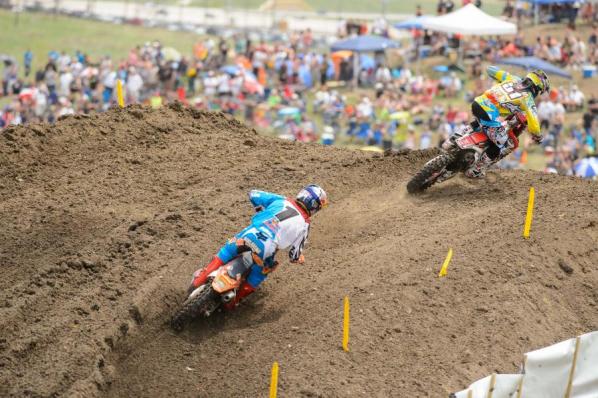 Dungey reeled in Justin Barcia, just as Villopoto did, but Villopoto was far gone by then.
Cudby photo
Villopoto's standard bids for the lead weren't materializing, as he made a few mistakes. On lap one, he passed Dungey but then missed a rut and handed the spot right back.  At another point, he ran off the track, still stuck in third. Midway through the race, Dungey and Barcia barreled downhill towards a right-hand sweeper side by side. Dungey was able to hold off braking for a split second longer to make the pass for the lead. That's all it took for Villopoto to smell blood in the water, and with that, the intensity from the number two bike turned up and the chase for the lead was on. Villopoto was less than a tire length behind Barcia going over the large quad jump, and when the two landed, Villopoto opted for the outside line. He railed the turn around the outside to make the pass on Barcia. The lead Dungey had instantly diminished. In less than a half lap, Villopoto passed Dungey by charging down the same hill Dungey passed Barcia on. The riders held their ground until the checkered flag.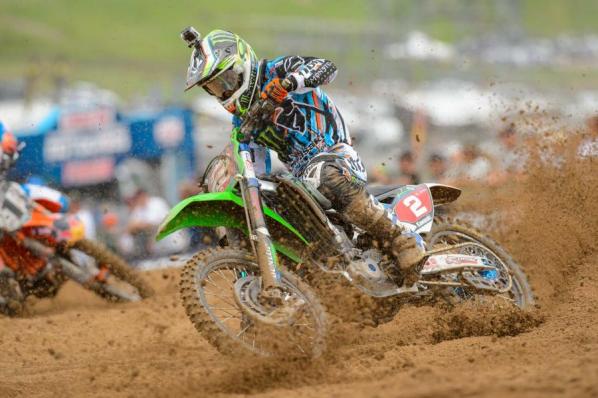 Ryan Villopoto struck when the moment was right,
and passed both Barcia and Dungey quickly for the win.
Cudby photo
450 Moto 1 Results
1. Ryan Villopoto
2. Ryan Dungey
3. Justin Barcia
4. Trey Canard
5. Clement Desalle
6. Mike Alessi
7. Tyla Rattray
8. Josh Grant
9. Malcolm Stewart
10. Kevin Strijbos
11. Dean Wilson
12. Phil Nicoletti
13. Weston Peick
14. Broc Tickle
15. James Stewart
16. Jake Weimer
17. Derek Anderson
18. Andrew Short
19. Ryan Sipes
20. Robert Kiniry
450 Moto 2
Barcia nailed his second MotorcycleSuperstore.com Holeshot of the day, with his teammate Canard and Mike Alessi right there. Villopoto, Dungey and Stewart rounded out the top five in the beginning laps.
Villopoto was able to make his way past Canard for second, and then Dungey and Canard battled for third. Villopoto soon moved up to Barcia to engage in a battle for the lead while Dungey looked for lines around Canard. It didn't take long for Villopoto and Dungey to pull the trigger. On lap five, both riders made moves on the Honda riders through the long downhill after the small triple—a popular passing section amongst the riders. Villopoto made his pass stick, but Canard fought back to regain his position from Dungey in the succeeding corner. Canard didn't hold his position for long, though. Dungey made the pass for third stick the next lap.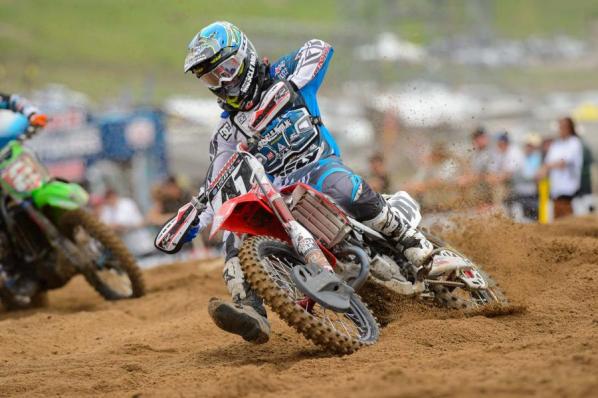 Trey Canard put up a valiant effort, but was unable to fend off Villopoto and Dungey.
Cudby photo
Even though it was still early in the moto, Villopoto started to walk away with the lead, using the open track to his advantage. Canard didn't let Dungey too far out of his sights, but a charging Stewart soon became a factor, too. Stewart was eventually able to get past Canard to take over fourth.
Stewart continued his charge forward, but still had ground to gain on Dungey. Dungey, however, had reeled in the 51 bike of Barcia's. You could throw a blanket over the two riders as they came around the second turn after the start. As they continued forward up the long uphill, Dungey must've grabbed another gear to scrub the uphill double to land directly to the left of Barcia. They drag raced up the hill and back down, but Barcia couldn't keep his position. Stewart was able to make a similar pass on Barcia a few laps after Dungey made his.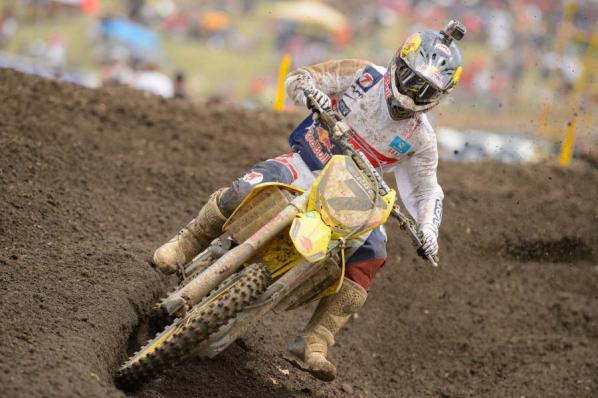 James Stewart had a much better second moto, passing both
Honda Muscle Milk riders en route to third place.
Cudby photo
Some may think Alessi has a tendency to fade during a moto, but the MotoConcept's rider proved the adage wrong when he made a late-moto charge against Clement Desalle. Alessi passed the GP rider and even pulled up on Canard, but couldn't make anything happen.
For the majority of the moto, Dean Wilson, Tyla Rattray and Malcolm Stewart were practically attached by a string. The riders would pull apart from each other and subsequently close back up throughout the 36-minute moto.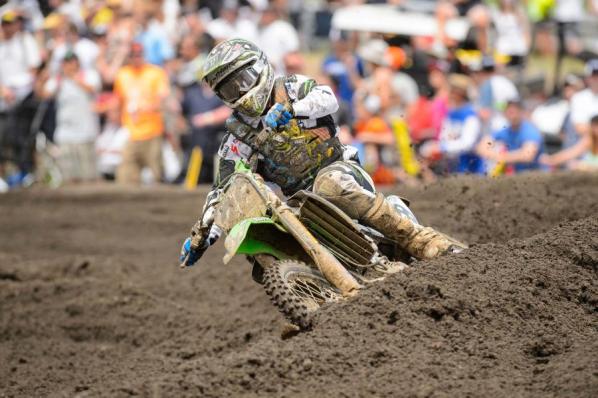 Tyla Rattray was lodged in between Dean Wilson and Malcolm Stewart for most of the moto.
Cudby photo
The action tapered down towards the end of the moto, just as Villopoto had probably wanted. Dungey was unable to catch the Monster Energy Kawasaki rider, and likewise with Stewart's charge for Dungey. The three past champions rounded out the podium, while Barcia and Canard sealed the top five.
450 Moto 2 Results
1. Ryan Villopoto
2. Ryan Dungey
3. James Stewart
4. Justin Barcia
5. Trey Canard
6. Mike Alessi
7. Clement Desalle
8. Kevin Strijbos
9. Dean Wilson
10. Tyla Rattray
11. Malcolm Stewart
12. Jake Weimer
13. Ryan Sipes
14. Weston Peick
15. Broc Tickle
16. Andrew Short
17. Fredrick Noren
18. Josh Grant
19. Robert Kiniry
20. Justin Brayton
250 Moto 1
GEICO Honda's Zach Osborne grabbed the MotorcycleSuperstore.com moto 1 holeshot but Roczen quickly blasted past. Tomac was in third and closed on Osborne, and then Zach landed on the side of a jump and crashed. Tomac was into second, but Roczen already began building a lead.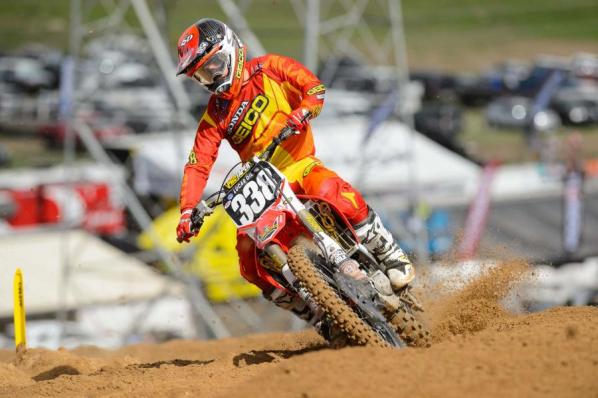 Zach Osborne nailed the holeshot in the first moto.
Cudby photo
Meanwhile defending 250 Class champion Blake Baggett was buried deep in the pack after crashing and going off the track three times.
Tomac was facing an early deficit, down by about six seconds to Roczen. But in the second half, he found his groove and started slowly closing in. He finally grabbing the rear wheel of Roczen late in the moto—even closing the deficit within a second, and they began the final lap in a wheel-to-wheel battle. The Colorado fans were digging it, but Roczen held steady out front and didn't leave the door open. With about a quarter of a lap to go, Tomac slid out, allowing Roczen to squirt away and score his third moto win of the season. Tomac was second.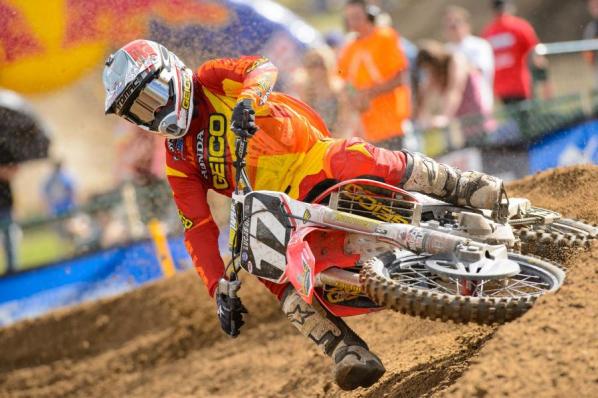 Eli Tomac charged hard, but a late mistake ended a battle with Roczen.
Cudby photo
Well behind the leaders, but still quite impressive, came MyPlash/Star Racing rookie Cooper Webb. He  made a late pass on Marvin Musquin to take that spot—his first career podium. Jason Anderson, Osborne, Martin Davalos, Jeremy Martin, Blake Baggett and Cole Seely would round out the top-ten.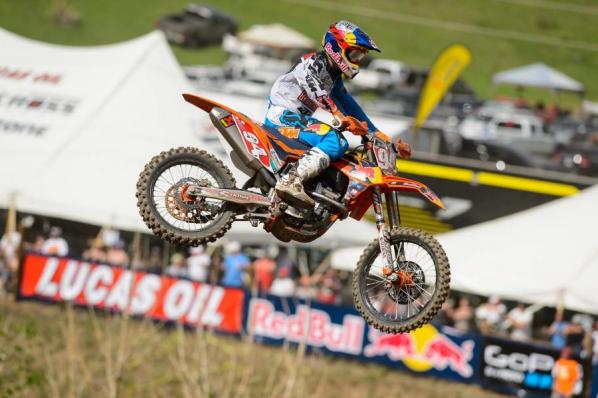 Ken Roczen notched his thrid-straight moto win of the season in moto 1.
Cudby photo
Results
1. Ken Roczen
2. Eli Tomac
3. Cooper Webb
4. Marvin Musquin
5. Jason Anderson
6. Zach Osborne
7. Martin Davalos
8. Jeremy Martin
9. Blake Baggett
10. Cole Seely
11. Dominic Izzi
12. Justin Hill
13. Justin Bogle
14. Blake Wharton
15. Dillan Epstein
16. Joseph Savatgy
17. Lance Vincent
18. Jackson Richardson
19. Jacob Baumert
20. Brady Kiesel
250 Moto 2
MyPlash/Star Racing Yamaha's Jeremy Martin had a problem moments before the gate dropped for 250 Moto 2. His bike stalled at the line and he was left kicking and kicking his machine until about a minute before the gate dropped—and then, of course, he promptly grabbed the MotocycleSuperstore.com Holeshot. Soon Osborne, Tomac and Roczen overwhelmed him, though, and dropped the rookie back to fourth. Roczen then tried to put a move on Tomac, but Tomac then drove around the outside of Osborne to take the lead. Roczen got past Osborne as well, and fans anticipated a chase between Roczen and Tomac.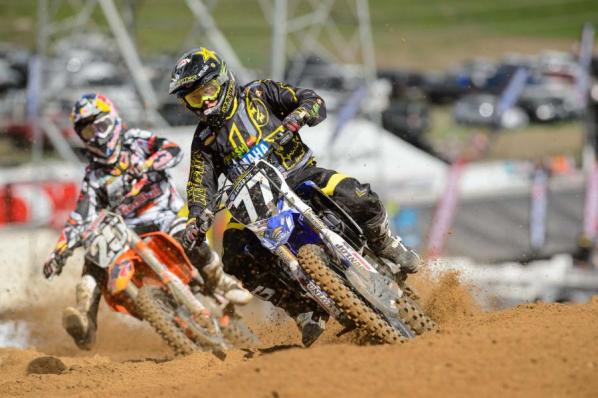 Jeremy Martin grabbed his first holeshot of the season in moto 2.
Cudby photo
It didn't happen. Tomac simply motored away, pulling a lead of over 20 seconds on the field. Roczen didn't have the same drive in this moto that he did in the first three. Not only did Tomac get away, but Osborne started closing the gap back up. For the entire second half of the race, Osborne shadowed Roczen's every move, trying to make a pass. Then fourth-place Musquin started catching them as well. On the last lap, Osborne dug deep and made the pass on Roczen, stealing second, and then Roczen went off the track. He recovered in third, with his teammate Musquin right behind.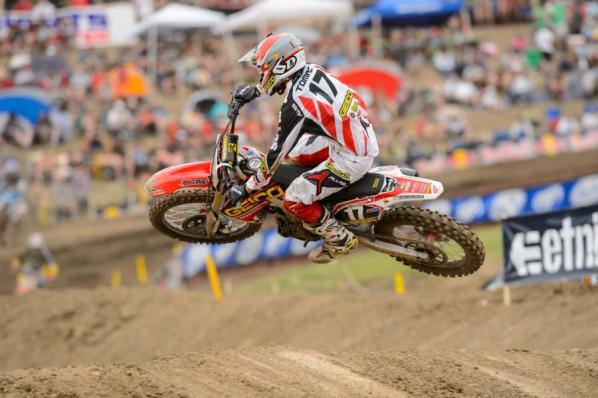 Eli Tomac decimated the field late in the moto.
Cudby photo
Results
1. Eli Tomac
2. Zach Osborne
3. Ken Roczen
4. Marvin Musquin
5. Blake Baggett
6. Jeremy Martin
7. Justin Bogle
8. Blake Wharton
9. Kyle Cunningham
10. Martin Davalos
11. Justin Hill
12. Jason Anderson
13. Dominic Izzi
14. Cole Seely
15. Dillan Epstein
16. Jackson Richardson
17. Cooper Webb
18. Lance Vincent
19. Jacob Baumert
20. Ryan Zimmer
Overall Results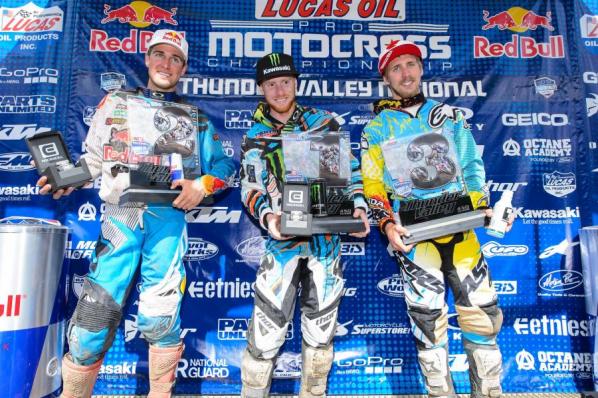 Ryan Villopoto took top honors in both motos.
Cudby photo
450
1. Ryan Villopoto
2. Ryan Dungey
3. Justin Barcia
4. Trey Canard
5. Mike Alessi
6. Clement Desalle
7. James Stewart Jr.
8. Tyla Rattray
9. Kevin Strijbos
10. Dean Wilson
11. Malcolm Stewart
12. Josh Grant
13. Weston Peick
14. Jake Weimer
15. Broc Tickle
16. Ryan Sipes
17. Phil Nicoletti
18. Andrew Short
19. Derek Anderson
20. Fredrik Noren
21. Robert Kiniry
22. Justin Brayton
23. Chad Reed
24. Heath Harrison
25. Nicholas Wey
26. Michael Byrne
27. Vince Friese
28. Robert Fitch Jr.
29. Tyler Bereman
30. Chris Blose
31. Robby Marshall
32. Colton Aeck
33. Michael Giese
34. Austin Burns
35. Tucker Saye
36. Tevin Tapia
37. Hunter Meyer
38. Dustin Pipes
39. Travis Sewell
40. Les Smith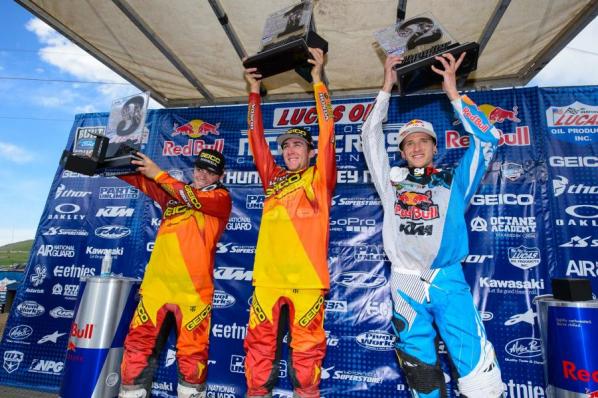 Eli Tomac won the overall in front of the home crowd.
Cudby photo
250
1. Eli Tomac
2. Ken Roczen
3. Zach Osborne
4. Marvin Musquin
5. Blake Baggett
6. Jeremy Martin
7. Martin Davalos
8. Jason Anderson
9. Cooper Webb
10. Justin Bogle
11. Blake Wharton
12. Justin Hill
13. Dominic Izzi
14. Cole Seely
15. Dillan Epstein
16. Kyle Cunningham
17. Jackson Richardson
18. Lance Vincent
19. Joseph Savatgy
20. Jacob Baumert
21. Ryan Zimmer
22. Brady Kiesel
23. Trevor Ivey
24. Travis Bright
25. Tommy Weeck
26. Landen Powell
27. Matas Inda
28. Cody Woodworth
29. Ignacio Pazos
30. John Pauk
31. Brandan Leith
32. Justin Starling
33. Trevor Whitmarsh
34. Josh Greco
35. David King
36. Sean Hackley Jr.
37. Kellian Rusk
38. Drew Gosselear
39. Alex martin
40. Zack Williams