Thunder Valley Motocross
Lakewood

,

CO
Thunder Valley
Lucas Oil AMA Pro Motocross Championship
Long week, busy week, off to the races again after an exceptional start to the 2013 Lucas Oil Pro Motocross Championship. Of course this weekend is Memorial Day in the United States of America, and Monday is the day we honor those men and women who made the ultimate sacrifice for our country. Thank you, and God bless the soldiers.
Before we take Colorado, we must mention Oklahoma. The diabolical tornado that touched down near the town of Moore and killed 24 people was an awful moment of real life where all of the little things that seem important suddenly are not. This one nearly got Muscle Milk Honda's Trey Canard; his mother, Kari; and some friends who were in town to shoot a catalog and video with him. They ended up in a storm shelter together, then they went to work trying to help any and everyone they could. Trey's house was spared by about a quarter mile, and now he plans on reaching out in his own way through the Red Cross to help his neighbors rebuild their lives, beginning this weekend at Thunder Valley. Stay tuned on ways that Canard and fellow Okies like Justin Bogle and Jimmy and Georgia Albertson plan to raise funds at some upcoming races.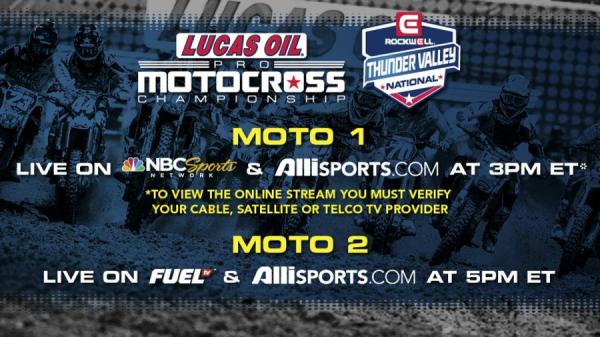 As far as the Rockwell Watches Thunder Valley National goes, plenty of folks have been working all week long to sort out the best ways to watch all four motos, either on live television or on the internet, and you can check out the Alli Sports's "How to Watch" post right here.
What happened with last week's online coverage is on me: I overreached on what I thought we were getting and I under-explained how it would actually work. For the inconvenience and frustration it caused, I take full responsibility. The idea of streaming live (and free) all over the world while also showing races live (and free) is not something the networks have completely worked through yet. We can only play by the rules they set at the corporate broadcasting level.
But we were able to get some relief on our live coverage this weekend after the second motos from Hangtown were pushed back by two lousy days due to the hockey playoffs on NBC Sports Network. This time, rather than have the second motos delayed, NBC Sports and Fuel TV switched their order so all four races would be on live TV: NBC Sports will air the first motos beginning at 3 p.m. (ET) and then Fuel will host the second motos beginning live at 5 p.m. (ET). That's four straight hours of live motocross, split across two networks. It's not perfect, but it's a heck of an improvement from last Saturday-Monday.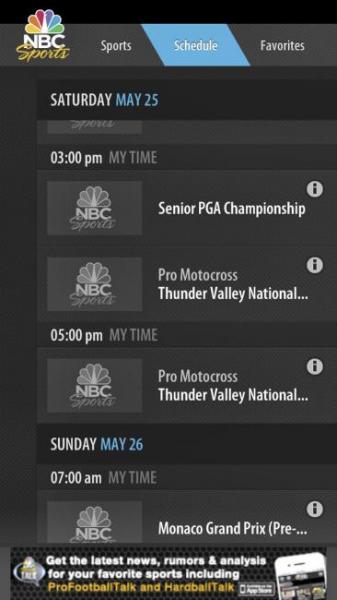 The NBC Sports Extra App has motocross highlight for tomorrow, but do you have the right provider to watch it on your devices?
As far as live streaming goes, all four will air live on the NBC Sports Extra App, but you must have a verified account with an NBC service provider. The link will help explain that a little better. And the regular streams that allows you to always watch the first motos on www.allisports.com without verification will now be the second motos instead.
I know it's a little confusing, but this ceiling we're bumping into is there for all sports trying to pull this off. It's all going to be worthwhile (and work well) soon, but these are steps toward the ultimate goal: every moto live, however you want to watch it.
Finally, if you missed any of the motos last week from the Red Bull Hangtown Classic, they are all posted on the Alli Sports archive.
And next week you will find the Rockell Watches Thunder Valley shows up on Monday in the archives as well.
Okay, let's get into the week that was...
HOW TO WATCH (Chase Stallo)
Not to repeat, but... Round two of the Lucas Oil Pro Motocross Championship from Thunder Valley will feature ALL four motos LIVE. Let's start with the TV schedule and then move onto the web. The first motos can be seen on NBC Sports Network beginning at 3:00 p.m. Eastern. Immediately following, FUEL will pick up the broadcast of the second motos, beginning at 5:00 p.m. Eastern. Now, onto the web.
The first motos can be seen on the web via the Live Extra page and Mobile App (iOS/Android) in the United States only. In order to watch a live stream of an NBC Sports Network broadcast you have to verify your cable provider. For more information about verifying your cable, satellite and telco TV click here to visit their Live Stream FAQs.
The second motos can be seen via the Live Extra page and Mobile App (iOS/Android), as well as www.allisports.com.
BENCH RACING AMMO (DC)
Our friend Chris Williams of Entity Media asked if we could ever recall an outdoor national where the top five finished with respective motos scores of 1-1, 2-2, 3-3, 4-4, and 5-5. That's one for our Vault Master, Aaron Hansel.
The answer to this question is yes, according to Hansel. In fact, the last time it occurred, it happened twice in one season! The year was 2008, and the venues were High Point and Washougal. At High Point it was James Stewart (1-1), Mike Alessi (2-2) Davi Millsaps (3-3), Tim Ferry (4-4), and Andrew Short. At Washougal it was Stewart (1-1), Short (2-2), Michael Byrne (3-3), Cody Cooper (4-4), and Josh Hill (5-5). Sixth place at the Washougal round went to Jimmy Albertson, who nearly made it a top-six affair with a 6-7 for the day.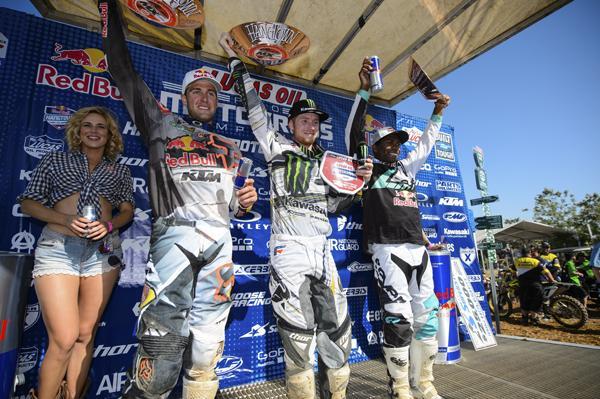 Dungey (left), Villopoto (center) and Stewart (right) are all looking for another podium peformance at Thunder Valley.
Simon Cudby photo
THE NUMBER – 3 (Aaron Hansel)
In addition to the excitement and thrills provided by watching the top dogs square off this weekend at the Rockwell Watches Thunder Valley National, fans in Colorado will also have the opportunity to see GP stars Clement DeSalle and Kevin Strijbos make the first of what could be two AMA Motocross appearances this year (Thunder Valley and Muddy Creek). DeSalle, who currently sits third in the MX1 class, has raced at Thunder Valley before, taking third in the final moto (MX1/MX3) at the 2010 Motocross of Nations (he was beaten by Ryan Dungey and Andrew Short), so we know he can handle the elevation. This weekend will also mark his third National appearance here in America. In those first two races (3-25 for tenth at Washougal in 2009 and 2-2 for second at Unadilla in 2010), DeSalle did amazingly well, picking up three podium finishes in four motos. That's a lot of threes! Perhaps he'll add to that number with a top-three ride this weekend, although doing so in the current field would be quite a feat.
Accompanying DeSalle is 27-year-old Strijbos. This will be Strijbos' first American national, although as DC pointed out to me yesterday, he did beat James Stewart in 1999 at the FIM Junior World Cup in Germany.
The pair arrived stateside on Tuesday and squeezed in some riding on Wednesday and Thursday out in California, near Suzuki headquarters so they could get as much done as quickly as possible. That's not a whole lot of time to prepare, but these guys are professionals in the middle of the GP series, so it isn't as if they haven't had plenty of seat time lately. Don't expect them to be motoring around in twentieth with their tongues in their spokes.
Interestingly enough, the plan to race two races is actually an offshoot of an earlier idea of racing the entire Lucas Oil Motocross Championship.
"I had already asked the team about going there when we heard that the Mexican GP round was cancelled and they said it would be pretty difficult," Strijbos wrote in a blog at suzuki-racing.com. "But then Davi Millsaps needed his operation and we had a call from Rockstar. Eric [Geboers, Team Manager] told me about a potential plan of doing a whole season there but it turned out to be too difficult and that changed into making one or two race appearances."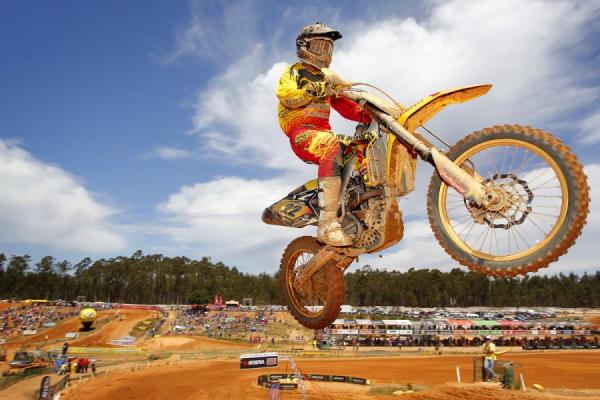 Kevin Strijbos is currently fifth in the MX1 Grand Prix rankings.
Sarah Gutierrez photo
Strijbos went on to write, "I really do not have any expectations. My aim is to make this as much of a fun experience as possible. This might be the last time I can go to the U.S. with this level of support so I want to make the most of being there and enjoy it. I think I'll need the first race just to take everything in and see how the event runs and then maybe be a bit better for the second meeting in Tennessee. Of course they are fast there, but we are not slow here and I don't think Clement or I will be going to fight for 15th place. I'll go to make my laps and battle where I can."
The two are racing on behalf of Rockstar Energy, so if you want to find them in the pits you'll need to head over to the Rockstar Energy Racing truck, not the Yoshimura-Suzuki rig.
Keep this in mind: Last weekend in Brazil, Strijbos and Desalle finished second and third, respectively, in the SuperFinal, with Strijbos just three seconds behind winner Tony Cairoli....
HEAD-SCRATCHING HEADLINE OF THE WEEK (Weege)
"THURSDAY AT GLEN HELEN: THE STARS SKIP PRESS DAY IN DENVER"/MXA Online
Just a little misleading there, since the only teams actually supposed to be at Press Day in Colorado were Monster Energy/Pro Circuit Kawasaki and GEICO Honda, and both teams attended. Press Day activities usually mean flying out of California for the race a day earlier than everyone else; the favor is returned with two twenty-minute practice sessions after the press work on the actual national track. Both GEICO and the PC teams left for Colorado on Wednesday to be there for the morning talk shows, along with several privateers who were glad to participate and also get some track time. Only Hangtown has a fairly open press day, as it's the first round and the riders appreciate the chance to stretch out a little on the track after 17 weeks of supercross.
OTHER HEADLINE OF THE WEEK
Scores of TGI FRIDAYS 'busted for selling caramel-colored rubbing alcohol as top-shelf scotch'...
FAST TIMES (DC)
Eli Tomac surprised many at Hangtown by having the fastest time in both classes combined (and that superb girl on the YZ125, Courtney Duncan, would have been sixty-sixth fastest in the 250 Class, nowhere near qualifying but impressive nevertheless). But Tomac was no match for Red Bull KTM's Ken Roczen, who seemed bound and determined to finally claim an AMA 250 Motocross win. He went 1-1 and looked very solid on the #94 bike, which will now wear the red plates at Thunder Valley. #1 Blake Baggett will have to go back to a white-on-black plate, which I don't recall seeing in this class outdoors for some time.
Ryan Villopoto also looked super in his first national back since 2011, breaking the ten-race outdoor winning streak of Red Bull KTM's Ryan Dungey and also outpacing early leader James Stewart. Yesterday RV's mechanic Mike Williamson set him up with the new red plates, and they looked tight on that Monster Energy Kawasaki!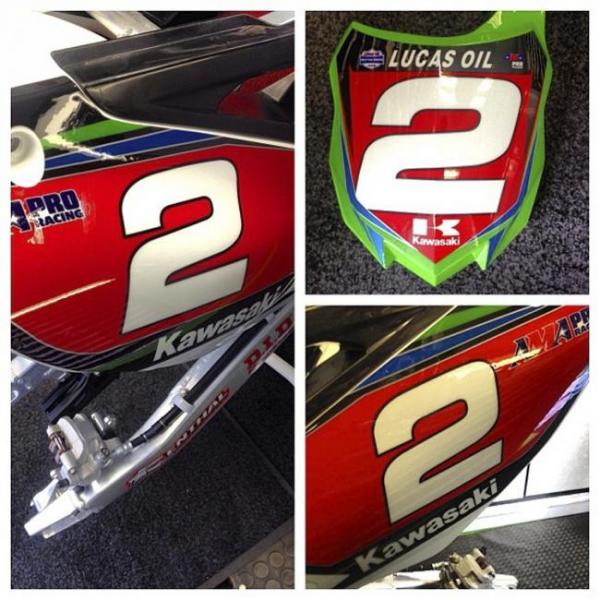 Simon Cudby photo
And we have to give props to the whole Dirt Diggers North Motorcycle Club because they put on an excellent race, surrounded by lots and lots of people, on a very rough Duane Scott-built Hangtown track. They like to say "Motocross Starts Here" at Hangtown, and it certainly does as far as our championship goes. Hangtown will be in the Lucas Oil Pro Motocross schedule for years to come and we appreciate their efforts to always improve, always entertain and always keep it real... Oh, and check out this really trick video they made of the day.
HIGHLY ANTICIPATED DEBUT (Chase Stallo)
It was billed as the next great rivalry to materialize from the amateur ranks. It was RV vs. Alessi all over again. Except it wasn't. The anticipation of the Cooper Webb/Adam Cianciarulo rivalry was put on hold as AC dealt with a case of salmonella and missed the first round of the 2013 Lucas Oil Pro Motocross Championship. Although the media and fans alike will continue to revel in what is to come from these two, the MyPlash/Star Racing rookie continues to deflect the hype.
"I could have cared less if he raced or not.... For me it would have been cool if I could have beat him, but at the end of the day we are racing against everyone," said Webb when asked if he was disappointed that Cianciarulo missed the opener. "It's not my goal [to just beat him], if it happens it happens, but it's not a big deal.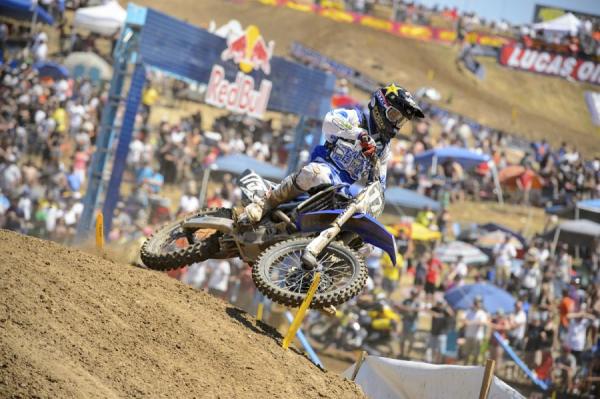 Cooper Webb was a solid fifth in his first-ever pro moto.
Simon Cudby photo
"It's definitely one of the things that everyone talked about when it was announced that [Cianciarulo] was turning pro," continued Webb. "Obviously that was the hype coming in… even at the race the announcers and everyone that morning were talking about."
With Cianciarulo on the sidelines, attention turned squarely to Webb. "There was a lot of buzz and talk coming in, but it was cool because the team and my parents and everyone didn't put that much pressure on me," he added. "Being a well known amateur, obviously everyone is going to talk about how well I'm going to do, but I didn't really feel that much pressure."
Webb has dealt with the spotlight shown in his direction from a young age, as he piled up handfuls of titles during his amateur career, but he's remained humble through it all. The mild-manned North Carolina native, son of a former pro surfer and a school teacher, has always been a student of the game, something that can be accredited to training with Gary "The Professor" Bailey from a young age.
"They don't call him the professor for nothing," Webb said. "He has taught me so many things that have changed my view on the sport and how I look at things and the way I actually do things. I feel like my mom brings some aspects to it as well, being a schoolteacher. And my dad brings the professional side to it, being a former pro surfer."
Webb was methodical in his decision to turn professional. He began preparations for his debut nearly a year in advance, beginning a pro training regimen long before the book was closed on his amateur career. This concerted effort by the team and Webb himself showed major returns in the opener, as Webb finished fifth in his first career moto, while showing the endurance of a veteran as he made a late charge to catch Monster Energy/Pro Circuit Kawasaki's Darryn Durham.
"I had about two months of preparation coming in, because I didn't have supercross to concentrate on, so I knew my endurance would be there," he explained. "You talk about wanting to be able to do a late-race charge, but to actually be able to it and not be tired at the end was a good feeling."
While his debut ended on a sour note—a blister on his finger burst in the second moto and a late stall relegated him to eighteenth—the studious youngster, who was even watching highlights of Hangtown the morning of the race to prepare himself, learned valuable lessons that he will take into Thunder Valley this weekend—even though he admits it will be tough making adjustments to the all new tracks this year.
Scrubbing with Kyle Cunningham
RACER X FILMS
RV and Friends
RANDOM NOTES (Staff)
Be sure to stop by the Racer X booth at Thunder Valley this weekend to pick up 2013 event sticker, and don't miss the special subscription offers we have going on.

For $20 you can get 13 issues of Racer X plus a limited-edition Kevin Windham drawstring bag or for $40 you can get 13 issues of Racer X and an all-day pit pass!

While supplies last - get over to Racer X on vendor row!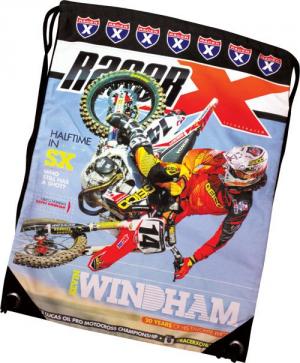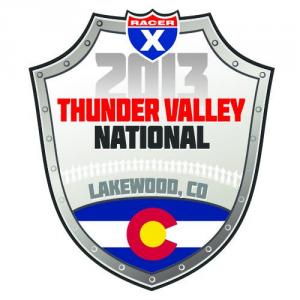 Our friend in New Zealand Sharon Cox helped spread the word on Courtney Duncan's fantastic win on that YZ125 at Hangtown in the first round of the WMX Triple Crown. Check it out right here.
Bobby Fitch and his wife, Alyssa, are celebrating their fifth anniversary. He will be racing the 450 Pro National, so good luck and congrats to the Fitch family!
EBAY FIND: The Prince of Jumping Robbie Knievel's CR500.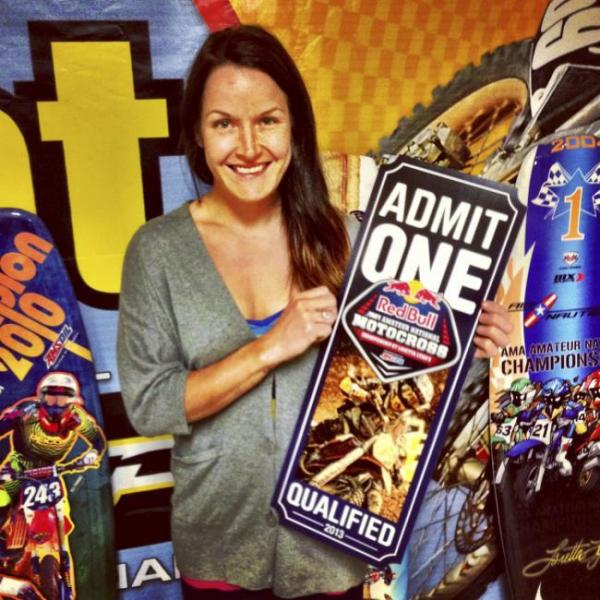 Anyone who makes the grade in regional qualifying around the country in the next weeks with get one of these oversized tickets to the Red Bull Loretta Lynn AMA Amateur National Motocross Championships.
That's it for Racerhead. Thanks for reading, and see you at the races.