10 Things to Watch: Thunder Valley
Friday, May 24, 2013 | 1:10 PM Tweet

By Chase Stallo and Aaron Hansel

Time Off, Proves for Not
Hangtown has been notoriously kind to Mike Alessi throughout the years—he even garnered a moto win in 2010. After choosing to take a hiatus from supercross at the end of the series to concentrate on the nationals and work on "secret technology," 12-6 moto scores for eighth overall is not what the Alessi camp expected. How will last year's runner-up finisher rebound at round two? —Chase Stallo

Seen Better Days
Chad Reed was so sick at the Hangtown that many in his camp expected the 2009 champion to sit out the opener. Reed's a battler and chose to gut it out, taking tenth in moto one before pulling off in the second moto. Word is Reed is still under the weather but will line up at Thunder Valley. —Chase Stallo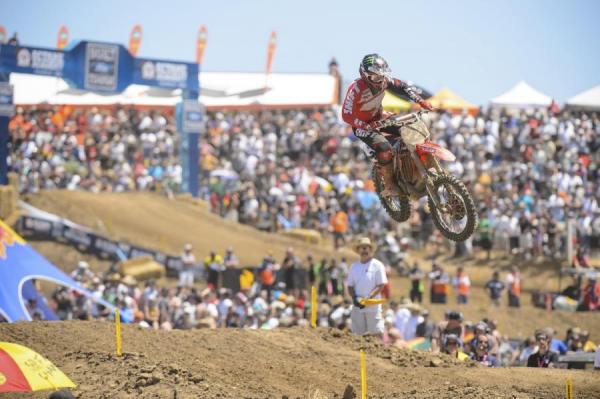 Reed is still battling an illness, but will be racing Thunder Valley.
Simon Cudby photo

Rookie's Rule
Hangtown provided a number of notable debuts from the highly acclaimed 2013 rookie class. Jeremy Martin (eighth overall), Joey Savatgy (ninth), and Justin Hill (tenth) all finished inside the top ten in their maiden voyages at Hangtown. Cooper Webb (sixth in moto one) and privateers Dillan Epstein (eleventh in moto one) and Brady Kiesel (nineteenth in moto two) showed flashes. Can the rookie invasion continue at round two? —Chase Stallo
Homecoming
The rarefied air of Colorado provides a challenge to riders, not only physically, but also in finding the proper setup. Although he now calls Texas home, Andrew Short was born and raised in the Centennial State, and should benefit from his local knowledge. Eli Tomac still calls Colorado home but has never won in his home state—his best finish is a third in 2011 and '12. Will the hometown boys use the thin air to their advantage? —Chase Stallo
Seeking Redemption
Although we are only one round into the twelve-round series, many riders failed to deliver the results that were expected at Hangtown. Blake Wharton was marvelous off the gate but failed to do much with it. His Rockstar Racing teammate Nico Izzi struggled in his return from knee surgery (twenty-first overall). Meanwhile, 2012 Rookie of the Year Jessy Nelson was almost nonexistent in the opener, finishing twenty-second overall. All three were preseason top-ten favorites. Who will deliver at Thunder Valley? —Chase Stallo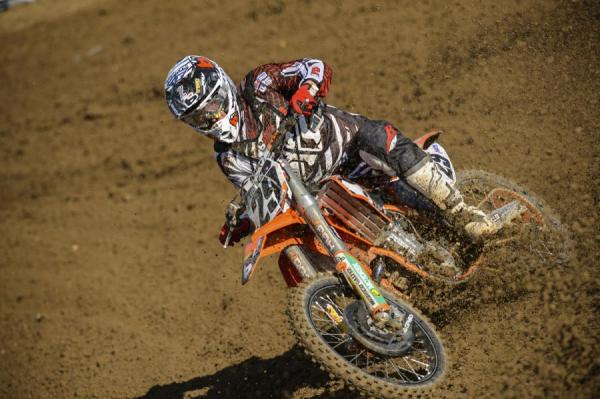 Andrew Short returns home this weekend.
Simon Cudby photo

The Roc Show
With a year of experience in Lucas Oil Motocross now under his belt, we knew Ken Roczen was going to be fast. After all, he led seventy-nine laps last year and walked away with multiple podium finishes, and it seemed unlikely that he wouldn't break through for his first national victory in 2013. What we didn't know was that he'd do it right away, and in such dominant fashion, streaking to a largely unchallenged 1-1. Is this his first victory in a summer of Red Bull KTM 250 dominance, or will his competitors strike back in Colorado? —Aaron Hansel
Intercontinental Visitors
When the series descends on the Rockwell Watches Thunder Valley National this Saturday, two MX1 GP stars, Clement Desalle and Kevin Strijbos, will be there to test their mettle against the current 450 stars of Lucas Oil Motocross. The pair, who will also be racing at the following round in Tennessee, do not have much experience racing here in America. In fact, Strijbos has never raced a National, while Desalle has only raced two. He took tenth overall in 2009 at Washougal, and second overall at Unadilla in 2010. How will they do in the elevation in a series they are unfamiliar with? —Aaron Hansel
Three's Company
The first ten minutes of the second 450 moto at Hangtown were nothing short of amazing. James Stewart, Ryan  Dungey and Ryan Villopoto were so close that all three were in the air at the same time over most of the jumps. Stewart hung tough at first, despite Dungey challenging him at every turn, even running into the back of him once. Of course, we all know what happened next, and when it was over, Villopoto had won by a huge margin, while Dungey and Stewart rode to a lonely second and third, respectively. Obviously, Villopoto is on the gas harder than a junkie dentist, and it's going to be tough for Stewart and Dungey to nip his winning ways in the bud before it turns into a long and torturous streak. Can they do it in Colorado, or will it be the RV show all over again? —Aaron Hansel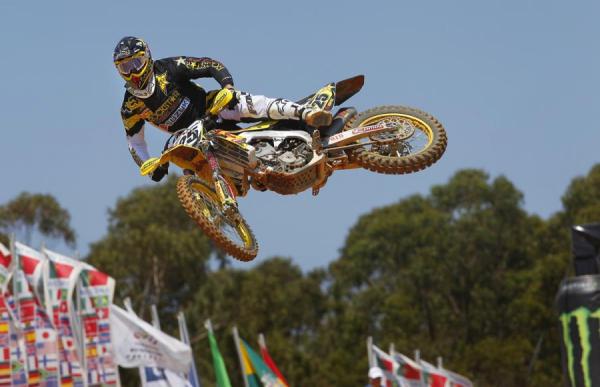 Clement Desalle is returning to the U.S. for two rounds.
Sarah Gutierrez photo
Malcolm Stewart
Although the results don't show it on paper, Malcolm Stewart had two great rides at Hangtown. He came from behind in both motos, only to have his engine overheat and blow in the first moto. In the second moto he got a horrible start, rounding the first lap outside the top thirty, yet still climbed to fifteenth. If he can get good starts and avoid bad luck, what kind of finish will he be able to pull in Colorado? —Aaron Hansel
Peicking Order
Weston Peick must not have gotten the memo. Privateers aren't supposed to be finishing in the top ten at the nationals, and they aren't supposed to be beating factory riders on superior equipment. Yet that's exactly what happened at Hangtown when Peick went 13-8 for tenth overall. Granted, it might have been a different race if guys like Jake Weimer, Josh Grant, Dean Wilson, Malcolm Stewart, Justin Brayton, and Chad Reed hadn't all had bad races, but this is racing, and what-ifs are about as valuable as sandy fork oil. Will Peick back up his amazing finish at Hangtown with yet another top-ten overall in Colorado? —Aaron Hansel
BONUS: LIVE TV
Remember, the first motos will air LIVE on NBC Sports this weekend and the second motos will air LIVE on FUEL TV, thanks to Alli Sports for working out this swap to get it all on live... You can check out the full schedule HERE.
Share this article:
Did you like this article?
Check out MONSTERBALL
in our Latest issue of Racer X available now.

Playing soccer on 250cc motorcycles might sound like a strange form of riding, but in Russia they do it with great passion—and for very little reward. Page 112.
Look for the verified symbol
The Conversation