Thunder Valley Motocross
Lakewood

,

CO
Thunder Valley
Lucas Oil AMA Pro Motocross Championship
Post-race press conferences in this sport have been a dicey proposition, mostly because the press in this sport isn't big or sophisticated enough to drive the conversation. They held them for years in supercross, and I even spent some time hosting them myself, only to have zero hands come up when it was time for questions from the press. In a lot of sports, the press circles like sharks, trying to bait the athletes into trash talk and big headlines. Here, the few of us that are there hardly ask anything. I don't host them anymore, but the PR staff at the Nationals has told me I'm pretty much required to go to the PC and ask questions, because no one else does.
But my help wasn't needed as much on Saturday at Hangtown, because someone else finally raised a hand when the floor was opened to questions for James Stewart. It was Ryan Dungey! They gave him the microphone, and he asked, with a laugh, "Hey James, how good is your golf game?"
Stewart laughed in response, then flashed Dungey his trademark smile. Clearly, there was an inside joke between the two. "I can still get you!" said James. "So I'm happy with that. It [my game] needs to be better, but I got a little work this season. You guys need to keep me off the golf course."
Dungey and Stewart then shared a laugh.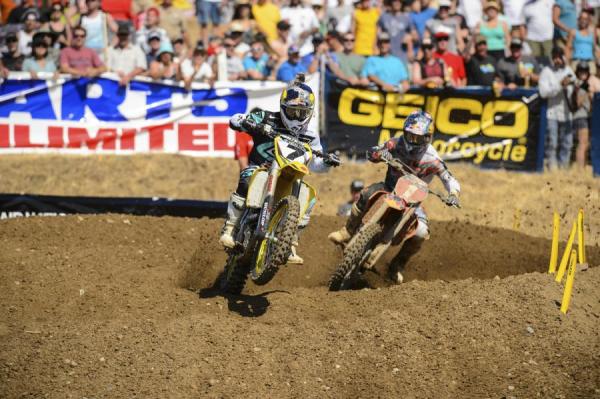 Stewart (front), Dungey (rear), and Villopoto are getting along...for now.
Simon Cudby photo
But wait there's more! Ryan Villopoto was sitting in the audience, and he felt the need to chime in on the buddy fest. "That's it, I'm going to have to take up golf so I can go out there with you guys," said the man who had just gone 1-1. Dungey then said, "Man wouldn't that be fun, all of us out there."
Um, excuse us. Fun? These three had just raced each other, and should be the primary competitors for each other throughout the year. Each can prevent the other from winning a title and chasing seven figures worth of bonus checks. How could they be so cool?
The answer lies not in some sort of psychological analysis. Yes, we know: Bob Hannah would puke out the punch line if someone tried to share a joke with him after a race in which he just lost. And yes, we know, kids these days get participant ribbons even if they don't win. But this has nothing to do with that. This jovialness has nothing to do with the individuals—it's all based on the calendar, bro.
Everyone gets along at round one. That's why the pre-season press conferences are most disappointing of all, because the riders are trying to douse any heat in the room with a wet blanket. Round one is nerve wracking and mentally taxing enough, and the riders don't want any drama added to the pile. That's why we never get the money quotes we're all dreaming about in the run up to the season. This year, the Nationals skipped the typical pre-season press stuff altogether, holding instead a riding demo in downtown Sacramento, and letting the local reporters (you know, real journalists, who wear suits and probably have degrees in the field) get one-on-one time with the athletes. And surely their questions focused more on what the sport is about than on any actual rivalries. The poof?  A massive group of reporters gathered around Dungey, because he's the champion. Villopoto's crowd was much smaller. The reporters can only know what's written in research, they didn't just watch 17 rounds of supercross like we did. The research says Dungey is the champion, so he's the main man.
Tension will build between the riders throughout the year, trust me. But right now, it's round one, and everyone gets along. Dungey and Stewart took a whipping from Villopoto, and they had no issues smiling about it and giving the #2 his due.
But just two weeks ago, I was interviewing Eli Tomac post-race in Las Vegas, and he made sure to stop short of ever saying a full on congrats to Ken Roczen. He had even stumbled into standard interview speak, but when autopilot nearly sent him veering into "Hats off to Kenny" land, he slammed the breaks. Tomac admitted he learned a real lesson about consistency, but, since he was given a golden opportunity when Kenny missed a main event, he couldn't go so far as to say the better rider didn't win. But he wasn't going to say the better rider did win, either.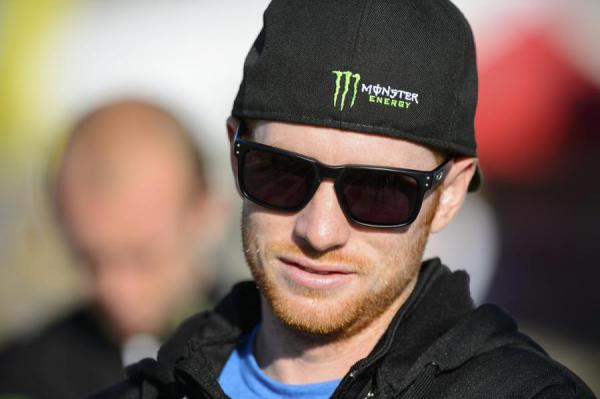 "I think that he is one of the top guys. He's there every single weekend. So it's not going to be easy." - Ryan Dungey's thoughts on Ryan Villopoto (above).
Simon Cudby photo
Post-race at Hangtown, though, Tomac straight gave Roczen his props, admitting without hesitation how Roczen just rolled them all in moto one. Right now, there's no reason to do anything but praise him and move on. But it won't be nearly that simple if we're into the final motos of the season, and Kenny and Eli are close on points, and they're trying to keep their minds straight and their confidence up. We already saw it play out that way last month.
Right now, it's not really about anyone else for anyone. The riders are just working on themselves. They're sorting out their bike set up and training. I have a feeling that Dungey and Stewart, for example, spent the time after practice, between motos, and during this week, focusing on how they felt, instead of watching or thinking about Villopoto. First they must get their own house in order, then it's time to start looking at the neighbors and getting jealous.
That said, Dungey can't just hand Villopoto the keys to the city right then and there. After the race, a reporter asked Dungey, after witnessing the Hangtown 1-1 and RV taking three-straight Monster Energy Supercross titles, if Villopoto was, officially, the best rider in the world. Dungey hedged.
"He definitely rode good," said Dungey. "I think that he is one of the top guys. He's there every single weekend. So it's not going to be easy. It's a lot of guys there this year. It's going to be a tough year, but being there every single week is going to be important, good starts, position yourself good and so forth."
He'll invite him to go golfing, he'll give him credit for a good ride, but he sure as hell ain't gonna call him the best rider in the world. That's what they'll battle for each week, and they won't hand it over as nicely as it might seem.