Open Mic: Hangtown
Monday, May 20, 2013 | 1:00 PM

KICKER

provides the sound from the Open Mic – since 1973 our concert-like acoustics and gritty design in mobile stereo put us on the map. KICKER Subwoofers and Amplifiers for vehicles and boats are sought worldwide, and now critically acclaimed MP3 Docks, Earbuds and Headphones are shaking up what remains.

Tweet

Ryan Dungey, Red Bull KTM, 2-2 for 2nd overall in 450 Class

Ryan, I know that wins are the best thing but a couple of seconds and getting the ball rolling, that's not a bad way to get your season going.
Yeah, it was good. In practice things went really well. We kind of fought it a little bit but made a couple changes before the first moto, and then one in the second moto as well. I think all in all it's a good day. It's a good start to the season. Good to be back in outdoors and to be back to defend the title, which is really cool.

In the second moto when you were trying lines to get around Stewart and I'm sure you probably knew Villopoto was behind you. How do you judge what lines to take to be aggressive on Stewart while also try and keep him from getting passed?
Well, at the very beginning we were all three right there. And I knew Ryan was behind me; he actually passed me one time. I was able to tuck under and get the pass back. But with James out front we were all pushing to get pace and the track was tough. There wasn't a lot of lines. We funneled down into one good line and I ran into the back of James one time and lost some time but it was just one of them deals. We all had to deal with the same. – Jason Weigandt

James Stewart, Yoshimura Suzuki, 3-3 for 3rd overall in 450 Class

This weekend was just kind of stay in my own zone. Just trying to get these two solid races in. Last year I came here and won, and the second race in Texas also. And then ended up crashing in the a third. I know it's a long series and I know there's going to be a lot of mistakes, a lot of things here and there. It's my job to just be on the box every weekend. I think it started off great.

Last year obviously was a rush to get ready for this race. You were only on the bike for two weeks or something like that. So how different was it this year with basically a whole year now on this brand?
You know what's funny is that I actually has less time to prepare, really, than I did this year. Last year, once I got hurt in supercross I took a week or so off and then went straight to outdoors. When I got hurt this year in supercross, it was pretty much the end of the season, and then I was hurt, and then we were just trying to test and do motos and all that stuff. Last year we were able to…we were out at the tracks, out by ourselves, just doing a lot of testing. So it's funny; I thought the same thing until I started adding up the days. I had more time last year to get ready.

We have seven days until we head to an elevation that's quite a bit different than here. The air's a little thinner. We know the bikes run quite a bit different, and it's a little bit tougher to perform at that kind of elevation. What are you going to do this week to get ready for that type of environment to race in?
I think Colorado is just another race. Performance-wise, I'm not worried about that. I just think we need to just improve in some areas. We for sure didn't have our best stuff today and it was good enough for third. Like I said, we're not on their game. These guys ride good. You can't leave out Trey [Canard]. Trey kept me honest both motos and I saw Justin [Barcia] and even my brother rode really good. So, real happy about that. But as far as that side of the things, the performance side, I'm not worried about that. We just need to be there every weekend and that's what we will be. – Jason Weigandt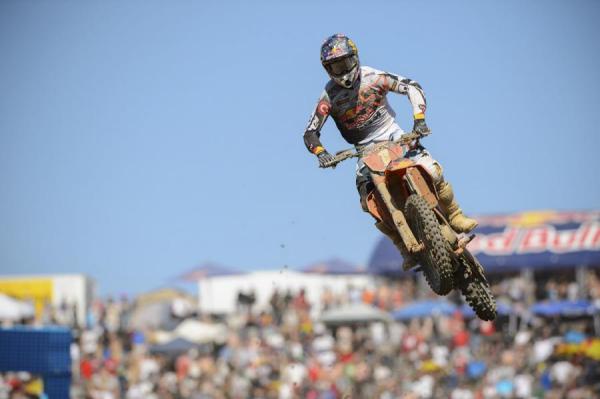 "Overall felt good. Could have done a little bit better in a few areas but it's the first round; we'll take from it and keep building." - Ryan Dungey
Simon Cudby photo
Bake Baggett, Monster Energy/Pro Circuit Kawasaki, 3-2 for 2nd overall in 250 Class
Congratulations on your return. We weren't even sure if you were going to be able to make it. Where are you at in your recovery from injuries and things like that at this point?
I've been definitely making progress for sure. There's not really a number of where I can say I'm at. I don't have much movement in my wrist, maybe 10 percent compared to a normal person. Just working with it so hopefully as the weeks go on, it gets better. But to come out here and finish where I did and be able to fight for moto wins and fight with those guys for a while, it's something big to come as long as we can stay right there at the end. Like I said, if you're first, second, third every round and every moto you're going to be in it at Elsinore. Then that race will be gnarly. So, that's the plan.
What are some of the tracks that you're looking forward to? Where are we going to see Blake Baggett really have his strongest ride at this year?
I mean I really don't know. All the tracks are good. There's two new tracks on the circuit which will be Bristol, Tennessee, and Salt Lake City. So we'll just go out there and see what we've got. And next week's Colorado, so that's a good one. There's lots of them that I like and there's a few of them that I don't like. But it just depends on the year and how they prep it. In 2011 this track was a lot different. We rode it a lot different. There was way more ruts and lines and this year it seemed like it was very hard to pass and there wasn't many ruts. There were maybe one or two ruts and they got blown out really fast. So it depends on the track, the weather, and what's going on before and after the event.
What's the status of the injury?
The wrist, it just gets sore and tender. It was supposed to be a minor thing until they got in there and started working on it. There was a lot of stuff wrong with it. So just trying to heal it up and get better. The range of motion is not that good. It gets sore. It's hard to hang on there at the end but it's getting better. And to be where I am, I'm definitely stoked on it but also looking back at last year, if you come out and win both motos it's kind of like… I was expecting to come out and fight for those moto wins, and even though I came up short it is still a little frustrating.
Is it painful?
Yeah. It's not bad for a few laps but as it gets going it gets worse. It kind of just depends on the track. The rougher, kind of square-edge track its worse than the ones that have ruts and you can kind of find a groove and work your way around it. It's a lot better. So it just depends and hopefully it gets better as the races go on. I'm doing therapy but when I move my wrist up, the ligaments are so tight now from replacing them and reattaching them that bones hit each other. So it's straight bone to bone going up. So I don't see any time soon that it's going to release itself and start moving.
Did it throw your program kind of for a curve getting a good start?
Yeah, the holeshot and the getting the lead in the second moto, it's kind of weird. Kind of weird going up the hill at Hangtown with nobody in front of you. I don't think that's ever happened to me here before. It was different. Just working on my starts. The whole team over there has been working on just trying to get up front early. As long as you're up there you know you can stay up there. I got passed unfortunately by a few guys and then had to work my way back up there. But for first day it's not bad.
Did we see a little hint in the second half of the motos? It looked like it was going to be one of those classic El Chupacabra charges. Was there a little bit of that today?
I was going as fast as I can and Kenny was on it. I started to maybe inch up on him a little bit, but bottom line is he was on the gas today and so was Eli. There was nothing I could do. I gave it all that I got and we'll move onto next weekend and see what we've got there. – Jason Weigandt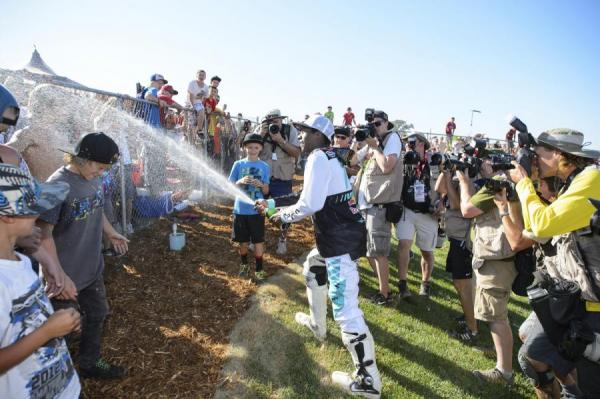 "I know it's a long series and I know there's going to be a lot of mistakes, a lot of things here and there. It's my job to just be on the box every weekend. I think it started off great." - James Stewart
Simon Cudby photo
Eli Tomac, GEICO Honda, 2-3 for 3rd overall in 250 Class
This class just keeps loading up with new kids and new teams and deep competition. You're now one of the bigger guys in this class. Is that a disadvantage?
Not too bad. I'm thin now and then it maybe hurts me on a hill, but there are situations where it does help. The 250s are just so fast now, anyway.
First moto, you were heading to the front, things were looking good, then Kenny kind of came out of nowhere and that changed the race completely. Take us through that.
Yeah it totally did. We were maybe 15 minutes in, I was running hard, but I was stuck in a weird pace, kind of in a weird zone. Kenny jumped by me around the outside, and he took of. At that point I was like, I at least have to get to second, so I pushed to the end.
Sizing this up, what are hoping to do to win this championship this year?
First of all you have to be consistent and I was able to do that here. I finally got a good result here, I haven't done that here since 2010. Last year I went like 4-10, and I had a first turn crash. So you have to just stick around the podium as much as possible. – Jason Weigandt
Andrew Short, BTOSports.com KTM, 6-10 for 7th overall in 450 Class
Second moto I went backwards, but the first moto… I felt like I rode steady the whole time. Deano passed me; he was going really fast at the beginning, then he kind of lost some pace and I was behind him and struggled. But he stalled his bike, so once I got by him, Mookie had a great race going and I kind of got in behind him and had some good laps towards the end of the first moto. I thought the track was really good. Maybe not as deep as it has been in the past but definitely rough. I enjoyed it.
We've talked about this before - this isn't your favorite track - you usually have some bad luck here too over the years, so you've got to be stoked with a seventh on the KTM and everything.
Yeah, last year I felt like I was better because the track was softer. It seems like when it gets more square-edged and hard-packed that's when I seem to struggle. But overall I felt like it was a good day for me, a good starting point. I'm really excited about Colorado, that's my favorite race of the year. So we'll see how it goes. – Steve Matthes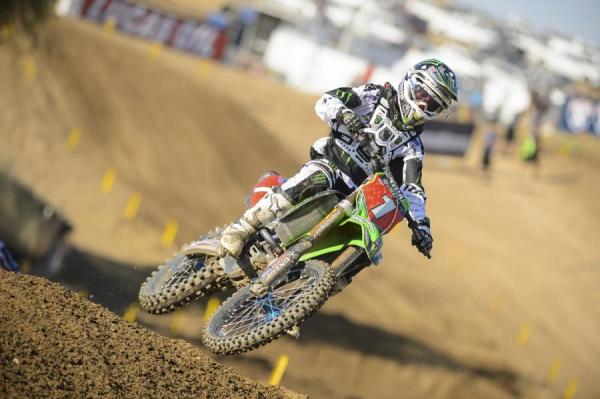 "The range of motion [in the wrist] is not that good. It gets sore. It's hard to hang on there at the end but it's getting better." - Blake Baggett
Simon Cudby photo
Phil Nicoletti, N-Fab TiLUBE Yamaha, 11-11 for 11th overall in 450 Class
I screwed myself in the first moto. I had ninth wrapped up and the last lap I didn't have a rear brake and I kind of lost it coming down a downhill. So, it was good [until then]. Rattray and Reedy got me back. That would have been my top ten. But it was good. I had a goal to be top twelve and I exceeded that so I'm happy.
I think you are the surprise of the day, so be happy. This was a good ride.
I'm happy. I have my practice bike suspension and we got some testing to do so I'm going to stay in California. Track was gnarly today. So my stuff was pretty soft and it ate me up and ate my body up. So if I can get my suspension a little bit better I think I'll be pretty solid for next week. But I was happy with my fitness. I got behind Shorty in that last moto for about the last 15 minutes. I don't know how his elbows, they cover the whole 40 feet of the track. He's a veteran and he's got it down. Basically blew me up. So last lap I just put it in cruise and ended up 11th. – Steve Matthes
Zach Osborne, GEICO Honda, 9-5 for 5th overall in 250 Class
We had a lovely dinner last night, some inspirational moments between us. We were hoping for a top five. First moto didn't go your way. But second moto, even with a crash, you rode very, very well.
Thank you.
What happened in that crash, first of all?
Musquin cleaned me, hands down. Fair enough. Whatever. It's racing.
Flashback to GPs there.
Oh, big time. But he's never been that guy. I was really surprised by it. In the first moto I pumped up really bad. Just didn't really know what to expect. I was so nervous coming in here. I didn't know if I was going to score points. As bad as most people say the GPs are I wasn't sure where I was going to stack up.
Have you seen that class this year? It's terrible.
No comment. But the first moto I rode okay to get ninth. But I knew I had a lot more in me. I felt like I could be on the top five pace for sure. So in the second moto I got a good start, got myself up into third, and was right there. Then Marvin cleaned me and we got up in, like, 10th and 11th or 12th or 15th or something… Anyway, we both ended up fourth and fifth. So pretty good day. Something to build on. I enjoyed being back here and racing and going home tonight is amazing. Normally at a GP we'd still have another 24 hours before we go home. – Steve Matthes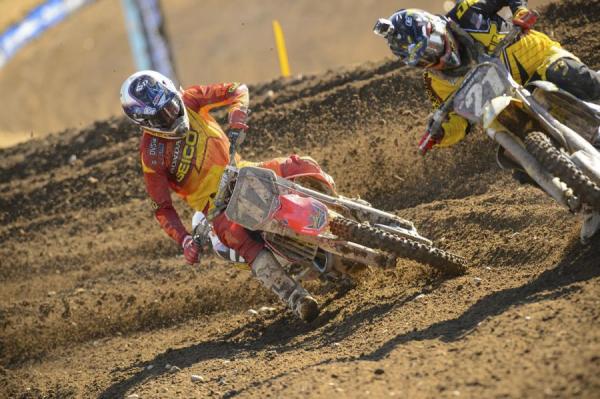 "We were maybe 15 minutes in, I was running hard, but I was stuck in a weird pace, kind of in a weird zone. Kenny jumped by me around the outside, and he took of." - Eli Tomac
Simon Cudby photo
Jake Weimer, Monster Energy Kawasaki, 7-24 for 13th in 450 Class
The first moto, well, the first half was really bad and then I just kind of stuck with it, obviously. And then felt like I got better at the end and made a few passes and had a seventh. So it wasn't too bad. And then going into the second moto I wanted to try and get a top five. I feel like I could do that. At least just better my seventh. I had a pretty good start and then coming down that first hill it kind of dog-legs and then everybody kind of funnels into that right. And my South African bro, Rattray, got a little out of control and smashed into me. Took a bunch of us down, Dean, too. I got run over by more guys there then I've ever been run over in my life. – Steve Matthes
Travis Preston, JGR Toyota Yamaha, 15-18 for 17th in 450 Class
How was it though? I think you did well. I think you did a good job.
For how my speed in Southern California to here was really off. This track was really rough, the traction was tough. And I had arm pump so bad every lap of every single moto, and it just killed me! I was literally just riding 60-70 percent trying to hold on and trying to manage it. But I had so much fun it was unbelievable. I'm really happy that I did this. I took two months off and I learned a lot. I just really love racing. It was so fun to get out there and race with these guys. I wasn't nervous on the starting line. I had an awesome time.
First moto you were just outside the top ten for a little bit, so that would have been pretty cool.
Yeah, it was that damn arm pump again. But just with how bad I felt on the bike and what I did, I was happy. – Steve Matthes
Share this article:
Did you like this article?
Check out MONSTERBALL
in our Latest issue of Racer X available now.

Playing soccer on 250cc motorcycles might sound like a strange form of riding, but in Russia they do it with great passion—and for very little reward. Page 112.
Look for the verified symbol
The Conversation