ONE Industries Pick Up Kit Road Trip
(San Diego, CA) - The guys at ONE Industries are packing up the RV and hitting the road for the 2013 PICK UP KIT ROAD TRIP.  The ONE RV will be rolling into Reno KTM on May 14th and Folsom Cycle on May 15, 2013. Come hang out, check out our new gear and get some free stuff; they'll even feed you too!
Wear your One Industries "Pick Up Kit" (jersey) and get even more free stuff!
Road Trip Dates:
May 14, 5pm – 7pm
RENO KTM
540 S. Rock Blvd
Sparks, NV 89431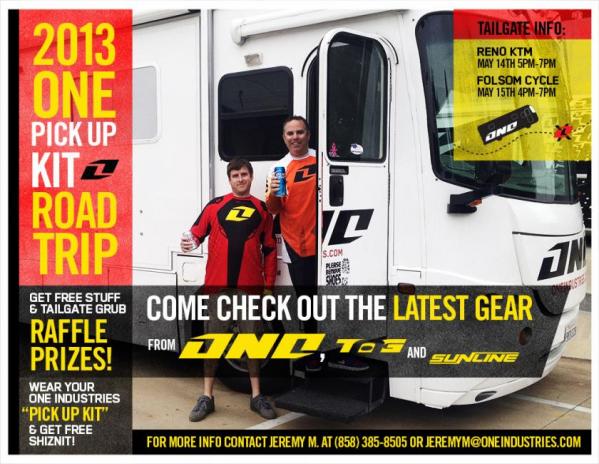 May 15, 4pm – 7pm
FOLSOM CYCLE
283 Iron Point Rd
Folsom, CA 95630
For more information contact Jeremy M. at (858) 385-8505 or jeremym@oneindustries.com
Check out the fine line of ONE Industries gear, casual apparel, stickers, and graphics on our website at http://oneindustries.com.

Like our Facebook page at http://www.facebook.com/OneIndustries

Follow us on Twitter and Instagram @OneIndustries