Welcome to Racerhead. We're here at the annual Racer X Ride Day at Lake Elsinore, where industry folks get a chance to spin some laps between the grind of the Monster Energy Supercross and Lucas Oil Pro Motocross seasons. Some pro riders will be out to ride, too, since this track does appear on the season schedule later in the year. All around, it should be a fun day at the race track.
But, sadly, we must start with a death in the moto family.
For the second time in a couple of months, the motorcycle media world has lost a very influential man. Two months after the great Henny Ray Abrams suffered a fatal seizure at his home in Brooklyn, Steve Bruhn succumbed to the damage caused by a massive heart attack.
I heard the news about Steve's passing by a text from an old mutual friend. I had heard earlier in the day that he'd been sick, having suffered a heart attack, but I was hopeful, just like a lot of other folks around his old stomping grounds, that he would pull through. He did not, and his passing was every bit as shocking as Henny Ray's was to the road racing world. Bruhn was all about SX/MX, and he left behind a legacy as a pioneering photographer and an early online leader.
Steve Bruhn was an incredibly smart man. He was an engineer by training, a motocrosser by passion. He was prolific in his work, shooting hundreds if not thousands of photos at a race, then tinkering with them to make the quality in print better than the original. He persuaded our magazine as well as Cycle News to make the jump from film to digital, riding hard on the whole exodus as the industry went from 35mm to 300dpi.
He also had a big personality and understood the value of self-promotion to a freelancer. He had his own stickers printed up, stuffed teddy bears, and even a bigger-than-life sticker on the side of what he called "The Ego Mobile" that he made his home, usually at the track but sometimes in the driveways of friends, working inside on message-board fodder for Mototalk, Motodrive, Vital MX, and pretty much anything else for which he might have an opinion. And man, did he have opinions—on politics, religion, seat-bounce theory, dieting, Big Government, technology, the WMX ... everything!
Bruhn was like a modern vagabond, a single man traveling the country in his own time, advocating racetracks and stadiums for better WiFi, better press rooms, better parking, better access. In later years, he and I didn't often agree on how to improve these things, but I always felt his opinions were based on what he thought was best for the sport.
His contributions to our sport and this website and magazine will always be remembered. Godspeed, TFS.
INTERNATIONAL MOVES (Chase Stallo)
News broke yesterday that Michael Leib—who spent two tumultuous years with factory Husqvarna in Europe before returning to the States in 2012 to contest Monster Energy Supercross, only to make the jump across the pond again to fill in for an injured Zach Osborne and shock the MX2 landscape with a podium at the Grand Prix of Italy in his Bike-It Yamaha debut, only to end up back in the U.S. this year—would once again head back to Europe after signing with the Dutch team Rockstar Beursfoon Suzuki for the 2013 season, with an option for 2014.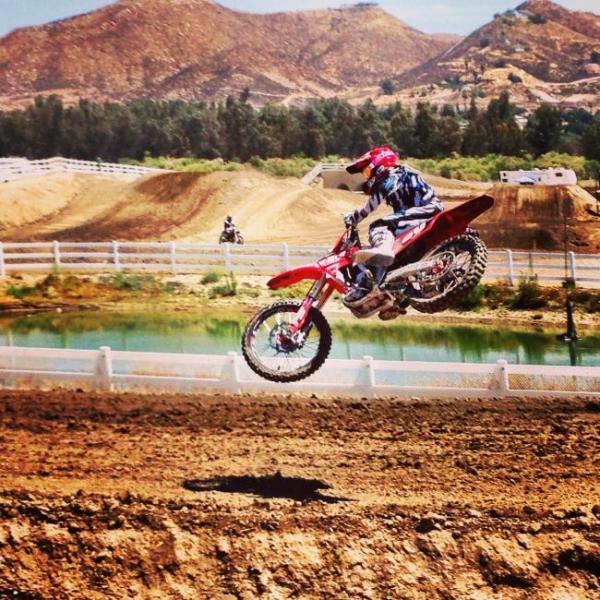 Leib was back riding today at the Racer X Ride Day at Lake Elsinore and is hoping to make his 2013 GP debut on June 9.
DC photo

"My goal is to start the season June 9 at the Grand Prix of France," said Leib, who's been sidelined since Anaheim 2 following a broken ulna (forearm). "I'm able to ride one or two days a week right now, but we don't want to jump the gun. So we are being really cautious with it so that we don't run into anymore trouble."
The return to the GPs was expected much earlier, as Leib had seemingly struck a deal with CLS Kawasaki to contest the entire MX2 2013 season before the deal collapsed in October of last year.
"A lot of people have asked me if I'm going back there to prove a point… I'm not going back to prove a point to anybody," said Leib. "I'm going back there to chase a dream and try and win some races."
Leib said he feels comfortable joining the family oriented Rockstar Beursfoon Suzuki team, which does receive support from both Rockstar and Suzuki, and was a big part of his decision to return to Europe.
"I'm really looking forward to go back, the team is great and it will take a lot of stress off me," said Leib. "At this point I just need to go get on a dirt bike and give myself a fair shot for a year or two and really work toward one specific thing, instead of getting bounced around like a yo-yo all the time."
Also making an International move will be Gavin Faith. The Iowa native confirmed via text message yesterday that he is returning to Australia to defend his Australian MX2 Supercross title. Faith, who had a career year with MotoConcepts in the 250SX East Region—included his first heat win and a fifth-place finish in points—has yet to sign with a team but hopes to have something in place before the Aussie season starts. Faith had a supercross-only deal with MotoConcepts, so he will not contest the 2013 Lucas Oil Pro Motocross Championship.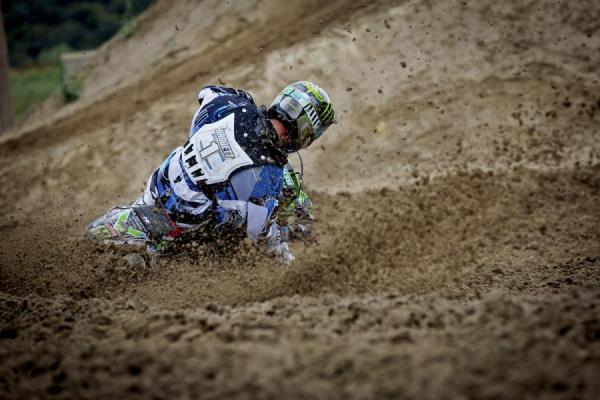 Look who else is back!, defending 250MX Champion Blake Baggett! Check out RacerXonline next week for a video featuring Baggett.
Matty Fran photo
GUESS WHO'S BACK (Jason Weigandt)
We're hoping our weekly Recharge Injury Report for Hangtown will look a lot smaller than it did for the waning days of supercross. While this year's 450SX class enjoyed a healthier run than the 2012 tour, there were still plenty of injuries spread throughout the pack, especially in the 250 class. Quite a few of those riders have been riding for a while now, though, and were just waiting until the Nationals to go racing.
Monster Energy/Pro Circuit Kawasaki is set to have a massive team this summer, with seven riders under two tents. Dean Wilson is back from injury and will ride a 450 alongside Tyla Rattray in the team's new semi. Defending 250 #1 Blake Baggett (back from injury), Justin Hill (back from injury), Martin Davalos, and rookie Adam Cianciarulo will race 250s. Darryn Durham, sidelined for a year now with shoulder problems, is one of the last riders still on the injured list. He got back on a bike a few weeks ago but his lap times were way off, and Mitch Payton has said he isn't interested in bringing DD to Hangtown to finish twentieth. So Darryn's dad told the team to give him two weeks with him back home in Pennsylvania and he'll get his speed back. Darryn returned to California this week to test with Mitch and Jim "Bones" Bacon, and the stopwatch will tell them soon if the home session worked. I hear they're literally testing with Darryn as we write this, and hopefully we'll know his Hangtown status shortly. Or we'll know for sure by next Saturday!
GEICO Honda welcomes back the long-lost Justin Bogle, healed from a wrist injury. Zach Bell will be back from his shoulder problem. Nico Izzi is back from a torn ACL to ride 250s for Rockstar Energy Racing. The Martin brothers, Alex and Jeremy, will be back for Hangtown on Yamahas. In the 450s, Michael Byrne will finally get to race his BTOSports.com KTM. Josh Grant is back on his JGR/Toyota Yamaha. Nick Wey returns to racing with his own effort in the 450 Class. James Stewart will of course be lined up on his Yoshimura Suzuki. The list of returns goes on, and hopefully the injury list will be a lot shorter next week.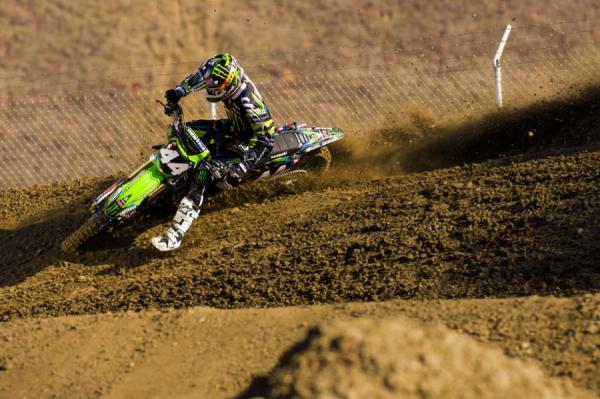 The team is still unsure if Durham will be on the gate at Hangtown.
Jeff Kardas photo
BELIEVE THE HYPE (Jason Weigandt)
It's become commonplace for riders to talk about the "stopwatch national" taking place at various tracks in Southern California. Unlike supercross, outdoor testing takes place on public tracks instead of private test facilities, so riders from different brands and teams are all out there at the same time. What's also common is hearing every rider, team, and trainer talk about how much it sucks to ride under these circumstances. Often, the Ryan Villopotos of the world are sharing track time with workaday folks, and of course those weekend warrior types see this as their chance to measure their speed against the champ. That can get crazy. Also, a SoCal track doesn't always rut and rough up like a National will, since the racetracks bring in so much soft soil, the motos are so long, etc. So right now it's a lot of testing on a lot of ground that's very much not like the actual tracks the riders will race on. It's quite strange.
That said, there's always some hype from these stopwatch nationals. The 450 class is usually a more well-known commodity, but the 250s are always ripe for surprises. This year, I've heard Martin Davalos is blowing minds with his lap times, and Rockstar team manager Dave Gowland said they're very, very impressed with Nico Izzi's speed. You can choose these guys as dark horses, or you can choose to ignore this info. Be forewarned, though: Two years ago Blake Baggett was dominating the stopwatch nationals and indeed cleaned up at Hangtown. It happens.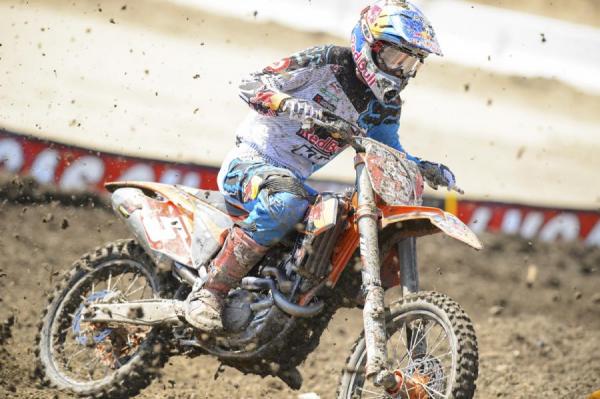 Ryan Dungey begins his 450MX title defense at Hangtown May 18.
Simon Cudby photo

THE OTHER ROOKIE (Steve Matthes)
Hey have you heard about this Adam Cianciarulo kid? I know he's been low-key lately and not much news about him, but we did do a Rapid Reaction to him turning pro earlier today. It's not Adam's fault that he does indeed get a lot of press from the motocross world, but he's been a race winner for a long time now, and those types of people get press. Add in the fact that, like Robbie Reynard, Ricky Carmichael, and James Stewart, AC comes next in a long line of Team Green superstars.
But enough about AC292 and his upcoming first pro race. I'm here to tell you that there's another kid out there who's working away and will be very impressive next weekend at Hangtown, and that's Cianciarulo's longtime rival Cooper Webb of the MyPlash/Star Racing Yamaha squad. Webb's been racing the bigger bike for a lot longer than Adam, and he's had plenty of time to line up against faster guys as he prepares for his debut. Webb was in Cianciarulo's shadow a long time, and unfortunately for him, he's still in it. Plus the Star Racing guys don't have the same type of standard for excellence that Pro Circuit does, but they're trying to change that.
With the recently retired Ryan Morais running things over there and working with the riders, things should improve. Jeremy Martin, another highly touted rookie, had a good supercross season going until he got hurt, but he'll be ready for Hangtown. I've been talking to Morais about Webb, and he's very pleased with what Cooper's been doing on and off the track. And Ryan knows what it takes to run up front. He's very analytical, and at the same time able to know what's an excuse and what's not.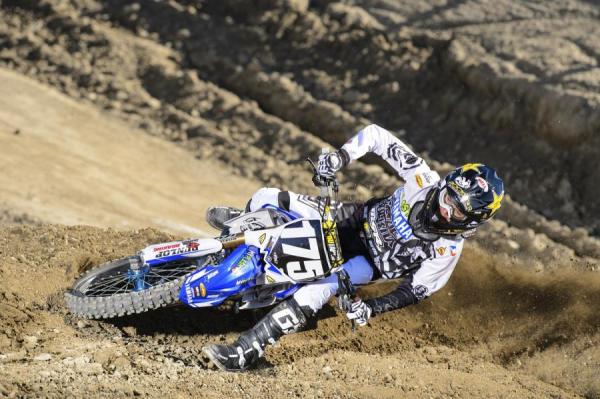 Check out this interview Racer X's Chase Stallo did with Webb following the announcement of his pro debut.
Rockstar photo
Just like we've seen with Josh Grant, Justin Barcia, and Eli Tomac, the riders who are able to come into Hangtown with nothing but an outdoor approach are usually successful, and for that reason I think Webb will be very good this summer. Not to put too much pressure on him or the Star guys, but Yamaha desperately needs to get a great 250 MX guy to start the flow of good feelings going their way. I think Webb will deliver.
Oh, and I went and broke down the
250SX East
and
West
series points the best way I knew how to.
IN THE MAG: ONE RACE, ONE PAGE - 1989 Gatorback
For nearly fifteen years, the season-opening outdoor motocross race was held at Gatorback Cycle Park in Gainesville, Florida. The event carried special significance in that it also served as the traditional kickoff to Daytona Bike Week and, as such, was a popular stop for fans. Gainesville always stuck out, but the 1989 race was a game changer in many more ways than one. Read more about this particular race, and why we've titled it "Changing of the Guard," on page 64 of the June issue of Racer X Illustrated.
THIS WEEK'S HIGHLIGHTS
Tired of hearing sponsor-driven podium speeches and close-to-the-vest interviews devoid of any real information? Check out our Between the Motos with Dunlop's Brian Fleck and you'll learn a lot of about real things, like which tires Ryan Villopoto likes and the toll taken during a thirty-five-minute pro moto on a tire. We guarantee you'll learn something from this interview by Aaron Hansel.
HEY, WATCH IT!
Jeffrey Herlings Rides the KTM 150
Top Dead Center: Rolling the Dice
Outdoor Prep: Comp Edge (250s)
Outdoor Prep: Comp Edge (450s)
RANDOM NOTES (Staff)
Earlier this week we put together an updated all-time supercross win list, which can be seen right here. It includes all the information from 2013 and shows just how far this year's winners climbed the charts. Unfortunately, we made an error, as Jimmy Button pointed out. Button was originally listed with four 250SX wins, but in reality he's got five to his credit: Charlotte and Indianapolis in 1992 and Daytona, Charlotte, and Dallas in 1994. Sorry about that, Jimmy!
Emaleigh White was out at Hangtown and took this photo of the track Monday: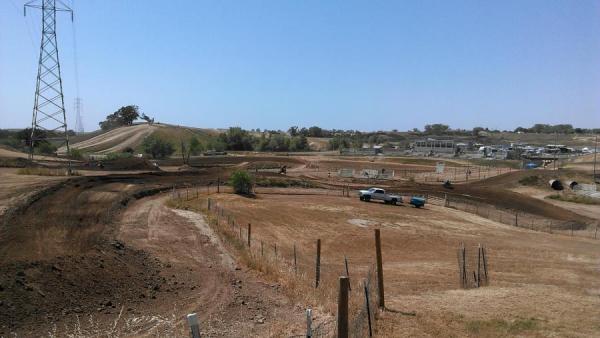 That's it for this week—enjoy the brief downtime in the pro schedule, because it doesn't last long! Thanks for reading. See you at the races.