Sam Boyd Stadium
Las Vegas

,

NV
Race Center: Las Vegas
Monster Energy AMA Supercross Championship
Title fights and big moments don't come around very often, so we have a small sample size, and perhaps inaccurate data, when determining that most important element of sport: handling pressure.
In fact, other sports have been attacked by geeky computer types armed with advanced stats and sabermetrics, and even their quest to find out what really wins games is never-ending. Many numbers have been crunched on performances in "clutch" moments. But all that statistical analysis has only created a debate, with some saying you can measure performance under pressure, and other's saying you can't. As proof, check out this story on Kobe Bryant's remarkable rep for hitting clutch shots, even though any sort of measurable statistic shows he's not any better in the clutch than any other average player.
But Kobe Bryant's career highlight reel of clutch plays would lead many to believe those stats are actually inaccurate, and that includes highly-respected people around the NBA. Is Kobe really clutch or really just average? The debate will go on.
In this sport, it's really hard to understand "clutch" because the situations are often so varied, and also rare. A great racer can go an entire career without competing in a race where a title is on the line. Out of 15 AMA National Championships, Ricky Carmichael only once had to really go to a season finale on the brink, in Las Vegas in 2006. Things were pretty close with Chad Reed in 2003, also, but Ricky didn't need to beat Chad that night. In the case of this weekend's crazy Monster Energy SX finale in Vegas, where four riders will enter with a shot at the two 250 SX titles, we're all going to make guesses over who can handle the pressure best. But they're just guesses.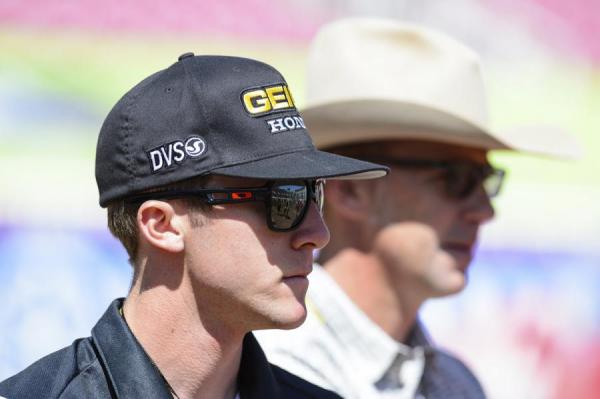 The pressure is mounting for Tomac (above), Roczen, Hahn and Musquin heading into Vegas.
Simon Cudby photo
Yeah, both Red Bull KTM riders already have professional titles to their name via the GPs (two, in fact, for Marvin Musquin) but winning a title once doesn't guarantee you'll handle the next situation to perfection. Roczen inexplicably pulled off in his heat race in Salt Lake City, most likely forgetting, in the heat of the moment, that LCQ gate picks are based on heat race finishes. It was nothing more than an honest (and huge) mistake by Kenny, and pressure might not have even been part of it, but now the dreaded "meltdown" word will be bandied about heading into Vegas. But Roczen has handled pressure before, not only winning a World Championship in MX2, but with sizzling Motocross of Nations performances year after year.
Not like you would have expected Tomac to have troubles, either. After all, he already has this exact 250 West SX title in his name, and, last year he won it during a very close points fight with Dean Wilson. He handled his business then. He's been in other clutch situations before and has performed well. In 2011, he had a shot at the West crown in Vegas, and while he didn't win, he lost in a great battle, not because he choked (you may remember that 2011 Vegas finale involved quite a bit of controversy, but the statute of limitations is complete on that so let's move on). Last year he had a shot at the 250MX title at Lake Elsinore (because of his incredibly strong riding down the stretch) and literally rode himself into the ground going for the win. He gave it his all and was very fast at the finale, no signs that the pressure got to him.
But the sample size is still small. When determining, say, that a rider "has great corner speed" you're basing that on watching him go through hundreds of corners hundreds of times. We know Mike Alessi is a good starter because we've seen him grab hundreds of holeshots as an amateur and a pro. With that much info, it's easy to accurately assess Mike's starting abilities. But handling pressure? Even the best, most championship-proven riders are probably only in that position, what, five times, total in their whole pro career?
Think about Ryan Dungey, who had to deal with the "choking" rep after the 2008 season. That's when Jason Lawrence supposedly "got into his head" and stole the Lites West SX title. From there, Dungey had to go out and win titles while the world waited for him to crumble. But he didn't crumble—not in Lites West in 2009 (pressure from Jake Weimer all season), not in 250MX 2009 (battled Christophe Pourcel all season without making a single major mistake), and certainly not in 2010, when he brought home both 450 titles in his rookie season. In two years, Dungey's rep went from choker to closer. You just never know.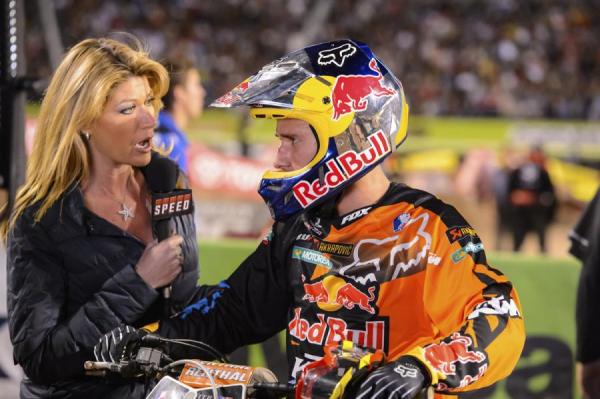 Roczen talks with Erin Bates after his DNQ in Salt Lake City.
Simon Cudby photo
So, we had some data coming into Salt Lake City, and it let us down in every direction. Both Roczen and Tomac seemed ready for the moment. But strange things happened, anyway.
It started on Saturday morning, when I got the chance to interview Roczen for Racer X Films.  In the morning, Kenny looked relaxed and he was having fun with his crew. He said he had no problems talking title, no worries about jinxes or anything like that, and even when I told him I'd be asking about the fact that he hadn't had a bad race all year, he said he was fine with that. Hey, he had a 20-point lead, what could really go wrong? But just part way through the interview, something strange happened. Kenny is always well spoken and outgoing, but his voice started to shake just a little. Myself and our video man for the day, Chris Barnes, noted it when it was over. "That was a good interview, but did you notice Kenny's voice started to shake a little?" we said.
It shouldn't have even been an issue, but oddball stuff can still happen, and for Kenny it happened with that implausible heat race and LCQ deal. Credit to him for saying the right things in a post-LCQ interview with Erin Bates that he obviously was not prepared for. He said, simply, "We'll get it in Vegas."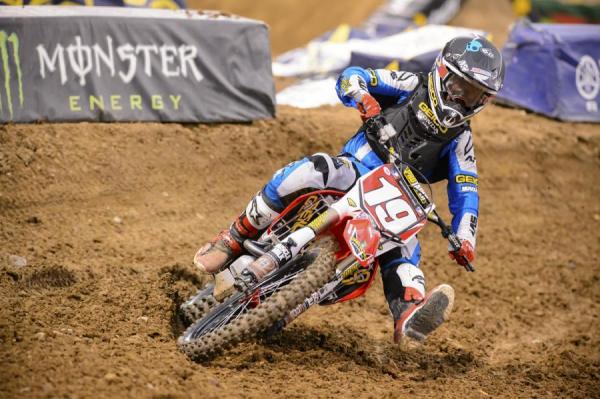 Wil Hahn has been waiting since Minneapolis to claim his first SX title.
Simon Cudby photo
This clearly shipped favor into Eli Tomac's hands, but a win for him was far from a lock. Tomac was struggling all day in SLC, posting just tenth best in practice. He was struggling big time in the very treacherous whoops (they were tough for everyone, but you'd expect Tomac, so aggressive and fast and precise in supercross, to be one of the best through there). All day long, the team seemed to be chasing the setup through the whoops. Then, when 250 practice was complete, we saw something strange. As the 450 riders rolled out for their last session, there was Eli, sitting all alone at the very top of the rider's seating section. He must have been 100 feet away from anyone else, just watching the track.
And we know now that in the main, he had his problems. Soon, we started running down the mental rolodex of Tomac's previous title battles. The Vegas race two years ago, Lake Elsinore, and Seattle last year. I'd also watched Eli for many years at Loretta's, and the pressure never seemed to get him. It just seems strange that in this race, all of a sudden, this would happen. Afterwards, Eli didn't even talk pressure or championship, he put the entire night on the whoops. Remember, he crashed out of San Diego last year and Oakland this year in the whoops. He knows now that if you don't have it going through there, it's best to back it down.
It would be very easy to think Kenny and Eli just showed that they couldn't handle the moment, but both have an out. For Roczen, it's hard to say that pressure had anything to do with his LCQ gaffe. It was a pure mistake, a dumb move, but one he could have made at any race, at any time. I seriously doubt the championship was running through his mind when he pulled off in that heat—if it had, he'd probably had stayed out there!
For Eli, the whoops were a problem for him hours before Roczen didn't make the main. He also handled the most pressure packed part of the race—the start—by grabbing a solid second out of the gate. Up until the moment he hit those whoops, everything seemed fine. From there, he tried everything in those whoops, running the left side, the right side, doubling, singling. He also made mistakes around the rest of the track, but that could be written off since often when a rider struggles in one section, he's thinking about it the rest of the way around the track. And once he finally did figure out how to minimize the damage, he even ended up getting a few riders back.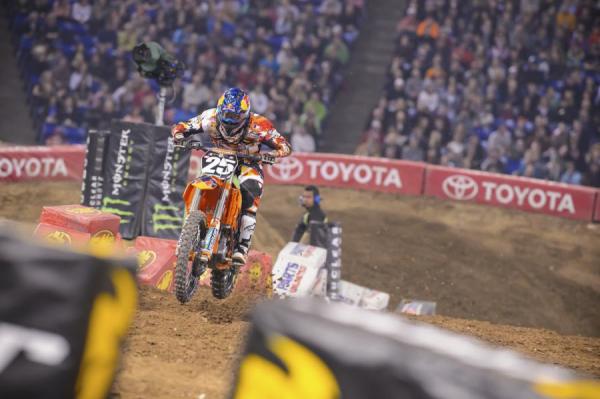 Musquin is a two-time World Champion, but will that come into play this weekend?
Simon Cudby photo
No matter. The whole thing could be chalked up to the whoops, but everyone in that building or watching on TV will tell you what they saw. Now, Eli will not only have to deal with the actual pressure of a series finale, but also the pressure of everyone on the outside saying he can't handle the pressure. Ouch.
Meanwhile, the East riders are in ice mode. In the NFL, teams call timeouts right before the opposing team tries to kick a field goal, hoping the extra time lets the kicker think about the kick and get nervous. Wil Hahn and Marvin Musquin have had two weekends to think about their scenarios, although for Wil, he has more to think about since he's the points leader and also since he's never been in this situation before. Musquin has two FIM World Championships.
But as we saw in Salt Lake, previous titles don't guarantee success the next time. Every scenario is different, and no ending is the same. Should make for an exciting finale on Saturday night.