Rice-eccles Stadium
Salt Lake City

,

UT
Salt Lake City
Monster Energy AMA Supercross Championship
Despite facing some of the stiffest competition ever seen in the sport, Ryan Villopoto is now a three-time Monster Energy Supercross Champion. He proved why with a superb ride on Saturday night in Salt Lake City, with challengers Davi Millsaps and Ryan Dungey all over him, Villopoto withstood the pressure and came away with the race win and title. After the race, during his celebration with the Monster Energy Kawasaki crew, we got a few minutes alone with RV to talk about the race and his season.
Racer X: How badly did you want to win this race? Obviously you were pushing it.
Ryan Villopoto: Yeah. Minneapolis didn't go as I really wanted it to, and would have liked to win in Seattle, hometown. But I had good races at both of those places and came here to get the win. Not necessarily to try to concentrate on the championship but just the win itself, and we were able to do that.
So the win wasn't, "I got a win to wrap it up early?" It was more just win to win?
That was the goal, to wrap it up early deep down, but on the surface it's just race wins. Try to keep it under control. If you don't win and don't wrap it up, it's not everything. There's still Vegas. Just score good points.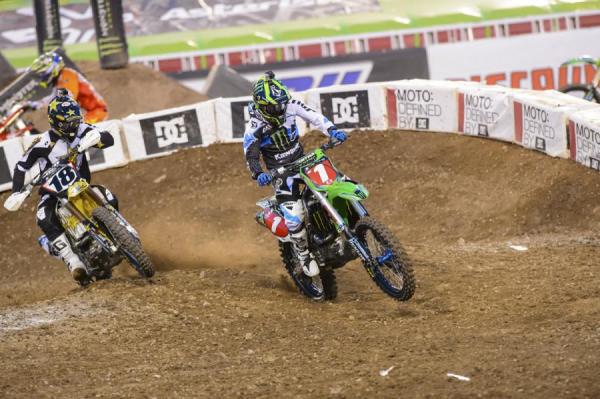 Villopoto (1) held off a stringent charge from Davi Millsaps (18) to secure the win and his third straight 450SX title in Salt Lake City.
Simon Cudby photo
The first title you won, in 2011, was so tense and so close, and you won a super clutch race here two years ago. Having gone through that fight already, how much easier does it make days like this? Because you've been through that championship pressure and it was way tougher then.
I don't know. I think the field was tough this year and that race was…
I just mean pressure-wise.
The pressure wasn't like it was points-wise, then. Obviously I had 25 points coming in here. To get that win was kind of more than… for some reason, tonight I just really wanted to get that [win] so it made me keep pushing. All of our heart rates were just maxed out. It was a close race and we're at a little bit of altitude and there was a long set of whoops, and they were tough whoops and made it so you kind of held your breath on parts of track. It was a long 20 laps.
Davi was gaining in the whoops on some laps. Did you know that he was going faster?
I kept trying to just go a little quicker in the whoops. I felt like our bike was really good there in the main event. I'm good in the whoops. I feel like I'm a pretty good guy in the whoops, but Davi's size, most of the time he's really good in the whoops. So I kept trying to go in a little quicker and do the whoops a little better every time.
How does this change your schedule for outdoors? Does it give you any more prep time?
Not really. I think it just takes off the pressure going into Vegas. We can start to shift what we're doing mentally and getting ready for Hangtown and outdoors.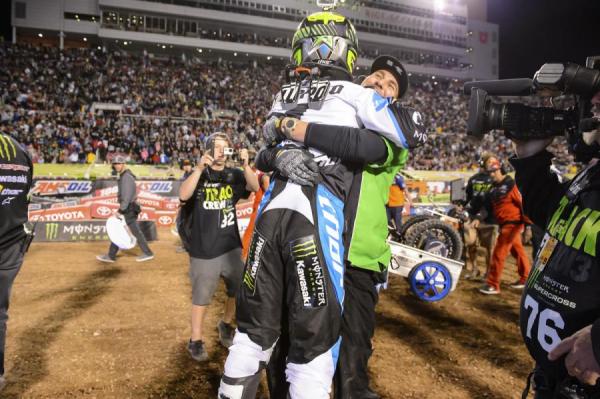 RV enjoys the moment with his mechanic Mike Williamson.
Simon Cudby photo
You've won three in a row; hardly anyone's done that. Do you look at record books? Do you look at numbers? You don't seem like that kind of guy.
I don't really. It's a huge deal and a great accomplishment but that wasn't my goal coming into this season. My goal was to defend.
Were you ever really worried with a couple of the bad races in the year? Were you ever like, "Uh oh…"
I think a few of the top riders were down and I think we were all kind of feeling similar there for a while. The close people that we have around us and the good team that we all ride for, for me it's Kawasaki and Monster and my personal crew that I put around myself, make it easier to come out of those holes. But once you're out of the hole you can kind of step back and look. Like okay, yeah, see the mistakes and where you went wrong and what you did and things like that, but when you're in it, it's one of those deals where you're inside the box and you can't see outside of it. But once you kind of climb back out of it then you see. We were pretty far down. For me it was my team and the close people that I have around me that helped me through it, and we were able to do it as a whole group.