Centurylink Field
Seattle

,

WA
Seattle
Monster Energy AMA Supercross Championship
As the Western Regional 250 SX series resumes, much, if not all, of the focus is on the championship picture, and what could go down between Ken Roczen and the aggressive defending champ, Eli Tomac. But there's a third rider that's coming in somewhat under the radar this weekend, and that's Cole Seely. Interestingly enough, Seely, who was considered to be a title contender at the beginning of the year, is in a better position to go for a win tonight than he was at A1
The Lucas Oil Troy Lee Honda rider crashed hard and suffered major injuries last year in Salt Lake City, and missed the entire summer of Lucas Oil Motocross . He was still getting into the swing of racing at the beginning of the 2013 season of Monster Energy Supercross. His fitness wasn't a problem, but finding his groove was.
"I wasn't out of shape before the season started, but I'm definitely more fit now," Seely explains. "I really just wasn't comfortable racing and leading. I wasn't used to it and I needed to get the feeling back and get everything going again. After the first three rounds I was ready, but kind of had some bad luck there in the last two rounds before the break. But I'm definitely feeling ready now. And my endurance is better now, and my comfort level is back up. Last year I was probably in the best shape of my life, other than now, but when I led those laps on the 450 in Atlanta I couldn't make it happen. It's a comfort thing. You have to get used to leading, and every time you lead you learn something. You learn how to control your nerves and your heart rate. I'm back to that comfort level, and my endurance is definitely back up."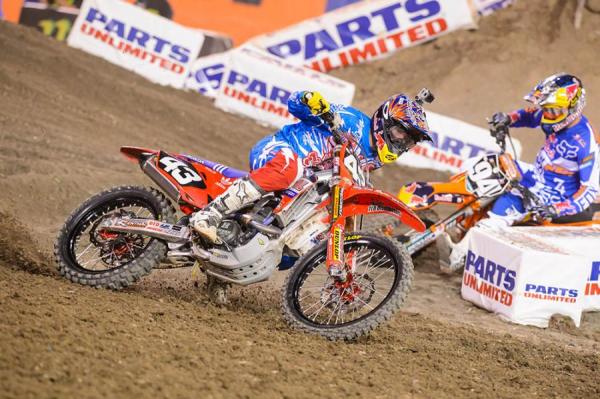 Seely has led plenty of laps this year, but feels ready to close the deal on a win now.
Cudby photo
Seattle also holds some positive history for Seely; he won here two years ago.
"Two years ago when I won the dirt was very soft. Last year it was pretty comparable to Anaheim or San Diego. It felt like normal dirt," Seely says. "I'm kind of curious to see what dirt they use this year, and I'm curious to see if they changed it or not. I'm also curious to see how it held up in the rain. Seattle has always been really soft, and last year was the first year I've seen it actually pack in and get hard."
With the moisture that's in the dirt today, thanks to the rain that fell during the week, there's a good chance that Seely will be greeted with soft dirt when the gate drops on the night program. And if the rain does indeed fall tonight?
"My mud strategy is to just have fun, basically. There's nothing that you can do really," shrugs Seely. "You can't really do anything to prep for it-it just seems like it's a natural gift to be able to go fast in the mud. It's just easiest to have fun, and the more fun you have the more you're laughing at the track and not getting flustered in the race."
It's easy to relax even in the mud if you're in Seely's position. He has nothing to lose and much to gain. He'll try to use that to leave in the best position of all: first place.