Centurylink Field
Seattle

,

WA
Race Center: Seattle
Monster Energy AMA Supercross Championship
Two people were not happy inside the Honda Muscle Milk hauler. Oh, the Honda team people were fine, but specifically the Justin Barcia camp, consisting of his trainer, Jeff Stanton, and his mother Loraine, did not like what they saw in Minneapolis. Barcia had just finished fourth, and in a sport where podiums rule, fourth is equivalent to last. Stanton shook his head, a follow up to a conversation I had with him right before opening ceremonies, where he lamented Barcia's recent string of fourth-place finishes, and fourth-place position in points. Then Barcia went out and got fourth, again. I'd say the fourth day of July is the only fourth Stanton likes.
Maybe some sympathy from Mom? Nope. She was madder than Stanton, and mentioned how Justin started right behind Ryan Dungey, but didn't finish right behind him.
The trouble is, Dungey won the race, and only a short time ago, Barcia appeared set to give Dungey fits. When Bam Bam first jumped on a 450 in Lucas Oil Motocross two seasons ago, it was Dungey who he battled and then rubbed the wrong way. They were teammates at the Motocross of Nations last year, both on 450s, and Barcia seemed a little faster (if more erratic). They faced up again at the Monster Energy Cup in a battle for the overall, and Barcia came out the winner. For most of Anaheim 1, Barcia looked a little tight, but still led Dungey for most of the race before a late crash. The next week in Phoenix, Barcia won.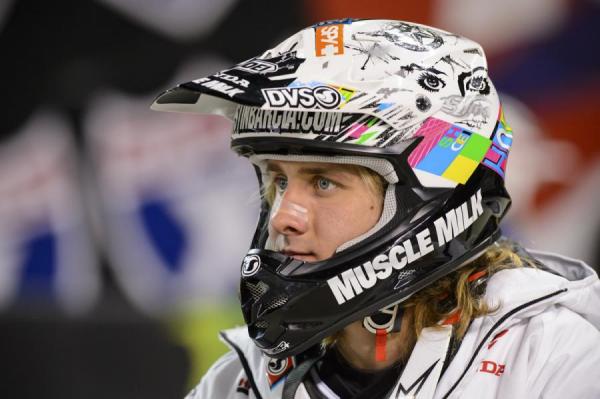 Barcia is faced with high expectations in his 450SX rookie season.
Simon Cudby photo
Mark it all down, and you could make a case that Barcia, even in his rookie season, was going to be as good as anyone every week. Months later, Barcia is still healthy, still learning and still solid. His season hasn't been a disaster by any means. Many feared the kid would be fast and loose all year, winning races, ruffling feathers but also crashing spectacularly. Instead, he's been pretty consistent. He cased a jump big at round three in Anaheim (his fault) and got run into during some second-turn carnage in Oakland (not his fault). Beyond that, we haven't seen huge crashes or mistakes from Bam Bam.
But without big crashes and injuries, there are no excuses. Instead, he's racing every weekend and getting fourth, which is darned impressive, but not a successful season in the eyes of Jeff and Loraine. Hey, the folks around any rider at this level are too competitive to see anything short of winning as true success. Coaches don't want to see their team play well, they want to see their team win. Ever see a game end where the losing coach starts with anything but an attempt to explain what went wrong?
As for Justin himself, he articulated quite well what he's up against. "You're racing against the best people in the world and you don't get to start with them, so then you need to be even better than the best guys in the world to catch them, and that's a hard thing to do sometimes. So I've been fourth a lot lately. And it hurts. It stings. I would rather be up front battling for the win and crash than get fourth every weekend, I think."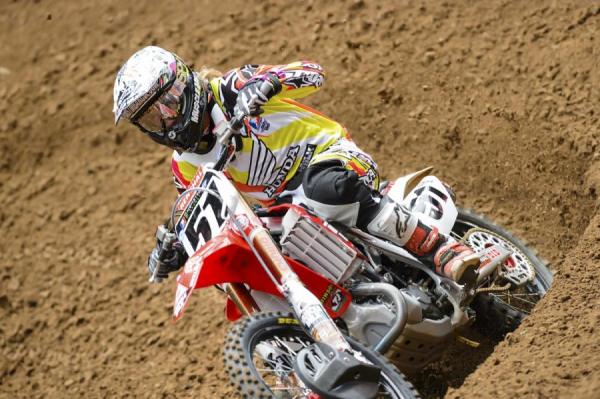 Barcia has four podiums, including a win in 2013.
Cudby photo
This is a front-running sport. There's too much consistency for it not to be. If motocross and supercross featured a guy finishing tenth one week and then winning the next, a fourth place finish would be fine. But that's not what we normally see, and the last few weeks have been no exception. The Ryans are clearly the best in the business right now, and another 1-2 finish in Minneapolis proved it again. They'll be the favorites this weekend in Seattle, too. Things don't change all that rapidly all that often here, so our expectations are based around that.
What this also means is that fourth, fifth or sixth is usually considered sub-par for riders considered on the elite end of the pack. We're conditioned that way, because we're not used to seeing a season like this, with so many fast, consistent, hard-working riders still at the track every weekend.
This is just an exceptional high water mark when you consider that the Villopoto/Dungey/Millsaps/Barcia/Reed/Canard/Stewart group is only responsible for two Did Not Starts due to injury (Canard missed Toronto with a concussion, Reed missed Houston due to knee surgery). You just never see periods of sustained health at the top of the field like this. This makes it much, much harder to make realistic expectations. Barcia's string of top fives could have been podiums in a normal year, same for Canard with a mid-season "slump" of sixths and sevenths. Further, Jake Weimer missed only a short span with injuries, but has not been the same rider since. It does not help that when he returned, so many riders were still going fast. In this group, it's hard to even break the top ten, but that doesn't make Weimer feel any happier about finishing eleventh.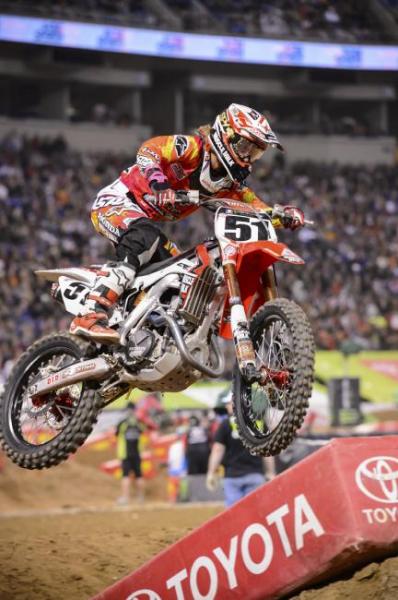 In the last seven rounds Barcia has not finished outside the top five, but has only a podium.
Cudby photo
Further, we're in an era of max effort from so many of these riders. It used to be easy to determine effort via the results column, but there's no room in the SX main events for slackers. Weimer was eleventh, but I can guarantee you he wasn't on the couch watching TV all week. Neither was Barcia, neither was Canard, neither was sixth-place Andrew Short. I guarantee you Broc Tickle's thirteenth in Minneapolis wasn't from lack of trying. Then you have Matt Goerke, a rider who had not reached his potential as a pro yet, of course finding it in the middle of this stacked season. This season, even the question marks have delivered great rides. Davi Millsaps once carried a slacker rep, but there are zero doubts about his effort for 2013. Canard was coming back from a major injury. His riding has proven he can indeed comeback. Heck, an even wilder card threw his name in the mix this weekend, with Josh Hill showing elite-level speed at times. Many, many doubts about the long-range prospects for Millsaps, Canard and Hill at various times for various reasons. This year, they have all performed.
The numbers are the same, though. Fourth is still one spot less than a podium. As Barcia said, it hurts and it stings.