Centurylink Field
Seattle

,

WA
Race Center: Seattle
Monster Energy AMA Supercross Championship
I ran into Jeff "Chicken" Matiasevich at the Anaheim Supercross back in January. He was sitting in a corner, away from the crowd and just watching the races. I immediately recognized him -- Chicken hasn't aged much, and I took a few minutes to chat with him and plan this interview. After several months of back and fourth, we finally were able to speak, and Jeff, the 1988 and '89 125 West Supercross Champion, gave us the scoop on what he has been up to since retiring in 1998.
Racer X: Hey, Chicken, finally, we connect! What are you up to right now?
Jeff Matiasevich: Right now? I am driving down the freeway here in Corona running some errands. You know, normal stuff. But I am in the middle of my work day -- I work for my family's company, which is called Veg-land. We sell and warehouse fresh produce to national chains across the country. The business is located in Fullerton. But my specific role is working in the sales department, and for example, one of my accounts is Albertsons. It's a cool deal for me, as I don't have to report in every day or sit in an office. I can work from home and also help take care of my daughter.
Well that's cool. Do you live in Fullerton as well?
No, I am living in Corona. I have a 14-year-old daughter, and she lives with me full time. Really, a lot of my time is spent with her. Here name is Jewels. She is a freshman in High School, goes to a school in Corona called Crossroads. I am not married, but I have a girlfriend … but um, I am trying to get rid of her.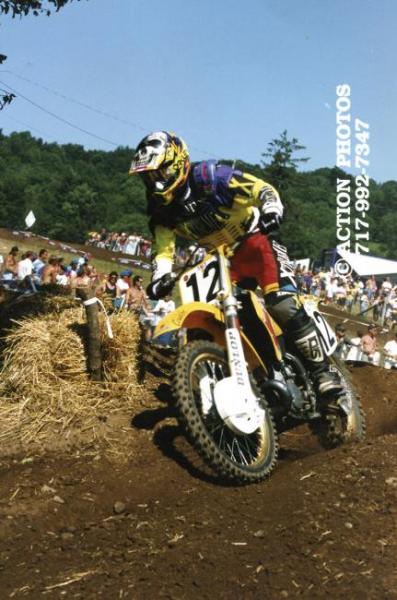 Matiasevich in 1993, where he struggled adjusting from Kawasaki to Suzuki.
Thom Veety photo
Well, I won't include that part.
Yeah, actually, you can. It's cool. You know how that goes (laughs)!
So, are you still involved in the sport at all? Do you still ride?
Absolutely and yes. I am still riding two-three times a week here in SoCal. I ride just for fun, nothing more, and to stay in shape. If I don't ride I go crazy. It's just in my blood, and its what I do. I normally ride the SoCal tracks -- Milestone, Perris and Glen Helen. You know, Kawasaki has been really, really good to me. They still take of care of me and help me out with bikes, which is really cool and I am very thankful for that. I am lucky enough to still have their support and they help me out.
That's really cool. I have heard of a few guys -– both former US champs and world champs who have had a hard time getting a bike to ride, so that's cool that they still look after you.
Yeah, I heard that as well. With the economy crashing, I think there were a few guys who could get a loaner bike from their old team or whatever who were shut out. That would hurt for sure, and I don't expect anything from anyone. But the whole Kawasaki race team, Reid Nordin and my Japanese brother, Bassmaster, those guys are good to me. We go way back, and Bassmaster was also in Japan when I won those three championships. He actually came over to the USA when I came back here as well and we have stayed friendly. I should also note that Troy Lee and Mitch Payton still help me as well, even if I am just a professional practice rider! But I have my bases covered and really owe all those guys for keeping me going.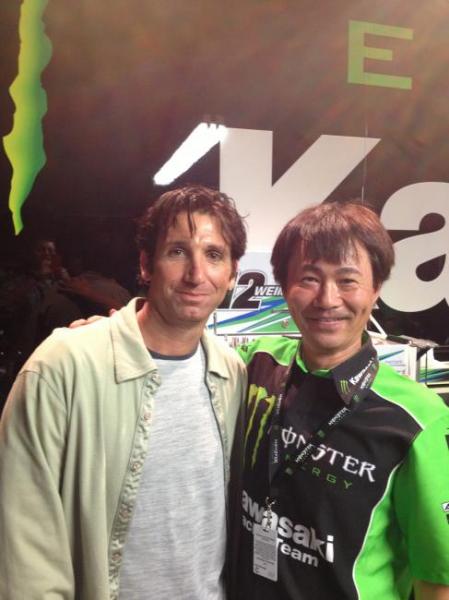 Chicken and Bassmaster.
Weege photo
Switching gears here, what sticks out in career as your highlights?
I think the highlights are the whole time at Kawasaki. There were some tough times though as well -– I got injured in 1991, and that sort of hurt me. I left Kawi in '92 and went to Suzuki (long pause). We struggled with the bikes that year, and it was tough. I then rode a Yamaha after that for a season, but then in 1995, '96 and '97, I was picked up by the Kawasaki factory team and contracted to race and win the Japanese national championship. I would say those three years were the best time I had racing. The support I was given was awesome. My bike was just awesome, and there was never a time where I wanted to something changed or things didn't happen. It was cool, I was racing a full factory bike, they had more freedom to do stuff. My bike was two years ahead of the factory bikes, and about five years ahead of the production bikes. It was pretty wild.
I recall seeing one of those bikes at the Primm Museum and it looked really cool.
Yeah, Greg Primm, he has all three of them, which is cool. Actually, Greg closed the museum and some guy bought it, I think he owns a gun company or something, and he moved a lot of the bikes back to his personal and private collection. I don't know much about him though, but I think he lives back east or something. So those bikes are with someone else now.
How do see things have changed in the sport?
Well, the last time I raced a Supercross was 1998. For sure, I think the sport has grown. It is a better package, today, for sure. I think the promoters are doing really good job with it and I am impressed by what they have accomplished in the last 15 years. But I do think the tracks could use some tweaking for the big 450's. The tracks, I don't know, but I think they should suit the speed and power of the 450 a bit more. But you know, it is amazing when you get older and you watch –- having done it myself at the top level and knowing what it takes, just makes watching those guys, it's that much more amazing. I just love watching it.
What do you think of Villopoto?
Unless something happens, he will win the championship. He has proven he can take a tenth place start and still win. He is just on a mission once the gate drops, and he has his program together. He is really good.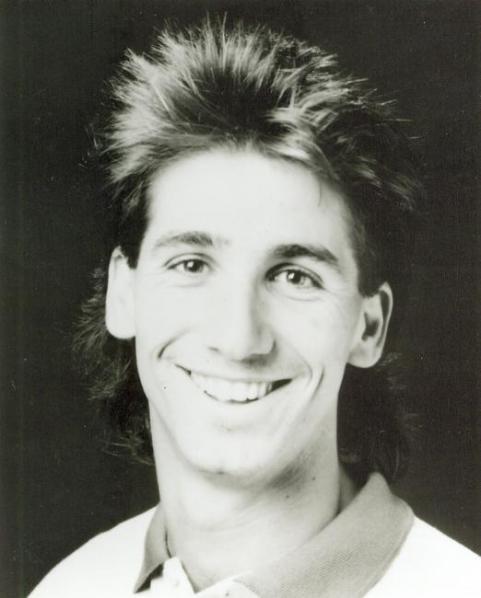 Ah, team photos.
What do you think about the regimented training and practice programs the guys have now? Was it as crazy for you and Wardy back in the day during the week, with all the training and activity?
No it was not. But being a rider on that level now, there is now so much more that goes into it. But I do think it has hurt the fans –- we were much more approachable and not as burned out back then. Now they can hide in a motorhome or the semi, and that's not a good thing for the fans. But as for the programs, I had a trainer when I was doing it, and we trained hard, for sure, every day. But now, with all the managers and stuff, there is a lot more to a guy's program then when I was doing it. Is it necessary? I don't think so. I am old school I guess, I don't know what a manager can do that I can't do myself. Sometimes managers can screw you as well. It is a double edge sword. The bad thing about our sport – it is a bunch of young kids who have not experienced life. They can be misled. The worst thing to do is totally let someone else run your life. Everyone has a short career, and you have to make the best of it while you can. The window is much shorter than what people realize.
You actually raced for a pretty long time, as I think you turned pro in 1986, and retired in 1998. How did you do with the business (money) side of things?
I did well. But the best thing I did was that Japan deal. I raced only 12 times a year, and the money was more than what I ever made in a year of racing Supercross and Nationals in the States. Those were the best three years of my career. Also, for me, racing was such a mental deal, if I was not happy with the bike, I had a hard time and things just didn't go well.
In 1990, you led the supercross points for almost the whole series and came close to winning.
Yeah, I was happy with that 1990 KX250. The bike was awesome, and it was my best year in the States. I led all the way up until the last three races, and I was riding really consistent. But then I had one bad race  -- I think I got eleventh or something, and Stanton and Bayle passed me in the points. That was it, it was all on me.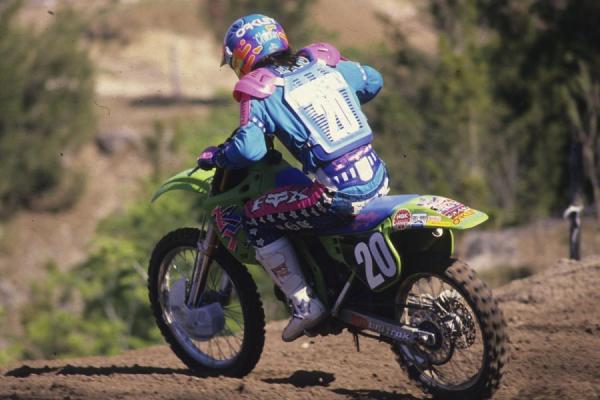 Matiasevich in 1990, where he challenged for 125 National wins and also the 250 Supercross title.
Racer X Archives
What happened after that?
In 1991, we had a new bike, new frame, and I just never got it set up to where I liked it. I couldn't run the 1990 settings. It was a new perimeter frame and everything was different. You know, you get something you like and you stick with it, like Jeremy did with his '93 CR250. But my biggest career challenge in 1991 and 1992 was the bike, and I struggled with it. That translated into having some issues with the team, and it was really hard for me. I told them that they pay me to win races, and I just wanted to get what I needed to do what they paid me for. But I couldn't get the changes made to the bike that I felt I needed to win. I was so frustrated, that in 1992, I went to Steve Weidler, and took some parts to him. He did three heads for me, I went testing on my own and made my own set ups with pipes, cylinder and heads. I got what I needed. It was right before RedBud and me, Kiedrowski and LaRocco were all testing at LaRocco's house in Indiana. I let them try my bike, and we were all faster with that set up. That weekend was RedBud, and when it was time to race, Turner made me take it off my bike. I was pissed, because I went to find a solution on my own and it worked. Turner said it wasn't fair to the other guys. They wanted all the stuff for the three of us. So Kawi then made the stuff and we had it a few weeks later, and we got on the podium once we started using it. But I was just upset it took that long.
Do you stay in touch with any of the guys you used to race with?
Because I am at the tracks twice a week or so, I still see people around a lot. But I talk to Wardy the most -– and maybe [Buddy] Antunez. I don't really hang out with anyone in specific though, and kinda just keep to myself.
What is your stance on the neck braces?
I don't wear one. I tried it, and it didn't work for me. But, I do think they are most certainly a good thing. If I had a son and he was racing, I would make him wear it. I tried it, but it just couldn't get into it with the way I ride. I think they do more good than bad, that's for sure.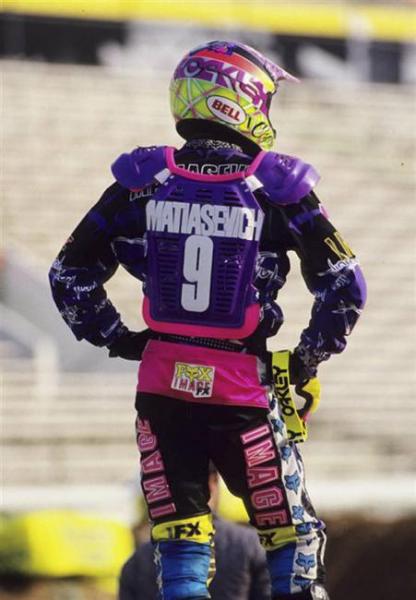 Chicken always had style, and he inspired kids like James Stewart.
Racer X Archives
James Stewart has said several times that you were his inspiration as a kid. What do you think of that?
I think that's cool -– it makes me feel really good. Especially having a rider like James Stewart say that –- he is so talented and so fast. Better than anyone else, ever. It's weird because I know what those guys are thinking and feeling, I have experienced it first hand. James, he is the one guy who is just so talented and so fun to watch. It's amazing. The rest of the guys are good, but I just don't get as excited to watch them. But James, he is just wild, it is the little things he does that makes him go so fast.
Here is a funny story about him: I first met him at the Tampa Supercross, he was 10 years old or something. One of the Kawi guys introduced us, and said he was the next big thing. I never saw him ride, as I was racing that day. A few weeks later, we were out testing for Daytona somewhere in Florida and James showed up with his dad to ride. So me and Wardy were getting dressed, and James gets out on the track. He was on a KX 85 by then. Me and Wardy were watching him and were blown away -– I didn't even want to go out there! I told Wardy that the kid was gonna make us look dumb. He was unreal for an 80 rider. I am pretty sure he was faster than me and Wardy that day!
One last question. What was the deal with your tattoo and the deal in Japan? I recall one magazine making a big deal out of it and saying you lost your ride or something because of it.
Yeah, that was not true. But there was some drama over it, but it wasn't a big deal. In Japan tattoos were related to mafia. I was going to get one, and asked the team if it was okay. They were cool with it, but it was bigger then they though it was gonna be. I went and got my whole back done, and they were thinking it would be smaller than that. When they saw it, they asked me to keep my shirt on at all times, as they didn't want people to see it. I just did what they asked, but that one magazine blew it out of proportion. But we did have some talks about it.
Well Jeff, thanks so much, take care and ride safe!
Thanks, and thanks for calling.