Metrodome
Minneapolis

,

MN
Race Center: Minneapolis
Monster Energy AMA Supercross Championship
When Blake Wharton won Saturday night's Houston 250SX main event, it marked the third win of the Texan's career in the class (formerly 125 and Lites), as well as the third for the Lone Star State—Wharton is the only rider from the great state of Texas to ever win a main event in this class. (Yes, we know Andrew Short and Wil Hahn both now call Texas home, but they hail from Colorado and Kansas, respectively.) How many other riders can claim singular credit as the only athlete in their state or even country to win something in motocross or supercross?
AKIRA WATANABE: Japan may be the biggest producer of dirt bikes in the world, but it's been noticeably absent in producing world-class talent in motocross. The one and only Japanese motocrosser to win on the world stage is Akira Watanabe, who claimed the 1979 FIM 125cc World Championship, and is the only Japanese motocross racer to have won a Grand Prix, which he did eight times. The closest a Japanese rider has come to winning a national was the 2001 High Point National, where Akira Narita finished a close second in the first 125 moto to Travis Pastrana.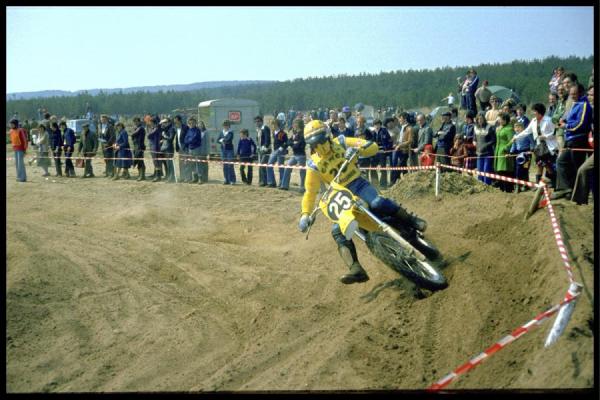 The one and only Japanese motocrosser to win on the world stage is Akira Watanabe.
Geoff Meyer photo
TRAVIS PASTRANA: Speaking of Travis, Maryland's finest motocross racer ever had a short, crazy career as a racer, winning the 2000 AMA 125cc Motocross Championship and the '01 East Region SX title. Even though there's been an outdoor national at Budds Creek since 1989, Pastrana is the only winner of a major event in either SX or MX from the "Free State of Maryland."
ERNESTO FONSECA: Far and away the best rider from the Central America nation of Costa Rica, Ernesto Fonseca won two 125cc supercross titles and twelve different main events during his Lites career. He remains one of the all-time fastest 125 SX riders of all time, and the only man from Costa Rica to ever be successful at such a high level of competition.
MARK BARNETT: For all of the "fast boys from Illinois" who have come along over the years, it's remarkable that Mark Barnett of Bridgeville is the only rider to have won a race or title from that state. Bomber is a Hall of Fame racer, with three 125 National MX titles, the 1981 AMA Supercross title, and a total of forty-two major wins. Here's a look at all of Bomber's race results in the Racer X Online Vault.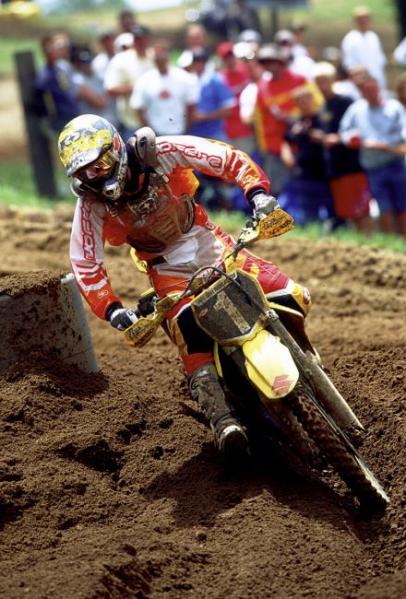 Pastrana's career was cut short by injuries, but he is still the only Maryland native to capture a win in SX and MX.
Simon Cudby photo
DAVID BAILEY: While Zach Osborne will certainly give it a go this summer with GEICO Honda, the only rider from the state of Virginia to have won a supercross race or outdoor national is Axton's own David Bailey, the four-time champion and genuine superstar of the eighties. Like Barnett, Bailey was also an amateur national champ in the pre-Loretta Lynn's years who went on to success on the world stage.
PEDRO GONZALEZ: The only other rider from south of the border to win a 125 SX main event was the all-around good guy Pedro Gonzalez. Riding for the Splitfire/Pro Circuit Kawasaki team back in 1994, Pedro topped the San Jose SX, marking the one and only win for Mexico in supercross competition. That's one more than Canada has, Senor Matthes.
JOHN DESOTO: Not to continue picking on Canada, but Hawaii even has an outdoor national win: the legendary John DeSoto won the 1973 250 National at Delta Motorsports, just west of Toledo, Ohio. DeSoto, who hailed from Honolulu, was an incredibly strong rider, even at the end of his career, when knee injuries hobbled him badly. Coincidentally, there was a race that year at a track outside Memphis called DeSoto Cycle Ranch (no relation). DeSoto didn't win at DeSoto, but he did finish third behind Mike Runyard and Peter Lamppu.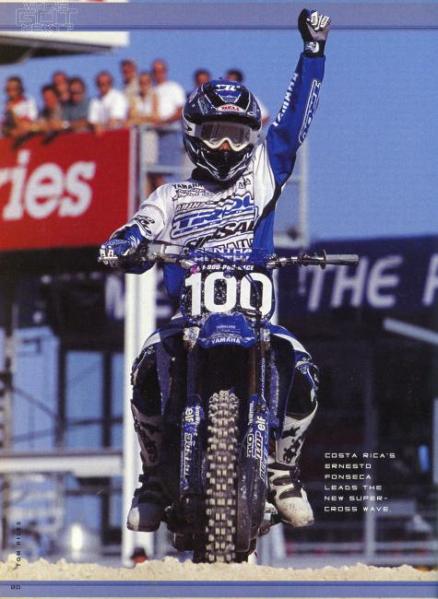 The Costa Rica born Ernesto Fonseca won two 125 supercross titles.
Racer X Archives photo
KEN ROCZEN: Kenny Boy is the only German to have ever won a supercross race here in the States, having now done so on four different occasions over the last few years. But it should be mentioned that other Germans have been successful here before: Willi Bauer won a Trans-AMA race in 1973 at Washington, Indiana, and the late Adolf Weil won seven Trans-AMA races, as well as the 1973 Trans-AMA title. Both Bauer and Weil were on German-made Maicos.
DEAN WILSON: Riders from the United Kingdom did well often back in the days of Trans-AMA and Inter-Am racing (Jeff Smith, Dave Bickers, and Dave Nicoll) but after the mid-seventies, not so much. James Dobb of England came over in the early nineties and earned a place in the record books with his win at the 1993 Unadilla 125 National, but he never won a supercross race. Which brings us to the well-traveled Dean Wilson of Scotland. Wilson is the only rider from the United Kingdom (let alone Scotland) to win a 250 SX main event. (Yeah, yeah, Jeff Ward was born in Scotland but he moved out at a much younger age than Wilson. Wardy is considered a Californian, he rode for the U.S. MXdN teams, and also doesn't carry an accent like Dean does!)
CHAD PEDERSON: Fort Dodge, Iowa's Justin Brayton has had a solid career as a factory rider, but he has yet to win a major race. In fact, the only rider from Iowa to have a win on his mantle is Chad Pederson, who has a first-place trophy from the 1993 Tampa SX on the wall somewhere in that fine pizza establishment he now runs!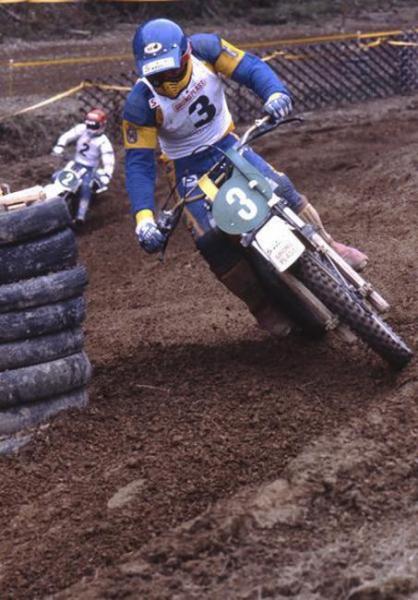 Dimitri Rangelov is the only rider from Bulgaria to have ever won a Grand Prix.
Racer X Archives photo
GRAND PRIX WINNERS: Dimitri Rangelov is the only rider from Bulgaria to have ever won a Grand Prix. Brian Jorgensen is the only rider from Denmark to have won a Grand Prix. Kenneth Gunderson is the only rider from Norway to have ever won a Grand Prix.
MARIANA BALBI: This one is not about a country, but an entire gender! A few years ago, the very fast (and very cool) woman from Brazil scored points at the Grand Prix of Brazil, making her the only female in FIM World Motocross Championship history to score points in a men's race. French rider Livia Lancelot tried to match her at the GP of Qatar but came up short of qualifying.
BEN TOWNLEY: The recently retired New Zealander is one of four riders from his island nation to win GP races—Darryl King, Shayne King, and Josh Coppins also won—but the only one to have won in America. BT101 scored Lites SX wins, Lites National wins and the 2007 East Region #1 plate.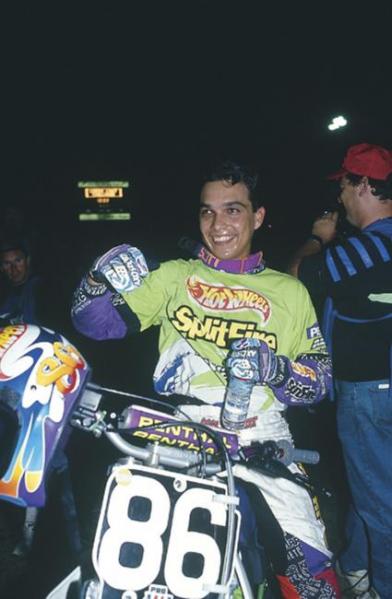 Pedro Gonzalez captured a 125 SX win in 1994, becoming the first, and only, Mexico native to win in America.
Moto Verte photo
JASON LAWRENCE: Yes, J-Law. He is the one and only 250 SX winner (and champion) from the Garden State of New Jersey. Lawrence, who is planning on a comeback this summer on a Suzuki RM-Z450, came out of New Jersey to accomplish success that somehow avoided his Jersey neighbors Mickey Kessler, Barry Carsten, Joel Dengler and more. Justin Barcia was actually born in New Jersey, but he moved out and grew up in New York, so the Empire State generally claims him.
Okay, who did we miss? Which stand-out wins did we overlook? Let us know right here: Letters@racerxonline.com