If you're like us, you never get tired of listening to bench racing tales from accomplished pros who have spent their careers traveling the globe, racing successfully at the highest level and generally doing amazing things. Unfortunately, nobody with those credentials was available when it came time for another Racer X Rewind, so we decided to tap our own Jason Thomas. Enjoy!
On the First CRF250 in Competition:
A pretty cool deal I was part of came at the end of 2003. I was racing for Subway Honda, and that year the Bercy Supercross in Paris was all 250Fs. That was the first year, going into 2004, that Honda introduced their 250F, so basically there were none in Europe. My team in Germany got the first one inside Europe and they drove it down for me to race at Bercy. It was a pretty awesome deal. Even the Factory Connection and full-on Honda guys from America were riding 125s at Bercy because they didn't have any 250Fs yet.
I had Yoshimura build me a pipe basically from the test bike that was in America, so I had the only Honda 250F in Europe, and the only pipe ever built for one so far. At Bercy I think I got like tenth or ninth overall for the weekend, which wasn't anything great, but I just remember there were so many pictures and interviews, and I was getting so much media coverage. All I could see were camera flashes going off all the way around the track because there was so much attention around that bike. It was funny because I was mid-pack and I was getting more attention than some of the top guys. It was a cool experience, and I'll always remember that I raced the first Honda 250F ever in competition. It's a really cool memory for me.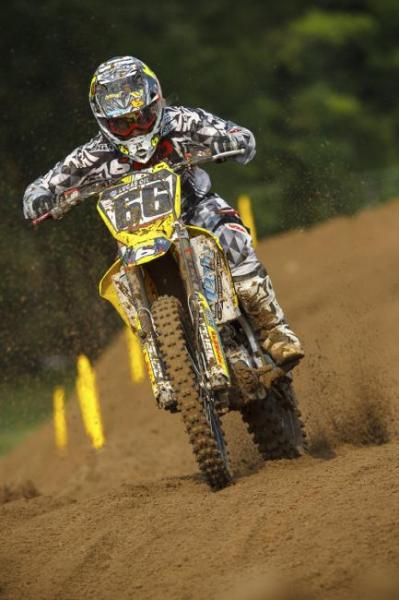 We know JT has more stories than he's revealing here, but we intend to wring more out of him.
Simon Cudby photo
On Hangovers:
I wasn't even the one involved really, but in 2006 or 2007, somewhere in that time frame, we were in Germany and that was kind of my prime. I was kind of cleaning up in Germany, I won a lot of races. We were in Stuttgart after the race, I had won, and we went out after and had a good time. Eric Nye was there, and I think he had gotten on the podium that night. He was completely annihilated, and we were sharing a room because we were on the same team. I remember we got back to the hotel, and he was completely blacked out drunk. He couldn't function, I couldn't wake him up, nothing. I knew his flight info, and I knew what time he had to get to the airport and all that, so I called a taxi, put all his bags in the taxi and literally carried him over my shoulder down the stairs to the car and laid him in the backseat and paid the driver. I actually paid him extra and explained that he was drunk and said, 'Just get him to the ticket counter at the airport, that's the best we can do.'
The next day Eric called me, and he was all the way back in San Francisco, completely oblivious as to how he got there. He was like, 'Man, how did I even get here? I remember I woke up in London, everything was foggy, and now I'm here!" I explained how everything went and how he got home. It's just an awesome story that he doesn't even remember. Just one of those deals.
Usually it's pretty messy after the races in Europe, and it was one of those nights where you're lucky to have good friends with you. I was probably the recipient of some of that treatment too! Those are the kinds of memories from Europe that you never forget.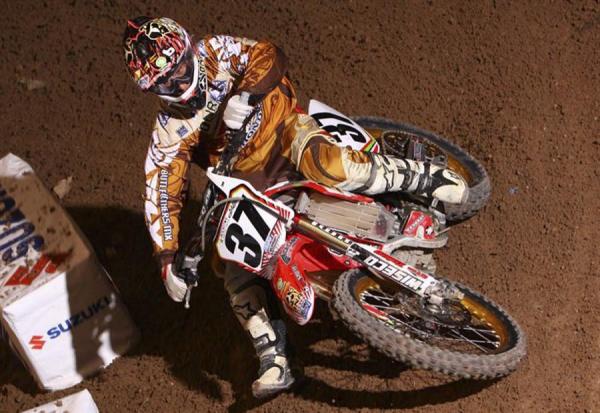 That's a pretty solid national number.
Simon Cudby photo
On Road Trips:
At the end of 2001, Nick Wey, Steve Matthes and I-we were all good friends, nothing like now, but we were all friends-were all going to the Bercy Supercross in Paris and we were going to do a race the following week in Germany. We all decided to stay together and rent one car and drive from Paris out to Germany. We did Bercy, which with three nights is a long weekend, but everything went fine and on Monday morning we got our rental car. Being riders, Nick and I said we were tired so we made Matthes drive. It's like an eight-hour drive up to Germany, and even when we weren't sleeping we would act like we were so he would have to keep driving. Just typical rider stuff. So we got all the way out there and Matthes was driving like a moron because he was pissed that we were in the back sleeping.
We got to Germany and had nothing to do all week so we were just hanging out and sleeping through crazy parts of the day and all night, just being as lazy as possible. Then we decided to hold the Wheel Man Championships, where whoever could do the craziest thing in the car would win the crown at the end of the week. I think I ended up winning. Nick will claim that he won, but I won, and I think Matthes will back me up. What did I do? We went on the Autobahn, which is just like the freeway here except there aren't any speed limits. Everyone is doing 100mph or something stupid and there's a car in each lane. Well, I split the middle, making it three-wide on a two-lane highway. The other cars were completely unsuspecting. It scared the crap out of them and they both swerved and I went right up the middle of them. That was my big move.
Nick took us off-road into the woods in Germany. Middle of nowhere and we just made a full hare-scramble course through the woods, just Baja-ing through the woods in a rental car, wide open. It was actually pretty awesome but I think my move, shooting the gap, took the championship. And of course Matthes, he really had nothing. He was lame.
Honestly, the stuff you get into in Europe when you're bored for a whole week is crazy. Riders should never be left alone for that amount of time because they'll always find trouble.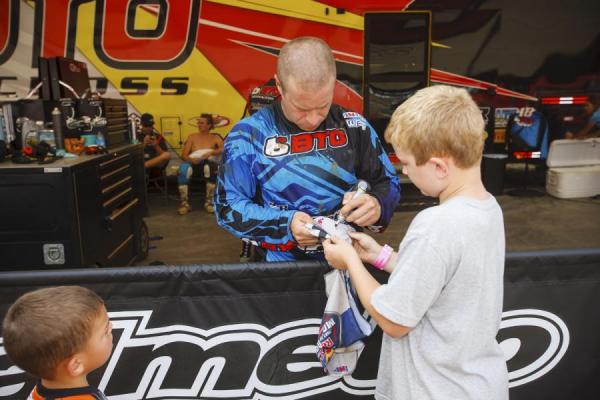 This kid probably thought he was getting Byrner's autograph.
Simon Cudby photo
On Mid-Race Fights:
I got into a pretty good fight once during a race at the Jacksonville Arenacross at the end of 1998, which was the first Arenacross I ever did, actually. In the main event on the first night I crashed on the first lap so I was way back. Charley Bogard was winning, and he came around to lap me. I had no idea he was there, because Arenacross tracks are small and super tight and there are guys everywhere. I was in a battle trying to move back up, and like I said, I didn't know he was there. He ended up taking a different line in the whoops trying to pass me and ended up crashing. He was super pissed that he had to change his line and crashed doing it, basically losing the race.
He waited on me to come back around and kept ramming me. I couldn't figure what he was doing, he just kept running into me in every turn. After about the third or fourth turn of him doing this I finally got pissed. I was like, 'Dude, what are you doing?' So I ran into him in the next turn, and that really set him off. We came down a rhythm section, I went around the outside and we basically hit head on. I went to go pick my bike up and he tackled me, and at that point it was pandemonium. It was right in front of the mechanic's area so my dad ran out and was in it, his mechanic was in it, my trainer came from out of the stands, and yeah, it was chaos at that point. We were having this huge brawl with like, six or eight people involved, plus all of the workers trying to break it up.
Finally it was all over and we finished the weekend out and of course they showed it on MotoWorld, which was a popular show back then. They just showed this brawl, all of us fighting in the middle of the track on MotoWorld! For years that was kind of my claim to fame, and Bogard's as well, that we had this huge brawl in the middle of the track.
For another perspective on this same brawl, read the Racer X Rewind with Buddy Antunez.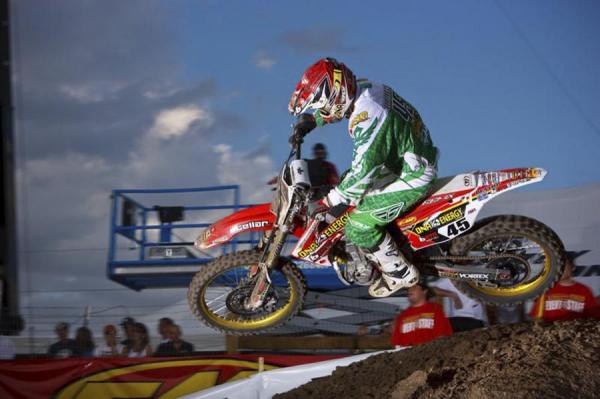 Apparently, he's a fighter.
Simon Cudby photo
On Kevin Windham:
At a National a few years ago I was trying to do a hot lap for qualifying. You kind of look around to see who's behind you while trying to get a clear track in front of you. I took off and was going as fast as I could possibly go trying to get my qualifying lap in, and I could kind of hear him behind me and I could tell that he was looking for a way round me, but on your qualifying lap you don't want to lose even a tenth of a second, let alone get out of the way, so I was going wide open.
Obviously I wasn't anywhere near as fast as he was, and after the lap he pulled up and was yelling at me because he was on a qualifying lap too and was pissed off that I wasn't getting out of the way. He was like, 'There's no way that was a flyer lap, you were doing that on purpose!' I was like, 'Dude, that was everything I had.' He just kind of looked at me funny and I said, 'Yes Kevin, I am that slow.'
We laugh about it to this day that it was all I had, and he was thinking that I was just messing with him when I was going as fast as I could possibly go. It speaks a lot to how good of a rider Kevin Windham actually was.