Cooper Reclaims NZ Motocross Title
By Andy McGechan, BikesportNZ.com
Two new champions were crowned and a former champion reclaimed the top position as the 2013 New Zealand Motocross Championships wrapped up in Taupo over the Easter Weekend.
Mount Maunganui's Cody Cooper (Suzuki) won the MX1 class, Queenstown's Scotty Columb (Yamaha) won the MX2 title and Rotorua's Cameron Vaughan (Yamaha) finished atop the 125cc class when the Backflips Clothing-sponsored championship wound up at the fourth and final round at Taupo's Digger McEwen race circuit on Sunday.
All three riders began the day with the lead in their respective classes, but it was only after a day packed with high drama that they could each finally cement those rankings in place.
Cooper is no stranger to winning at this level, having previously won motocross titles in Australia and New Zealand, and the MX1 class in 2011. So his result this season perhaps came as no surprise.
His dominance this season was undeniable—he won nine of the series' twelve races and finished no lower than third in the other outings.
Cooper started the day a whopping 31 points ahead of Scottish visitor Billy MacKenzie (Yamaha) and, after scoring a hat-trick of wins in Taupo on Sunday, was able to extend his advantage to 48 points at the conclusion of the championship, with Australian Todd Waters (KTM) taking third spot on the podium, six points further back.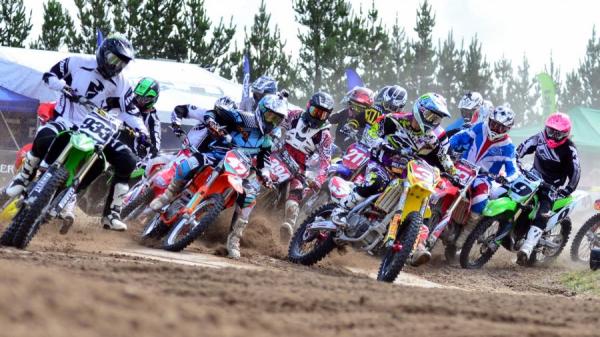 Mount Maunganui's Cody Cooper (3), on his way to reclaiming the New Zealand MX1 title he last held in 2011.
Andy McGechan, BikesportNZ.com photo
"It was a tough day," said the 29-year-old Cooper. "The powdery dust hid a lot of obstacles and I had a few scary moments today, went sideways and only just saved it."
Cooper now prepares to mount an assault on the Australian National Championships, starting in just two weeks time, and his current form indicates he'll be a contender across the Tasman.
Meanwhile, in the MX2 class, Queenstown's Columb was intent on winning his first national motocross title and enjoyed a 14-point advantage over Australian KTM rider Brock Winston at the start of the day's racing in Taupo.
Despite his campaign briefly derailing when he lost his rear brakes at the start of race one on Sunday—which saw him struggle to the finish in an unaccustomed ninth position—he fought back to win race two and then settled for a "safe" ninth spot in the final race to end the series 16 points ahead of eventual runner-up Winston.
Third overall in this class was Mount Maunganui's Rhys Carter (Suzuki), whose brilliant day at Taupo allowed him to zoom up to within just two points of catching Winston.
In the 125cc class, Rotorua's Vaughan led at the start of racing at Taupo but only by a slim four-point margin from Te Puke's Logan Blackburn (Yamaha) and, as expected, that class went down to the wire.
Blackburn was best at Taupo, finishing 2-1-1, but came shy of snatching the crown, with Vaughan doing just enough by finishing 1-2-2 on Sunday, sufficient to take his first national title by just one point.
Final standings in the 2013 New Zealand Motocross Championships:
MX1 class:
1. Cody Cooper (Mount Maunganui, Suzuki) 289 points;
2. Billy MacKenzie (Scotland, Yamaha) 241;
3. Todd Waters (Australia, KTM) 235;
4. Daryl Hurley (Hawera, Suzuki) 182;
5. Justin McDonald (Christchurch, Honda) 174.
MX2 class:
1. Scott Columb (Queenstown, Yamaha) 233;
2. Brock Winston (Australia, KTM) 217;
3. Rhys Carter (Mount Maunganui, Suzuki) 215;
4. Ethan Martens (Waitakere, Yamaha) 195;
5. Peter Broxholme (Tauranga, Honda) 181.
125cc class:
1. Cameron Vaughan (Rotorua, Yamaha) 270;
2. Logan Blackburn (Te Puke, Yamaha) 269;
3. Aaron Wiltshier (Tauranga, KTM) 203;
4. Cohen Chase (Taupo, KTM) 187;
5. Cam Negus (Rotorua, Husqvarna) 172.