by
Chase Stallo
The Moment: Worlds Collide
Tuesday, March 26, 2013 | 10:30 AM
The Moment is brought to you by
Factory Effex
who is a world leader in graphic kits, Custom number plate back grounds, high end Factory Wheel sets and components; specializing in cutting edge decorative accessories for your motorcycles and ATV.
Tweet
Rising to their feet, applauding the performance of Red Bull KTM's Marvin Musquin as he took a third-consecutive 250SX East Region victory, an exuberant crowd in the Rogers Centre was suddenly left at a stand still Saturday night. First came a thrilling battle for the final podium spot, as MyPlash/Star Racing Yamaha's Jeremy Martin ran it in deep on Rockstar Energy Racing's Blake Wharton in the last turn. At the last moment, Martin realized he didn't have enough room to make the pass without taking both riders down, so he grabbed the brakes and settled for fourth.
Seconds later, the next two riders in the running order decided to do the exact opposite. Canada's favorite son, Cole Thompson, made a highlight-reel last corner pass on Vince Friese to secure a career-high fifth place finish. He and Slaton/TUF Racing's Friese collided in the last corner, sending both riders flying over the finish line. Friese's leg was locked in Thompson's rear fender, so he went over the line connected to Thompson's bike, while his own bike literally ghost rode over the finish. The transponder feed said Thompson had edged ahead for fifth. Serenaded with a standing ovation from a rabid Canadian fan base, Thompson was left basking in the glory—a role he wasn't necessarily comfortable playing.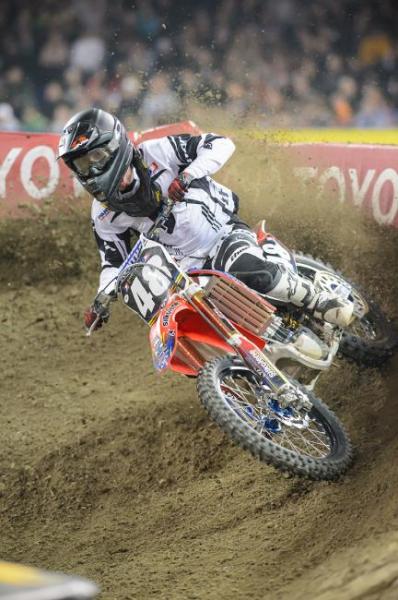 Canada's Cole Thompson was originally awarded fifth in Toronto, but the ruling was later overturned.
Simon Cudby photo
"I'm not one to really show off, but with everyone cheering real loud with the last lap crash and pass, I couldn't help but wave to everyone," Thompson said.
But a controversial ruling would soon rain on the Canadian's parade. Moments after the race, the AMA reversed the ruling, awarding Friese the position.
"They said [the AMA] that because we had come together right at the end and his bike had gone to the top of the lip and that it had crossed in front of mine. In all honesty it doesn't make sense from my perspective because to me I felt like I had made the pass," Thompson told RacerXonline yesterday.
While Musquin lit the flames in Toronto Saturday night, the real fireworks had come shortly after. Ultimately, rule 4.22 B, which states that the officially designated finish line is defined as the uppermost leading edge of the finish line obstacle, was put under scrutiny for a second time in 2013 (you may recall that crazy LCQ finish in Daytona between Weston Peick and Bobby Kiniry).
The finish of the race was actually just the beginning, though, as the two had an animated exchange following the race.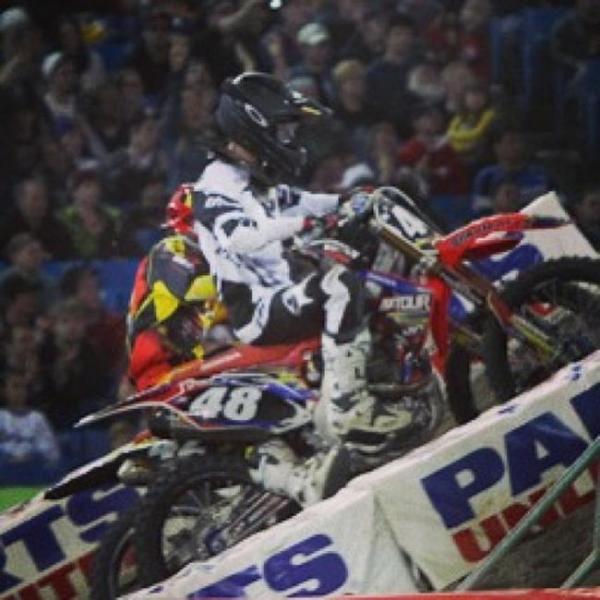 We grabbed this photo off of Thompson's Instagram feed. Look how close the finish was!
"From where everyone saw it, it looked like I ran into him, but I think he panicked a bit because I was right there and he just basically drove right into me," Thompson said. "I wasn't too upset about it because I didn't feel I did anything, but he came up to me after the race saying it was my fault, so I was kind of caught off guard."
Friese actually thought his buddy Jimmy Decotis was behind him in sixth, so he didn't expect a last-corner pass attempt. At the last moment, he had to take evasive action.  "I happened to look back on the last straightaway to make sure it was Jimmy [Decotis] so I could go wide in the turn before the finish," explains Friese. "I realized it wasn't Jimmy so I kind of cut sharp on that last turn and kind of left no room on the inside. Thompson like came up the opposite way of the track, going the wrong way, slammed me."
Friese ended up going over the finish line while tangled in Thompson's bike, the rear wheel chewing at his leg. "I got smoked out a little bit," said Friese. "I got a tire burn on there, so it doesn't feel too good. But it's nothing big."
Friese, whose reputation on the track precedes itself, was very forthcoming after the race: "I can't complain, because I've done my fair share of crap."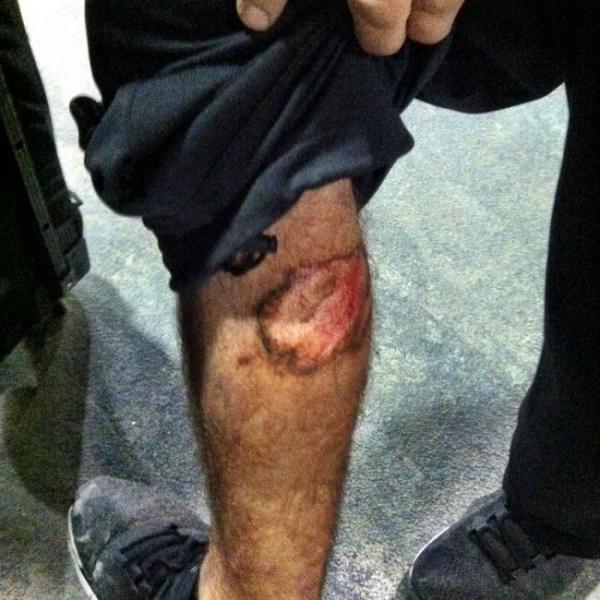 The aftermath. Friese's leg after the race.
Chase Stallo photo
Share this article:
Did you like this article?
Check out THE MOTOCROSS OF 40 NATIONS
in our Latest issue of Racer X available now.

The 2013 FIM Motocross of Nations at Teutschenthal, Germany, hosted teams from a record forty countries. Here's how it played out for each of them. Page 90.
Look for the verified symbol
The Conversation