Rogers Centre
Toronto

,

Canada
Race Center: Toronto
Monster Energy AMA Supercross Championship
You already know who won the races. Now enjoy 450 Words for an extra take on a story you might have missed.
The N-Fab TiLUBE Yamaha team came into 2013 with a proven supercross veteran in Chris Blose, and a full-time 450 rookie in Phil Nicoletti. There's no doubt that "Filthy" Phil is Phast (see what we did there?) but how he would do on the big bike?
Early on, it wasn't very good. Nicoletti crashed a few times, took a week off, crashed some more and didn't make a single 450 main through the first seven weeks of the season. When he was asked about this, all he could give was a simple, "I don't know what was going on there."
But something clicked. Now he's made the last four main events in the row, and he's showing speed along the way, as well. He's getting good starts and keeping it on two wheels, and he even led the heat race this past weekend in Toronto before going on to record a career best twelfth place in the main. The team added another supercross veteran in Bobby Kiniry four races ago but no matter, the rookie Nicoletti has scored the most points out of anyone on the team the last four weeks.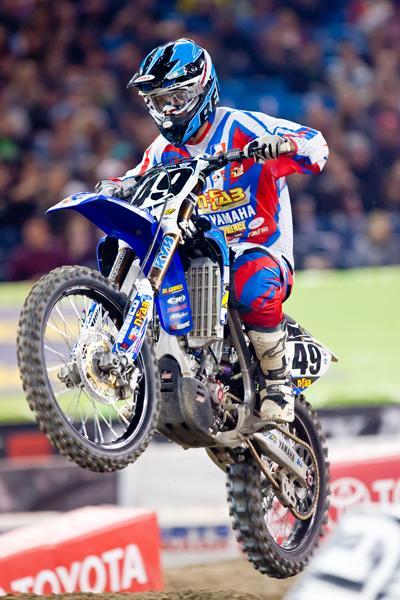 Following a slow start to the season, Nicoletti has turned it around.
Andrew Fredrickson photo
Since Kiniry has come on the team four weeks ago it's been:
Nicoletti: 20 points
Kiniry: 13 points
Blose: 5 points
We should also point out that for the first time, the team had all three riders in the main event in Toronto, so that's a job well done for everyone involved.
"It's been going good. Just getting better. Heat races are just like main events (now) so it's a bit sketchy" said Nicoletti after Toronto. "But I was happy to get a good start in the heat, and tightened up a little bit out front which is unfortunate. Stewart's behind you, what do you expect? But other than that it's been going good, so I'm happy."
Throughout Nicoletti's career, he's always had speed, but he's also had crashes, as well as a run of bad luck with bikes breaking like I've never seen before. Last year, he was like the Wily Coyote chasing the Road Runner in those Looney Tunes cartoons. Just when things finally looked good, the infamous Acme anvil would fall right on him and end his hopes. He simply couldn't get a break.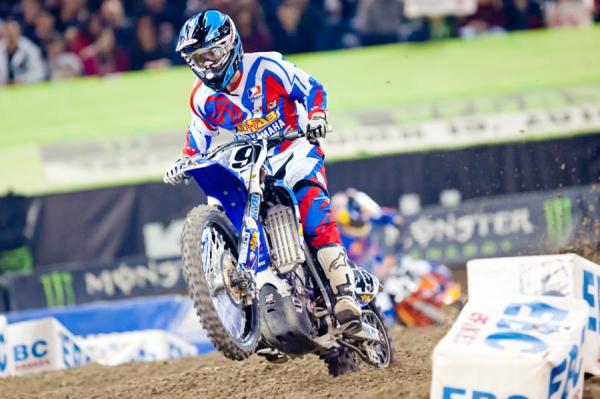 Nicoletti finished a 450SX career-high 12th in Toronto.
Andrew Fredrickson photo
Moving up to the super-competitive 450 class only makes it harder. "It's hard to put twenty laps together, you know what I mean?" says Nicoletti. "It's a long race but I'm happy where I'm at now. The bike's good. It was just me in the beginning of the year. I just need to keep clicking away and hopefully maybe busting the top ten sooner or later. But, it's tough."
Yes it is, but right now Nicoletti is starting to figure this stuff out. The N-Fab TiLUBE team took a chance on him, and now they're starting to benefit.