Pennsylvania's Andrew DeLong is on fire to start the 2013 AMSOIL GNCC Series, with two wins in two rounds of XC2 Lites class action. A collarbone injury kept him out of title contention last year, though, so he's motivated to win a title this year. We called him up to learn more about him.
Racer X: You're like the guy who came out of nowhere, but at the same time, once you started winning in GNCC, all of my old friends from New Jersey started blowing me up. So what was your background before GNCC?
Andrew DeLong:
Back before I was racing GNCCs, I was just racing some local East Coast Enduro races and Hare Scrambles. I did a couple GNCCs in 250 A and I got lapped—I definitely wasn't very good at them. I had been racing local pro for awhile, but I made it a goal to try GNCCs and National Enduros, and whichever one I did better in, that's what I'd put more time and money into. I started doing better at both. I basically lived out on the road out of my van for five months, just living with other people, riding and training every day. Then I got a fourth in Florida at the GNCC two years ago in the XC2 class. I eventually got picked up, and thank God, because I was running out of money.
Yeah, and you were picked up by Fred Andrews, so how does your program work now?
It's good. I have [former factory motocross mechanic] Joey Maurer as a mechanic for me, and he keeps my bikes going. I have all-new bikes at the races, which is something I never had before. When I was on my own, I just had one bike. It's a big difference, and I can't thank them enough.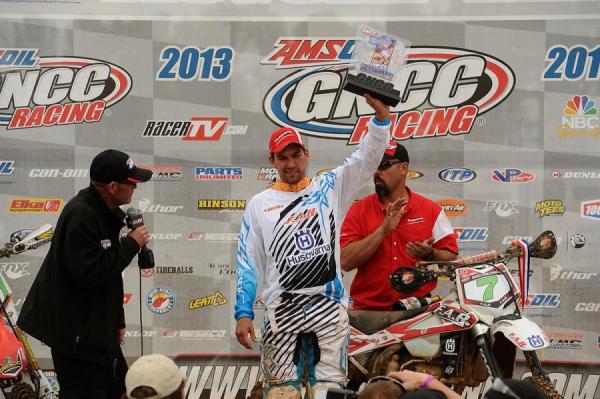 Andrew DeLong has won the opening two rounds of the 2013 AMSOIL GNCC Series.
Ken Hill / GNCC photo
Where do you base out of now?
This year I went down to Florida for about two months before the season. I actually trained with [GNCC ATV Champion] Chris Borich; we were road biking and hitting the gym a lot. I didn't really do much of anything else but train.
Take me through that first round. I know it was a surprise when Zach Osborne showed up. Take me through battling with him for the lead.
Yeah, I knew he was going to be good. People were telling me he was going to get tired and stuff, but to be at his level in motocross and supercross, you've got to be in good shape, and you've got to be a talented rider. It showed—when three hours came around he was still right there. He faded a little bit at the end, maybe got a little bit tired, but it was still a good race with him and [defending XC2 Champion] Jason Thomas. In the last hour, I tried to pick it up a bit and get away. My training and stuff paid off.
Then you get five days off and you have to race again.
Yeah, I was definitely fatigued at the second race. I just couldn't find my groove like I normally can. It's not the same as when I'm feeling fresh. I was struggling and making stupid mistakes. It's tough to turn around and down two three-hour races like this in five days. After a few crashes, I just tried to slow myself down, and that seemed to work. I got another win, but still, after it I was very, very tired! I was ready to go to bed after that one.
And at round two, you had a 15-year-old to deal with. They don't get tired!
[Laughs] Yeah, Grant [Baylor], he's a great rider, no doubt about it, and I could tell his 250 two-stroke had a little more power and could get through the mud a little better. I would sink in and he would power across the top. So I had to ride hard for three hours.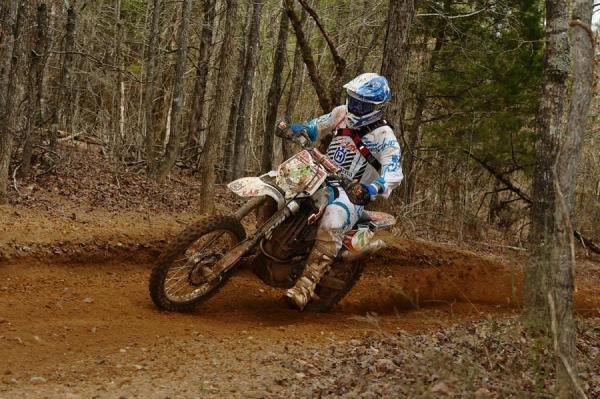 DeLong goes for three in a row in Morganton, NC on April 6.
Ken Hill / GNCC photo
You're on a Husky, and from what I hear the bike has proven not just fast, but also really reliable.
Yeah, knock on wood, I haven't had any major problems with it. We had a solid season on it last year. We had some small problems, some injector and fuel-pump things, but every brand has that when you're racing this hard for this long, and I was still able to finish those races. I've never had a DNF on the bike, and I'm a big guy; I push it really, really hard. I really love the bike. People probably don't have the trust in the Husqvarna yet, but I'm starting to see more of them. I can't wait for their new 450 to come out.
Yeah, how big are you?
I'm about 200 pounds, so I'm pretty big for 250F. It's not a big problem, just off the line a little bit, and you have to work to keep your momentum up. Once I get it rolling I can go pretty good on it, but I'm definitely excited to get on something that can pull my weight a little better. I have a 310 that I ride in the Enduros, and I love that bike. I like it more than the 250.
So the plan is 450 next year?
Yeah that's the goal, win this year's XC2 title and then move up to XC1 and try to compete with those boys. I'm having a great year so far this year—I have 60 points, which is a whole lot better than zero, which I had at this time last year!