Yamaha Wake-Up Call
Monday, March 18, 2013 | 1:00 AM Tweet

Monster Energy Supercross
Round 11 - Lucas Oil Stadium - Indianapolis, IN


450SX Overall

1. Ryan Villopoto Kaw

2. Ryan Dungey KTM

3. James Stewart Suz

4. Davi Millsaps Suz

5. Justin Barcia Hon

6. Chad Reed Hon

7. Andrew Short KTM

8. Matt Goerke KTM

9. Eli Tomac Hon

10. Weston Peick Suz

11. Broc Tickle Suz

12. Josh Hill Suz

13. Justin Brayton Yam

14. Phil Nicoletti Yam

15. Kyle Partridge Hon

16. Justin Sipes Kaw

17. Mike Alessi Suz

18. Bobby Kiniry Yam

19. Trey Canard Hon

20. Jake Weimer Kaw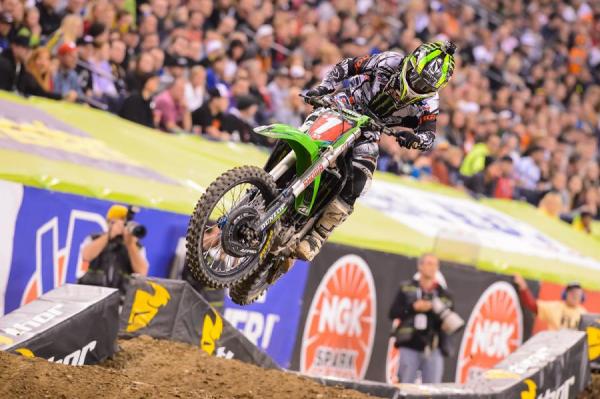 Ryan Villopoto won again in Indy.
Simon Cudby photo
450SX Point Standings
1. Ryan Villlopoto 227pts Kaw
2. Davi Millsaps 218pts Suz
3. Ryan Dungey 210pts KTM
4. Chad Reed 178pts Hon
5. Justin Barcia 168pts Hon
6. Trey Canard 165pts Hon
7. James Stewart 155pts Suz
8. Andrew Short 136pts KTM
9. Justin Brayton 112pts Yam
10. Broc Tickle 109pts Suz
11. Matt Goerke 108pts KTM
12. Mike Alessi 83pts Suz
13. Jake Weimer 79pts Kaw
14. Weston Peick 56pts Suz
15. Eli Tomac 52pts Hon
16. Josh Grant 40pts Yam
17. Jimmy Albertson 38pts Hon
18. Kyle Chisholm 34pts Yam
19. Matt Lemoine 34pts Kaw
20. Bobby Kiniry 31pts Yam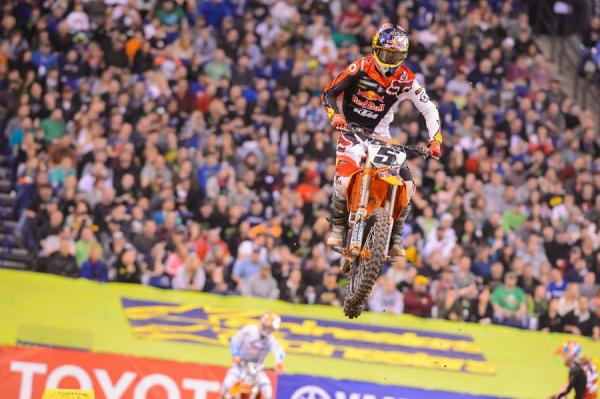 Ryan Dungey finished second behind Villopoto.
Simon Cudby photo

250SX East Region Overall
1. Marvin Musquin KTM
2. Kyle Peters Hon
3. Wil Hahn Hon
4. AJ Catanzaro Kaw
5. Justin Hill Kaw
6. Vince Friese Hon
7. Mitchell Oldenburg Hon
8. Gavin Faith Hon
9. Blake Wharton Suz
10. PJ Larsen Yam
11. Steven Clarke KTM
12. Jimmy Decotis Hon
13. Zach Bell Hon
14. Zack Freeberg Hon
15. Levi Kilbarger Hon
16. Cole Thompson Hon
17. Daniel Herrlein Kaw
18. Jackson Richardson Hon
19. Lance Vincent KTM
20. Jeremy Martin Yam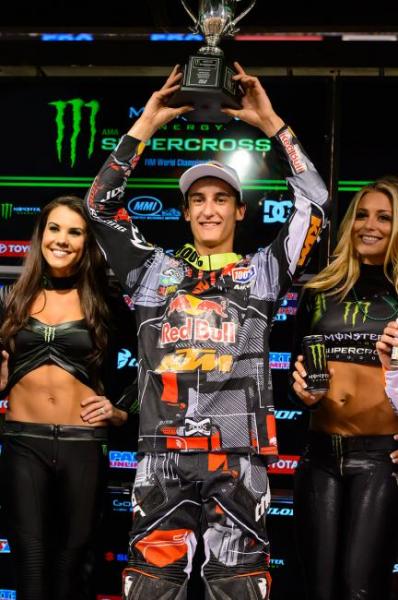 Marvin Musquin won his second straight race in Indy.
Simon Cudby photo
250SX East Region Point Standings
1. Wil Hahn 112pts Hon
2. Marvin Musquin 103pts KTM
3. Blake Wharton 88pts Suz
4. Dean Wilson 87pts Kaw
5. Kyle Peters 67pts Hon
6. Justin Hill 67pts Kaw
7. Vince Friese 65pts Hon
8. Jeremy Martin 53pts Yam
9. Gavin Faith 53pts Hon
10. Jimmy Decotis 52pts Hon
11. Mitchell Oldenburg 49pts Hon
12. Cole Thompson 42pts Hon
13. Zach Bell 37pts Hon
14. AJ Catanzaro 36pts Kaw
15. PJ Larsen 30pts Yam
16. Lance Vincent 30pts KTM
17. Zack Freeberg 29pts Hon
18. Levi Kilbarger 17pts Hon
19. Steven Clarke 16pts KTM
20. Jackson Richardson 14pts Hon
250SX West Region Point Standings
1. Ken Roczen 138pts KTM
2. Eli Tomac 121pts Hon
3. Cole Seely 95pts Hon
4. Jason Anderson 88pts Suz
5. Kyle Cunningham 83pts Yam
6. Martin Davalos 82pts Kaw
7. Zach Osborne 82pts Hon
8. Joey Savatgy 62pts KTM
9. Christian Craig 62pts Hon
10. Jessy Nelson 60pts Hon
11. Tyla Rattray 58pts Kaw
12. Austin Politelli 57pts Hon
13. Travis Baker 53pts Yam
14. Malcolm Stewart 46pts KTM
15. Max Anstie 38pts Suz
16. Ryan Sipes 31pts Suz
17. Josh Cachia 29pts KTM
18. Jake Canada 21pts Hon
19. Jean Carlos Ramos 21pts Kaw
20. Michael Leib 16pts Hon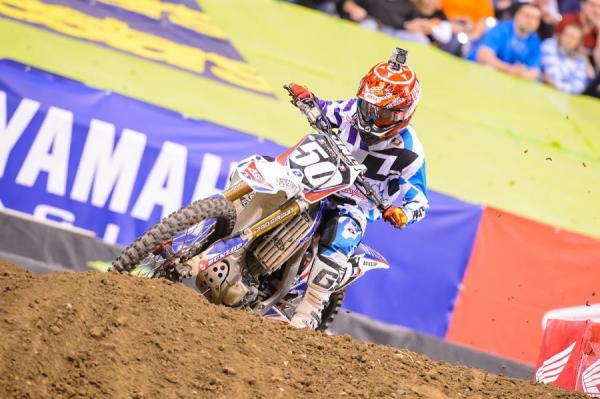 Kyle Peters scored hs first career podium in Indy.
Simon Cudby photo
AMSOIL Grand National Cross Country Series
Round 2 - The General - Washington, GA
XC1 Pro Overall
1. Kailub Russell KTM
2. Charlie Mullins KTM
3. Thad DuVall Hon
4. Josh Strang Kaw
5. Chris Bach KTM
6. Paul Whibley Yam
7. Jordan Ashburn Yam
8. Takeshi Koikeda Hon
9. Ricky Russell Yam
10. Adam Bonneur Kaw
11. Ronald Commo Kaw
12. Rory Mead KTM
13. Mark Fortner BET
XC1 Pro Point Standings
1. Kailub Russell 55pts KTM
2. Charlie Mullins 55pts KTM
3. Josh Strang 39pts Kaw
4. Thad DuVall 37pts Hon
5. Paul Whibley 33pts Yam
6. Chris Batch 31pts KTM
7. Ricky Russell 25pts Yam
8. Takeshi Koikeda 24pts Hon
9. Adam Bonneur 21pts Kaw
10. Jordan Ashburn 21pts Yam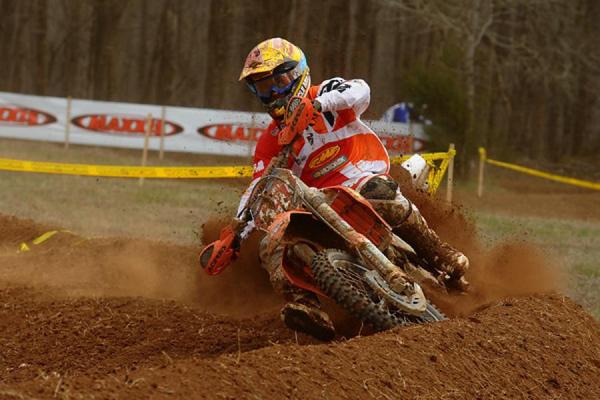 Kailub Russell won his first race of the season at round two.
Harlen Foley / KTM photo
XC2 Pro Lites Overall
1. Andrew Delong HSQ
2. Grant Baylor KTM
3. Zach Osborne Hon
4. Shane Hufford KTM
5. Jason Thomas KTM
6. AJ Stewart Yam
7. Scott Grills Kaw
8. Robbie Horton Hon
9. Ian Blythe KTM
10. Brad Bakken Yam
11. Jesse Groemm Yam
12. Mark Hersco KTM
13. Travis Coy KTM
14. Josh Weisenfels Yam
15. Samuel Evans KTM
XC2 Pro Lites Point Standings
1. Andrew Delong 50pts HSQ
2. Grant Baylor 41pts KTM
3. Zach Osborne 39pts Hon
4. Jason Thomas 35pts KTM
5. Shane Hufford 31pts KTM
6. AJ Stewart 25pts Yam
7. Jesse Groemm 24pts Yam
8. Ian Blythe 23pts KTM
9. Mark Heresco 21pts KTM
10. Scott Grills 19pts Kaw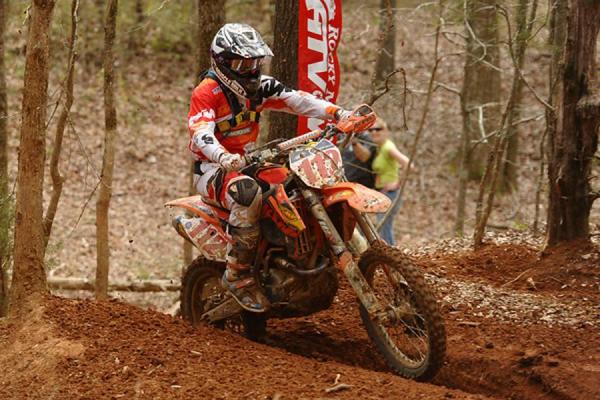 Charlie Mullins would finish second at round two.
Harlen Foley / KTM photo
AMSOIL Arenacross
Round 8 - Denver Coliseum - Denver, CO

Friday
Arenacross Overall
1. Kelly Smith 4-2 KTM
2. Jeff Gibson 3-5 KTM
3. Tyler Bowers 1-8 Kaw
4. WIlly Browning 5-6 KTM
5. Zach Ames 2-11 Kaw
6. Michael Willard 7-7 KTM
7. Daniel Blair 12-3 Suz
8. Gared Steinke 11-4 Kaw
9. Mike McDade 15-1 Kaw
10. Chad Cook 8-10 Kaw
Arenacross Lites West Overall
1. Maxx Malatia Hon
2. Travis Bannister Kaw
3. Bryce Stewart Yam
4. Kyle White Hon
5. Tyler Villopoto Kaw
6. Brandon Glenn Kaw
7. Jacob Knable Kaw
8. Brian Alquist Kaw
9. Tanner Moore KTM
10. Brian Burns Hon
Saturday
Arenacross Class Overall
1. Jeff Gibson 1-1 KTM
2. Zach Ames 3-2 Kaw
3. Tyler Bowers 2-3 Kaw
4. Mike McDade 5-6 Kaw
5. Kelly Smith 4-7 KTM
6. Willy Browning 7-5 KTM
7. Nathan Skaggs 6-8 KTM
8. Michael Willard 12-4 KTM
9. Daniel Blair 8-10 Suz
10. Tanner Moore 11-9 KTM
Arenacross Lites West Overall
1. Tanner Moore KTM
2. Maxx Malatia Hon
3. Travis Bannister Kaw
4. Cody Church Kaw
5. Scott Zont KTM
6. Bryce Stewart Yam
7. Michael Lang Hon
8. Jacob Knable Kaw
9. Brian Alquist Kaw
10. Brian Burns Hon
Arenacross Points Standings
1. Tyler Bowers 146pts Kaw
2. Jeff Gibson 143pts KTM
3. Zach Ames 135pts Kaw
4. Mike McDade 112pts Kaw
5. Kelly Smith 108pts KTM
6. Willy Browning 98pts KTM
7. Daniel Blair 88pts Suz
8. Nathan Skaggs 85pts KTM
9. Dave Ginolfi 82pts KTM
10. Gared Steinke 69pts Kaw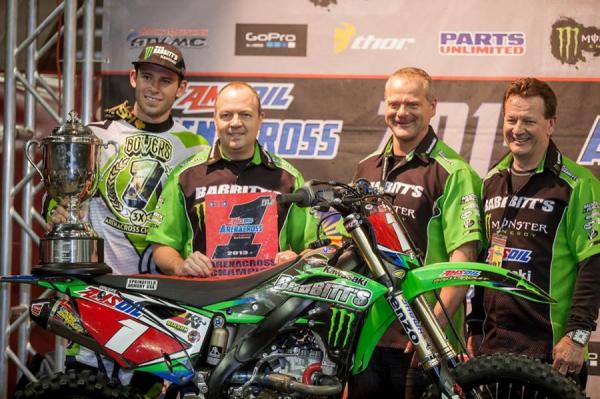 Tyler Bowers celebrates his third Arenacross title.
Shiftone Photography/Arenacross.com
Western Regional Lites Point Standings
1. Maxx Malatia 106pts Hon
2. Kyle White 87pts Hon
3. Michael Lang 86pts Hon
4. Tanner Moore 81pts KTM
5. Tyler Villopoto 69pts Kaw
Eastern Region Lites Point Standings
1. Michael Willard 89pts KTM
2. Steve Roman 81pts Suz
3. Scott Zont 69pts KTM
4. Jacob Knable 41pts Kaw
5. TJ Phillips 36pts Yam
ONE GNC International
Oak Hill Raceway
450 Pro
1. RJ Hampshire 1-1 Hon
2. Anthony Rodriguez 2-2 Yam
3. Chris Alldredge 4-3 Yam
250 A Mod
1. Cooper Webb 2-1 Yam
2. Chris Alldredge 1-2 Yam
3. Anthony Rodriguez 5-3 Yam
450 Int Mod
1. Henry Miller Suz
2. Nick Ferrell Yam
3. Matthew Burkeen Suz
250 Int Mod
1. Chase Bell KTM
2. Aaron Plessinger Yam
3. Darian Sanayei Kaw
450 Int Stk
1. Aaron Plessinger 1-1 Yam
2. Henry Miller 2-2 Suz
3. Austin Cox 3-4 Hon
250 Int Stk
1. Chase Bell 1-1 KTM
2. Darian Sanayei 2-2 Kaw
3. Aaron Plessinger 3-4 Yam
Click HERE for full results.
FIM Motocross World Championship
MX1 Point Standings
1. Antonio Cairoli 95pts KTM
2. Clement Desalle 87pts Suz
3. Gautier Paulin 78pts Kaw
4. Ken de Dycker 70pts KTM
5. Tommy Searle 64pts Kaw
6. Kevin Strijbos 55pts Suz
7. Rui Goncalves 52pts Hon
8. Evgeny Bobryshev 47pts Hon
9. Steven Frossard 47pts Yam
10. Xavier Boog 41pts Kaw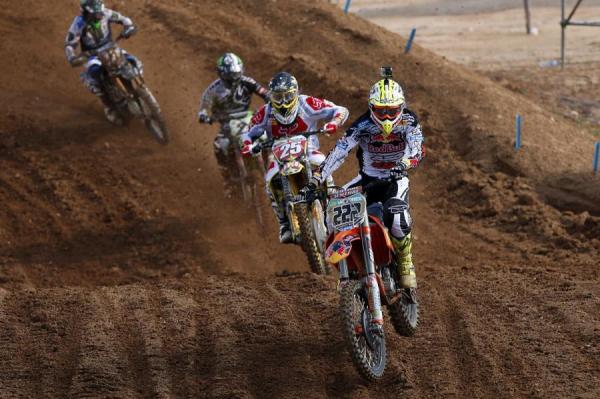 Cairoli is the MX1 points leader after two rounds.
Ray Archer / KTM photo
MX2 Point Standings
1. Jeffrey Herlings 100pts KTM
2. Romain Febvre 82pts KTM
3. Dean Ferris 69pts Yam
4. Christophe Charlier 65pts Yam
5. Glenn Colderholf 63pts KTM
6. Jose Butron 60pts KTM
7. Jordi Tixier 57pts KTM
8. Alessandro Lupino 56pts Kaw
9. Julien Lieber 47pts KTM
10. Max Anstie 37pts Suz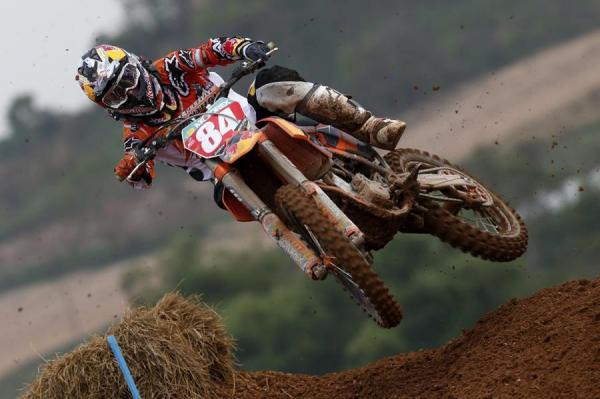 Herlings leads the MX2 class.
Ray Archer / KTM Images photo
New Zealand Motocross Championship

MX1 Point Standings
1. Cody Cooper 214pts Suz
2. Billy MacKenzie 183pts Yam
3. Todd Waters 169pts KTM
4. Kirk Gibbs 158pts KTM
5. Daryl Hurley 138pts Suz
MX2 Point Standings
1. Scott Columb 184pts Yam
2. Brock Winston 170pts KTM
3. Rhys Carter 157pts KTM
4. Ethan Martens 153pts Yam
5. Darryll King 142pts Yam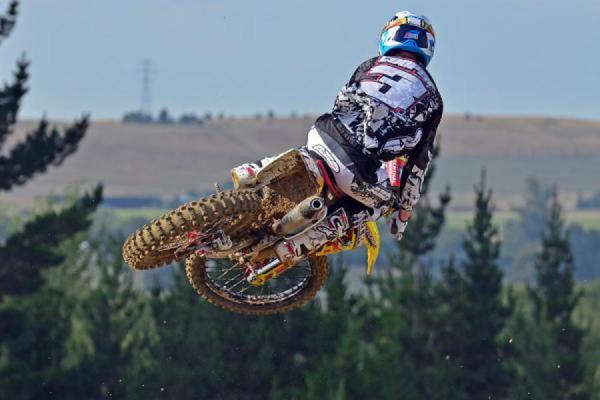 Cody Cooper leads the New Zealand Motocross Championship.
Andy McGechan, BikesportNZ.com photo
Share this article:
Did you like this article?
Check out THE MOTOCROSS OF 40 NATIONS
in our Latest issue of Racer X available now.

The 2013 FIM Motocross of Nations at Teutschenthal, Germany, hosted teams from a record forty countries. Here's how it played out for each of them. Page 90.
Look for the verified symbol
The Conversation