Lucas Oil Stadium
Indianapolis

,

IN
Race Center: Indianapolis
Monster Energy AMA Supercross Championship
Welcome to Racerhead, coming to you from back up north and on the road west to Indianapolis. Supercross is going back indoors tomorrow night and it should be a full house at Lucas Oil Stadium, home of the Indianapolis Colts and Payton Man—er, sorry, Andrew Luck! It was a good and busy week down in Florida for everyone at the Daytona Supercross by Honda, with a new winner in the 250 class—well done, Marvin Musquin!—and a whole new championship chase at the top of the 450 charts. Monster Energy Kawasaki's Ryan Villopoto is now on top and wearing the familiar #1 plate that's been the in sole posession of Rockstar Racing's Davi Millsaps. Davi finally had a bad night, which allowed RV to finally undo the harm he did to his threepeat title hopes at the Anaheim opener. Now Villopoto is two points ahead as the series begins its stretch run. In the 250 East Region, Wil Hahn still has the red plate after a solid second at Daytona.
Supercross may be gone, but Bike Week continues down at Daytona. The Monster Energy AMA Ricky Carmichael Amateur Supercross Championships took place on Sunday and Monday, followed by the opening round of the GNCC Series. Now almost all of the top amateur motocrossers are gathered in Texas for the 37th Annual One Industries GNC International Motocross Final at Oak Hill, then it's down to Freestone for the James Stewart AMA Spring Championship.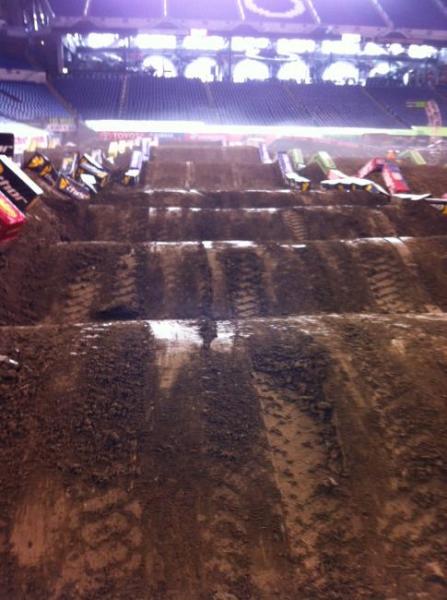 Got whoops?
Jeff Canfield photo
And finally, it's back to work for Feld Motor Sports, as those guys and girls finally got a break from their SX season and let someone else do the work. When I spoke to Todd Jendro on Saturday night, he was having a relaxing night at home … watching supercross live on Speed! Isn't that what we all do with our off-weekends?
Let's get into the week right here.
HOW TO WATCH (Chase Stallo)
Round 11 of Monster Energy Supercross from Lucas Oil Stadium in Indianapolis can be seen live on Speed beginning at 7:30 p.m. Eastern. You can catch live streaming coverage of qualifying beginning at 2 p.m Eastern on Supercrossonline.com or RacerXonline.com. The Racer X crew will be scouring the pits all day and night, so be sure to follow us on Twitter and Instagram (@racerxonline) and RacerXonline.com for all the latest news from Indy.
QUICK START (DC)
If you watched last Saturday night's race, you are probably still shaking your head in disbelief at the incredible jump that Red Bull KTM's Marvin Musquin got in the 250 main. The two-time MX2 world champ earned his first SX win by leading from start to finish, and the monster holeshot certainly helped him out.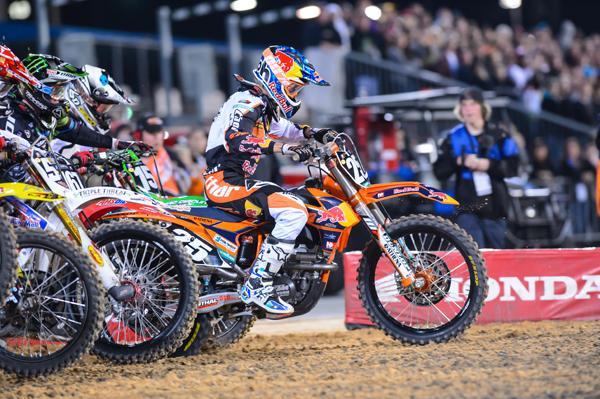 Marvin Musquin's great jump at Daytona gave him a direct line to his first SX win.
Simon Cudby photo
Fast-forward to Sunday afternoon. I was down on the infield for the RCSX and saw John Ayers Jr. pull an excellent start in his 250 A/Pro Sport moto and lead some very fast kids like RJ Hampshire and Jace Owen. When I saw Ayers line up for his next heat I walked over and told him I had no idea that he was such a good starter. John answered, "I'm really not, but I'm using Marvin Musquin's trick." He then walked up to the gate from which Marvin got his epic holeshot and pointed out that whole the right side of the gate was flush against the next gate over, on the left there was a big gap between gates—they are built in four-gate sections, but the inside two gates were not used until amateur day. The trick? Marvin could see the pin move just a blink before the gates actually fell! The rest was pure technique and reaction time.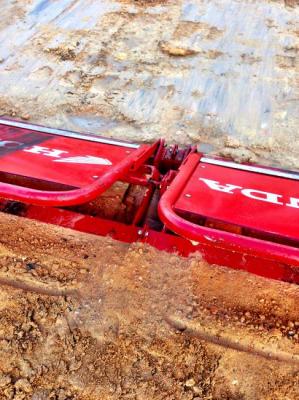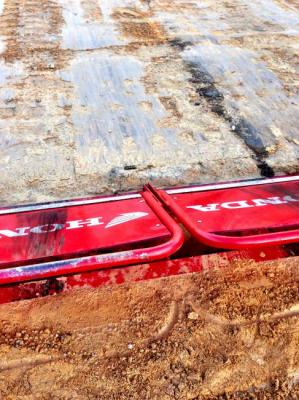 The gap to the left of the second-on-the-inside gate gave Marvin Musquin a chance to see the pin move before the gate fell, but only by the blink of an eye.
DC photo
Of course there were other unexposed pins, but they were farther to the outside. Musquin's jump was so good that not even little holeshot machine Zach Bell could beat him to the turn at Daytona. After that it was fifteen perfect laps and then a sweet heel-clicker at the end.
THE NUMBER – 9 (Aaron Hansel)
Winning the opening round, like Davi Millsaps did this year, doesn't always guarantee a championship. In fact, history suggests that the opposite is true; since 1974, the eventual premier class champion has failed to win the opener twenty-two times! Five-time SX champion Ricky Carmichael never actually won the opening round.
There's another, stronger statistic that is much more favorable to Millsaps and the Rockstar Energy Racing team: In years where the winner of round one hasn't gone on to take the championship, he usually relinquishes the points lead within the first two to three rounds. The 1989 season, where Rick Johnson roared out of the gate with five straight wins, is an exception with extenuating circumstances, as Johnson would have been tough to beat that year if he hadn't broken his wrist in morning practice at the Gatorback National (the supercross and National schedules overlapped back then). Not once in the history of the sport has someone won the opener and held the lead for nine straight rounds, like Davi Millsaps did this year, and not won the championship. That's right, it's never happened!
The closest it's ever been was in 2002, when Carmichael—who crashed out of the opener in his first real SX on a Honda CR250—trailed Yamaha's David Vuillemin for eight rounds before taking the lead at the ninth round and never looking back. It was a situation that's eerily similar to what we're seeing now with Millsaps and Ryan Villopoto. Both RV and RC had bad races at the opener and took several races to find their mojo, while both Vuillemin and Millsaps had been very consistent up to that point. Even crazier, both Vuillemin and Millsaps lost the lead at Daytona. Millsaps, who has been battling a hurt arm and at Daytona a hurt knee, had a bad race. Vuillemin, on the other hand, didn't race at all after crashing in practice, as he had a separated shoulder from a midweek magazine shoot. Vuillemin rode well for the remainder of the season (other than his DNS at Daytona, his worst finishes of the year were two fourths), but Carmichael was simply unstoppable, winning nine of the final ten races.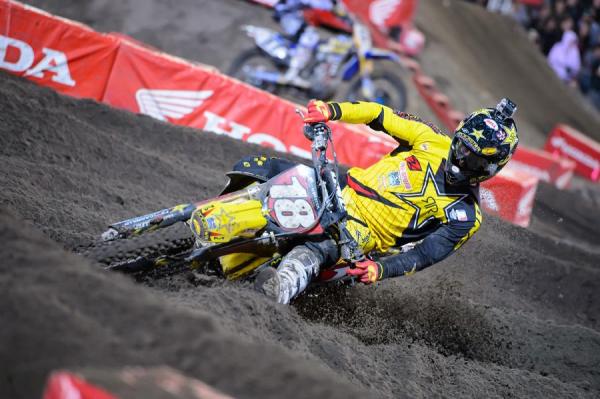 Davi Millsaps will enter Indy without the red plate for the first time since A1.
Simon Cudby photo
Looking forward, Indy is a pivotal race for both Millsaps and Villopoto. Is Villopoto in the middle of putting together a streak of his own that will have him remembered as unstoppable, or will Indy be remembered as the race where Davi struck back?
ANOTHER NUMBER: 1,987 (DC)
That's the number of entrants over the course of three days—Sunday, Monday, and Tuesday—who gathered in Florida for the Monster Energy Ricky Carmichael AMA Amateur Supercross at Daytona, as well as the opening round of the Amsoil Grand National Cross Country Series down the road at River Ranch. The amateur supercrossers raced on Sunday and Monday, qualifying down to the thirty-two main events that filled out the program, with mains after lunch on Monday. That was halftime for the GNCC opener—ATVs raced on Sunday and bikes on Tuesday, with Monday a rare practice day for the off-roaders. Add it all up and it's a good sign that the off-road industry has finally begun to turn around and grow again. 
PATTERSON DEBUTS – (Jason Weigandt)
Over the years, we've seen a lot of motocrossers try their hand at the Amsoil GNCC opener in the sands of Florida, with varying results. Larry Ward hung with the leaders for a while back in 2001, and Ryan Hughes and even Travis Pastrana held the lead early in the three-hour race. But Hughes and Travis were pretty much spent by the time the three hours were through, and they never came back to try it again.
Things are different for Jessica Patterson, who is not racing GNCC for fun or practice this year. She is racing the whole series with support from the AM-Pro Yamaha GNCC team and from the N-Fab Ti-Lube group. A Florida native, JP$ ripped in the two-hour morning race this Tuesday, winning the women's class and whipping the industry class en route to the overall victory.
"I really had no idea what to expect," Patterson said. "The first two laps weren't that bad, then it started raining and it got really gnarly after that. Last lap, there were two mud holes, and there must have been twenty bikes just parked there, trying to figure out where to go. And in the middle, I saw a bike just buried! So I went all the way to the left and just pinned it, and I made my way through."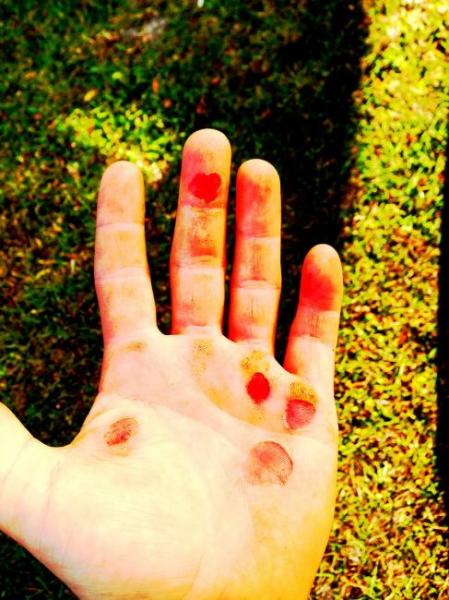 Zach Osborne tweeted this photo of his mincemeat hands after his GNCC debut.
Patterson is taking it a step at a time. The first race, which is sandy and pretty fast, works well for a motocrosser. She even went with a stock fuel tank and regular hand guards. Step two comes this weekend in Georgia, where she will run a big tank, bark busters, and have to deal with slippery, rutted Georgia clay and mud and tighter woods. "As far as training, I think it will help with my fitness for moto, but we'll have to see when I get back onto a motocross track. I really am just keeping an open mind for these races with tighter woods and rocks and stuff. With the WMX down to just three rounds this year, I wanted to race more, and Yamaha was really excited to support me in this."
It will be interesting to see how JP fares against defending GNCC Women's champ Maria Forsberg in the more traditional woods stuff.
By the way, check out RacerTV.com this weekend for the live video coverage of the afternoon pro race on Sunday at 1 p.m. Eastern from Georgia.
As for Zach Osborne's ride, JT$ and Ping will weigh in on the strategy there in Pro Perspective. Performance-wise, it shows the difference between riders prepared for a three-hour race and those that are trying to learn it. Zach was fast, but XC2 racers Andrew DeLong and (the other) Jason Thomas had the strategy down better, saved more energy, and eventually went by. But some riders just aren't cut out for this stuff at all. I mentioned that Hughes said "never again" after his Florida GNCC experience. I guarantee you Zach will be back for more, someday.
PRO PERSPECTIVE – THE GNCC EFFECT (Jason Thomas and Ping)
JT: GEICO Honda's Zach Osbourne raced his way onto the podium in the XC2 class Tuesday at the opening round of the GNCC series in Florida. While this may not seem like a huge shock to some, it is quite an accomplishment when you consider how much different the disciplines truly are. Bench racers have thrown around the topic of whether or not it is helpful for outdoor national preparation and I am of the opinion that it is not.
As I see it, outdoor nationals have turned into an extended sprint. The days of pacing yourself and being strong at the end of the motos have given way to 100 percent exertion from green to checkers. GNCCs being three hours long are much more about strategy and energy conservation. In fact, I feel it is almost counterproductive to the mental conditioning it takes for motocross racing. Being complacent in the turns or worrying about overexerting yourself is the last concern in today's world of high-intensity racing. If this were, say, 1998, I might tend to be more on the side of its benefits. But racing has just changed in that aspect. Another factor is the physical beatdown that Zach took during that hellacious sandstorm. I saw the picture of his hands on Tuesday and they looked like Hamburger Helper. The damage will probably keep him off the bike for a week or so anyway, so that's another con to the equation.
The main positive I can think of is just overall fun. I'm sure that in a no-pressure situation, he had an absolute blast running up front and competing in a totally different arena of off-road racing. If that was the goal, then I am all for it. I just think the two forms of racing are too different in strategy and physical taxation to see a true benefit, while also weighing the negatives. Regardless, his smile on the podium probably mattered more than anything I could take away from it.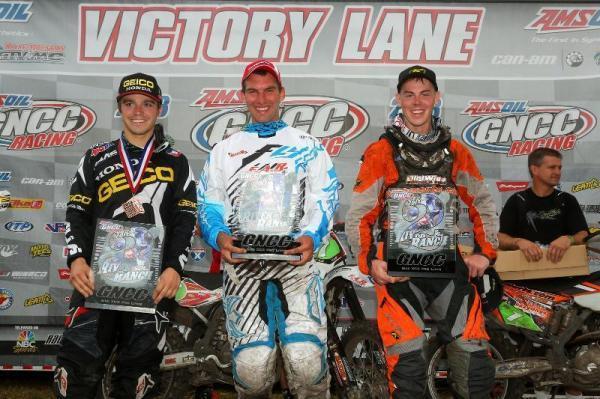 Osborne (left) finished third in his GNCC debut.
GNCC.com photo
Ping: I was stoked to see Osborne racing the GNCC last weekend. I raced exactly one of those torturous events in a godforsaken swamp in Palatka or something, and it is still the longest amount of time I've ever been on a bike at one time. Is it a good training tool? Well, at the right time I think it can be. Zach is in the middle of a long break, and he hasn't had the season that he wanted to this point. So for him, this race is a way to break up the monotony of riding laps and motos on the tracks he's used to. GNCC racing is fun and at the same time incredibly difficult both physically and mentally. Zach will probably have to take a few days off after that race, but there's no question he's added some endurance to his fitness, and that will be nice to have in his back pocket when things kick off in Hangtown a couple short months from now.
Why don't more moto guys do it? My guess is they are afraid of getting beat by some kid they've never heard of wearing a Camelback and running elephant-ear hand guards.
WHERE'S ADAM? (Matthes)
As if the start of the 2013 Lucas Oil Motocross Nationals weren't anticipated enough, now there's even more excitement wondering if amateur sensation Adam Cianciarulo will make his debut. We haven't seen AC since the Monster Energy Cup, which was his debut on the 250Fs. After that, he suffered a shoulder injury that's kept him under the radar for a while he healed up. The Team Green kid was on the Pulpmx Show last Monday and we asked him about the injury. "I've been on the bike for about three weeks now," he said, "just some light riding to get my endurance up."
So what about Hangtown AC? "Hangtown is the goal, that's what we're working towards," he said. "Personally, I think I'll be ready. I have the program and the place to ride. I'm so confident in the program I have, and I have the roadmap to be successful." That's referring to riding at Ryan Villopoto's house and having Villopoto's trainer, Aldon Baker, as his trainer.
Sounds all good, right? Well, we'll see. Sources say that the Monster Energy/Pro Circuit Kawasaki team (where he would make his debut) isn't as excited for Cianciarulo to make his debut as he is. The shoulder injury, lack of experience on the big bike, and the fact that Pro Circuit has four 250 riders and two 450 riders this summer all conspire against the kid coming to Hangtown. A summer riding amateurs, going to Loretta Lynn's, and then making his debut in the last three nationals starting at Unadilla on August 10 is more along the lines of what Mitch Payton at Pro Circuit is thinking.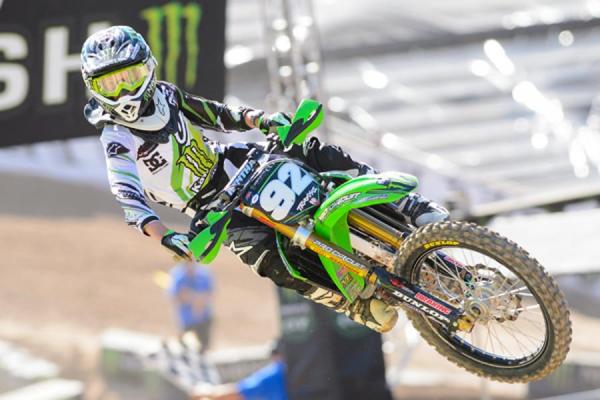 Will AC make his pro debut at Hangtown?
Simon Cudby photo
So what's going to happen? We're not sure who's going to win this battle (and maybe some of it will be decided if Payton's current riders suffer injuries), but there's no doubt that Cianciarulo has the mindset of making this a hard decision for the powers that be. Stay tuned.
By the way, if Cianciarulo does turn pro, he will be part of a big group of rookies at Hangtown, as TLD Honda's Shane McElrath, Star Racing Yamaha's Cooper Webb and Anthony Rodriguez, and probably GEICO's Matt Bisceglia are all planning to do likewise.
And Hangtown is going to be tough to even qualify for, as coming back to action will be Blake Baggett, Darryn Durham, Nico Izzi, Justin Bogle, and Alex Martin will all be back by then.
END OF X? (DC)
The freestyle community was dealt a terrible blow this week when ESPN announced that it was ending the Best Trick events for both motorcycles and snowmobiles in the wake of the tragic death of snowmobiler Caleb Moore. (Sadly, his death was followed by the practice-crash death Eigo Sato over in Japan.)
What this does is bring an end to an era that exploded on the action-sports scene when Travis Pastrana launched his Suzuki into San Francisco Bay back in 1999, signaling that FMX had arrived with a huge splash on the X Games scene. We've seen some incredible tricks over the years, but we've also seen some incredible crashes and injuries. It seemed like only a matter of time before something terrible happened, and it did last month in Aspen—only it was a sled, not a bike.
What's next for the FMX world? Likely more unique events like Red Bull X-Fighters around the world, more freeride stuff like Ronnie Renner has been doing, and video productions like Maddo's epic "Air.Craft" for DC Shoes.
WATCH OUT FOR #4... (DC)
If you're at Lucas Oil Stadium for tomorrow night's race or watching on TV, look out for #4 in the KTM Junior Supercross Challenge. The kid riding that bike is motocross royalty! Liam Everts is the son of Stefan Everts (ten world titles) and the grandson of Harry Everts (four). He has traveled over from Belgium, where the Everts family lives, to enjoy the incredible experience that is the KTM JSXC (I say incredible because Tim and Evie Ferry told me over the weekend that their day with their son Evan as a rider at the Atlanta SX was the coolest thing they have ever done).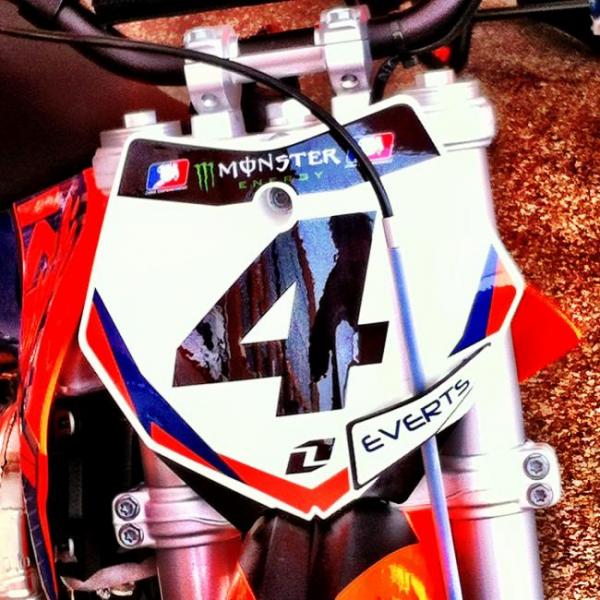 Everts will race the KJSC tomorrow night.
Jeff Canfield photo
How will Liam do? Doesn't really matter! He's just a kid, and he will no doubt love his day as a factory racer. But his dad will no doubt be the most overqualified mechanic under the KTM kids' tent.
Stefan himself raced supercross a few times back in 1992 as he was prepping for a run at the 250 World Championship, which would ultimately be won that year by Donny Schmit, and he didn't do bad at all. Here's his results, courtesy of the Racer X Online Vault.

HIGHLIGHTS OF THE WEEK (Jason Weigandt)
Under the Radar: In a 250 East SX field jammed with factory-supported rookies like Jeremy Martin, Zach Bell and Justin Hill, privateer rookie Mitch Oldenburg is beginning to make his name, too. He's making mains and knocking on the door of the top ten. Check out Chase Stallo's Privateer Profile on Mitch and you'll find out just how determined this kid is.
Daytona Rough: Just how hard is Daytona? How hard is this darned sport in general? Jason Weigandt took a deep dive in Redux: The Matrix. As you'll see, every top rider is pushing through something they don't want to do, but they do it because they want to win.
IN THE MAG – ONE RACE, ONE PAGE
Debuting in the May 2013 issue of Racer X Illustrated is our new One Race, One Page feature, where we relive the past with a rundown of a historic race. We turned the keyboard over to longtime contributor Nick McCabe to get the dirt on what went down at the 1987 Daytona Supercross, where full-on privateer Ricky Ryan took his one and only supercross win. See this and more in the May 2013 issue of Racer X.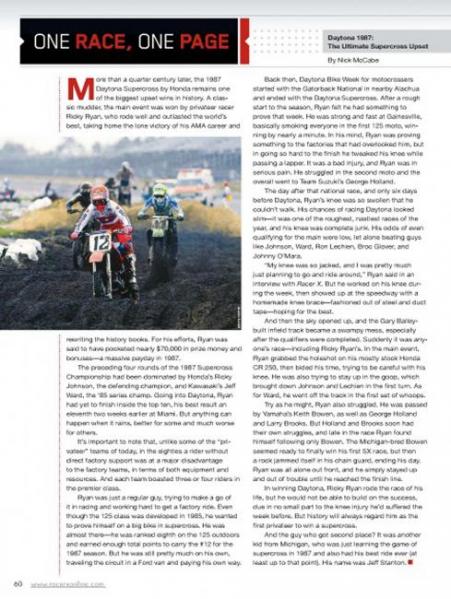 HEAD-SCRATCHING HEADLINE OF THE WEEK
BROC TICKLE LEADS RCH RACING WITH A TOP-10 AT DAYTONA
Glare Forces Josh Hill to Shed Goggles in Main Event but Finishes 15th
HEY, WATCH IT! (Chase Stallo)
Indianapolis Animated Track Map
In the Beginning: The Trey Canard Story (Official Trailer)
2013 Monster Energy Cup Preview
Ryan Villopoto GoPro Footage from Daytona
Ronnie Renner at Ocotillo Wells
Ricky Carmichael Daytona Amateur Supercross Highlights
Pepsi MAX & Jeff Gordon Present: "Test Drive"
RANDOM NOTES (Staff)
For the second year in a row, we're excited to sponsor a youth baseball team here in Morgantown. Racer X kid Jude Stealey and his buddies will again have the coolest uniforms on the field, this time thanks to a double whammy—a new logo and WVU colors. Go get 'em, boys!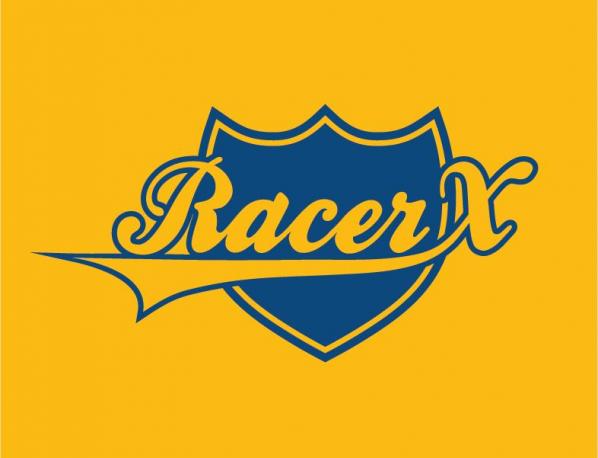 Travis Pastrana is featured in the latest round of ESPN's Names are Made Here campaign to promote its season-long coverage of the NASCAR Nationwide Series, considered a breeding ground for future stars of the top-level NASCAR Sprint Cup Series. The commercial will begin airing across ESPN platforms on March 18 in advance of ESPN's telecast of the Nationwide Series race at Fontana, California, on March 23. Pastrana finished tenth last weekend in Las Vegas and now sits in 11th in the Nationwide standings. You can view the video here.
That's it from Indianapolis. Thanks for reading Racerhead—see you at the races.