Insight: Various Views on Millsaps
Daytona International Speedway
Daytona

,

FL
Daytona
Monster Energy AMA Supercross Championship
There's no doubt that Rockstar Energy Racing's Davi Millsaps grabbing two wins and having a 12-point lead in the series (with two wins!) is one of the bigger surprises this year. Millsaps is trying to do something that has never been done in our sport, and that is win the premier class supercross title in his sixth year in the class. It's an amazing story and he's been as solid as a rock the entire season.
We thought that going around the pits and getting thoughts from some of the people that worked with Davi before, or have seen him through the years, was in order here:
Mike Williamson/Factory Kawasaki: "I think Davi's riding great; I think that at Anaheim 1 everyone was surprised. Now we expect him to be up there every week. He had never been up there this much before. If you don't say you're surprised, then you're lying. I don't know the reason why he's this good. It can't be the Yamaha—he got second in the points last year. He's confident and he hasn't had a bad race yet. When he does have a bad race, we'll have to see how he recovers from that."
Jimmy Perry/Yamaha: "I'm absolutely surprised by what we're seeing. He's finally putting it all together and I think the biggest thing is that he's been healthy the whole time. I think [throughout] his whole career, he's been down and out and healing from injuries. It's tough to get back on top of that horse when you're always healing, and now he looks to be in great shape. [He] had a whole off-season to get ready and we're seeing the results.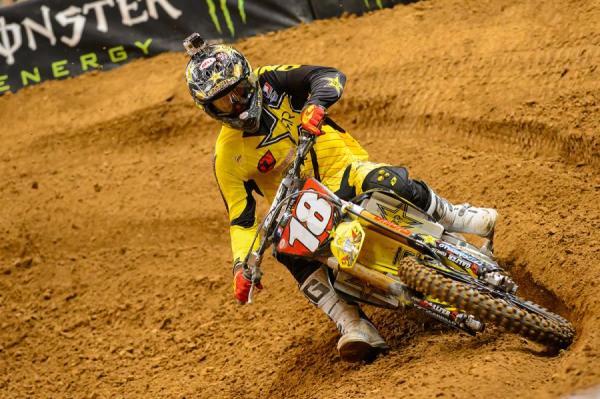 "He's got it all together this year—it's surprising. I guess when you realize in life that you've missed a lot of opportunities, you have a baby and [get] a reality check, you maybe realize that you can put it together." - Jeff Stanton
Simon Cudby photo
Dan Bentley/Team Manager, Honda Muscle Milk: "We all knew he had the talent and he's finally figuring it all out. He seems like he's not under a lot of pressure, and that environment suits him well. The bike is working well for him, also, and kudos to him; it's nice to see. When we had him, we saw the talent—that's why we hired him—but I think it's a combination of being a bit more mature, having a family, the team, and everything is falling into place for him. I'm happy for him."
Jeremy Albrecht/Team Manager, JGR Yamaha: "I would say that it's unexpected only because I expected—with a two-year deal [with us]—that he would get a little comfortable, but he's proven me wrong. He's riding awesome and he's actually doing what all of us thought he could do years ago. That's why he got a Honda ride and why we hired him also. He's riding at the level that he's capable of. He's always been this good—we've all seen it here and there. Last year he was good for us and we talked about re-signing him, but we didn't want to do a long-term [deal], and yeah, it looks bad on us now, but we told him that if he kept going we'd keep going. He's always had the talent to win, but it's been a question of  "Does he want to?" and now he wants to a little more."
Frank Latham/Mechanic, Red Bull KTM: "He's a good guy. I just think he came in ready. Usually it takes him until about now to get fit, but now he's fit right away. I always thought he had the talent. Now he did the work in the off-season and he's got some things going his way this year."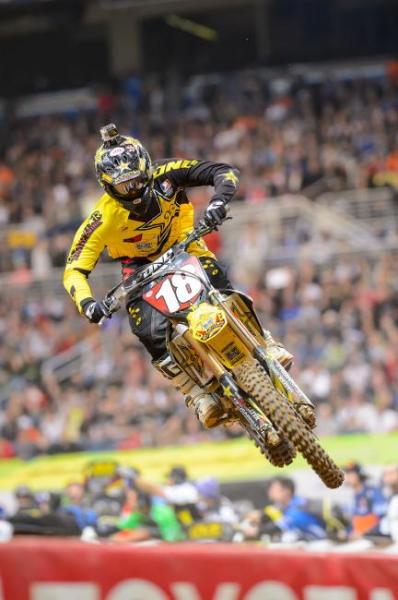 "He's riding awesome and he's actually doing what all of us thought he could do years ago. That's why he got a Honda ride and why we hired him also." - Jeremy Albrecht
Simon Cudby photo
Ian Harrison/Technical Director, Red Bull KTM: "I think he's happy with his bike, and his confidence is up and that's why he's doing what he's doing. Everything has to be lined up for a rider to win races and for him, this year, it's all there."
Jeff Stanton/Former professional rider, Advisor to Honda Muscle Milk: "He's got it all together this year—it's surprising. I guess when you realize in life that you've missed a lot of opportunities, you have a baby and [get] a reality check, you maybe realize that you can put it together. I think he's always had the talent but perhaps he didn't want to put in the work ethic that it took to put it together. He's right up there among the most talented guys, but he's never put apples and apples together. To have the opportunities that he's had, to now being in somewhat of a privateer situation, he's working hard and it's a good thing."