You want action and drama and excitement? Meet me in St. Louis.
Once again, the Monster Energy Supercross run under the Gateway to the West provided the first real fireworks of the season, as a passing and action-filled main event even dusted up some controversy over the results. All in all, a wild night, the one we've come to expect from this venue in the middle of the country in the middle of the season.
It helps that St. Louis' trademark tacky dirt was on hand, a welcome relief from the hard and slippery tracks that have dominated the first half of the 2013 SX tour. While the track design still left much to be desired as far as options, passing and technical challenges, the soil alone helped improve the racing, as the riders could still make moves in the corners as needed.
The 450 main started with a Mike Alessi holeshot, while Justin Barcia and Ryan Villopoto both nearly crashed in the first turn but managed to get through upright. Barcia, on a Muscle Milk Honda, trailed Alessi's SmarTop MotoConcepts machine early, until Yoshimura Suzuki's James Stewart got around him for second. Stewart then motored past Alessi down the start straight to take over the lead. Barcia passed Alessi for second, and Villopoto moved to third on his Monster Energy Kawasaki. But on the third lap, JGR Toyota MX rider Kyle Chisholm crashed hard on a triple and needed attention from the Asterisk Medical Team, which brought out the red flag (Chisholm went to the hospital and it's said that his back and neck checked out okay, but his knee and ankle are ailing).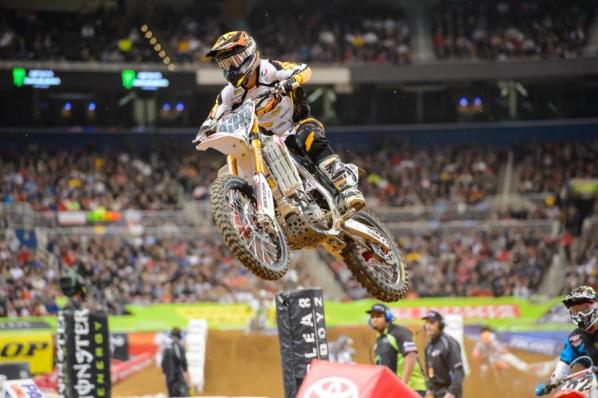 Mike Alessi led early in the main event and ended up seventh, a good run for him.

Some serious battle going on in this race!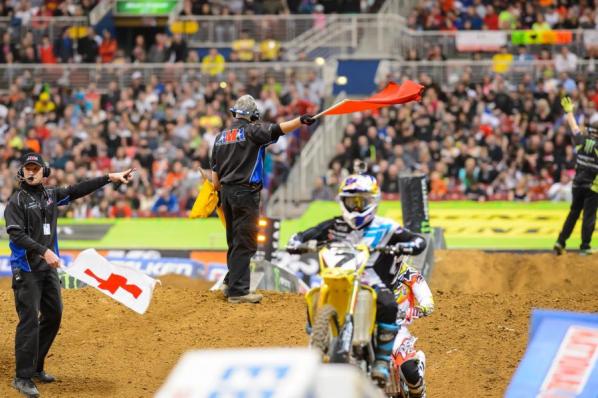 Then the red flag came out as Stewart was leading Barcia.
Cudby photos
The SX rulebook says any race past three laps will be restarted via the signal-file restart down the start stretch. So it was bizarre enough to see the SX main restarted via the single-file setup, it was stranger, still, to see Villopoto pushed back to sixth. Turns out he had passed Alessi for third while jumping past a yellow flag, and he was assessed a three-position penalty for it. When the race restarted, it was still Stewart and Barcia in the lead, but Alessi got a great jump and repassed Barcia. Soon Villopoto was on a mission, making moves, and he had the likes of TwoTwo Motorsports Honda's Chad Reed and Red Bull KTM's Ryan Dungey with him. Not quite in the battle was series' points leader Davi Millsaps, as the Rockstar Energy Racing rider got a bad start and then was run into by Trey Canard's bike early. Millsaps was seventh and would later pass Alessi for sixth, but never truly threaten the riders ahead of him.
Meanwhile, a ridiculous five-rider fight for the lead broke out, with Villopoto eventually getting Barcia for second, and going after Stewart for the lead. They carved inside and outside of each other a few times, which led to the next crazy incident. N-Fab TiLUBE's Bobby Kiniry had crashed on a triple, and the red cross flags came out, requiring every rider to roll the triple. Stewart and Villopoto hit that section essentially together, slowed to roll the jump, and then Barcia and Reed caught right up, leading to all four taking the section nearly side-by-side. After the triple came a set of rollers with yellow flags, Stewart and Villopoto hit it together, and Villopoto emerged with the lead.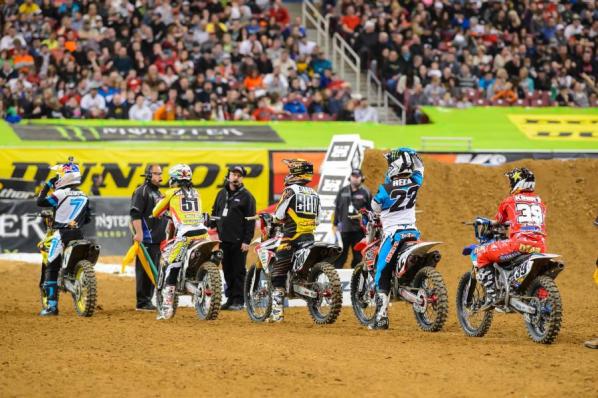 The race was restarted via a single-file restart.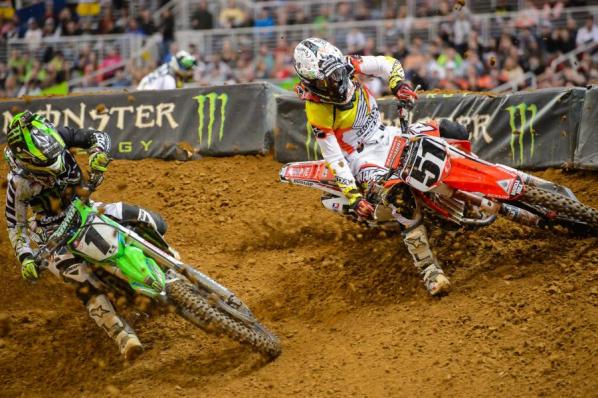 Villopoto then went on a tear, from sixth to third, then passing Barci for second.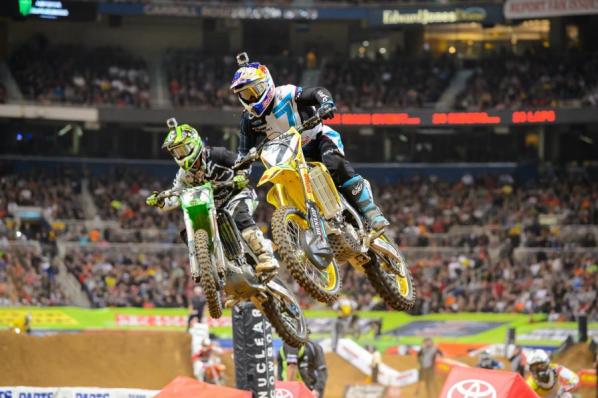 Villopoto and Stewart battled--RV got to the lead but not without controversey. Some teams believe he passed Stewart under a red cross flag.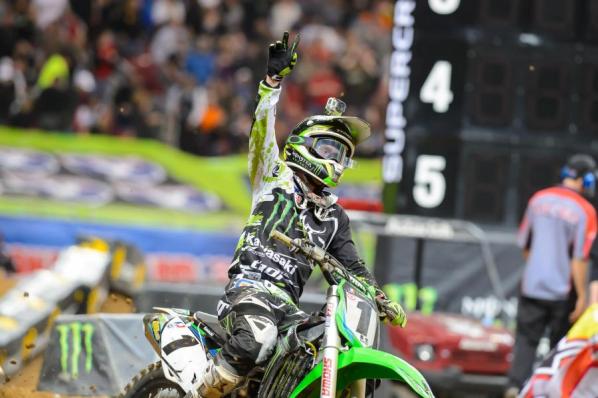 Either way, no arguing that Villopoto was the fastest man on the track.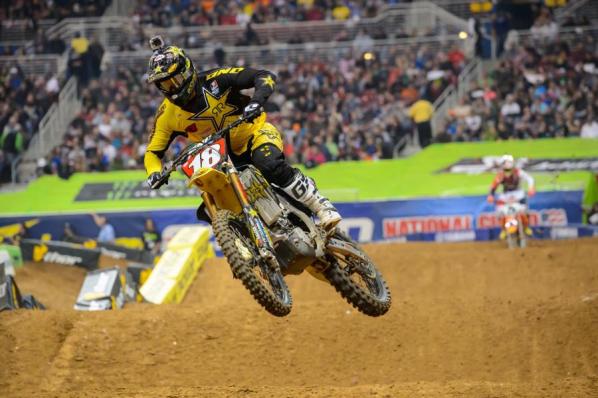 Sub par night for Davi Millsaps, who finished sixth in the main.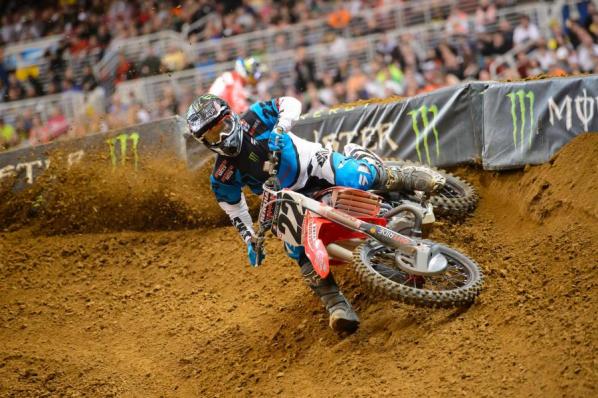 Chad Reed delivered his second podium of the year with third.
Cudby photo
From there, the two-time and defending SX champ rolled away to his second win in the last three races. But after the race, his pass on Stewart went up for review, as many felt he had made the pass under either the red cross or yellow flags. But the results held, as the AMA's Kevin Crowther said video proved there was insufficient evidence for a penalty. To be sure, other teams and riders didn't agree, but the results are official.
Behind Villopoto, Barcia at one point got Stewart and was up to second, but he bobbled and went too far outside in a corner, tagged a tuff block with his front brake lever, and couldn't jump a triple. With the field so tight, he lost several spots. This left Stewart and Reed second and third, with Dungey fourth. Down the stretch, the top three spread out, but Dungey did make a late run at Reed for the final podium spot, which he was not able to get. Barcia was fifth, Millsaps sixth. Just like that, Villopoto made up 10 points on Millsaps, and he sits just 12 down now.
Behind Millsaps came Alessi in seventh, and Trey Canard (who crashed) on his Muscle Milk Honda. JGR Toyota Yamaha's Justin Brayton was ninth and BTOSports.com KTM's Andrew Short tenth.
The 250 class hosted good racing, too. Wil Hahn, the GEICO Honda rider who won last week's main event in Atlanta, holeshot the race. He had Rockstsr Energy Racing's Blake Wharton in tow early, while series' leader Dean Wilson was way, way back early on his Monster Energy Pro Circuit Kawasaki. But even on a track that didn't offer much passing, Wilson went on a tear, going from 12th to 5th in about a lap. He then picked his way past Slaton Racing/TUF's Vince Friese to get into third, then passed Wharton for second. At the halfway mark, Hahn held a two second lead, and Wilson was closing fast. The battle began, as Wilson dove inside, and Hahn countered by squaring back underneath. Hahn then fought off the advances and got away, before Wilson logged one more sprint on the last lap. He couldn't make it happen, and Hahn had his second-straight main event win. He also takes the points lead away from Wilson. Wharton was third for his second podium of the young season.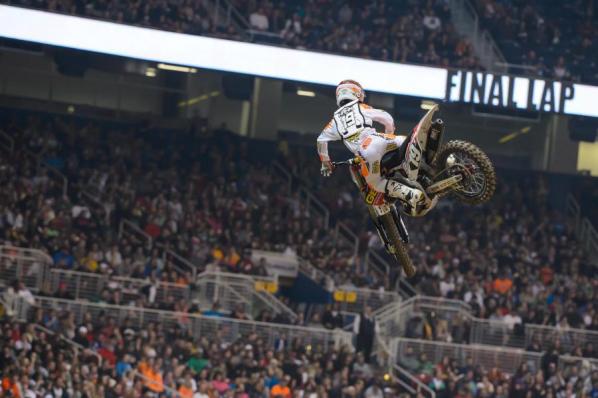 Wil Hahn did it again in 250s.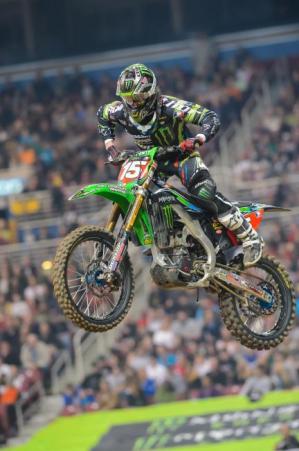 Dean Wilson charged hard from way back, but ended up second.
Cudby photos
Now the series heads for something completely different: Daytona.
450 SX

1. R. Villopoto
2. J. Stewart
3. C. Reed
4. R. Dungey
5. J. Barcia
6. D. Millsaps
7. M. Alessi
8. T. Canard
9. J. Brayton
10. A. Short
11. B. Tickle
12. J. Weimer
13. E. Tomac
14. J. Albertson
15. M. Goerke
16. K. Partridge
17. R. Kiniry
18. W. Peick
19. P. Nicoletti
20. K. Chisholm
Heat 1
1. R. Villopoto
2. J. Barcia
3. J. Brayton
4. A. Short
5. M. Alessi
6. T. Canard
7. W. Peick
8. K. Chisholm
9. R. Kiniry
10. B. Lamay
11. J. Hill
12. E. Tomac
13. B. Hall
14. J. Oswald
15. N. Schmidt
16. A. Albers
17. A. Howell
18. A. Enticknap
19. M. Akaydin
20. T. Sewell
Heat 2
1. J. Stewart
2. D. Millsaps
3. R. Dungey
4. C. Reed
5. B. Tickle
6. P. Nicoletti
7. M. Goerke
8. K. Partridge
9. J. Weimer
10. L. Smith
11. J. Albertson
12. J. Sipes
13. C. Gilmore
14. D. Pipes
15. J. Greco
16. C. Green
17. C. Blose
18. R. Stewart
19. M. Schneider
20. H. Harrison
LCQ
1. E. Tomac
2. J. Albertson
3. C. Blose
4. J. Sipes
5. B. Lamay
6. J. Hill
7. N. Schmidt
8. L. Smith
9. C. Gilmore
10. B. Hall
11. C. Green
12. A. Enticknap
13. H. Harrison
14. J. Oswald
15. A. Howell
16. D. Pipes
17. R. Stewart
18. M. Akaydin
19. T. Sewell
20. A. Albers
21. M. Schneider
22. J. Greco
450SX Class Season Standings
1.      Davi Millsaps, Murrieta, Calif., Suzuki, 189
2.      Ryan Villopoto, Poulsbo, Wash., Kawasaki, 177
3.      Ryan Dungey, Belle Plaine, Minn., KTM, 166
4.      Trey Canard, Shawnee, Okla., Honda, 148
5.      Chad Reed, Australia, Honda, 147
6.      Justin Barcia, Ochlocknee, Ga., Honda, 132
7.      James Stewart, Haines City, Fla., Suzuki, 122
8.      Andrew Short, Smithville, Texas, KTM, 113
9.      Justin Brayton, Fort Dodge, Iowa, Yamaha, 103
10.   Broc Tickle, Holly, Mich., Suzuki, 87
250 SX
Main Event
1. W. Hahn
2. D. Wilson
3. B. Wharton
4. M. Musquin
5. J. Martin
6. V. Friese
7. J. Decotis
8. C. Thompson
9. Z. Bell
10. P. Larsen
11. G. Faith
12. Z. Freeberg
13. A. Catanzaro
14. K. Hussey
15. M. Oldenburg
16. J. Hill
17. L. Kilbarger
18. D. Herrlein
19. L. Vincent
20. S. Rife
Heat 1
1. B. Wharton
2. J. Hill
3. J. Martin
4. S. Rife
5. M. Musquin
6. Z. Freeberg
7. M. Oldenburg
8. L. Kilbarger
9. P. Larsen
10. B. Kiesel
11. Z. Bell
12. T. McEwen
13. Ad. Gulley
14. G. Ransdell
15. C. Crawford
16. O. Barbaree
17. G. Swanepoel
18. J. Hayes
19. K. Peters
20. Aa. Gulley
Heat 2
1. D. Wilson
2. W. Hahn
3. V. Friese
4. L. Vincent
5. D. Herrlein
6. J. Decotis
7. A. Catanzaro
8. C. Thompson
9. K. Hussey
10. R. Zimmer
11. G. Faith
12. K. McCabe
13. S. Clarke
14. J. Wentland
15. S. Roman
16. Z. Williams
17. N. Click
18. D. Buller
19. J. Richardson
20. T. Krieg
LCQ
1. Z. Bell
2. G. Faith
3. R. Zimmer
4. B. Kiesel
5. J. Richardson
6. K. McCabe
7. K. Peters
8. J. Wentland
9. G. Swanepoel
10. C. Crawford
11. Ad. Gulley
12. O. Barbaree
13. T. McEwen
14. N. Click
15. S. Roman
16. Z. Williams
17. G. Ransdell
18. J. Hayes
19. Aa. Gulley
20. T. Krieg
21. S. Clarke
22. D. Buller
Eastern Regional 250SX Class Season Standings
1.      Wil Hahn, Decatur, Texas, Honda, 70
2.      Dean Wilson, Scotland, Kawasaki, 69
3.      Blake Wharton, Pilot Point, Texas, Suzuki, 60
4.      Marvin Musquin, France, KTM, 53
5.      Vince Friese, Cape Girardeau, Mo., Honda, 39
6.      Gavin Faith, Fort Dodge, Iowa, Honda, 38
7.      Justin Hill, Yoncalla, Ore., Kawasaki, 36
8.      James Decotis, Peabody, Mass., Honda, 34
9.      Jeremy Martin, Millville, Minn., Yamaha, 32
10.   Kyle Peters, Greensboro, NC, Honda, 31