By Billy Disney (aka BD25)
Canadian born Marshall Plumb has been around the pro motocross and supercross scene since the mid-eighties. As a factory mechanic for Team Suzuki, he wrenched for Guy Cooper, helping him to the 1990 125 National Motocross Championship, then went on to spin wrenches for Brian Swink. In 1998, Marshall took his knowledge of suspension and motor tuning to the public, opening Marshall's Racing in Stillwater, Oklahoma, where anyone can get factory treatment for their bike.
Today, along with running the shop, you can find Marshall in the pits at the Dunlop semi, hard at work changing tires. We tracked Marshall down to learn a little more about how things work under the Dunlop awning.
Racer X: How long have you been working for Dunlop and what are your responsibilities?
Marshall Plumb: I have been involved with Dunlop for almost 30 years. Hands on, I have been working with them since 2001 changing tires and doing multiple other roles within the company. I have really enjoyed my time here; it's been a lot of fun.
How many guys are in your crew?
For the last couple of years, besides myself, there is John Turner, Brady Becker, Fitters, and then we have Brian Fleck and Broc Glover that are management personnel, and our truck driver is Dean Hawkins.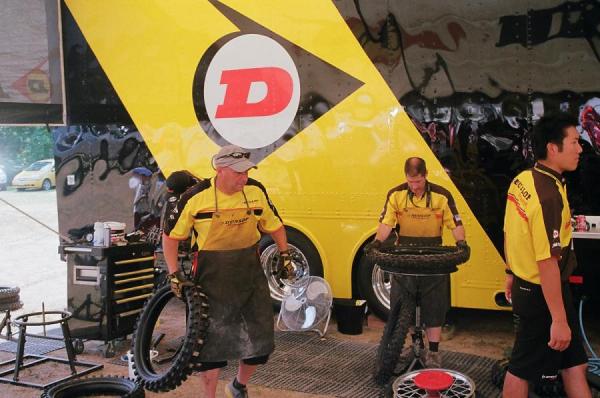 Plumb (far left) has been working with Dunlop for almost 30 years.
Billy Disney photo
How many tires and tubes do you change at the average supercross?
Depending on the style event, it varies. An average supercross, we will start on Friday and change 300 to 400 tires on a busy weekend. Tubes will last 8-10 supercross races before we change them out. At an outdoor, we can exceed that by 100 tires or more, due to the added moto, and there are more riders from across the country racing a national.
Do they change tires after every practice, heat and have a fresh one on for the main?
Usually, the pros will go through practice on one tire, and the heat and main will be on another tire. Depending on wear, caused by extreme track conditions, sometimes the top ten riders might start the main on a new tire.
With all that practice, how long does it take you to change a tire?
Back in the day, when I was a mechanic with the factories, I could do one in about two minutes. I have a saying now, "Leave the racing on track." It takes 4-5 minutes per tire, that's just so we make sure we don't have any problems.
Do things always run smoothly or do you have the occasional problem?
It is like any thing else, situations will arise; we do have the occasional flat tire. A lot of them are from not having the proper tire pressure, usually caused by improper use of the air gauge. Problems on the track such as sharp rocks or even nails cause a few flats also.
How many different style tires do you have available to riders to choose from?
Production based, a few years ago, we came out with a line of Geo Max tires. We have the MX71, MX 51, MX31 and a sand tire which is the MX11 line. Some of the pros will run a slightly different tire, a prototype that we are racing in order to develop it for production and released to the public in a year or two.
Are the tires you have in the semi available to privateers or just the factory riders?
In our semi we have all the production based tires that we make available for riders to purchase. Again, we do have a race tire that is available to the top factory riders or the top 15 riders. We will occasionally give a promising rider a tire that has been taken off a pros bike, which is still in really great shape, to help him out.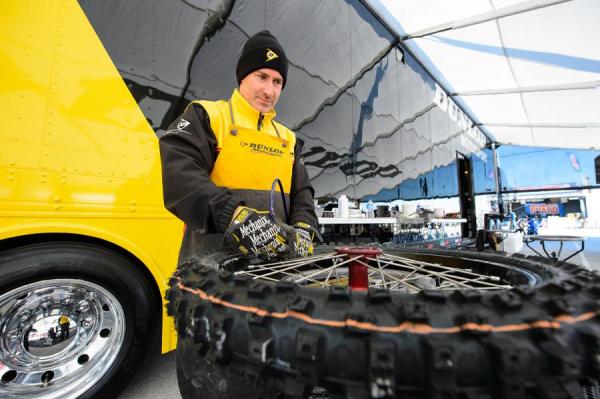 Brady Becker (another memeber of the Dunlop team) changing tires in Dallas.
Simon Cudby photo
After the races do the bikes leave with those tires or are they returned?
If a rider has purchased a production based tire that is, naturally, his to keep. All our prototype tires are coded and property of Dunlop, so all of them will be returned to us. Then they go back to the factory for further examination, that way if there is a problem, we can address it in an effort to improve on our tire. Then they are destroyed and recycled.
I always see you congratulating the winner when he pulls off the track, then first thing, you reach down and inspect the tire, what are you looking for?
I check to make sure that it is wearing properly and that there isn't any heat buildup in the tire and the best time to do that is when right when it comes off the track. It is just one more step in the process, trying to be thorough, so that nothing is over looked
Last question, what has been the best part of your job, working with Dunlop?
I am very fortunate to have been very involved with Dunlop's amateur program. I have been up close and gotten to know some of the sport's elite riders. From Ricky Carmichael, James Stewart and Ryan Villopoto, who have become champions, to the next generation, like Justin Barcia, Eli Tomac, Justin Bogle and many more. Watching them grow up and turn professional has been a privilege.