Georgia Dome
Atlanta

,

GA
Atlanta
Monster Energy AMA Supercross Championship
By Jason Weigandt, Chase Stallo and Aaron Hansel
- Atlanta is one of the biggest Monster Energy Supercross races of the season, and it boasts probably the busiest pits. How busy? Our man Aaron Hansel spotted a huge line to get into the pits, so he took a brisk walk from the front of the line to the back, and timed his walk. It took him three minutes and forty-four seconds to walk briskly from the pit entrance all the way to the back of the line!
- If you are one of the fans that shows up early to watch practice, bring a small pair of binoculars and keep an eye on the pit boards as the racers blast by the mechanic's area. From head scratchers like Dean Wilson's mechanic writing, "LEGS," to obvious messages like, "Focus!" and "FASTER" to images like smiley faces, the pit boards can provide some real entertainment (and maybe, just maybe, some actually insight).
- The songs that racers come out to in the opening ceremonies don't always have significance to the series, but sometimes they do – last year Ryan Villopoto came out to, "The Champ is Here" while Justin Barcia makes his presence known this year as "Seek and Destroy" blares from the stadium's loudspeakers. In Atlanta, Millsaps came out to "Stranglehold" by Ted Nugent. We're not sure if Millsaps is saying he's got a stranglehold on the points lead, but after holding it since the season opener in Anaheim, and building a significant 22-point gap to boot, it wouldn't be entirely inaccurate!
- At the beginning of the day, our own Aaron Hansel found himself in an elevator with GEICO Honda's Zach Bell, who gave everyone quite a scare with his midair ejection last week in Dallas. When Hansel introduced himself as a Racer X reporter, Bell immediately blurted out, "I'm doing much better." With a quick response like that, it's safe to say that Bell has been dealing with questions regarding his frightening crash all week!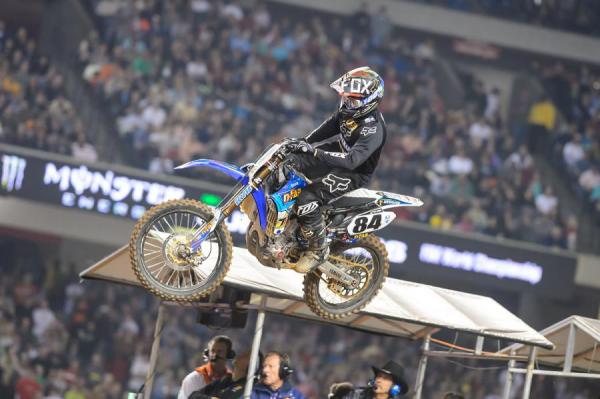 Chris Blose has qualified for four straight mains, and five of the last six.
Simon Cudby photo
- Speaking of Bell, he borrowed a move from pro skateboarder Ryan Sheckler's playbook in the heat race when he came off the track on the single following the sand section and got high centered on some Tuff Blocks. Instead of crashing, he slid down the downslope on top of the blocks like a skater grinding a railing. He even maintained the lead! Did Bell inadvertently open up a whole new world of FMX with that move?
- Bell, by the way, is still dealing with a sore wrist after last week's getoff.
- We've all grown accustomed to seeing occasional rough riding from Justin Barcia, but he was in the zone in Atlanta. In his heat race, he put a block pass on teammate Trey Canard and ended up ripping spokes out of his teammates' wheel (sending Canard to the LCQ). Barcia also bumped Justin Brayton on the first lap of the main, putting the JGR Yamaha rider down. And in practice, Barcia got into it with both James Stewart and Ryan Villopoto. That's four incidents in one race day!
- Notables that failed to qualify in 450SX: Justin Sipes, Kyle Chisholm, Ben LaMay, Weston Peick, Phil Nicoletti, Tevin Tapia, and Kyle Partridge.
- Dodge/RCH Racing's Josh Hill hasn't exactly set the world on fire since his return in San Diego. On the bright side, though, he's made three consecutive mains for the first time since 2010, and is healthy—which is a big plus for Hill. "I'm happy I made the main," Hill said. "I made improvements. We did have three more guys here this weekend that are fast. My speed was there. It was better in practice. Once the night show came on, I just never got comfortable. I was just riding the people's pace in front of me and that was just the story of my whole night."
- Who are the "three more guys" Hill is talking about? We'll guess that means Jake Weimer (returning from broken ribs with a solid eighth), 450 newcomer Eli Tomac and … we're not sure who else. For sure, there's not much room in the top ten in 450SX these days.
- Rocket Exhaust's PJ Larsen tied a 450SX career-high 15th in Atlanta. Larsen will now move to 250SX with Eleven10 Mods Yamaha beginning this weekend in St. Louis. He and the team being testing today at South of the Border in South Carolina—PJ's home state.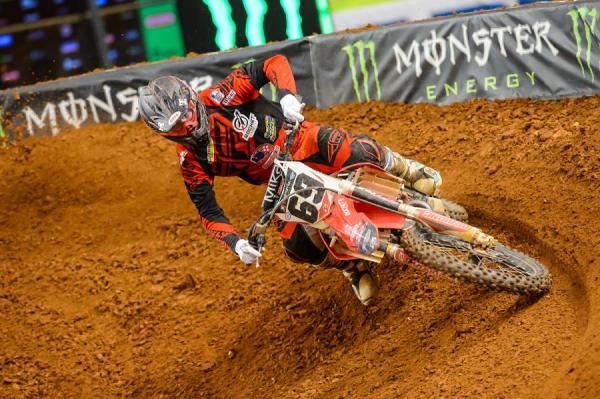 Larsen is expected to make his 2013 250SX debut this weekend with Eleven10 Mods.
Simon Cudby photo
- Not the debut with JGR Toyota/Yamaha that Kyle Chisholm was hoping for. Crashes and bad starts kept him out of the main event, but at least he was back to riding after missing two races with a concussion. Kyle is the replacement for Josh Grant, who underwent shoulder surgery last week.
- Chisholm's previous teammate (on the Velocity3 Yamaha team), Bobby Kiniry, is rumored to be riding for the N-Fab/Ti-Lube Yamaha team starting this weekend. Velocity3 may have reached terminal velocity.
- Following a rough start to the season, N-Fab/Ti-Lube Yamaha's Chris Blose has been on a roll. The former H&H rider has qualified for four straight mains, and five of the last six. He tied a season-high 17th in Atlanta. It has not gone as well for teammate Phil Nicoletti, who seems to miss mains in heartbreaking fashion, weekly. "I had a huge crash in the first qualifying session of the day," said Nicoletti. "I went to the hospital to get a few things checked out and was eventually cleared to ride. I did the best I could but was quite sore from the crash. I am glad to still be healthy and will keep working hard to get to where I know I can be."
- HRT/MotoThump Honda's Jimmy Albertson made his second consecutive main in Atlanta after missing the main in San Diego. Albertson finished 19th in Atlanta.
- It's been a rough rookie 450SX season for BTOSports.com KTM's Les Smith. But the South Carolina native was able to pull in the reins on his season in Atlanta, making his second main of the season. Smith is sorta kinda on a different team now. He was supposed to pit with the BTOSports team this year while riding for Witt's End Racing, but then became the injury replacement for Michael Byrne, but now that spot has been taken by Andrew Short. So this moves Smith … well, he's still under the BTO tent but now he's technically riding for Witt's End. Essentially, his graphics have changed, and that's about it.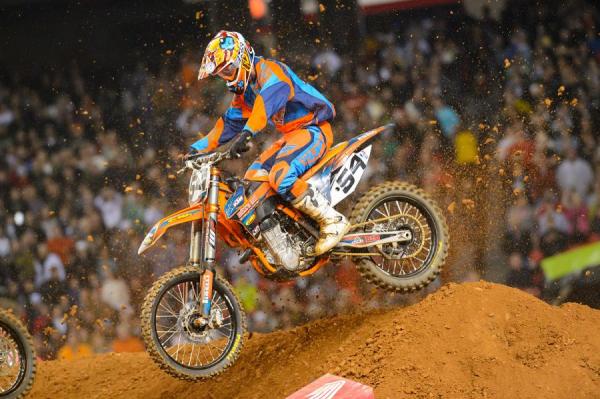 Les Smith had a change in graphics this weekend.
Simon Cudby photo
- What a start to the year for privateer Adam Gulley. The Missouri native, who's twin brother Aaron also races the East Region, qualified for his second consecutive main to being the season, which marks the first time in his career he has made consecutive main events.
- Another privateer making waves on the east is Texas rookie Mitch Oldenburg. The privateer made his second straight main in Atlanta, finishing a career-high 11th.
- If you take a look at the 250SX results closely you will notice that five different brands (Honda, Kawasaki, KTM, Suzuki and Yamaha) were represented in the top-five. Talk about parity!
- Team National Switchgear/Shea Racing/PassportWorld.com, powered by SMS Racing KTM's Steven Clarke made his first main event since St. Louis 2010 in Atlanta. Clarke, who hasn't raced Supercross in America since that season due to injuries and racing overseas, would finish the night 15th.
- Notables that failed to qualify in 250SX: Zack Freeberg, Ryan Zimmer, Shawn Rife, Zack Williams, Levi Kilbarger, and Jesse Wentland.