Georgia Dome
Atlanta

,

GA
Atlanta
Monster Energy AMA Supercross Championship
When Yoshimura Suzuki's James Stewart announced he had a torn ACL (suffered during practice at the first race of the year) it seemed like only a matter of time before the knee gave out completely and he would have to get surgery and call it a season. Instead, he's actually gotten stronger. He's avoided further damage to the knee despite a few getoffs, he resumed training and riding during the week, and finally, in Atlanta, got a good start in the main event. From there, it was on him to deliver, and he did. At the team hauler after the race, we talked with him about it—and Stewart made sure to mention how critical the team was in getting this win.
Racer X: In 2008, you had a torn ACL and dropped out of the series after the second race. This year, you've stuck it out. Is this why? Is it because you knew you could do this and get a win?
James Stewart: I stuck it out because the team stuck with me. Obviously we were bummed after Anaheim but they didn't change. When you feel like the team goes, "All right, we're done for the year," then it's like maybe I should get my [surgery] because they don't have confidence in me to get it done. But they did. So a lot of people just don't understand. Being at this point in my career, and being with Suzuki, I learned a lot from outdoors [last year]. We went in there and just won everything in the beginning. And in the third race we got hurt. And those guys were still there every weekend. We had a great off-season. And I felt like I would let myself down and the team down if I walked away. So as much as it sucked and as much as it hurt, coming to races knowing that I wasn't even close to 100 percent, knowing I wasn't riding during the week, it sucked. But at the same time those guys were never wavered, and honestly that's the real reason I'm here.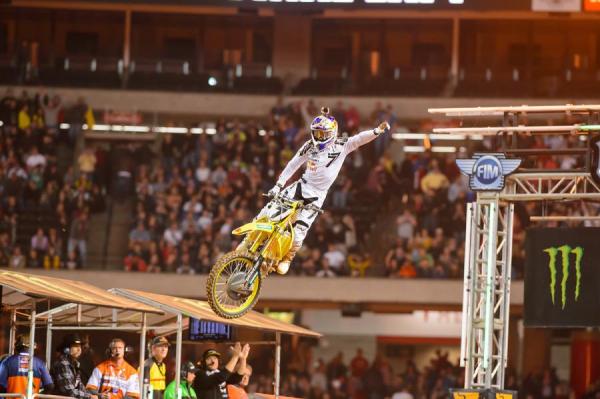 Stewart went wire-to-wire to claim his first win of the season in Atlanta.
Simon Cudby photo
Oh, so you didn't necessarily know you could get back to this form, and get a win?
I thought maybe I could do it. I didn't know if I could do it. I knew I had to be able to train during the week to do it. Especially with how deep the field is. Nobody's been hurt this year, and everybody's still here. You can win a race or you can finish seventh. So I knew if I wasn't in shape, it was kind of hard believing I could win. I knew if I stayed in it and didn't get hurt [more], which I was trying to do that in the first couple races, just being there. I knew I'd get better. It's cool to progress. We rode better at Oakland. Anaheim 3 we rode better. And in San Diego, and obviously Dallas. I felt like we could have done this at Dallas. But to get here and win this, it's even more special.
Yeah just explain the impact last week had on the team.
I think we actually got stronger after last weekend. I didn't come back to the truck mad, I didn't throw helmets. I didn't do anything. I actually picked the team up because I told them, "You guys stuck with me so why wouldn't I stick with you?" And that's why I love my team because, I can't say it enough, as bad as this year has been, and it's been bad, we never wavered. To have something that devastating happen, and almost be embarrassed at the same time last week sitting on the gate, to come back and get some redemption and do it the way we did it is special.
Yeah lets talk about the race a little bit. When was the last time you got a good start in a main event?
It has been forever! I haven't got a holeshot, the closest I've been up to was Anaheim 2 and I think I was still mid-pack, they just had a pileup. Or when Reed got us at Oakland, that was close then. Tonight, the way we did, we got out front, which is, not being out there for a while, is probably not the best situation to be in. You'd probably rather be in second catching the guy instead of just being there leading. But to do that and have Ryan [Villopoto] on me and then to really just kind of test to see where my training was, see if it was going to fade out. I was strong the whole time.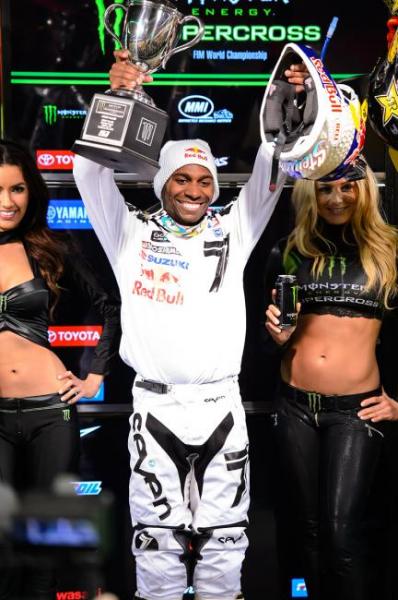 It was all smiles for Stewart on Saturday.
Simon Cudby photo
The one section you really made up ground was that rhythm lane, where you had to double jump off of the dragon back. Ryan wasn't doing it. How hard was it?
It was tough. I was holding my breath every time. I think it was maybe worth a tenth of a second if I got it right, but if I didn't get it right it was way slower. That was the only part of the track that I felt like I didn't really feel like I could do that every lap, easily. It was hard. The whoops, I had one sketchy moment through there. I got caught up with a lapper. He actually passed me back. But still, overall it was a win. Led all 20 laps, won the race, holeshotted, it was good.
Okay so the obvious final question, how good does this feel? Is this one of the most satisfying wins for you?
I think it is. I think the only person that would probably feel like this if they won is Trey Canard. As bad as my luck has been, it's not even been close to his. And he'll get his, it's coming. I think he would be the only person that would feel this good about a win. But for me I felt like a different person after last weekend. After last weekend, I was just sitting here like 'Dude, maybe this won't happen.' But we believed again and came back and those guys are ready to go. I mean, really, I struggled all day. I kept telling those guys I sucked all day. I didn't even like the track today. But we won.