Georgia Dome
Atlanta

,

GA
Atlanta
Monster Energy AMA Supercross Championship
When a rider struggles all season and then suddenly scores a wire-to-wire win in the main event, it's easy to think he just won because he had a great day. But race winner James Stewart and his crew actually feel like they were better last weekend in Dallas—Stewart says he was struggling with the track all day in Atlanta and never really felt that great. And when he got the holeshot in the main event, he actually felt like he had put himself in a tough position. Stewart hadn't grabbed the early lead in a main event in a long, long time, so to go from a year of mid-pack starts to a holeshot was a big step. "Getting a good start and being out there after you haven't been in awhile is probably not the best situation," said Stewart. "To do that and have Ryan on me, it was a test to where my fitness was. To see if I would fade out. But I was strong."
Stewart and the Yoshimura Suzuki crew were beyond pumped after the race--it's easily the happiest we've ever seen his trainer, Pablo. Certainly last week's dissapointing DNF made this one even sweeter. But while Stewart and most of the crew were high fiving and celebrating at the rig, a few other Suzuki technicians were over at the bike, downloading data and dissecting the machine. The work continues!
You can spin the main event two ways. In one sense, it was still a good one for Ryan Villopoto, since he made up two more points on points leader Davi Millsaps. In another, though, he left points on the table by not being able to get Stewart and shove him between himself and the points leader. Villopoto and the Monster Energy Kawasaki crew are taking the angle that finishing in front of Millsaps is all that matters, so they were content with the way the race went in Atlanta. At least, that's what they said.
Stewart was jumping a difficult rhythm through a timing section that Villopoto wasn't doing. It appeared that Villopoto was fast the rest of the way around the track, but he couldn't make up the ground he lost there. But you'll never get two sides to agree in racing. Kawasaki people think Villopoto was losing about four tenths of a second per lap in that area alone, but Stewart thinks he was picking up only a tenth.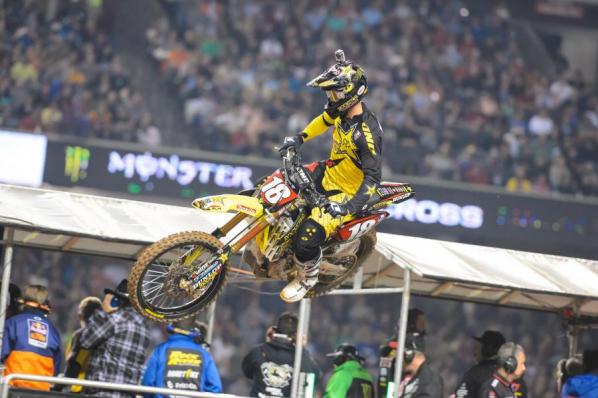 Davi Millsaps has been sick at the last two races. He's scored two podiums. That's how you win championships.
Simon Cudby photo

Davi Millsaps has actually just crossed through another difficult test and passed with ease. The points leader has been sick for the last two weeks, and rain and general rough weather has kept him away from the practice track much. By the end of the night in Atlanta, Davi was just beat, physically. "I haven't ridden much for the last two weeks just to being sick with the weather and stuff," he says. He hopes to finally clear this illness and get back to a normal training week this week, with plans to ride three days. But he admits the weather forecast, again, might keep him off the bike.
By the way, Millsaps pretty much matched the speed of Stewart and Villopoto in front of him, but he was about four seconds behind by the time he got to third. And, really, Justin Barcia, Trey Canard and Ryan Dungey stayed at about the same distance, too. There's hardly any seperation between the fastest riders in the game right now.
Well, one big name can't just blame it on the start: Chad Reed started just outside the top five, then got shuffled back a few positions early, and then had to dig his way forward just to get into the top ten. Not the race he was looking for.
Andrew Short looked fast on his new BTOSports.com KTM, but he washed the front end in a bowl turn in the main event, and hit the ground pretty hard. He picked himself back up to deliver a 14th.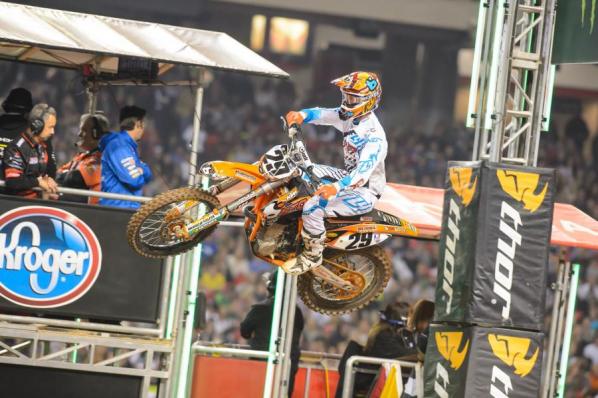 Here's what Shorty looks like on his new ride.
Simon Cudby photo

Justin Barcia still has some Bam Bam in him. He washed out in in his heat race while running second to Stewart, and then got up right in front his teammate Trey Canard. The two battled for a few corners, and then Barcia put some contact in trying to make the pass, and Canard ended up breaking some spokes. In the main event, Barcia took Justin Brayton down early, dropping Brayton from fourth to last. Some weeks, Barcia is a fresh revelation in the class, in other weeks, he's making enemies.

Canard ended up with a nice bounce back race, scoring a solid top five and holding strong under pressure from Ryan Dungey. You could really sum most of this race up with the start, though, as once again the track offered few places to pass. The matter was made worse due to the sticky Atlanta dirt, which actually makes roost a vision a bigger issue than most SX tracks. Dungey pulled a ton of tearoffs behind Canard for example. It's telling that the top six riders basically stayed in the same spot after the first few laps.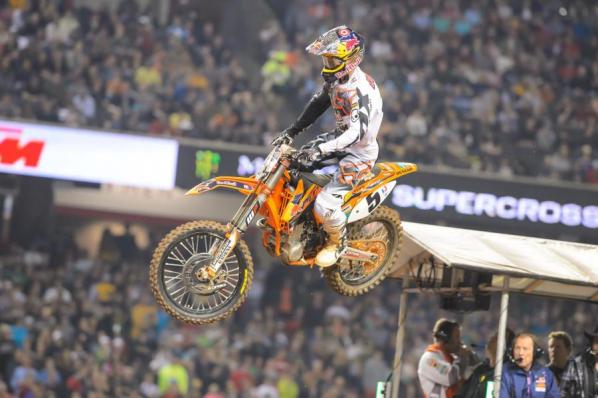 If starts have always been 85% of a supercross race, they have probably been ratched up to about 90%, in this loaded field. Ryan Dungey didn't gate well and ended up sixth. That cost him dearly in points.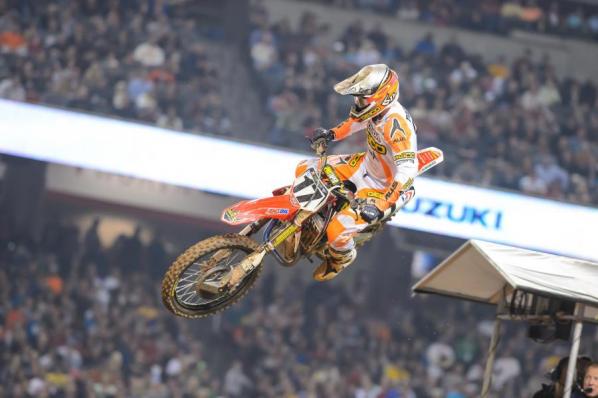 Eli Tomac showed the speed to run with the best of the 450 class, but learning to race with them will take some more experience.
Simon Cudby photos


Eli Tomac qualified second overall in his 450 debut, but starts, which have been an issue for him on 250s, plagued him again on the big bike. In general, he was a factor watching qualifying, but much less so in the races. He started poorly in his heat, then got a bad gate pick in the main and started badly again. "It's ridiculous when you look at the top eight, 10 guys in this class and they're all champions," Tomac said. "This class is no joke. I got a bad gate pick and it made it tough for me.

"It was a great learning experience, for sure," continued Tomac. "I learned a lot about the bike. It's a beast. There are some things I want to change in the suspension and gearing that I think will help. I also need to get past guys quicker on the track. Hopefully, it will all come together for me in St. Louis."
Starts also, again, did in Broc Tickle, who is not having the season many expected he would with the Dodge/RCH team.
"I got a pretty good jump," said Tickle. "(Davi) Millsaps, (James) Stewart and I were all side-by-side in the first corner. I tried to hug around the inside and Millsaps came right in front of me. I was trying to follow him and got a little bit close to him, so I slowed down. I almost hit him. That's when all those guys kind of funneled by me and I went back to 15th." He finished 12th.

Dean Wilson apparently had a big crash at the test track this week, and that may have had an impact on his riding in the Atlanta main event. Still, his Monster Energy Pro Circuit Kawasaki team wasn't happy finishing second, and they no doubt know what this type of confidence and momentum might mean for Wil Hahn.

Not like Hahn wasn't suffering, too. He was battling with his teammate Zach Bell in his heat race and smashed his boot against his engine cases, breaking his toe. But winning is the ultimate pain reliever. "My toe is shattered," said Hahn, who had eight previous podium finishes before this victory. "They stitched it up in the Asterisk Medical Trailer and I'll need to get it examined again but it looks pretty bad. Still, I wasn't going to let it stop me."

Marvin Musquin was a favorite heading into the night show after topping both practice sessions, but he couldn't find that kind of speed again. Hahn was able to get him in his heat race, and in the main, Musquin made a brief run at Wilson from third, but then Wilson pulled back away, leaving Musquin to ride all by himself.

Much, much better for rookie Jeremy Martin, who didn't qualify for last weekends main event. In this, his actual first 250 SX main, he was fifth, and challenging class veteran Blake Wharton for fourth late in the event. He also looked smooth doing so—Martin is going to be good.