Georgia Dome
Atlanta

,

GA
Atlanta
Monster Energy AMA Supercross Championship
Welcome to Racerhead, coming at you from the post-Indy Trade Show week where we all get to detox from three or four nights of socializing, catch up on emails and sleep, and then prepare for what's usually the first big race on the Eastern calendar, the Atlanta Supercross this weekend.
But then I had to take a detour to Manhattan, of all places, for a meeting with the new brass at NBC Sports and our outdoor motocross partners at Alli Sports. In other words, I crawled out of Indianapolis on Sunday morning, drove the seven hours home to say hello to the kids and switch clothes in my suitcase, take a nap, and then seven more hours straight to New York City!
The good news is the meetings all went really well and I believe this summer is going to be the best ever for Lucas Oil Pro Motocross on both television and online streaming, stay tuned for more on that in the weeks to come.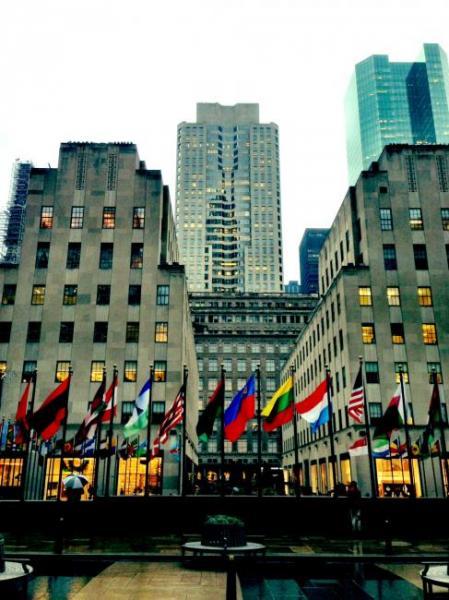 30 Rock
DC photo
But back to Indianapolis. Like a lot of folks in the motorcycle industry I was worried that the Dealernews Trade Show might be a real letdown. I knew that a lot of companies and dealers would not be attending for the first time in a very long time, due to the ongoing struggles of the economy, and I drove there last Thursday thinking the worst.
I am very pleased to report that the show was actually much better than I thought it would be, we had a whole bunch of traffic at the Racer X booth, and the big Supercross Viewing Party that we hosted on Saturday night so everyone could watch the Dallas SX together was absolutely packed—like, 2,500 people packed! Thanks to Feld Motor Sports, we were able to team up with Advanstar, Zero Electric Bikes, Fly Racing and apparently the makers of the world's most stackable red plastic cups for a send-off party that truly surpassed all expectations. And seeing Racer Xer Scott Wallenberg up on stage with a blues band doing his best Eric Clapton was downright cool. Great job on the entertainment, Scott, and Robert Johnson would have been proud! You were even singing with your eyes closed!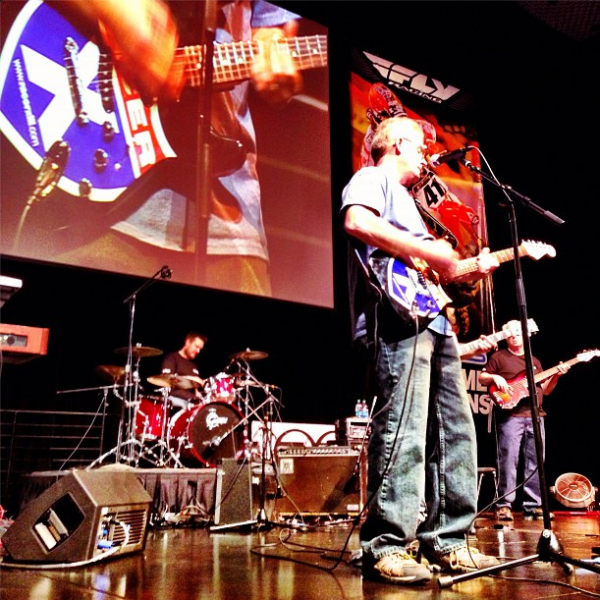 Racer X's Scott Wallenberg jammed out at the Indy Trade Show this past weekend.
DC photo
Let's get into the rest of the week...
HOW TO WATCH (Chase Stallo)
Round 8 of Monster Energy Supercross can be seen LIVE on SPEED Saturday with coverage beginning at 7:30 Eastern (thanks again, Feld Motor Sports). The Racer X crew will be bringing you live updates and play-by-play action all day and night so be sure to follow us on Instagram and Twitter (@racerxonline) and as always check out Racer X Online for updates from practice and the race.
HEAD SHOTS (DC)
By now we've all gone over the happenings of the big race in Dallas, where Ryan Villopoto got back up front, Davi Millsaps once again proved that Anaheim 1 was no fluke (that's six races and counting), and James Stewart proved he's having the worst year of his career, results-wise and now luck-wise too. There was also the return to glory for Dean Wilson, who was out since Hangtown with a shoulder injury, hired and released by JWR, and then scooped back up by Monster Energy/Pro Circuit Kawasaki, and now he's leading again. Old friends Blake Wharton and Wil Hahn rode quite well, and so did Kyle Peters and SX debutant Justin Hill. Marvin Musquin may have been the fastest man out there, but that first-turn crash ruined his chances of competing with Wilson.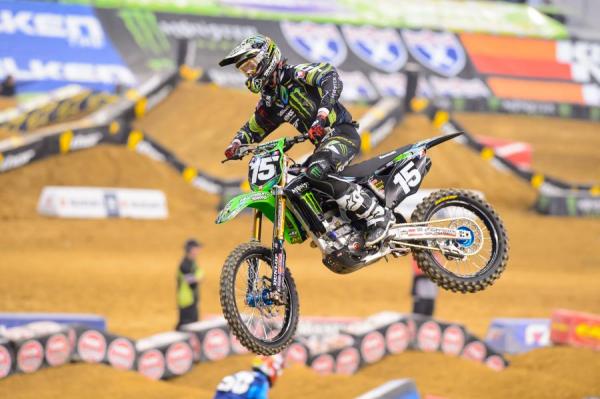 Wilson didn't skip a beat after his long-awaited return to racing.
Cudby photo
All of those things together did not account for as much bench-racing this week (or as many roars from our SX Party crowd) as the extraordinary crash of rookie Zach Bell. By now you've certainly seen it; if not, here's guessing you will see it a bunch of times tomorrow night on SPEED's coverage.
On the other hand, hardly anyone may have seen the crash of Ryan Hughes, the hardened veteran riding coach who crashed and broke a couple of vertebra in his back last week, and is now working hard in the hospital to make a complete recovery after some surgeries. Ryno posted on his Facebook page today, "Went on a 5 min walk today ( no not a typo of 5mile ) man that was a workout! Feels like i have 2 learning things over again #chargelife".
What do Bell's and Hughes' crashes have in common, other than the fact that both are incredibly lucky that the results were not worse? They both became permanent reference points to the ongoing conversation about safety in motocross and gear choice.
In Bell's case I think it's safe to say that his 6D Helmet withstood an incredible test, one that will stick in people's minds for a very long time. In my good friend Ryno's case, he has been outspoken in his theories about whether or not to wear a neck brace and what their presence may or may not do in a severe crash. Hughes was not wearing a brace, so it's hard to tell what difference—for better or for worse—one might have made. I truly believe it was his superb physical fitness that kept it from being a truly ugly spinal injury.
No matter, I believe it comes down to this: We all make personal choices every time we choose to ride a motorcycle, with how fast we go and how far we jump, as well as what we decide to wear on our heads or necks or chests or knees or anywhere else. There is a lot of very good equipment out there that is evolving and improving all the time. Choose wisely, because you and your family and friends never want to be in a position where you look back and wish you had made wiser choices in your protective equipment.
THE SHORT ON ANDREW SHORT-TO-BTO (Steve Matthes)
It was a couple of days after Andrew Short's L&MC team folded up that Short was approached by Forrest Butler of the BTOSports.com KTM team. Short, now a free agent, was on a production Honda-his works bike ripped away when the deal team away-and trying to keep racing. As one of the premier riders in the sport (you finish inside the top three in seven different series and yes, you're a premier rider) Short's services were in demand.
He was going to the races with the Kranyak Racing crew that helped Josh Hansen for one heat race and one unfortunate LCQ at Anaheim 1, but that team didn't have the funding to go any further, so Andrew was stuck in a hard spot. He wanted to keep going on a Honda and the team wanted to keep going with him. Unfortunately, the money wasn't there for either of those situations to keep going.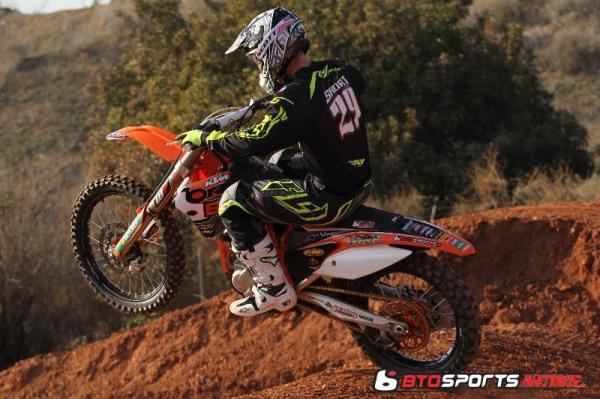 Short will be aboard a BTOSports.com KTM in Atlanta.
Courtesy BTOSports.com
Enter Butler and his revamped BTO team. After years of being a privateer team, the Butler brothers (all three of them) got some serious support from KTM this year in the form of basically a factory motorcycle. And it shows with the great rides from their fellow Floridian Matt Goerke this year.
But none of this was really explained to Short before the season, so initially when Butler approached him, he was hesitant for a few reasons. One is that he didn't know Butler or much about the team; two, he rode for KTM a couple of years ago (on a 350, it should be noted) and had one of his worse seasons in recent memory as it ended it on the sidelines when a bike malfunction left him with two broken elbows. And Shorty being Shorty, he bled red for so many years he wanted to make it work. But in the end, the realities of trying to fund a team by himself sank in and Andrew felt much better after a couple of talks with some different people.
"It took a couple of weeks," Short said. "I didn't know Forrest at all but I knew the support and passion was there. There was a lot of effort from a lot of people to make this happen. KTM does the motors and suspension in shop and then [Butler Brothers] are associated with Western Power Sports. Craig and Terry over there knew Forrest and they gave me the confidence that it would be done right. I'm also a lot more comfortable after talking to Roger [DeCoster] that the support and equipment will be there for me. It took a couple of weeks for it to come together, though."
After a day on the bike, Short knew his fears were put to rest: "Vince [Arimitsu, owner of BTOSports] and Forrest have truly partnered with KTM. I was so nervous and I don't know why really! Roger told me that they run things right and they'll follow through with what they say they're going to do."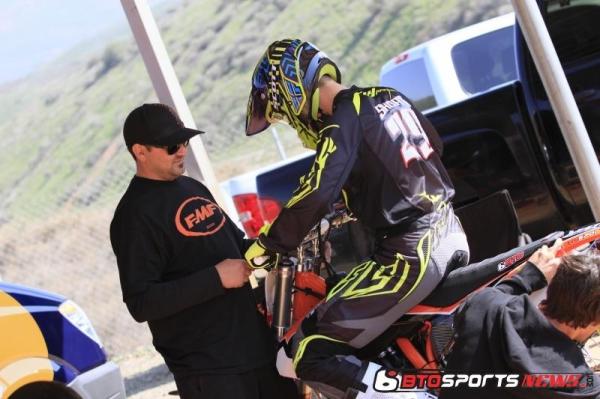 "I didn't know Forrest at all but I knew the support and passion was there. There was
a lot of effort from a lot of people to make this happen," Short says of the switch.
Courtesy BTOSports.com
With his wife, Jacki, and two kids in Texas at the ranch there, Andrew stayed back in California to begin anew with the KTM and BTOSports.com guys. David Nelson, the injured Michael Byrne's mechanic, will wrench for Short for now.
So how did the first day at the track go for the 29?
"Roger, Ian [Harrison], and Rob from RG3 were all out there as I was riding," said Shorty. "All the BTO guys also were there and it was cool. I'm excited about the whole deal. At first the bike felt weird and different for me. But then it all came back to me from when I rode them before. If you've never ridden one before they take a bit of time to get used to. But I felt better each time out there with the motor being super strong, and I'm looking forward to getting a good start."
For the uber-organized Andrew, this has been a rough start to the season off the track but on it, he's one of just four riders to be top ten at every race and is seventh in the points. With everything else in shambles, his riding has been unshakable.
"It's been crazy—this will be the third bike that I'll have ridden in eight races, so it's a steep learning curve in front of me and glad to get this settled. The last few months have been challenging and the task at hand was big. I'm happy to be with the team. There are a lot of people involved with this team and I'm looking forward to the stability of everything."
This is a great thing for the BTOSports.com KTM team, a great thing for KTM and for Andrew, well he's just got to keep doing what he's always does.
The Number — 71,009 (Jordan Roberts)
This week's number is brought to you by ... you, the fans! As Monster Energy Supercross rolls into Atlanta, Feld is preparing for their largest crowd of the season. Not only will fans from the Southeast make the jaunt to the region's centrally located Georgia Dome, but the venue has also been known to attract a generous fan base from the Midwest and South Central regions in recent years as well. That is why the Atlanta Supercross set an all-time record attendance for the series with 71,009 spectators at last year's venue.
Although attendance levels have spiked within the past decade, Atlanta hasn't been a stranger to supercross throughout the sport's decorated history. The first round of the 1977 Supercross Series was held in Atlanta's Fulton County Stadium, where Bob Hannah won the 250cc-only event after passing stalled Honda rider Jim Pomeroy in the very last corner!
The series moved into the Georgia Dome in 1993—one year after its completed construction—and has returned every year since. Will the Georgia Dome host a new all-time record crowd in 2013? Better yet, will you be there to help rewrite the history books?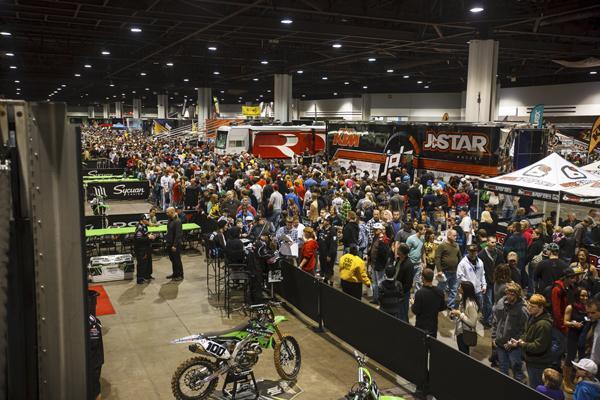 The Georgia Dome really packs 'em in.
Cudby photo
THE A.T.L. GOES BIG (Jason Weigandt)
Riffing more on the number above, ever since a two-year break in the mid-1980s, Atlanta has been a consistent stop on the SX schedule, but it only became a real haven for the sport more recently. You would think the warm, dry conditions of the Georgia Dome paved the way for today's huge crowds, since the old open-air Fulton County Stadium generally greeted fans in February with freezing night-time temps, and quite a few epic mud races, too. But even the Dome's appearance in 1993 didn't result in an overnight gain in ticket sales. No, the real growth came a generation later, when the event morphed into a must-see.
In the early-'90s, a crowd of 45,000 was common. The race didn't reach the 60,000-spectator mark until '99, and since then it's been on a steady climb en route to 70,000 count in 2006. Then last year marked the biggest yet. As far as we can tell, the largest draw ever at a supercross.
Why has Atlanta become such a hot spot? The event's growth parallels the general growth of motocross in the Southeast. Today, riders and families flock to training facilities along the Florida/Georgia state line. And just about every top rider can claim a house or track somewhere in the Southeast. Homegrown talent helps, too, as where once Ezra Lusk or Tim Ferry were the exceptions to the moslty-Californians rule of old, the likes of Ricky Carmichael and James Stewart made Florida the new place to be, and Georgia boys like Shea Bentley, Matt Walker and Florida-transplant Davi Millsaps have had success, too. These are isolated cases of top talent, in general, but having so many moto families living here during this time of year has to have helped.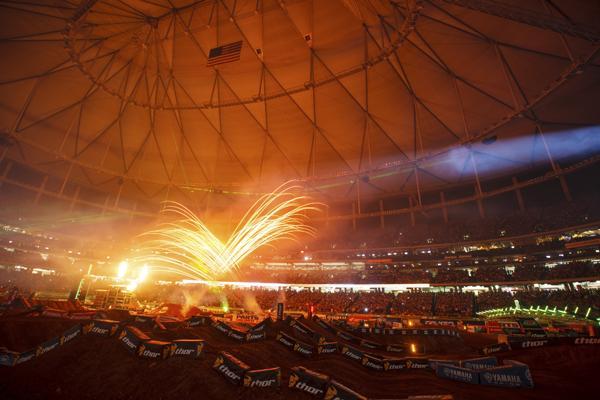 Atlanta is becoming the home race for more and more riders.
Cudby photo
We tip our hat to our friends at DMXS Radio, as well, as they make Atlanta seem like a real hub of moto activity, even if the show really consists of just a few close friends and some phone lines.
But I submit something else: There's no doubt that supercross has grown tremendously over the last twenty years, but much of that growth has come beyond Southern California. They didn't have problems packing Anaheim in 1985, 1995, 2005, or now. California was, is, and forever will be saturated with motocross fans. But markets all over the east have grown, and if you live in the Northeastern states (which hasn't had a SX since the early nineties) Atlanta, Indy and Toronto, Canada, are the only races within driving distance. Any wonder, then, that these three races have experienced the most growth over the years? (Toronto was drawing barely 30,000 fans when it started, now it's on the verge of 50,000, and Indy routinely hits the 60,000 mark).
Yeah, you'll hear plenty of southern accents in the Georgia Dome pits this weekend, but you'll also hear folks from Ohio, Pennsylvania, West Virginia, Maryland, New York and New Jersey in there, as well. Florida is too far, and nothing else is close enough—all roads for supercross fans seem to lead to I-85 and the Georgia Dome nowadays.
CHANGE-UP (BrownDogWilson)
Here's a press-day gallery from the Georgia by BrownDogWilson that shows all of that beautiful red Georgia clay, Kyle Chisholm on his mid-season change over to JGR Yamaha to replace the injured Josh Grant, Georgia's own Rock River Racing team, MotoConcepts.com's Mike Alessi and more.
PRO PERSPECTIVE – CRASHING (Jason Thomas and Ping)
JT: Wanted to weigh in on the incredible Zach Bell crash of last Saturday night. Crashing sucks. That's just how it is and always will be. Having said that, there are definitely different types of crashes and varying degrees of it. Every single one of us that has ever swung his leg over a bike has sampled the dirt at some point, some more than others. Honestly, some do it more gracefully than others. To me, crashing without injuring yourself is an art form, something that Ricky Carmichael himself was exceptional at. Being able to roll out of the crash and the awareness of your extremities' location mid-tumble is a skill that most would like to have. The sudden stop is something that we all try to avoid and where you find most injuries occur.
Most times, I could see a crash coming my way at least a few seconds before I was on the ground. Things go awry, I attempt to save it and that didn't always work. Those few seconds pre-crash can give me time to do a few key things:
Get away from that flipping ball of hot metal I was previously steering.

Look for a relatively soft spot to splat.

Configure my body in the least lawn dart-ish way possible.
While those things sound like common sense, it happens in a flash and most people tend to close their eyes and hope for the best. Of course, during those few seconds, a few things roll through your mind. Usually, it's a few choice words that aren't appropriate here.
Next, you wonder where your insurance card is and who can drive your truck home from the airport.
Finally, I always remember thinking, Man, that ground is coming at me fast. Once I did actually hit the ground, there was always that short time where you did the whole-body assessment. I always was praying that nothing started pulsating with pain. There is always a short window where nothing seems to hurt, and then if you are indeed injured, your body lets you know quickly. Getting off the track is always a huge priority for me, as many injuries have occurred after the initial crash. If all of these have happened and you are good to go, tracking down the expensive piece of art work I just destroyed is next on the list. Sometimes it waited right where I crashed and other times I had launched it into the neighboring county. Oops.
Crashing is one of the only negatives of this great sport, and learning how to escape injury can be a valuable tool.
Harlem Shake: KTM Edition
A True Privateer: Weston Peick
Atlanta Animated Track Map
Five Questions with Chad Reed
Tomac Rides a 450
Nathan Alexander: A Mechanic's Journey
Quad Amputee Drifting Car
Harlem Shake: Chile Edition
RANDOM NOTES
GuyB found out that Justin Barca is selling his home down hear MTF outside of Cairo, Georgia, for what seems like a bargain.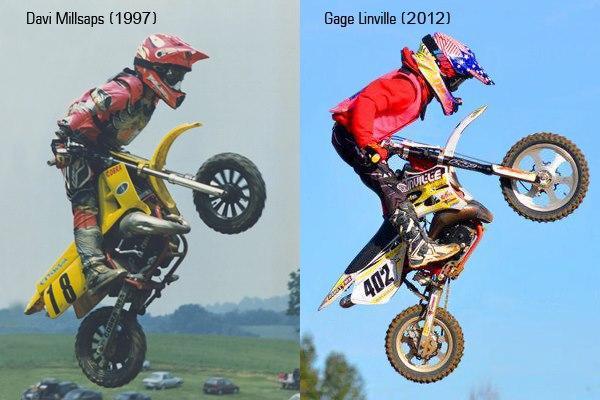 And check out this photo Pat Schutte had up on his Facebook page: "Cobra Generation, then & now! O.G. Cobra factory racer and current Monster Energy SX points leader Davi Millsaps and current top-Cobra Moto ripper Gage Linville spot their landings over the legendary King 50's front fender.
Yes, a concession stand burned down at Loretta Lynn's Ranch this week, but no one was hurt and the fire was nowhere near her home, but it was near the Fox Racing Den along the starting line. Here's a news report.
Thanks for reading Racerhead. See you at the races.