Georgia Dome
Atlanta

,

GA
Atlanta
Monster Energy AMA Supercross Championship
Last season, Canadian Cole Thompson excelled in his rookie season in 250SX and then on the 450 at the Nationals, before transitioning back to the 250 as a replacement rider for Star/Valli Rockstar Yamaha. Thompson then went back home during the off-season and won his first career professional race at the Monster Energy Supermotocross (formerly known as Montreal Supercross) in the MX2 Class. Back on his own deal for the 2012 season, after flirting with riding the Canadian Nationals for Leading Edge Kawasaki, Thompson had a career ride in the works at the East Region season opener in Dallas before suffering a spectacular crash. We caught up with Thompson this week to talk about his opening round performance and much more.
Racer X: First off, how are you feeling after that spectacular crash in Dallas?
Cole Thompson: Yeah, a little sore but hopefully I can get back on the bike Wednesday [today] or Thursday and then get ready for Atlanta.
So all set for Atlanta?
Yeah, I'm trying to be. It's weird because I landed on my back but the pain has been more towards my hip. It's hard to get around right now, but it's been getting better everyday and hopefully I can start riding on Thursday.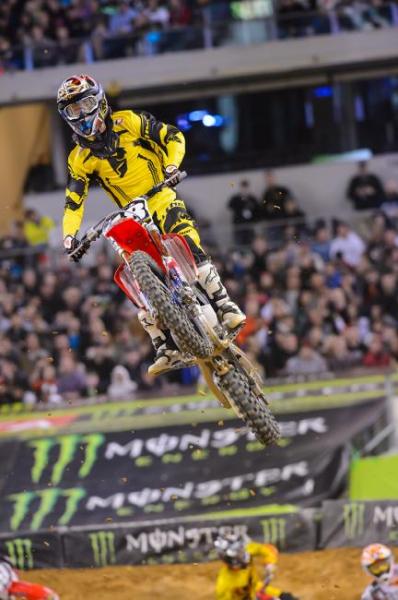 Cole Thompson was in podium position before crashing in Dallas.
Simon Cudby photo
Up until the crash, you had a career ride in the works. Was it a bittersweet night, in that you proved you had the speed to run the top pace but also that you crashed out?
It was definitely a good ride going before the crash. I felt like I needed to make a clear pass for third to keep the momentum going because I felt really good those first couple of laps. Right after I got into third I made a few mistakes and came around the lap before I crashed and tried to regroup and put together a decent lap to try and get away from Kyle [Peters] and try and give myself some breathing room to put in some hard laps. As I started getting my momentum going I went for the triple, which I did in practice a few times but had yet to hit it in the main, and I just mistimed it coming off the face and that was it.
There were reports this off-season that you had signed with Leading Edge Kawasaki [the Canadian team], but obviously that is not the case. What happened with the Leading Edge deal and what is your program now?
Right now I'm doing it on my own, basically the same thing I did last year. We know a lot more this year. I figured it out quite a bit through the halfway point of the outdoor series—just making sure the testing was there and my bike was up to standards. I brought that to my suspension guy, 26 suspension, and we focused on getting my bike comfortable and being able to run the pace of the fast guys.
The Leading Edge deal was hard. They wanted me for Canada, obviously because they are a Canadian team, but I was wanting to do as much American racing as possible. It was more convenient if we did our own thing because I had bikes and stuff. We just figured we would give it another shot doing it on my own before I make any team decision to go up to Canada.
It worked out for you last season doing your own deal as you got a fill-in ride for Star/Valli Yamaha toward the end of the Lucas Oil Pro Motocross Championship. Teams are already filled, but there is always a chance for a fill-in ride. What do you think it's going to take to you back on a teams radar?
Obviously the goal is to be back on a team, but right now I'm really happy with my program and my bike. My main focus is to get through the rest of supercross and then after that try and see what I can get for outdoors. If not, I will still do my own thing for outdoors. I'm really happy with how everything came together this year. I just need to put in another good year with what I have and make the best of it and see if I can something for 2014.
Dallas took a lot of criticism regarding the track. What were your thoughts on the track?
It was different for sure. I thought it was going to be a little gnarlier for what it was last year. I thought it was a decent track, you could still make passes you just had to be a little more aggressive in the corners. The whoops not being big was different from what I've seen in the previous years. Other than that I thought it was a pretty good track.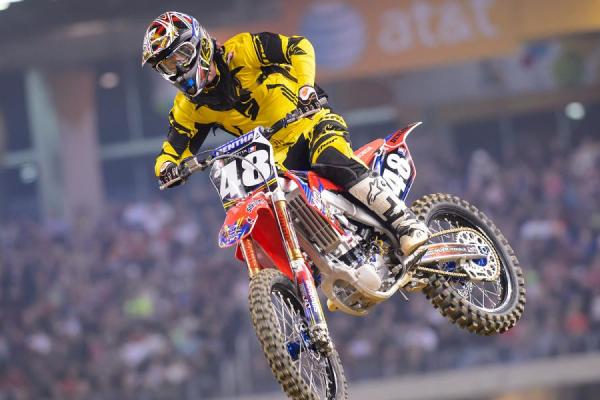 Thompson is expected to return in Atlanta.
Simon Cudby photo
The first round nerves are gone, so you'll probably be a little more comfortable coming into Atlanta. Do you have the same expectations as you did at the season opener?
If I can race Atlanta, obviously, the same thing, try not to focus on anyone else but myself. Make sure I get a fast time in qualifying so I have a good gate pick in the heat and make sure I get myself in the main. Then try and get a good start in the main and try and push a little harder the first couple of laps and make sure I can get up front.
Did you make any major changes this off-season? Did something click that has seen you make such strides from your rookie season?
Not really any changes, I think it was just last year I jumped into it really quick and it took me by surprise how much harder the professional level was compared to amateurs. I never really had anyone to tell me what to do to be prepared for it. So it was just learning it last year and then this year just knowing what it takes and how much work you need to put in during the week to get your body ready and get the bike up to the level to be able to race against the factory teams.
Thanks, Cole. Who would you like to thanks for helping you out this season?
I would like to thank MXschools.com, Axtour, Jetwerx, 26 Suspension, Thor/Parts Unlimited, Oakley, Alpinestars, Pro Circuit, Works Connection, Silkolene, Throttle Jockey, EVS Sports, Lambton Diesel Specialist, BPM Motors, GPF, Dunlop, Moto Tassinari and Hinson.