Red Bull Frozen Rush: TORC on Snow
February 17, 2013 11:50am
It was sunny but chilly in Southern Vermont Friday as a TORC Pro-4 off-road racing truck took to the snowy incline of the Mount Snow ski resort to prove what's possible at Red Bull Frozen Rush. Just one week after record-breaking snowfall in the Northeast, champion off-road racer Ricky Johnson took advantage of the extra powder by riding a figure eight trail with jumps and berms while thousands of winter and motorsports fanatics cheered him on. Ricky faced an onslaught of new challenges when entering the frozen playground and while plowing upward, hitting jumps, he destroyed the perception that off-road racing trucks can't succeed on snow. 

Looking through the eyes of a three-time TORC Series champion and experienced all-terrain driver Johnson, all that lied ahead of him was soft snow, steep terrain, ice and freezing temperatures - all uncharted territory for his 900-horsepower truck. It took three practice runs and two final bolts up the mountain to successfully complete the specially designed track.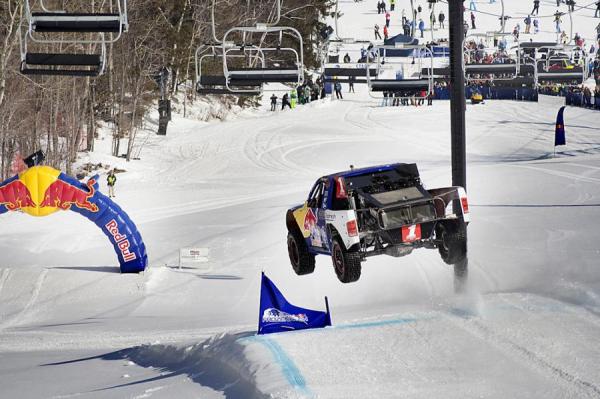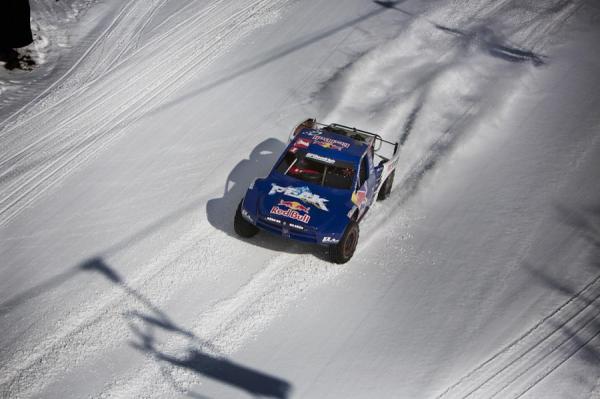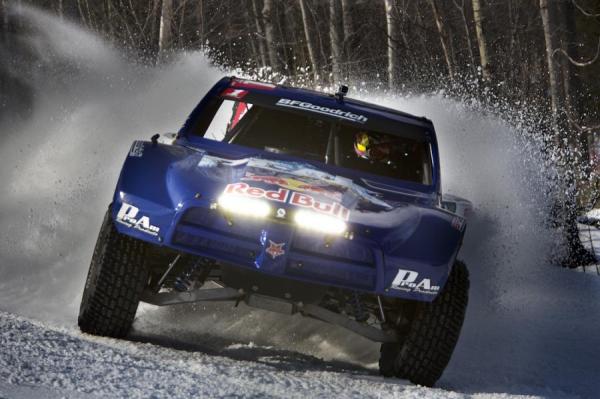 Red Bull photos
[View video HERE]

"When I first walked through the course and saw how steep it was, I knew it was going to be a challenge. With every run I took today, I learned more. Snow is like water; it has a mind of it's own and it's continually changing. You really need to work with the mountain to keep control," said Johnson. "Today was a dream come true, freestyling on a mountain with my Pro-4 race truck." 

Helping Johnson and his rig up the 30 degree black diamond Yard Sale run were specially designed 1/2 inch spiked BFGoodrich Mud Terrain KR tires, which were used to provide additional traction against the steep incline. Fighting against an engine that hates the cold, less responsive shocks and a transmission that needed an hour of "getting ready" time, the  Pro-4 racing truck proved to be the little engine that could. Looking for an extra challenge, Johnson requested an extra jump built below Yard Sale's crest, which sent him airborne over the top in an epic conclusion of an unforgettable challenge.  

Not to be tried at home, Northeasterners can now rejoice, the Green Mountains of Vermont aren't just for traditional winter sports anymore.