Marvin Musquin and Wil Hahn also looked fast and confident, and Musquin was second in the final times. But late in the final session, rookie Jeremy Martin slotted his Yamaha in ahead of Hahn to take third fastest. Martin looked smooth, too. He could make some noise tonight.

The 450s will be harder to predict, because all the top riders were swapping fast times, especially in the final session. Davi Millsaps was seventh in the first times session, but then bounced back with the fastest time in session two. Then, James Stewart beat Millsaps time, but Millsaps came back to top it again and end up fastest overall in practice. Boom!

Stewart's fast times were surrounded by some rough moments. He had a big crash in the first timed session, clipping a jump and having to bail off the bike. He returned for the final session and then had a smaller crash, but got right back up to log the fastest time (that Millsaps eventually topped). The Suzuki boys say James is finally getting back to having normal weeks of riding, and his knee injury really isn't hampering him much anymore.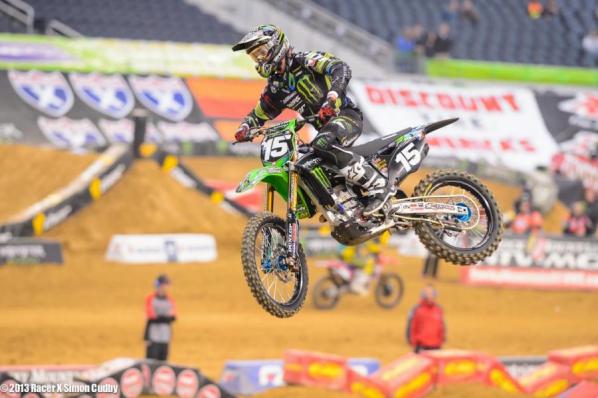 Dean threw down in 250 practice.
Cudby photo
The track seems one line and passing will be tough, and with the 450 times so closely stacked, the start is going to determine the race more than anything else. Expect some close competition tonight, just like the race last week in San Diego, where the track also didn't seem to have much to separate the pack. The hard-pack dirt is sending everyone scrambling to find traction. We'll see who finds the best combo.

In some news and notes, Andrew Short is still riding a Honda tonight for the Kranyak Racing team, but we're hearing he'll be part of the BTOSports.com KTM team starting next weekend in Atlanta. Stay tuned for more on that.

450 Overall Times

1 18 David Millsaps Suzuki RM-Z450 44.651
2 7 James Stewart Suzuki RM-Z450 44.782
3 5 Ryan Dungey KTM 450 SX-F 44.898
4 1 Ryan Villopoto Kawasaki KX 450F 45.055
5 51 Justin Barcia Honda CRF 450 45.139
6 41 Trey Canard Honda CRF 450 45.376
7 84 Chris Blose Yamaha YZ450F 45.384
8 10 Justin Brayton Yamaha YZ450F 45.463
9 85 Kyle Partridge Honda CRF 450 45.599
10 22 Chad Reed Honda CRF 450 45.656
11 62 Matthew Goerke KTM 450 SX-F 45.736
12 20 Broc Tickle Suzuki RM-Z450 45.950
13 800 Mike Alessi Suzuki RM-Z450 46.159
14 29 Andrew Short Honda CRF 450 46.190
15 55 Jimmy Albertson Honda CRF 450 46.246
16 47 Matthew Lemoine Kawasaki KX 450F 46.500
17 57 Ben Lamay Yamaha YZ450F 46.513
18 33 Joshua Grant Yamaha YZ450F 46.597
19 39 Robert Kiniry Yamaha YZ450F 46.766
20 75 Joshua Hill Suzuki RM-Z450 46.817

250 Overall Times

1 15 Dean Wilson Kawasaki KX 250F 45.127
2 25 Marvin Musquin KTM 250 SX-F 45.816
3 77 Jeremy Martin Yamaha YZ250F 45.946
4 19 William Hahn Honda CRF 250 46.148
5 42 Vince Friese Honda CRF 250 46.574
6 67 Gavin Faith Honda CRF 250 46.646
7 13 Blake Wharton Suzuki RM-Z250 46.675
8 48 Cole Thompson Honda CRF 250 47.007
9 167 Zachary Bell Honda CRF 250 47.117
10 613 James Decotis Honda CRF 250 47.194
11 317 Justin Hill Kawasaki KX 250F 47.255
12 73 A J Catanzaro Kawasaki KX 250F 47.285
13 87 Lance Vincent KTM 250 SX-F 47.561
14 248 Mitchell Oldenburg Honda CRF 250 47.640
15 71 Zackery Freeberg Honda CRF 250 47.755
16 50 Kyle Peters Honda CRF 250 48.048
17 266 J-Dub Wentland KTM 250 SX-F 48.079
18 93 Landen Powell Honda CRF 250 48.099
19 393 Daniel Herrlein Honda CRF 250 48.174
20 45 Gareth Swanepoel Kawasaki KX 250F 48.244