AT&T Stadium
Arlington

,

TX
Dallas
Monster Energy AMA Supercross Championship
Travis Bright wasn't a huge amateur star. He wasn't garnering headlines when he made his pro debut in 2011. But the grounded kid from California has managed to make a name for himself during his brief professional career. After a breakout rookie year—where he made four Lites main events—Bright had a major setback last year, breaking his wrist just weeks before the start of supercross. Now, in his third professional season, Bright is back on track and making mains again—two of six thus far in 250 West SX. We caught up with Bright earlier this week to talk about his season and much more.
Racer X: You're now in your third professional season. You put yourself on the map in your rookie season making four mains, then tailed off a little last year, but you are back on track this season, having made two mains thus far. What has been the biggest difference from last season?
Travis Bright: Last year going into the season, I was coming in feeling a lot better than my rookie year. But about a week before Anaheim I ended up breaking my wrist and missed all the west coast races until Seattle and Salt Lake. This year I'm finally coming in healthy and have been able to make all the races, so that's obviously been the biggest difference from this year to last year.
You are training with Timmy Weigand. How long has he been a part of your program?
I have been training on the bike with Timmy for about three years now. I worked with him at the tail end of my amateur career and my entire pro career.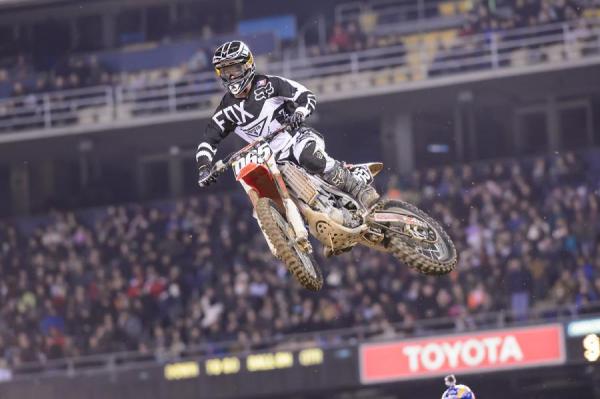 Bright made his second main of the year in San Diego.
Simon Cudby photo
A lot of young guys talk about not having the guidance of someone like Timmy, for example, behind them. How has he helped you adjust to the professional ranks, and how to prepare yourself each week?
With Timmy it's probably different than most because he has been there and he has raced at that level. I guess you get some riding coaches that haven't been there before. He has a sixth place in a Supecross before and he raced many years at the privateer level. His knowledge and experience from what he has done is huge as far as how the whole program works. If I'm feeling nervous or off my game…he has been there for all of those things. He has been a huge piece of the puzzle.
I read something interesting, that when you were younger your mom didn't want you to have a bike.
Yeah, when I was younger we would ride in the desert during Thanksgiving, but I never had a bike. My dad had a bike and I would ride with him, but I always wanted one. I finally talked her in to getting me a PW80 and we would ride the desert but no tracks or anything. I always wanted to go ride tracks but she would never let me. A family friend of ours invited us to go to supercross in '98 or '99 and once we went to supercross that one time she was all for it. She said, "Yeah, let's go racing, let's go to the track." And ever since she has been really supportive.
So what does she think now that you're racing in front of 60,000 people?
Yeah, every race she absolutely still hates the start. She still gets super nervous, but she loves it.
Now that we are heading into a six-week break, what do you do to stay mentally prepared during those six weeks?
I think the biggest thing…you obviously still want to ride, but you almost have to force yourself to take a week or two off and just kind of step away from it for a while. The weeks leading up to racing and then racing six weeks in a row is so taxing on the body and mentally…it's so stressful every weekend worrying about qualifying, and then the heat race and then putting in 15 good laps. So just stepping away for a couple of weeks is good. I spend a lot of time on my mountain bike, so I will probably do more of that. I actually did go riding today with my good buddy Lars Lindstrom [TwoTwo Motorsports mechanic]. It was just mellow. No structure. Just going out and having fun on a dirt bike versus a super structured day.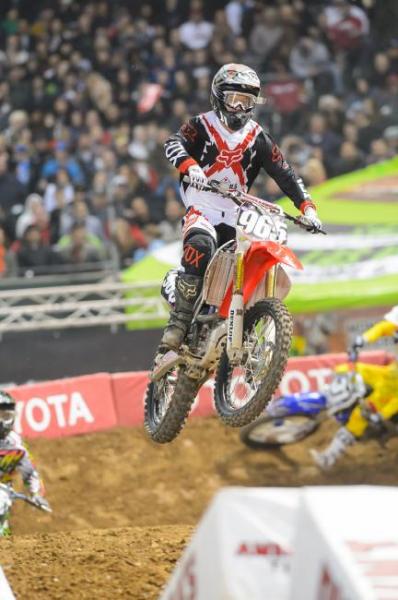 Bright is currently 24th in points.
Simon Cudby photo
Do you mix in outdoor testing as well? Do you take a week or two off, outdoor test for a week or so and then get back into supercross?
I think my plan right now is to take a couple weeks off and keep it pretty mellow. I'm not exactly sure if I'll be racing outdoors or not. I definitely don't have a ride lined up right now, so if we did it would be on a privateer basis. With that said, I will still do a couple weeks of outdoor riding and some testing in case we do decide to do outdoors. And then probably about three weeks before Seattle we will slowly get back into supercross and then ramp it back up.
The west is very deep this year, with a lot of talented guys missing mains. We have three rounds left and then on into outdoors. What are the goals moving forward?
The goal is still the same, try to get into the main every week and put in a solid 15 laps. With the class being so deep this year, you look at 1st-15th and there are legit really, really talented people. I mean, even 20th place is obviously still a really good rider. Just getting out of the heat race and into the main and not having to go through the LCQ is definitely still the goal.
Thanks, Travis. Who would you like to thank for helping you out this season?
Yeah, I got to thank Asterisk, Racers Edge, Dirt Digits, Maxima, Yoshimura, Factory Connection, Dunlop, Matrix, Newbury Park Bike Shop. I would also like to thank Jason Aeck from the Racers Edge, Beeker and Mikey from Fox, Brian and everyone from Dunlop, Jim Castillo, Timmy Weigand, Lars Lindstrom, Eric Siraton, Andrew Steindeld, friends, family and training buddies. And most importantly, my parents.