AT&T Stadium
Arlington

,

TX
Dallas
Monster Energy AMA Supercross Championship
Normally when we dial in GEICO Honda's Wil Hahn, we're in for some high comedy. But as the East Region 250SX campaign nears, we found Wilbur more serious and focused than ever. He's got a goal, and the quest to meet it starts this weekend in Dallas.
Racer X: Okay Wilbur, I almost don't want to do an interview about how healthy and ready you are because we've had a bad jinx habit here lately. Is this a problem?
Will Hahn: No, not at all.
Okay, great. Last year you started the season strong but got injured, and the year before that you missed a lot of time. You've got to be pumped to just get a whole season under your belt.
Oh yeah, exactly. It's also been a long time since I've had a complete off-season to prepare. I've had time and I've been prepared before, but not this much time and not this level of preparation.
So last year you were rushed a little bit?
A little bit. Not only that, but, the whole previous season, I was on the couch for nine of 12 months. I was on the couch for a long time, so even when I came back last year, I had speed, but not what I have going on now.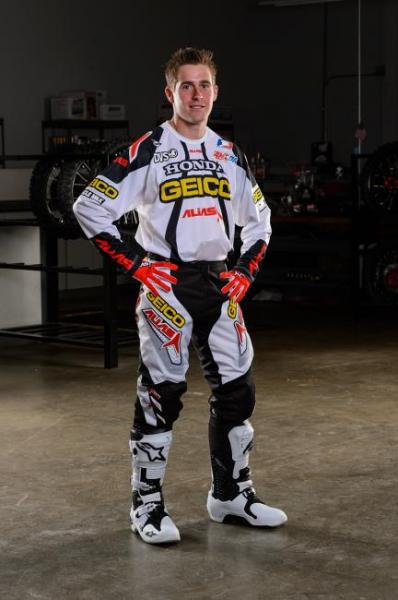 Hahn is healthy and looking for his first career win.
Simon Cudby photo
Right. How did you end up in the East?
It came to a point where it was kind of my choice but also the teams, and they thought this was the way to go. I couldn't agree more, this is how I wanted to do it.
You have raced east before.
Yeah in 2009 I raced east. I like some of the towns there, and I get to race in what's my hometown race this weekend.
Talk about that—we normally think of you as Texas-based but you've been in California lately?
Yeah, toward the end of outdoors I bought a house out here. So I did a lot of training out here last year as well, I'm basically here full time. It's good to be around my team, my mechanic my trainer and my chiropractor all the time. It just keeps things going and makes my life really simple. All I do is train and ride and make dinner and to go bed. It's a nice routine.
Let's talk expectations. We posted an East preview yesterday and I said you're probably the best rider who has never won a supercross before—because you've come close plenty of times. Is that job one this year, finally get a win?
I feel like, going in, I'm a top three guy. No doubt about that in my mind. The goal is obviously to win races, but I want to put a season together. If I ride like I know how to ride, at the end of the year I'll have the result I want.
So you don't put a number on where you should be?
Well, at the end of the day, if I ride like I've been riding here and like I'm prepared to do, I think it will all come together. But yeah, I want to get a win. I'm coming down to the end of my time in the 250 class and I want to go out strong.
Man, your team has certainly had faith in you sticking with you through some injury-riddled seasons, so I'm sure you want to repay their faith, too.
Exactly. They've been really good to me, they never once hinted at dropping me, so I want to pay them back for that, and this is that time.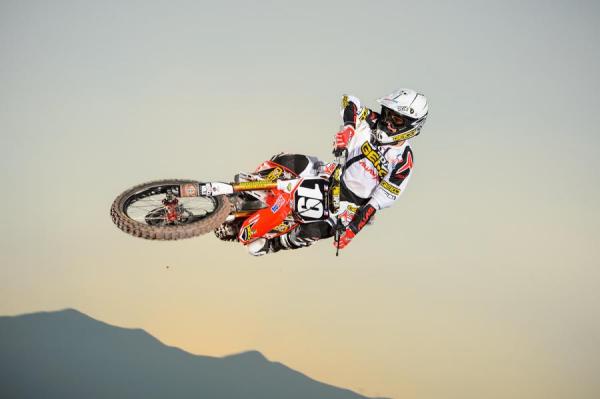 Can Hahn pick up his first win at his home race?
Simon Cudby photo
Do you look at the competition out there right now like Wilson, Musquin, Wharton or do you just focus on your own deal?
Of course you look at it. You have to go in there knowing you've prepared well and you've gotten ready as best as you can, and then you see how the cards fall. You go out there and get a good start and put yourself in good positions to make it happen.
You know what's weird about this race? It's one of those strange, nerve-wracking races for you guys because it's the opener, but every other rider has already gotten to near mid-season, or they're not even racing and on break. Do you still get nervous?
You do, because you don't know what everyone is doing and where you stand. It's kind of weird because the hype of Anaheim is gone, but it's still the opener for the 250 guys so if you're in that, you still have those issues, and I think that's cool. But you've got to approach it like any other race. Yeah, it's our opener and all and that makes it cool, but you've got to, like I said, just let those cards fall, put yourself in a good position and get that result you want.
Overall, you've got to be excited. Are you just dying for Saturday to come?
I'm pretty much at that point, and that's especially because I've got a lot of friends and family coming to the race. It's been a long time since I've raced, too, so I want to get it going. It's been good so far. I was talking to someone about it today, they were asking about the nerves thing, and I said I do have that feeling already, but in a good way. The position I'm in right now, I haven't been there in a long time. I felt prepared to win a title coming into 2011 [Hahn crashed out of Anaheim 1 practice that season] and that's how I feel now. If anything, I feel even better. I've put in my work, I've worked hard with the team, and obviously the bike is good, we've seen Eli win races on it already. So it's a good feeling to have right now.
Will your bro be there?
Oh yeah, he'll be there. I'm pumped to have everyone there. It's definitely going to be a fun weekend.