Qualcomm Stadium
San Diego

,

CA
San Diego
Monster Energy AMA Supercross Championship
The "is
Davi Millsaps
for real?" question is officially over, because the Rockstar Energy Racing rider has done it again. With another great start and solid ride, he won the San Diego Supercross to take his second win of the season. And that further stretches his SX points lead. Say it: Millsaps is gonna be a handful for the rest of these guys all season long.
Second went to Honda Muscle Milk's Justin Barcia, who stayed close to Millsaps all night but wasn't ever able to get quite close enough to show him a wheel. Millsaps took on bigger pressure from Chad Reed early. For the first half of the race, it looked like Reed had his San Diego mojo back (the veteran Aussie is the all-time leader in wins at this stadium). Despite struggling in practice and his heat, Reed got a good start in the main, and then closed on Millsaps and tried to take the lead. But then the TwoTwo Motorsports Honda rider washed the front end in a corner and went down, dropping him to seventh. Barcia picked up second from there.
Early, Dodge Sycuan RCH Suzuki rider Broc Tickle was up front, but he couldn't hold the pace of the leaders, and the riders began to pile up behind him. JGR Toyota Yamaha's Justin Brayton broke trough first, and Red Bull KTM's Ryan Dungey and Yoshimura Suzuki's James Stewart eventually got around, too. When Reed fell, he landed in the middle of that group, and was joined by Monster Energy Kawasaki's Ryan Villopoto, who got a bad start. The Brayton/Dungey/Stewart/Reed/Villopoto pack was tight, but, amazingly, a good two straightaways behind the Millsaps/Barcia battle up front.
When things finally settled, Dungey was in third ahead of Villopoto, then Villopoto fell in the same corner Reed did and dropped back behind Stewart and Reed. Reed stayed close to Stewart all the way through, but Stewart never yielded and held him off for fourth. Reed was fifth, Villopoto sixth, and Brayton seventh. Trey Canard got a bad start on his Muscle Milk Honda and took eighth. Andrew Short was ninth, and MotoConcepts Mike Alessi was tenth.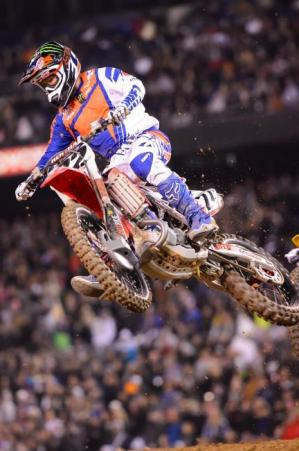 Early, it looked like it could be Chad Reed's night, as the veteran closed up on leader Millsaps. A crash dropped him back.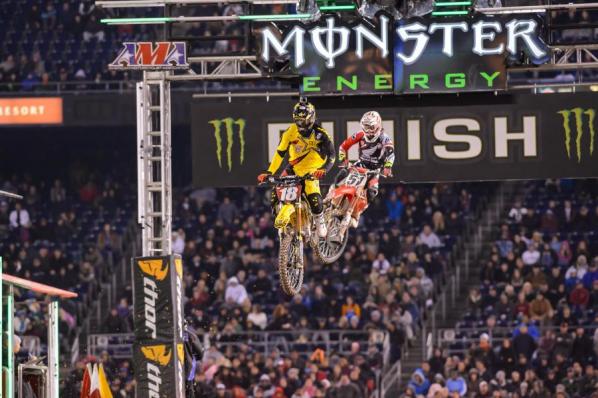 Reed's crash left the win between Millsaps and Barcia. Barcia got close, but Millsaps never wavered under pressure.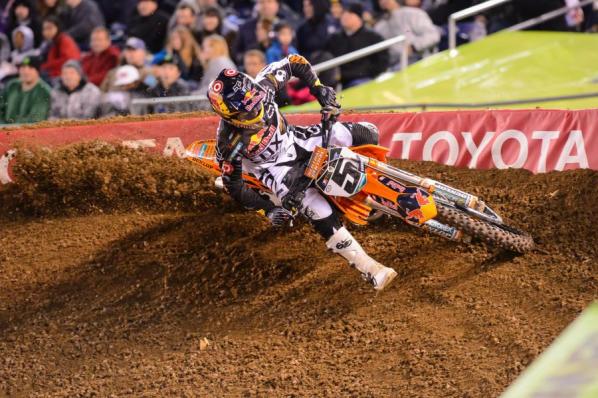 Dungey came out on top of a torrid battle for third.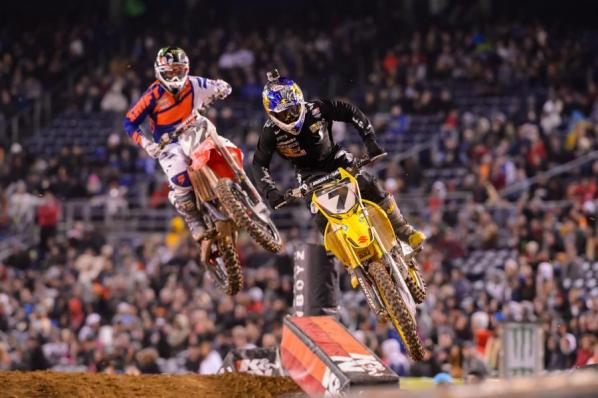 James Stewart took fourth, holding up under some pressure from Reed.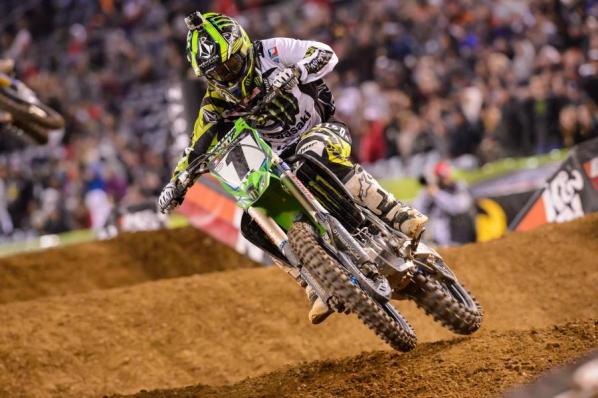 Ryan Villopoto didn't have the night he wanted, with a bad start and a crash dropping him to sixth.
Simon Cudby photos
In the 250 class, GEICO Honda's Eli Tomac got back to his winning ways, and points leader Ken Roczen finished up right behind him on his Red Bull KTM. But while seeing those two up front isn't a surprise, it actually was surprising that earlier in the day, they weren't the front runners. Monster Energy Pro Circuit Kawasaki's Martin Davalos was fastest in both practice sessions, and then won his heat race. Star Racing Yamaha's Kyle Cunningham won the other heat. But in the main, Davalos crashed on the first lap, and Cunningham got a terrible start.
Rockstar Energy Racing's Jason Anderson grabbed the holeshot and rode strong early, holding Tomac at bay. Roczen was fourth early on his Red Bull KTM, battling J-Star JDR KTM's Malcolm Stewart. Stewart looked good for fourth, until a late crash in the whoops ended his night.
Roczen soon moved to third. Tomac and Anderson nearly tangled, and that slowed Tomac enough to let Roczen close in. But Tomac was in a groove, and he and Anderson quickly pulled back away from Roczen. Then Tomac sliced inside of Anderson to take the lead and take off. A few laps later, Roczen block passed Anderson to take second. By then, Tomac had a 4.5 second lead, but Roczen started closing the gap quickly as Tomac got into lapped traffic. Through the final turn, Roczen pulled right up on Tomac's rear wheel, and then nearly pulled of an incredible last-ditch pass in the final turn. Tomac just hung on to take his fourth win of the year. Roczen and Anderson rounded out the podium spots.
HRT MotoThump rider Austin Politelli was fourth—a career best—and fifth went to Cunningham.
Tomac cuts Roczen's lead down by a small amount in the 250 West series, which now goes on a break before returning at Seattle all the way into April.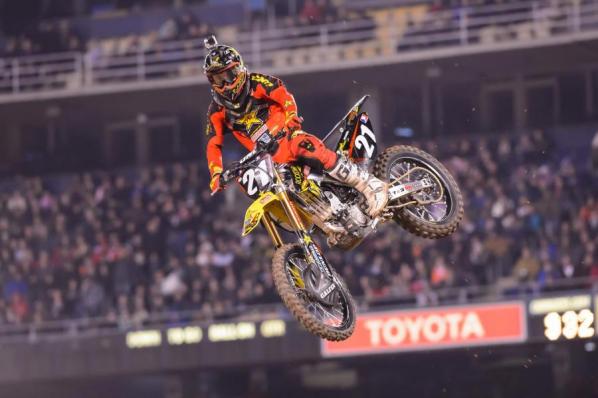 After a series of bad starts, Jason Anderson finally nailed a good one in San Diego, leading early.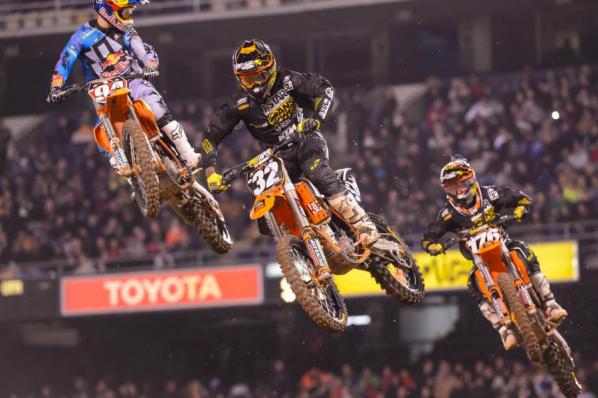 Ken Roczen (94) found himself sandwhiched between the J-Star JDR KTMs of Malcolm Stewart and Joey Savatgy. He would eventually move into third, and then second, in the main.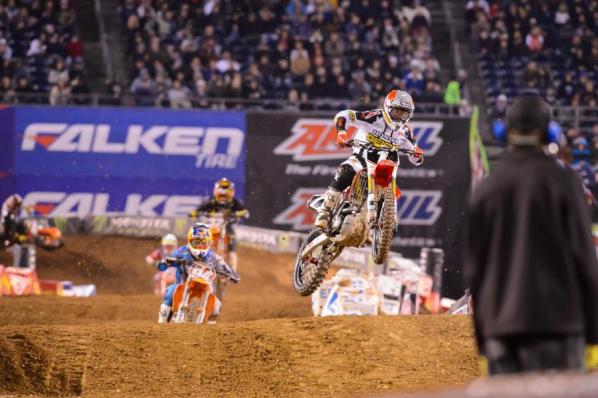 Eli Tomac ripped the the Lites win, although Roczen cut it close at the end.
Simon Cudby photos
450 SX Results

1. D. Millsaps
2. J. Barcia
3. R. Dungey
4. J. Stewart
5. C. Reed
6. R. Villopoto
7. J. Brayton
8. T. Canard
9. A. Short
10. M. Alessi
11. B. Tickle
12. M. Goerke
13. M. Lemoine
14. W. Peick
15. P. Larsen
16. R. Kiniry
17. C. Blose
18. J. Hill
19. B. Lamay
20. K. Partridge
250 SX

1. E. Tomac
2. K. Roczen
3. J. Anderson
4. A. Politelli
5. K. Cunningham
6. T. Baker
7. Z. Osborne
8. T. Rattray
9. M. Davalos
10. J. Nelson
11. J. Savatgy
12. J. Cachia
13. C. Craig
14. J. Ramos
15. C. Seely
16. A. Siminoe
17. C. Gores
18. T. Bright
19. M. Stewart
20. C. Plouffe
450SX Class Points

1.    Davi Millsaps, Murrieta, Calif., Suzuki, 132
2.    Ryan Dungey, Belle Plaine, Minn., KTM, 113
3.    Ryan Villopoto, Poulsbo, Wash., Kawasaki, 105
4.    Trey Canard, Shawnee, Okla., Honda, 105
5.    Chad Reed, Australia, Honda, 97
6.    Justin Barcia, Ochlocknee, Ga., Honda, 83
7.    Andrew Short, Smithville, Texas, Honda, 83
8.    James Stewart, Haines City, Fla., Suzuki, 74
9.    Justin Brayton, Fort Dodge, Iowa, Yamaha, 67
10.    Broc Tickle, Holly, Mich., Suzuki, 57

Western Regional 250SX Class Points

1.    Ken Roczen, Germany, KTM, 138
2.    Eli Tomac, Cortez, Colo., Honda, 121
3.    Cole Seely, Newbury Park, Calif., Honda, 95
4.    Jason Anderson, Edgewood, N.M., Suzuki, 88
5.    Kyle Cunningham, Aledo, Texas, Yamaha, 83
6.    Martin Davalos, Ecuador, Kawasaki, 82
7.    Zach Osborne, Chesterfield, S.C., Honda, 82
8.    Joey Savatgy, Thomasville, Ga., KTM, 62
9.    Christian Craig, Wildomar, Calif., Honda, 62
10.    Jessy Nelson, Paso Robles, Calif., Honda, 60